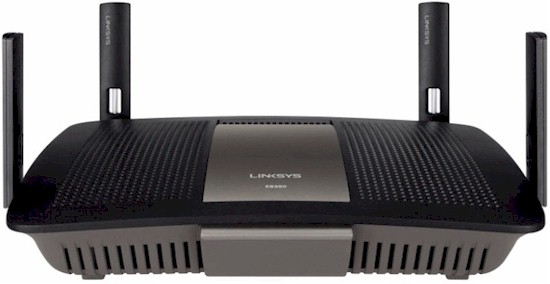 At a glance
Product
Linksys AC2400 Dual-Band Gigabit Wi-Fi Router (E8350) [Website]
Summary
QCA / Quantenna based AC2350 router with eSATA, USB 2.0 & 3.0 storage and printer sharing
Pros
• VLAN support
• USB 3.0 & eSATA ports
Cons
• Guest WLAN on 2.4 GHz only
• No VPN server
• No individual internet service blocking
Typical Price: $275 Buy From Amazon
Introduction
Linksys' E8350 AC2400 Dual-Band Gigabit Wi-Fi Router is the company's entry into the 4×4 AC router derby. It's the second AC2350 class router (NETGEAR's R7500 was the first) to use a mix of Quantenna for the 5 GHz portion and Qualcomm Atheros (QCA) for the main CPU and 2.4 GHz. However, Linksys has joined ASUS in its inflated classing of the E8350 as AC2400 vs. the more accurate AC2350. Marketing tactics aside, all three products offer the same maximum link rates with 4×4 capable devices, i.e. 1733 Mbps on the 5 GHz side and 600 Mbps in 2.4 GHz.
Linksys has stayed with the pack in its "MU-MIMO Ready" positioning of the E8350. Not that any of the three router makers has a choice; MU-MIMO support depends on when Quantenna is ready and that apparently isn't yet. Like NETGEAR, Linksys hasn't mentioned plans to produce a 4×4 AC client, but it has included a wireless bridge mode on the product.
While it has an E-series designation (more on that in a bit), the E8350 is physically more like Linksys' AC1900 class EA6900. It uses the same peek-a-boo dual-band external antennas and same size and style case. The E8350's top cover is mostly perforated, however. In fact, the bottom cover is also perforated and the front and two sides have large slots in most of their surfaces. There are photos of this in the gallery you'll find below. Compared to ASUS and NETGEAR's AC2350 designs, I'd say the E8350 allows for the most airflow.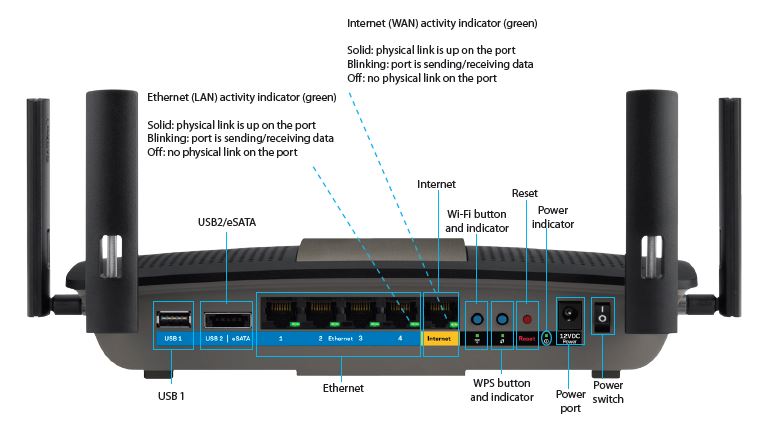 E8350 callouts
The callout diagram above shows all ports and indicators located on the back panel. And I mean all indicators; Linksys has dispensed with the lighted front panel logo found on similarly-styled EA-series products.
All Ethernet ports are Gigabit and each has a link / activity LED. Like the NETGEAR R7500, you get USB 3.0, 2.0 and eSATA ports. But Linksys has combined the latter two ports in a single eSATAp port. The mounting screw slots on the bottom panel will let you mount the router in any orientation except ports down.
Inside
Linksys broke ranks and didn't request short term confidentiality for internal photos and other details for either the E8350 or EA9200. The FCC doc internal photos conveniently had lots of component close-ups so that the router's combination of Qualcomm, QCA and Quantenna components was easily determined.
Component-wise, the design is very similar to the NETGEAR R7500 with a few key differences:
Antennas are spaced further apart
Higher RAM capacities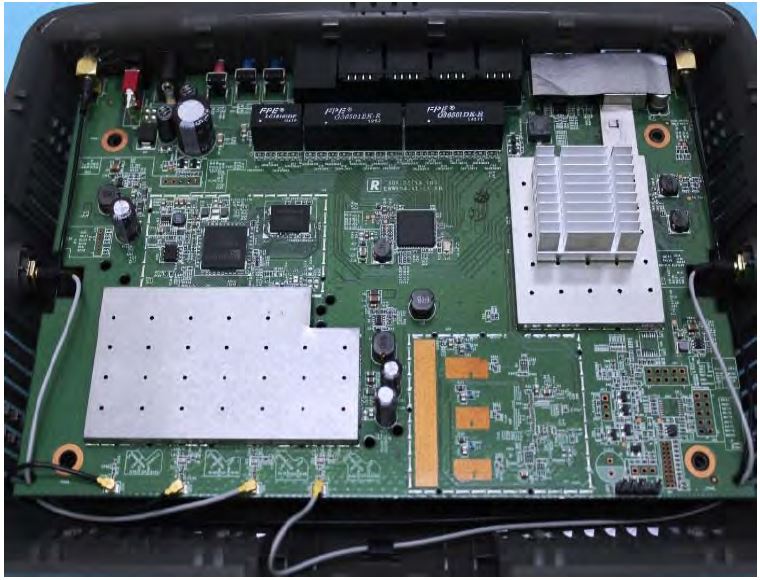 E8350 inside
For comparison, here's the only R7500 board shot I have. NETGEAR's short term confidentiality doesn't expire until the end of January 2015.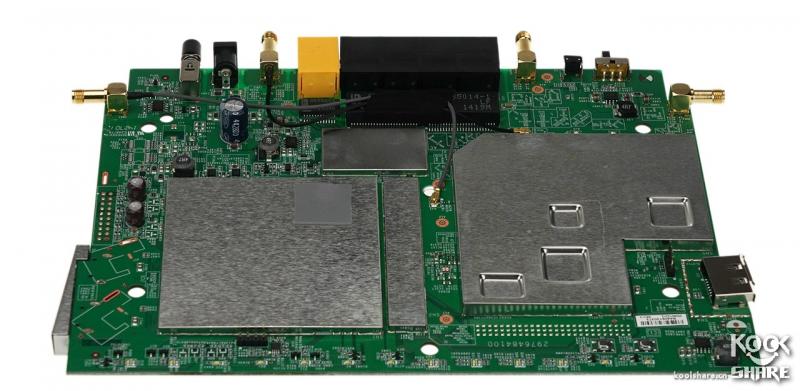 R7500 board top (courtesy KoolShare via Mediatrek)
Table 1 has a comparison of the three routers' key components.
Linksys E8350
NETGEAR R7500
ASUS RT-AC87
CPU
Qualcomm dual-core IPQ8064 Internet Processor @ 1.4 GHz
Qualcomm dual-core IPQ8064 Internet Processor @ 1.4 GHz
Broadcom BCM4709A
Switch
Qualcomm Atheros QCA8337
Qualcomm Atheros QCA8337
in BCM4709A
RAM
512 MB (Qualcomm/QCA)
128 MB (Quantenna)
256 MB
256 MB
Flash
128 MB
128 MB
128 MB
2.4 GHz Radio
– QCA9880 3-stream 802.11ac radio solution
– Unidentified 2.4 GHz power amp (x3)
– QCA9880 3-stream 802.11ac radio solution
– Broadcom BCM4360 (3×3 ac)
5 GHz radio
– Quantenna QSR1000 (QT3840BC Baseband & QT2518B RF)
– Unidentified 5 GHz power amp (x4)
– Quantenna QSR1000 (QT3840BC Baseband & QT2518B RF)
– Quantenna QSR1000 (QT3840BC Baseband & QT2518B RF)
Table 1: Component summary
Note the QCA9880 2.4 GHz radio does not support AC-standard beamforming. So "explicit" beamforming is used only on the 5 GHz side. Note also the separate 512 MB RAM for the main Qualcomm CPU and 2.4 GHz QCA radio and 128 MB for the 5 GHz Quantenna subsystem.
Some people think these new routers suck a lot of power. Not really. The E8350 idled at only 7W.
The gallery has some more hardware photos and a few admin screenshots.
Plentiful large slots provide a lot of cooling air.
Lots of ventilation holes on the bottom cover too.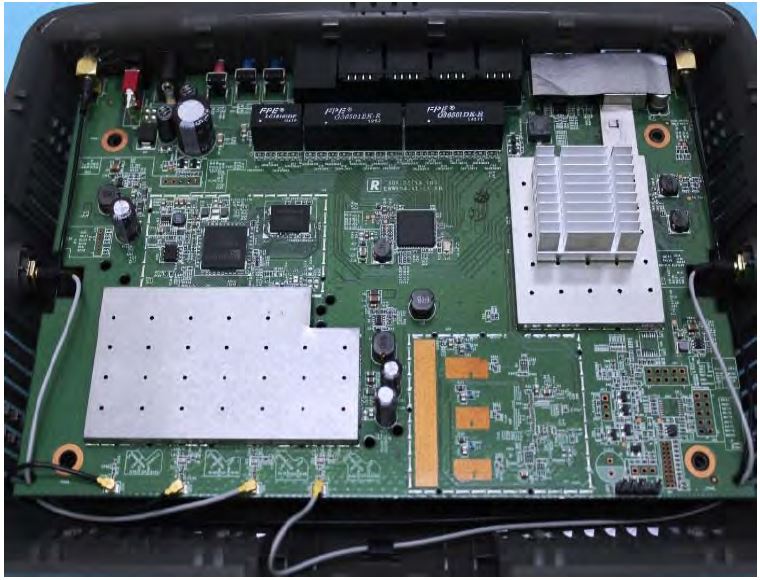 View with top off
The main Qualcomm processor and Quantenna 5 GHz radio are on top of the board
The QCA 2.4 GHz radio is on the board bottom.
Wireless setting defaults. There are no advanced wireless settings.
You can see port status, but not control anything.
Main storage screen. Note that it handled a multi-partition attached drive just fine.
This is the only place you can control internet access. You can't control access to individual services.
Features
The E8350 supports the Linksys router feature set found on its E-series dumb (well, at least not "Smart Wi-Fi") routers. This basically means it doesn't support any of the limited set of Smart Wi-Fi apps, doesn't have intelligent QoS and can't be remotely managed via the Smart Wi-Fi app. The features is does have are:
Routing
DHCP, Static, PPPoE, PPTP, L2TP, Telstra Cable, Bridged router, DS-Lite WAN types
MTU adjust on all WAN types except bridged router and DS-Lite
VLAN support
IPv6 WAN support, auto and manual configuration only
WAN MAC address cloning
DHCP server with MAC address reservation, lease time, DNS and WINS addresses
Built-in Dynamic DNS clients for TZO and DynDNS
Static and dynamic (RIP) routing. Active only with NAT routing disabled.
Firewall
Parental controls with per user internet access schedule and 8 blocked URLs
Single port forwarding with separate external and internal ports
Port range forwarding (static and triggered)
DMZ with source IP address restriction
IPv6 port forwarding
IPv4 & IPv6 firewall disables, multicast, WAN ping and IDENT filtering and Proxy, Java, ActiveX and Cookie blocking
IPsec, PPTP and L2TP VPN passthrough (enabled by default)
SIP ALG
UPnP disable, user config disable, user internet access disable
Uplink (LAN to WAN) only QoS with High, Medium, Normal or Low Priority that can be applied to specific applications (divided into Application, Online Game and Voice Device groups) or specific MAC addresses.
Storage
SMB storage sharing
FTP server (no secure FTP)
Media server with settable auto-scan by folder
User accounts
Wireless
WMM support (2.4 GHz only)
Guest network (2.4 GHz only)
Beamforming disable (5 GHz only, enabled default)
Client bridge support with WPA/WPA2 security
Admin / System
HTTPS admin access, remote management (HTTP / HTTPS) enable with IP range restriction and port setting
Incoming, outgoing, Security and DHCP onscreen log access
Settings backup and restore
Ping and traceroute utilities
Reset to factory default
Firmward upgrade
Port light disable
Port status display
Sprinkled among the features are odd additions and omissions compared to other E-series routers and routers of the E8350's class (and price!). For example, you get VLANs with tagged and untagged ports and even a page showing port status. But you can't force port speeds or disable ports and there are no statistics available.
IPv6 WAN connections can be configured, but only fully automatically or manually. You get IPv6 port forwarding, but neither IPv4 or IPv6 port forwarding can be scheduled. The only ability to control access to internet services is full on or off, which can be scheduled by device (MAC address?).
For wireless, Linksys stubbornly sticks to providing guest WLAN support on 2.4 GHz only and doesn't support scheduled WLAN access for either radio or transmit power adjustment. At least there is a convenient wireless on/off switch on the back panel. Oddly, WMM is supported on 2.4 GHz only. To my knowledge, WMM is required to enable 802.11n and ac link rates on both bands, so perhaps this is an error. You get MAC address filtering, but nothing for looking at wireless client link rates, signal levels or traffic statistics.
Other things you might expect in this class of router, but aren't included are:
VPN server
Downstream QoS
Apple Time Machine target for storage
Linksys logviewer, syslog
Automatic firmware upgrade checking
Bandwidth use monitor
USB print server
Linksys said most "savvy" / advanced users use browser based setup. So why make them jump through hoops to do it? There is no printed quick installation guide included with the product and no login information provided on a sticker or router serial number label like other manufacturers conveniently provide. Instead, there is a Setup CD that auto-launches into a step-by-step setup intended for networking newbies and installs the Linksys Connect Windows utility without asking permission.
If you do happen to make your way to http://192.168.1.1 without running the CD, you'll be greeted by the screen below, which will be familar to owners of E-series routers. Thankfully, you only need to deal with this once.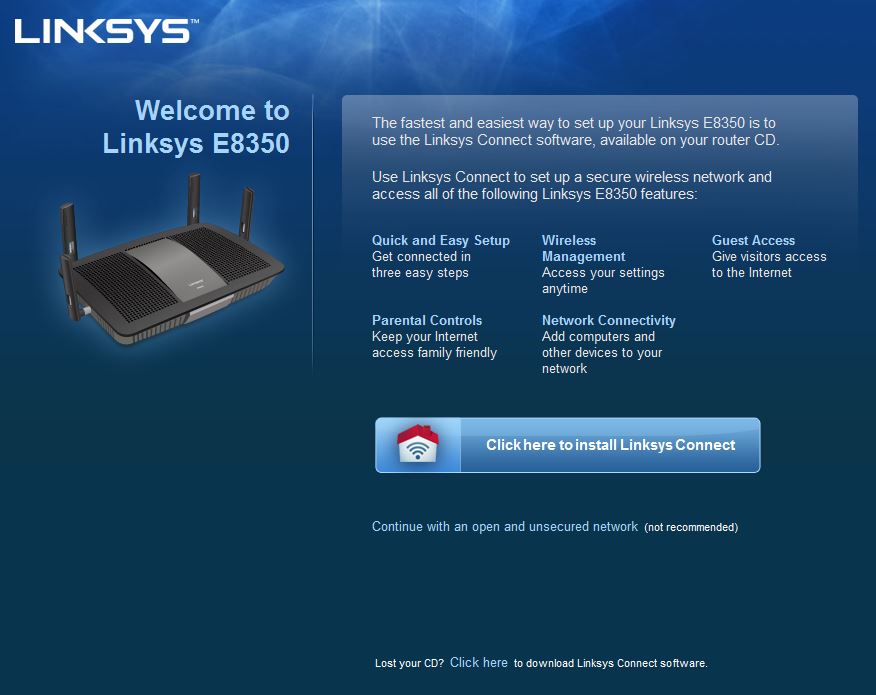 Welcome to the E8350
I suspect dealing with the multi-CPU architecture required by using Quantenna was too heavy a lift to integrate into the Smart Wi-Fi OS, so the older, simpler OS was used. But the mix of leading-edge hardware with last-generation OS used on Linksys' sub $100 routers sends a very mixed marketing message.
Storage Performance
I disabled the media server so that it wouldn't index test files and interfere with testing. Our standard Startech USB 3.0 eSATA to SATA Hard Drive Docking Station [SATDOCKU3SEF] with a WD Velociraptor WD3000HLFS 300 GB drive was used to test file copy performance. The drive was formatted with FAT32 and NTFS volumes and connected via USB 2.0, USB 3.0 and eSATA.
Table 2 summarizes USB 3.0 performance and includes the ASUS RT-AC87U/R and NETGEAR R7500. As you might expect from similar designs the Linksys and NETGEAR's results are pretty close. The ASUS' Broadcom-based design beats the Linksys and NETGEAR handily on writes for both FAT32 and NTFS.
| | Linksys E8350 | NETGEAR R7500 | ASUS RT-AC87U |
| --- | --- | --- | --- |
| Processor | QCA IPQ8064 | QCA IPQ8064 | Broadcom BCM4709A |
| FAT32 Write (MBytes/s) | 24.2 | 28.9 | 50.2** |
| FAT32 Read (MBytes/s) | 83.8 | 79.6 | 69.5** |
| NTFS Write (MBytes/s) | 39.2 | 40.9 | 49.1** |
| NTFS Read (MBytes/s) | 83.3 | 83.7 | 68.1** |
Table 2: File copy throughput – USB 3.0 (MBytes/sec)
** = "Reducing USB 3.0 interference" setting disabled
The E8350 is the second router with an eSATA connection, so Table 3 includes both it and the NETGEAR R7500. Given the similarity in USB 3.0 results, I was surprised to see the NETGEAR's much higher read results with both drive formats.
| | Linksys E8350 | NETGEAR R7500 |
| --- | --- | --- |
| Processor | QCA IPQ8064 | QCA IPQ8064 |
| FAT32 Write (MBytes/s) | 23.0 | 29.9 |
| FAT32 Read (MBytes/s) | 83.2 | 95.1 |
| NTFS Write (MBytes/s) | 38.1 | 38.9 |
| NTFS Read (MBytes/s) | 88.6 | 100.3 |
Table 3: File copy throughput – eSATA (MBytes/sec)
The ASUS RT-AC87U also has a USB 2.0 port, so Table 4 compares it to the E8350. The ASUS does better for writes with both FAT32 and NTFS formats, but the Linksys beats the ASUS on reads.
| | Linksys E8350 | ASUS RT-AC87U |
| --- | --- | --- |
| Processor | QCA IPQ8064 | Broadcom BCM4709A |
| FAT32 Write (MBytes/s) | 16.9 | 26.4 |
| FAT32 Read (MBytes/s) | 37.8 | 30.1 |
| NTFS Write (MBytes/s) | 33.9 | 27.3 |
| NTFS Read (MBytes/s) | 37.1 | 30.4 |
Table 4: File copy throughput – USB 2.0 (MBytes/sec)
Routing Performance
Routing throughput was measured using our standard router test process with the router loaded with 1.00.0. firmware. Table 5 summarizes the results and includes the ASUS RT-AC87U/R and NETGEAR R7500 for comparison.
The E8350's numbers are a bit lower than the NETGEAR and ASUS' in some cases, but close enough to make no real world difference. The Maximum Simultaneous Connection result was limited by our test process, so the higher numbers on the other products do not necessarily reflect better results.

| Test Description | Linksys E8350 | NETGEAR R7500 | ASUS RT-AC87 |
| --- | --- | --- | --- |
| WAN – LAN | 702.6 Mbps | 749.7 Mbps | 787.1 Mbps |
| LAN – WAN | 815.5 Mbps | 814.2 Mbps | 807.7 Mbps |
| Total Simultaneous | 1447.7 Mbps | 1501.7 Mbps | 1392 Mbps |
| Maximum Simultaneous Connections | 30,572 | 42,122 | 36,805 |
| Firmware Version | 1.00.0 | v1.0.0.52 | 3.0.0.4.376_2044 |
Table 5: Routing throughput
The IxChariot unidirectional composite plot below shows periodic spikes up to peak speeds over 900 Mbps for both down and uplink.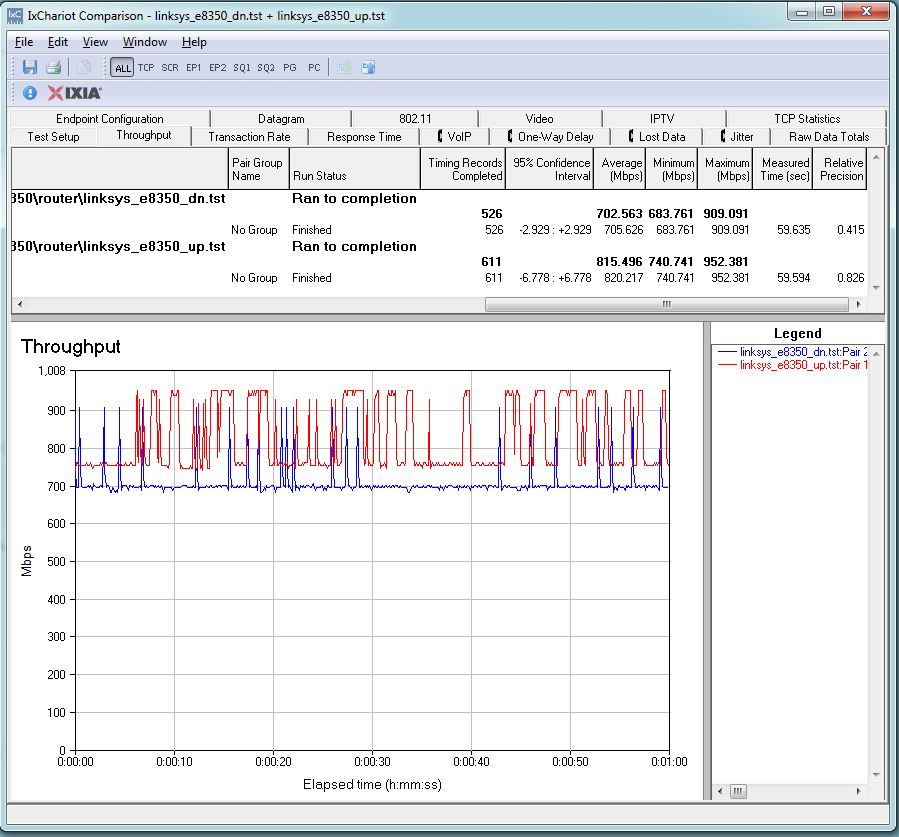 Routing throughput unidirectional summary
The simultaneous up/downlink benchmark plot shows lower throughput in the first 10 seconds or so due to IxChariot's Nagle's algorithm implementation. Once that settles down it looks like uplink throughput is favored over downlink when both directions are running full blast. In all, like its AC2350 brethren, the E8350 provides as close to Gigabit routing speeds as you're going to get.
Routing throughput bidirectional summary
Wireless Performance
The E8350 is Wi-Fi Certified. It was tested using the Revision 8 Wireless test process with 1.00.0 firmware loaded.
The router comes with WPS enabled on both bands. A Win 7 client connect prompted to start a WPS PIN session. AWin 8 connection attempt did not show a WPS prompt at all. Instead, it made an unsecured connection and launched a browser, which redirected to the captive portal page previously discussed.
Both radios come up with unique SSIDs and auto channel and auto bandwidth modes. For throughput testing, the router was first reset to factory defaults, then set to channel 6 and 20 MHz only bandwidth mode for 2.4 GHz and channel 153 and 20, 40 or 80 MHz mode for 5 GHz set to enable 802.11ac link rates. The Linksys R7000 in bridge mode now used as our standard test client was connected using WPA2/AES encryption. This means that the profile data in the charts is for three stream operation.
Our standard practice with the new testbed is to center the router under test's antennas on the turntable, both front-to-back and side-to-side in the chamber. The chamber antennas are also centered on the turntable (front-to-back of chamber). This method is intended to keep maximum distance between the router under test and chamber antennas. The photo below shows the E8350 in the test chamber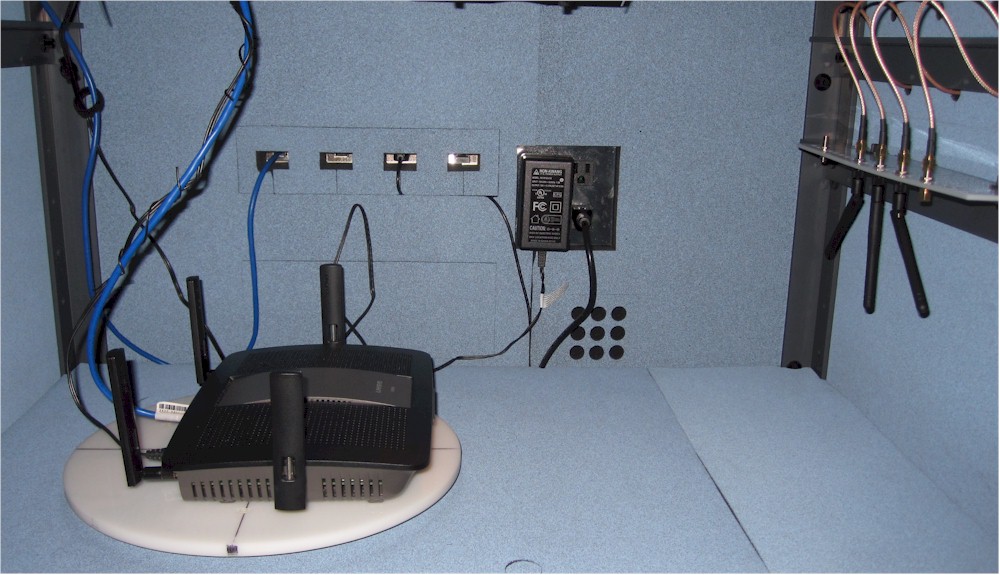 E8350 in test chamber
The Benchmark Summary below shows the average of all wireless throughput measurements made over the tested attenuation range.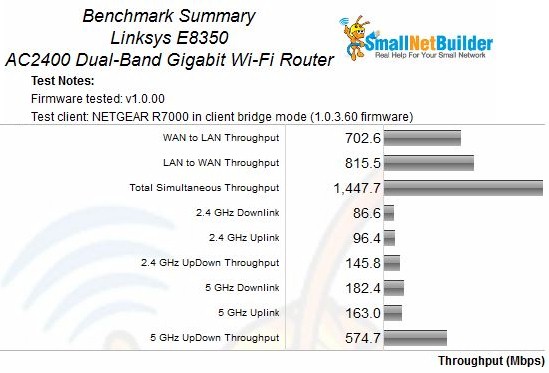 Linksys E8350 Benchmark Summary
To put these average values in perspective, compare each of the four average throughput benchmarks for all AC2350 routers tested with the latest V8 process. The E8350 ranks #2 for downlink in both bands and #1 for uplink.

Average Throughput comparison
Wireless Performance – more
Now that we have three AC2350 routers in the Router Charts database, throughput vs. attenuation profile comparison with the ASUS RT-AC87U/R and NETGEAR R7500 is a bit more interesting.
All three products start out equally in the 2.4 GHz downlink profile. But the ASUS clearly stays above the other two as attenuation increases (signal level decreases).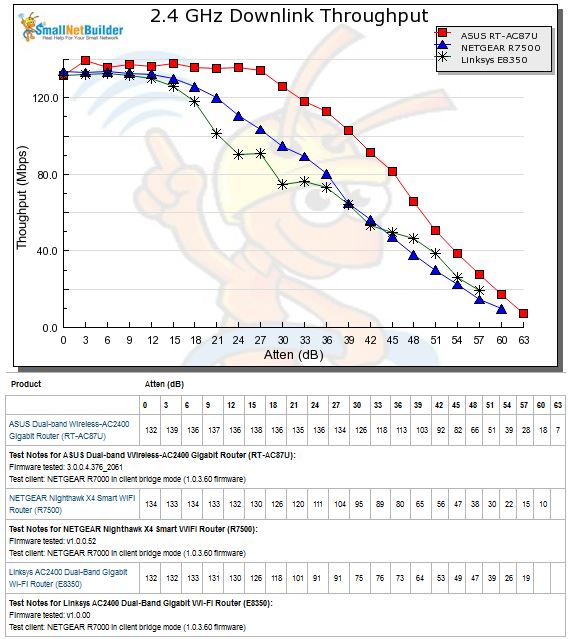 2.4 GHz Downlink Throughput vs. Attenuation
The 2.4 GHz uplink plot shows a tighter spread among the three products. The Linksys tracks about midway between the other two products throughput most of the tested range.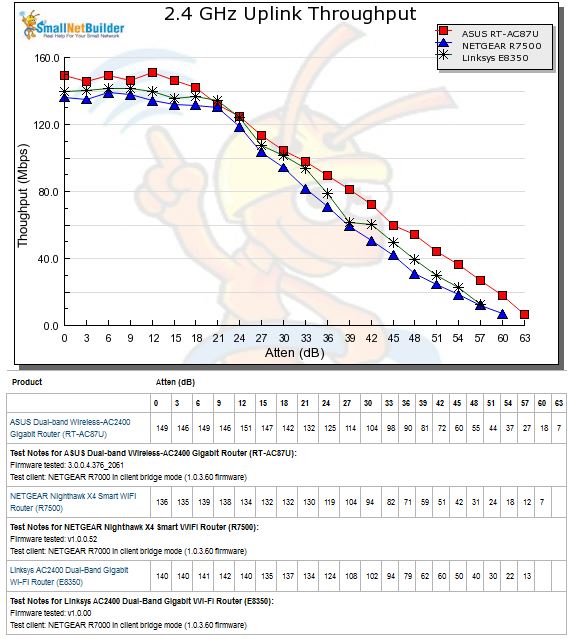 2.4 GHz Uplink Throughput vs. Attenuation
The 5 GHz downlink profile shows the Linksys doing a bit better than the ASUS at the lower attenuation values. The bigger deal is that the E8350 didn't break connection until 42 dB, which is a first for any product tested with the Version 8 process.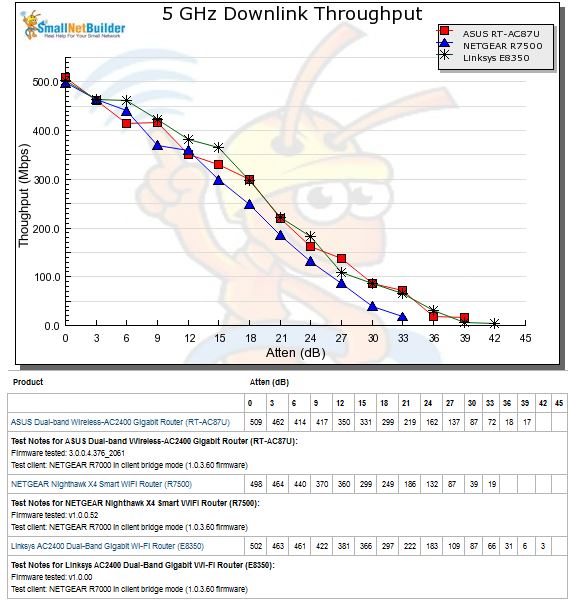 5 GHz Downlink Throughput vs. Attenuation
The 5 GHz uplink story is a bit different. This time the Linksys starts out significantly above the other two products, but then crosses below the ASUS about midway through the test. The Linksys again, however, hold the connection the longest, disconnecting again at 42 dB.
5 GHz Uplink Throughput vs. Attenuation
Four Stream Performance
Linksys suggested angling only two of the antennas as shown below to see if it boosted performance.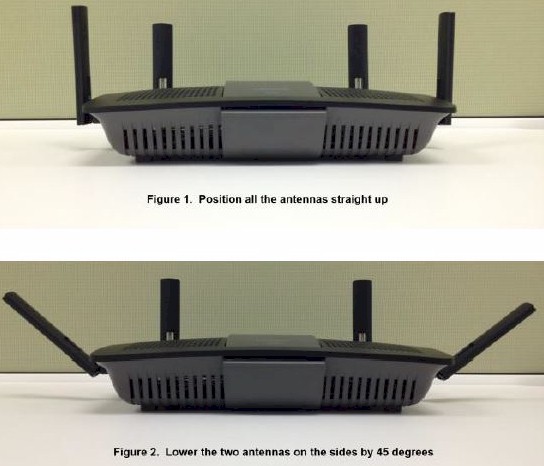 5 GHz Uplink Throughput vs. Attenuation
I set two E8350's up in open air, six feet apart, one as a normal router and the other in wireless bridge mode (found in the Basic Setup > Internet Connection Type selector. The in-house 5 GHz network was not shut off for the test, but it was idle and only beaconing (no traffic). Channel was set to 153, bandwidth mode was in its default 80 MHz mode and everything else was set to defaults.
I connected only one computer via Gigabit Ethernet at each end of the bridge. Baseline tests using Ethernet between the two computers and TP-LINK NICs show the Ethernet link capable of a bit over 900 Mbps in both directions with each direction run separately. So the hardwired part of the link shouldn't be a limiting factor.
I couldn't monitor link rates for these tests, since the admin GUI doesn't provide even a wireless client list, let alone one with signal levels or link rates.
I ran two sets of tests, one with the antennas on both E8350's straight up and the other with the suggested 45 degree angle for the side antennas. The simultaneous up and downlink test with straight-up antennas yielded 832 Mbps total throughput.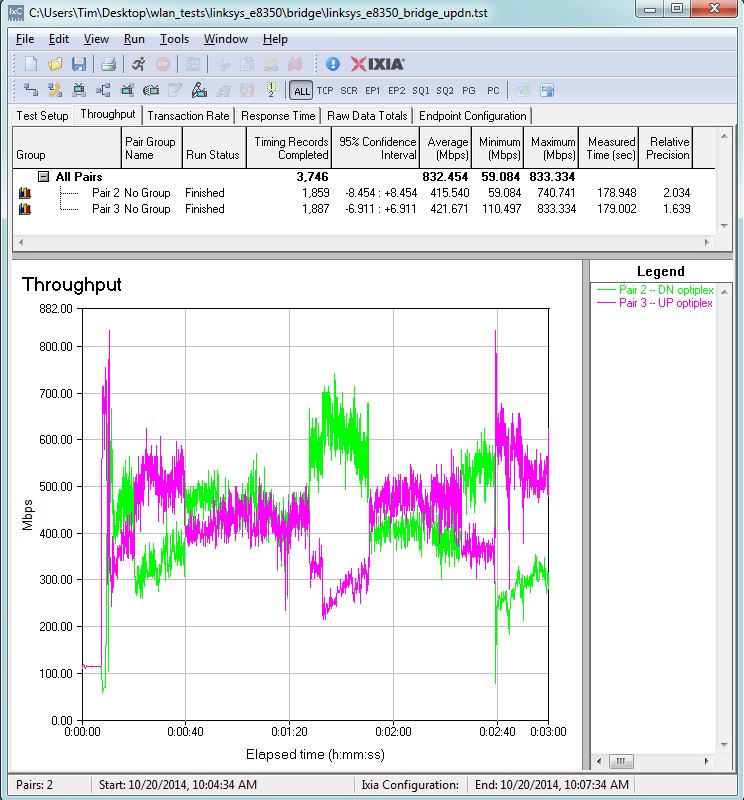 Linksys E8350 four stream throughput – simultaneous up/downlink
Angling the antennas gained about 80 Mbps total throughput.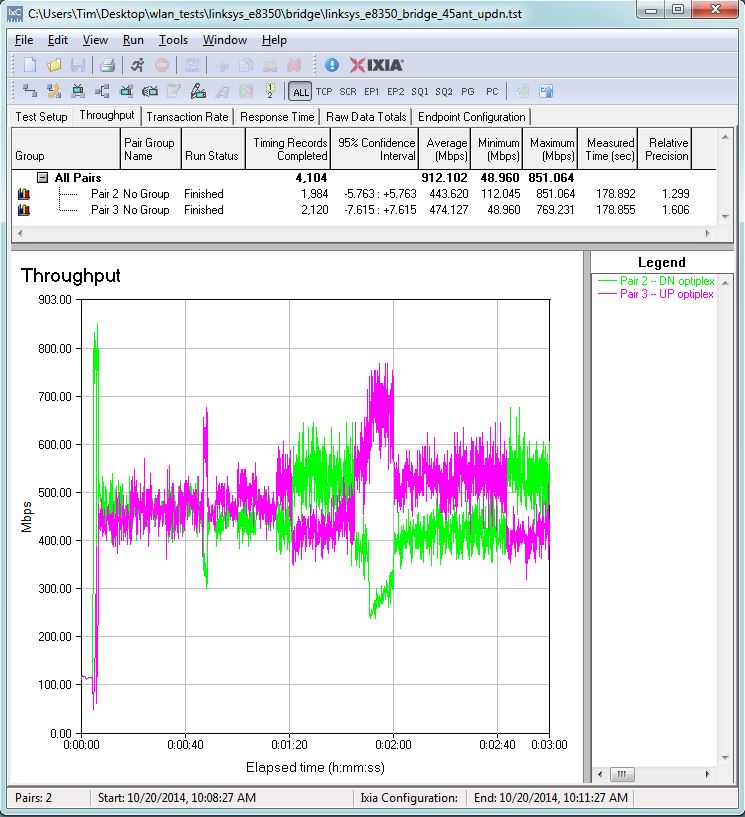 Linksys E8350 four stream throughput – simultaneous up/downlink, angled antennas
I also ran separate up and downlink tests for each antenna position. Results with straight-up antennas show a little over 700 Mbps downlink and 660 Mbps uplink.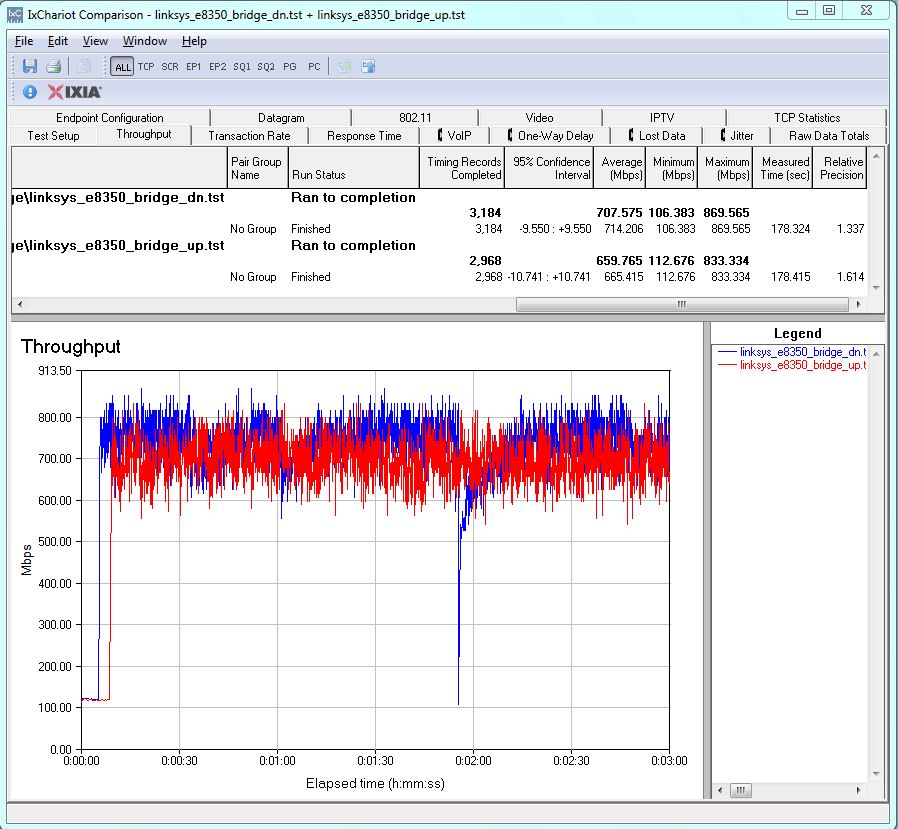 Linksys E8350 four stream throughput – up and downlink
The angled side antennas gained about 100 Mbps on downlink, but only 57 Mbps for uplink.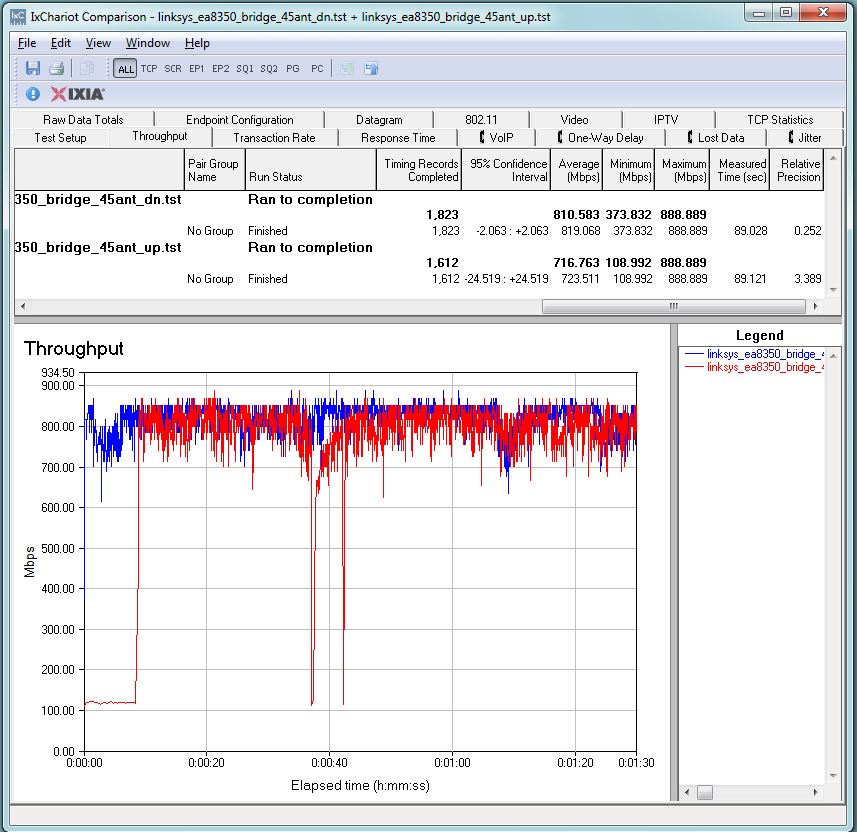 Linksys E8350 four stream throughput – up and downlink
Note that this improvement was obtained under conditions not likely to be encountered during typical use, i.e. same room, router and bridge 6 feet apart. Once you get some distance between the two, Linksys' recommendation is to set all antennas straight up.
I also added a second pair of clients plugged into the router and bridge to see if a second stream would yield higher throughput. I got only 64 Mbps more throughput for a total of 976 Mbps, about a 7% gain, using angled antennas.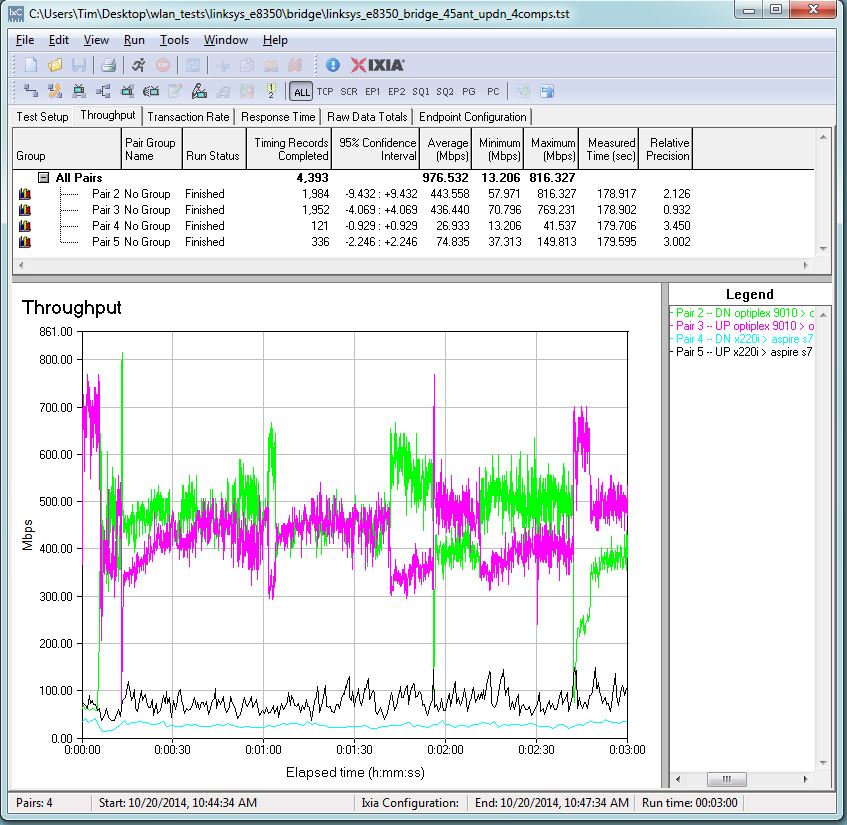 Linksys E8350 four stream throughput – simultaneous up/downlink, angled antennas, four computers
At 912 Mbps of simultaneous up/downlink throughput with a single pair, the E8350's four-stream results are a little better than the ASUS RT-AC87U/R's 871 Mbps and much better than the NETGEAR R7500's 794 Mbps.
Closing Thoughts
The Router Ranker Performance Summary shows the E8350 tied with the ASUS RT-AC87U in overall rank at #1.
Linksys E8350 Router Ranker Performance Summary
But features are a problem. Although its switch supports VLANs, the E8350 lacks many of the features found in its ASUS and NETGEAR competitors. So if you want a VPN server, secure remote access to storage, advanced QoS, decent information about wireless clients and even the ability to selectively control access to internet services, you'll need to take a pass on the E8350.
I hope Linksys improves the E8350's feature set over time to bring it more in line with other routers in its class and price range. I also hope all three AC2350 routers get MU-MIMO enabled soon. After all, MU-MIMO is the real reason to buy this class of router, since it has no performance advantages to offer the one and two-stream AC devices it will be paired with. Finally, Linksys has said nothing about supporting alternative firmware for the E8350, while NETGEAR has just posted an OpenWRT beta for its R7500.
Unfortunately, consumer router manufacturers answer more to the demands for new stuff to sell from retailers like Best Buy than to the desires of lowly consumers who hope the products they buy get bugs fixed and features added over time. But until you router buyers change your behavior, you're gonna get what you (are willing to) pay for.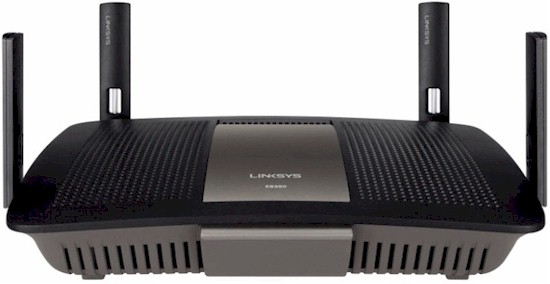 Buy AC2400 Dual-Band Gigabit Wi-Fi Router from Amazon