At a glance
Product
Linksys Max-Stream AC4000 Tri-Band Wi-Fi Router (EA9300) [Website]
Summary
AC4000 class Broadcom-based 3×3 tri-band router with two MU-MIMO enabled 5 GHz radios.
Pros
• Smart Connect band steering
• Same CPU as ASUS GT-AC5300 at much less $
Cons
• interoperatiliby problem with 5 GHz downlink
• Undistinguished routing feature set
• Smart Connect works only between 5 GHz radios
• Artificially inflated link rate very few will see
• No OpenVPN support
Typical Price: $177 Buy From Amazon
Introduction
It's been just about three years since our first review of a "tri-band" "Smart Connect" router in the form of NETGEAR's R8000 Nighthawk X6. These routers were Broadcom's attempt to combat the higher-total-throughput claims of MU-MIMO based routers when the company didn't have a MU-MIMO chipset of its own.
The market has evolved since then, with Qualcomm-based MU-MIMO moving from 4×4 to less expensive 3×3 and even 2×2 based designs. Broadcom eventually shipped its BCM4366 4×4 MU-MIMO radio SoC that appeared first in AC5300/5400 products, although not with working firmware. It took another year or so and a few device spins for Broadcom to eventually come up with working MU-MIMO. Not that all this sturm und drang around MU-MIMO matters much to the typical Wi-Fi user, since few have the multiple MU-MIMO devices required to reap any of the technology's benefit.
Which brings us to Linksys' EA9300 Max-Stream AC4000 Tri-Band Wi-Fi Router. It incorporates a new Broadcom BCM4365 3×3 MU-MIMO radio SoC–actually three of them–into a "tri-band" design intended to entice buyers with a combination of AC4000 bigger-number-on-the-box at a price below tri-band 4×4 AC5300/AC5400 products that also have MU-MIMO.
The inflated AC4000 rating breaks down into 750 Mbps in 2.4 GHz plus two times the 1625 Mbps in 5 GHz maximum link rates. These rates require a 3×3 device that also supports the non-standard 1024-QAM modulation rate to achieve them, which means only ASUS' 4×4 PCE-AC88 PCIe adapter. Most of us with newer 2×2 smartphones that support only 256-QAM in both bands will see a maximum of 400 Mbps in 2.4 GHz (if you can get 40 MHz bandwidth, 173 Mbps otherwise) and 867 Mbps in 5 GHz.
Where this leaves the EA9200 AC3200, its first tri-band router that doesn't have MU-MIMO, is apparently on the fast lane to obsolescence, since Linksys has left its MSRP at $329.99, the same as the EA9300's. (The EA9200's street price of $135 sure looks like inventory is being cleared.) So let's see if it brings anything to the party.
| | Linksys EA9500 | Linksys EA9300 | Linksys EA9200 | Linksys EA8300 |
| --- | --- | --- | --- | --- |
| # Streams | 4 | 3 | 3 | 2 |
| 2.4 GHz max. link rate (Mbps) | 1000 | 750 | 600 | 400 |
| 5 GHz max. link rate (Mbps) | 2166 | 1625 | 1300 | 867 |
| MU-MIMO | Y | Y | N | N |
| Amazon Price (at time of review) | $330 | $300 | $135 | $160 |
Table 1: Linksys "Tri-band" routers
The EA9300 looks pretty much like the EA9500, but with six vs. eight external antennas. There are mounting screw slots on the bottom panel will allow facing the rear panel up or down. The front panel callout diagram below describes the front panel lighting.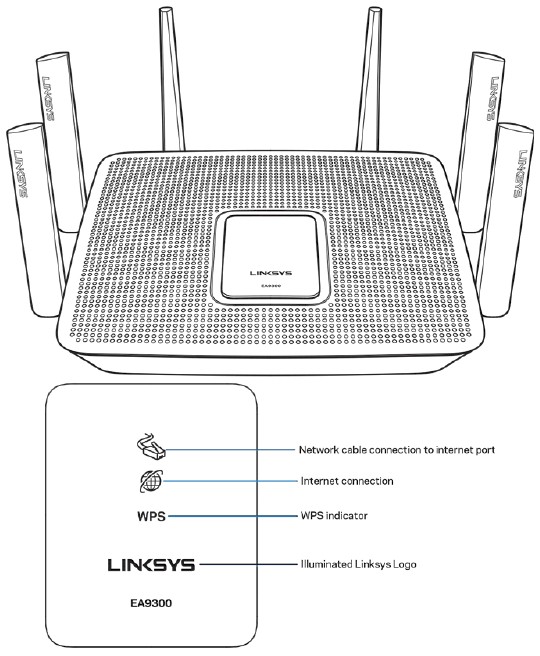 EA9300 front panel callouts
The rear panel has two USB 3.0 ports, four Gigabit Ethernet LAN ports and one WAN port. Port aggregation is not supported, but every port has its own link and activity LEDs that should be called out in the diagram. The right side of the router sports a Wi-Fi Protected Setup (WPS) switch. There is no wireless on/off switch.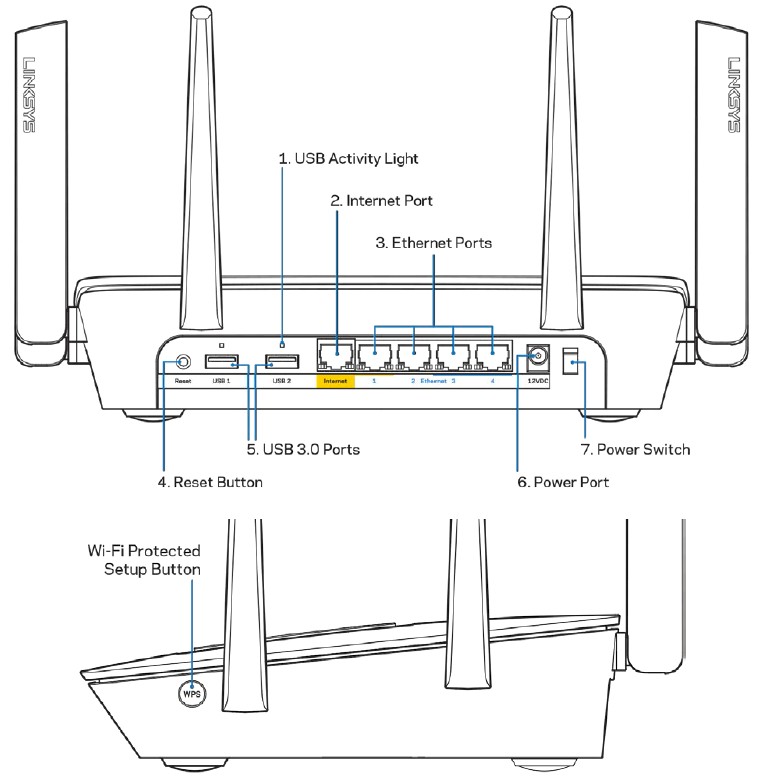 EA9300 side and rear panel callouts
Inside
Linksys has not released the FCC internal pictures, so I opened the router after testing was done for a look. The first photo shows the top cover removed, revealing a fairly substantial heatsink that's thermally coupled to the RF can tops under it.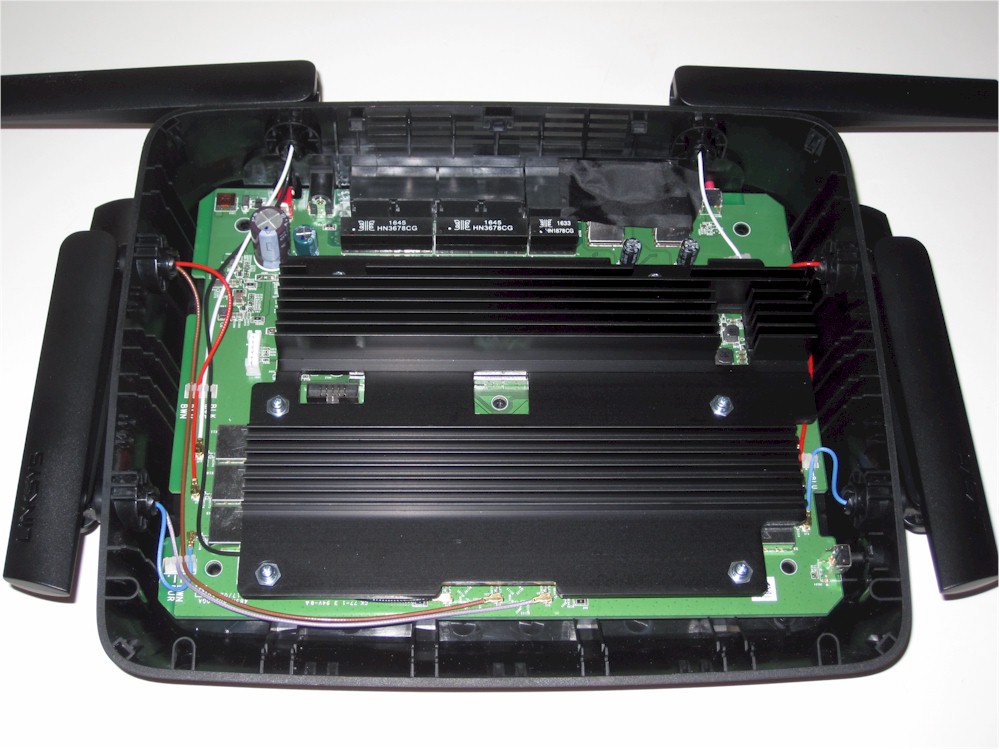 Linksys EA9300 inside
Stripping off all the RF can tops shows the CPU / switch section at top, 5 GHz high-band and 2.4 GHz radios at bottom left and 5 GHz low band radio at lower right. The 5 GHz high-band and 2.4 GHz radios share the left side antennas while the 5 GHz low band has the right three antennas all to itself. Note the left side radios are combined at the antenna and not in mixing circuitry on the board.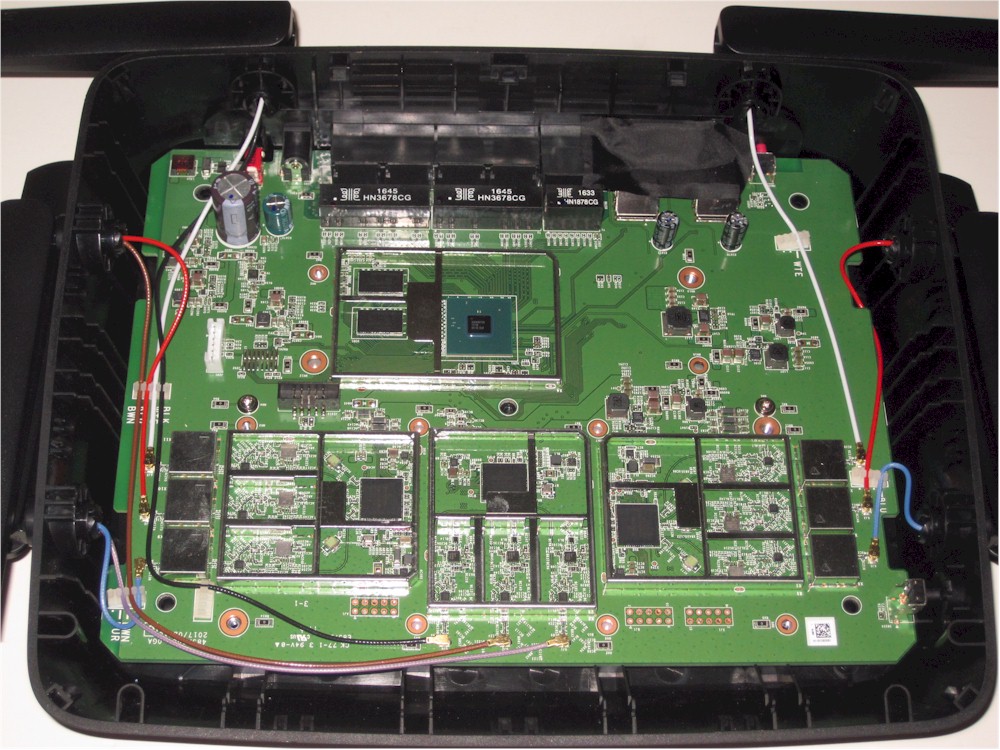 Linksys EA9300 board
The table summarizes the key components for the EA9300, EA9200 and EA9300 routers. The EA9300 has the same Broadcom BCM4908 1.8 GHz quad-core 64 bit ARM processor as the ASUS GT-AC5300, but for much less money. BCM4908 eliminates the need for the external PCIe switch the EA9200 and EA9300 need. The CPU also contains a 2.5 Gb Ethernet port, although it's not used in the EA9300. This article has other processor details.
Linksys EA9300 (tri-band 3×3)
Linksys EA9200 (tri-band 3×3
Linksys EA9500 (tri-band 4×4)
CPU
Broadcom BCM4908KFEBG quad-core @ 1.8 GHz
Broadcom BCM4709A
Broadcom BCM4709C0KFEBG dual-core @ 1.4 GHz
Switch
In CPU
in BCM4709A
in BCM4709C0KFEBG & BCM53125
RAM
512 MB
256 MB
256 MB
Flash
256 MB
128 MB
128 MB
2.4 GHz Radio
– BCM4365EKMMLG 3×3 11abgnac SoC
– Skyworks SE2623L 2.4 GHz power amp (x3)
– Broadcom BCM43602
– 2.4 GHz Power Amps (x3)
– BCM4366 4×4 2.4/5G single chip 802.11ac SoC
– Skyworks SE2623L 2.4 GHz power amp (x4)
5 GHz radio
– BCM4365EKMMLG 3×3 11abgnac SoC
– Skyworks SKY85408-11 802.11ax 5 GHz power amp (x3)
NOTE: There are two 5 GHz radios.
– Broadcom BCM43602
– 5 GHz Power Amps (x3)
NOTE: There are two 5 GHz radios.
– BCM4366 4×4 2.4/5G single chip 802.11ac SoC
– RFMD RFPA5542 5 GHz PA module (x4)
NOTE: There are two 5 GHz radios.
PCIe
None
PLX Technology PEX8603 3-lane, 3-port PCIe switch
PLX Technology PEX8603 3-lane, 3-port PCIe switch
Table 1: Component summary and comparison
Features
The EA9300's supports Linksys' standard "Smart Wi-Fi" feature set, which is described pretty well in the EA9500 review.
Linksys's routing features continue to lag far behind ASUS and somewhat behind NETGEAR's. Like other EA series routers, it does not support OpenVPN as the Marvell-based WRT routers do. Wireless bridging is also not supported. But if you make your way to the Wireless > Advanced tab, you'll find an Airtime Fairness enable, which is off by default. This provides a shot at improving total wireless bandwidth use by keeping slower devices from hogging too much air time. It's not a panacea, though, so you should experiment and see if it's right for you.
The default wireless settings are shown in the next screenshot. Note "Smart Connect" band-steering is supported only between the two 5 GHz radios, same as on the 3×3 tri-radio EA9200 and 4×4 EA9500. This is disappointing, since dual-band capable devices should be steered to 5 GHz whenever possible to optimize throughput.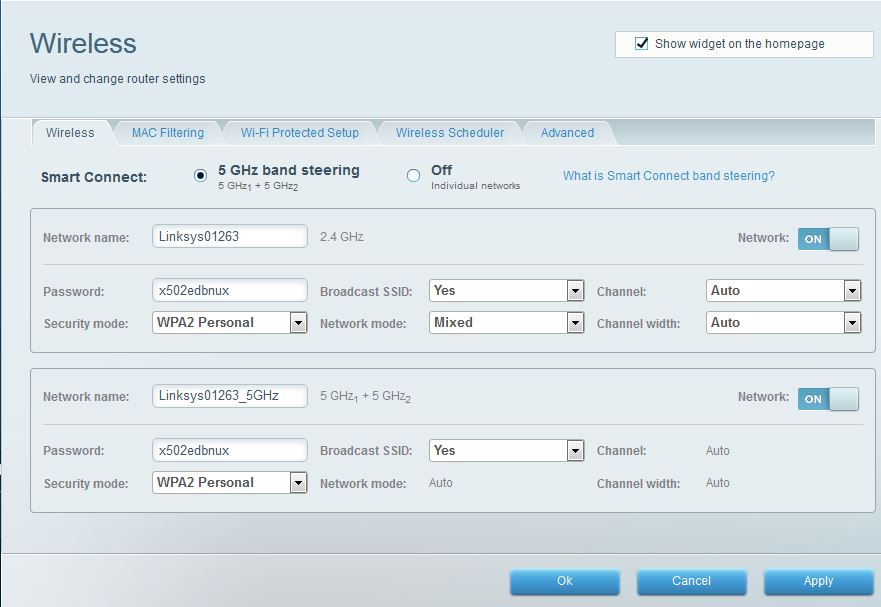 Wi-Fi Defaults
Like other Linksys routers, the EA9300 has a hidden Advanced Wireless Settings page reachable by substituting advanced-wireless.html for home.html in the URL. I asked Linksys about the suspicious WiFi Certification Support checkbox shown below. The response was "…is a GUI control that we put in earlier products. Back then, we would like to conduct some internal experiments and see whether toggling some of the wi-fi options would affect the user experience of the product."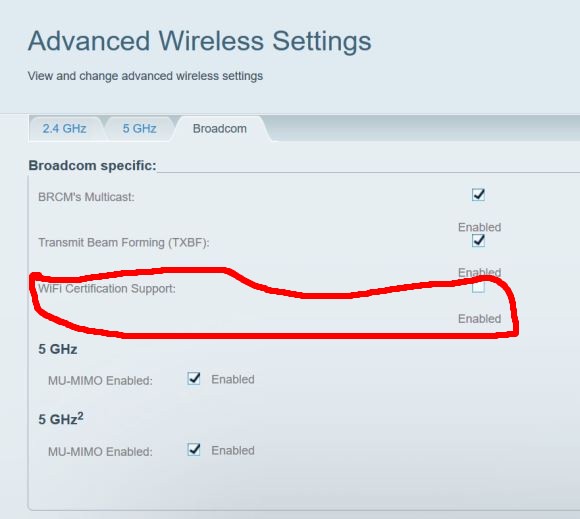 Smart Wi-Fi Dashboard
Storage Performance
We used our standard router storage test procedure to measure file copy throughput for FAT32 and NTFS volumes connected via USB 3.0.
The charts show results for products tested with the Revision 10 process. I've come to expect Linksys to always have the best USB storage performance and the EA9300 does, although not for FAT32 write. But since most people will want the larger volume support that comes with NTFS, those are the benchmarks likely to matter more.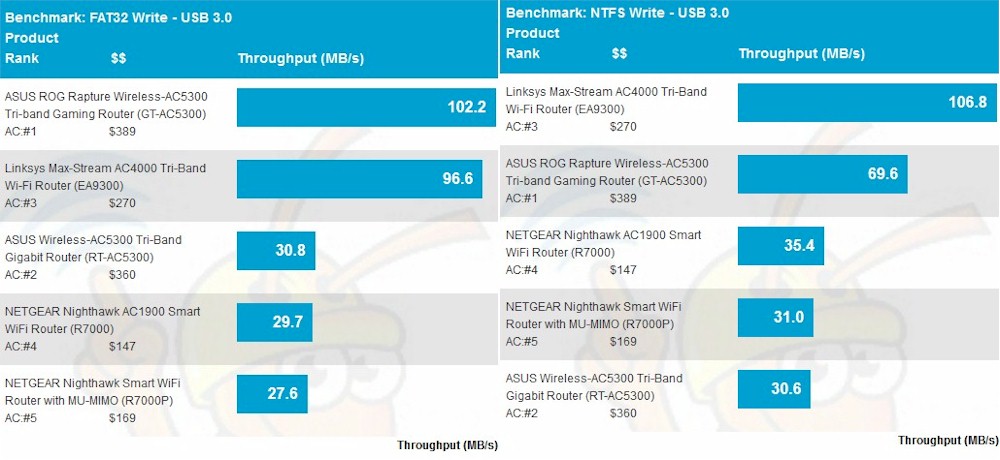 USB 3.0 storage write performance – USB 3.0
Read performance shows the EA9300 and ASUS GT-AC5300 running neck-and-neck for both FAT32 and NTFS. Not surprisingly, the ASUS also uses the BCM4908.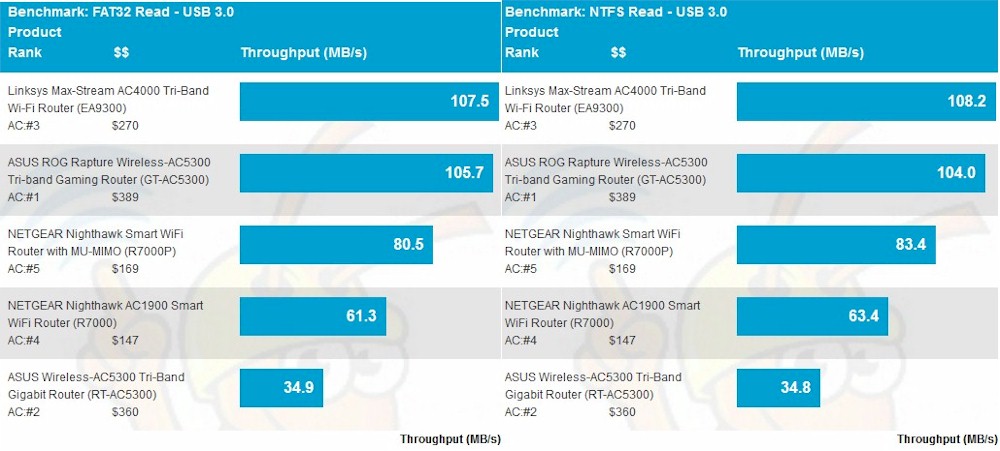 USB 3.0 storage read performance – USB 3.0
Routing Performance
The EA9300 was tested with our new V10 router test process, loaded with 1.1.9.181086 firmware. I threw in the ASUS GT-AC5300's results because it uses the same CPU.
| Test Description | Linksys EA9300 | ASUS GT-AC5300 |
| --- | --- | --- |
| WAN – LAN Throughput (Mbps) | 941 | 719 |
| LAN – WAN Throughput (Mbps) | 941 | 713 |
| HTTP Score – WAN to LAN (%) | 56.9 | 68.1 |
| HTTP Score – LAN to WAN (%) | 57 | 68.4 |
| Bufferbloat Score- Down Avg. | 494 | 450 |
| Bufferbloat Score- Down Max. | 385 | 317 |
| Bufferbloat Score- Up Avg. | 415 | 227 |
| Bufferbloat Score- Up Max. | 305 | 162 |
| CTF Score (%) | 56.7 | 64.5 |
| Firmware Version | 1.1.9.181086 | 3.0.0.4.382_12184 |
Table 2: Routing throughput
The HTTP and CTF Scores are now where you want to focus. The numbers above are averages of scores for four file sizes. The plot below shows the per filesize results for the EA9300 and ASUS GT-AC5300. Both routers perform about the same for the two larger file sizes, both LAN to WAN and WAN to LAN. The ASUS, however, has higher throughput when moving the two smaller file sizes.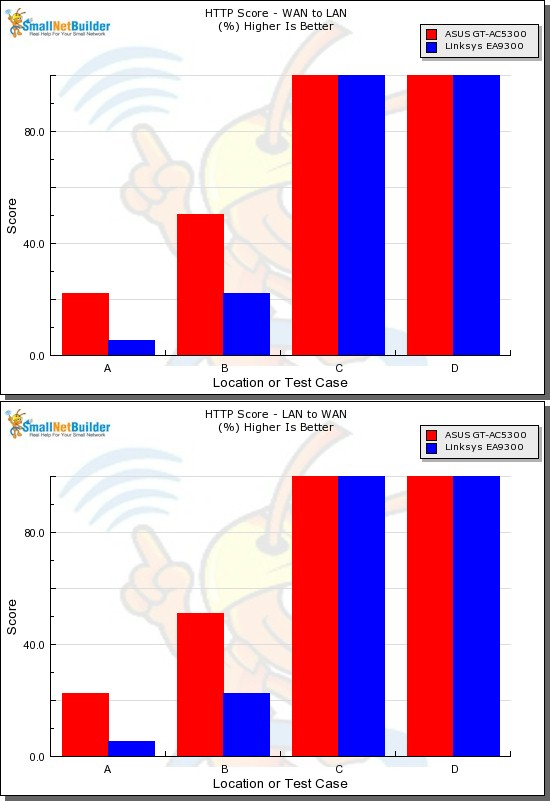 HTTP Score comparison
Plot key file size: [A] 2 KB, [B] 10 KB, [C] 108 KB and [D] 759 KB file
For Bufferbloat, the Linksys edged out the ASUS. For reference, 5 ms of delay equals a score of 200 (1/5 x 1000). The EA9300's highest average latency was 2.4 ms on upload vs. 4.4 ms for the ASUS. Both are nothing compared to the latency of a typical ISP connection.
The Cut Through Forwarding tests look for throughput reduction when various router features are used. Unchecking the Express Forwarding checkbox on the Connectivity > Administration page knocked downlink throughput down around 30%. But using the Media Prioritization (QoS) feature and setting the test client as the high priority device produced only 57% of normal throughput on downlink and 58% uplink. So you'll take a significant routing throughput haircut if you decide to use those features.
Wireless Performance
The EA9300 is Wi-Fi Certified and was tested with the Revision 10 wireless test process loaded with 1.1.9.181086 firmware. The router was reset to factory default, then set to Channel 6 and 40 MHz bandwidth for 2.4 GHz and Channel 40 and 80 MHz bandwidth for the low band 5 GHz radio. The high band radio was set to Channel 153, but was not tested. WPA2/AES encryption was used for all connections. The Revision 10 process still uses 20 MHz bandwidth for 2.4 GHz tests for throughput vs. range, but uses 40 MHz for peak throughput tests. These settings are enforced by the octoScope Pal test client.
The router body was centered on the test chamber turntable with all antennas vertical as shown in the photo below. The 0° position for the router had the front facing the chamber antennas. Although you see four chamber antennas in the photo, only the center two are used for throughput vs. attenuation testing, which is done with the Pal set to operate as a 2×2 AC device.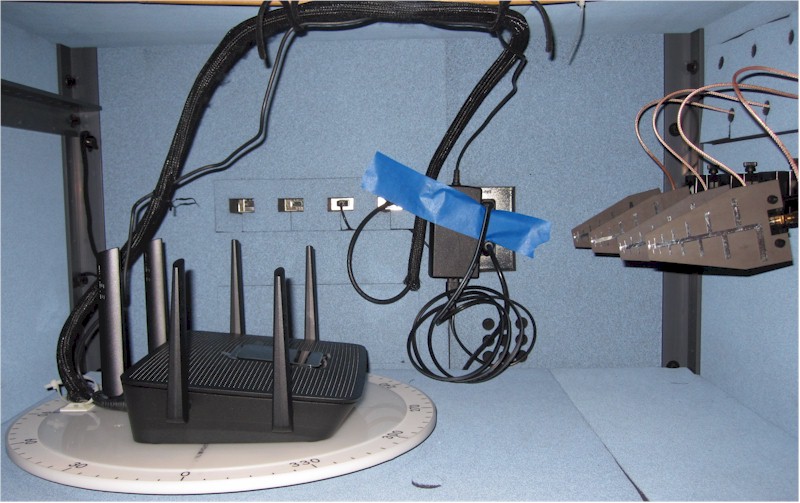 ASUS GT-AC5300 in test chamber
I'll be comparing the EA9300 against ASUS RT-AC5300 and GT-AC5300, both 4×4 tri-band designs and NETGEAR's 3×3 R7000P, because it also uses the BCM4365 5 GHz radio. The ASUS routers use Broadcom's good ol' 4×4 BCM4366.
The 2.4 GHz downlink profile shows the EA9300 and ASUS GT-AC5300 tracking pretty well, albeit with the EA9300 disconnecting earlier after the 45 dB test vs. the ASUS' 51 dB. The NETGEAR clearly lags the group.
2.4 GHz Downlink Throughput vs. Attenuation
2.4 GHz uplink shows all products except the EA9300 tracking relatively well. The EA9300 is the worst performer here, starting out around 20 Mbps lower, falling off more quickly and disconnecting earliest.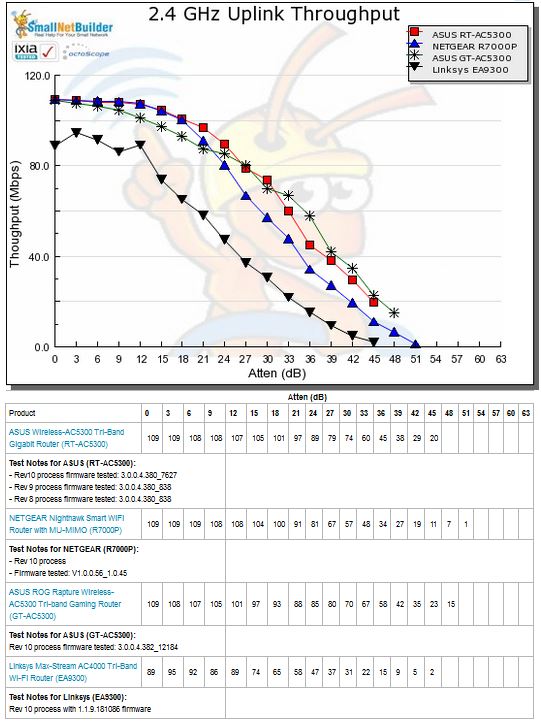 2.4 GHz Uplink Throughput vs. Attenuation
5 GHz downlink clearly shows something wrong with the EA9300's performance. I've been working since early June with Linksys and octoScope to try to track down the source of the problem. The BCM4365 radio SoC was suspected at first. But the NETGEAR R7000P uses the same device and clearly doesn't have a problem. This could just be an incompatibility between the QCA-based octoScope Pal test client and Broadcom's new 3×3 AC radio SoC that won't be seen in real-world use. But since the R7000P works fine, there could also be an issue in Linksys' implementation. I've told Linksys I'll retest the product if they resolve the problem.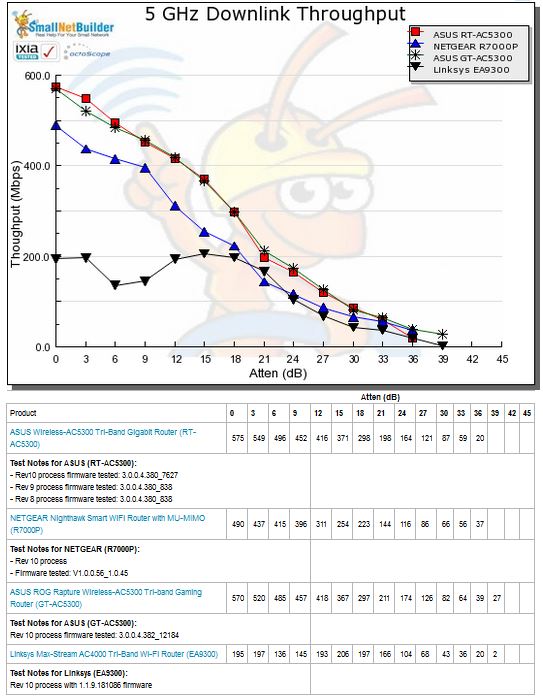 5 GHz Downlink Throughput vs. Attenuation
5 GHz uplink does not show as large a throughput difference as downlink. But the EA9300 starts out lower than the other three and joins the NETGEAR and ASUS RT-AC5300 at the 18 dB test and tracks down with them from there.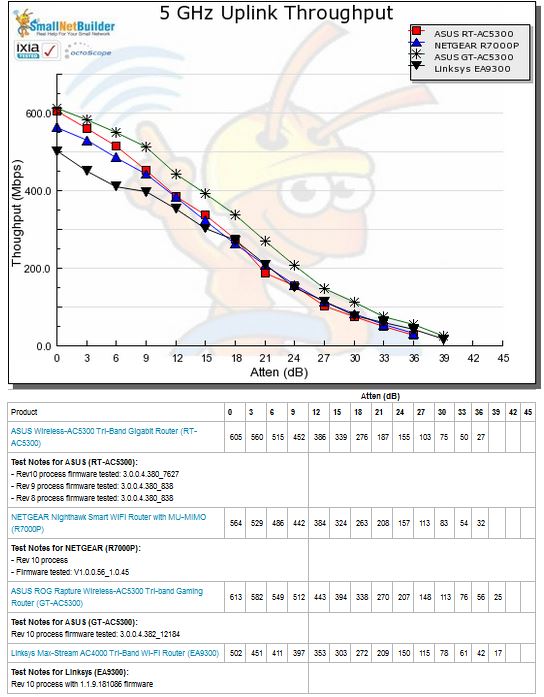 5 GHz Uplink Throughput vs. Attenuation
For our peak wireless performance tests, the octoPals are configured as 4×4 AC devices and left to negotiate their best connection, with 10 dB of attenuation applied on 2.4 GHz. The latter is necessary so the 2.4 GHz octoPal isn't overloaded.
The octoScope Pal test client reported a maximum 2.4 GHz link rate of 600 Mbps only during the peak uplink test. Maximum observed rates during the 5 GHz tests were mostly the expected 1300 Mbps. These represent maximum rates for 256 QAM; the octoPal client does not support 1024 QAM.
| Test Description | Linksys EA9300 | NETGEAR R7000P |
| --- | --- | --- |
| 2.4 GHz Peak Downlink (Mbps) | 384 | 221 |
| 2.4 GHz Peak Uplink (Mbps) | 327 | 134 |
| 5 GHz Peak Downlink (Mbps) | 772 | 940 |
| 5 GHz Peak Uplink (Mbps) | 855 | 940 |
Table 3: Peak Wireless throughput
I don't put much value on peak rates in the Router Ranker algorithm and neither should you, because they are so seldom achieved in real world use.
I didn't test MU-MIMO or Smart Connect.
Closing Thoughts
As of this review, the Router Ranker slots the EA9300 at #3, behind both 4×4 ASUS tri-band routers, the GT-AC5300 in the #1 berth and RT-AC5300 at #2. But at around $100 cheaper than both ASUSes, the EA9300 currently has the best price / performance of the relatively small number of products tested in the Revision 10 process.
The main value the EA9300 brings to the table over other 3×3 tri-band products is its more powerful quad-core 1.8 GHz 64 bit ARM CPU. It will help the router better keep up when hit with a lot of wired and wireless traffic. As noted earlier, if you are considering a Linksys "tri-band" router and can't or don't want to cough up the extra $30 for the EA9500, you'll be much better off with it than the three-year old EA9200, which I suspect could soon be removed from Linksys' lineup.
I hope Linksys can resolve the 5 GHz downlink low throughput problem; it casts a shadow on an otherwise good performing router. I'll be sure to update this review if they do.
Buy Max-Stream AC4000 Tri-Band Wi-Fi Router from Amazon