Introduction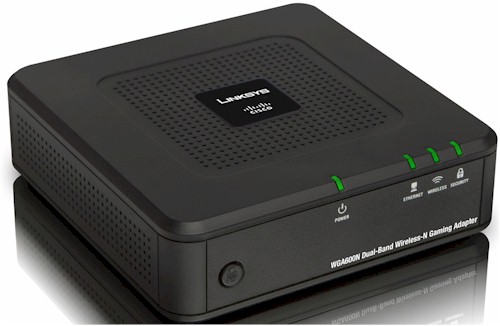 At a Glance
Product
Linksys by Cisco Dual-Band Wireless-N Gaming Adapter (WGA600N)
Summary
Dual-band draft 802.11n Ethernet bridge with Ubicom-based automatic QoS
Pros
• Dual-band
• Supports Ad Hoc connection for pairing without an AP
Cons
• No choose-and-connect from browser interface
• Shorter 5 GHz vs. 2.4 GHz range
My recent review of Cisco's latest Linksys wireless bridge, the WET610N, prompted questions about how it stacks up against its older sibling, the WGA600N. So I'm reviewing it to see!
Like the WET6, the WGA6 is designed to connect one (or with the addition of a switch) multiple Ethernet devices wirelessly to your wireless router.
The WGA6 has one functional edge over the WET6 in its "LAN Party Gaming" mode (Figure 1), which allows direct adapter-to-adapter link-ups without requiring a wireless router or AP. And since each adapter can support multiple clients, a pair of WGAs can be used to create a point-to-point wireless bridge. ("LAN Party Gaming" mode is just an implementation of the Ad Hoc mode that is built into every wireless adapter.)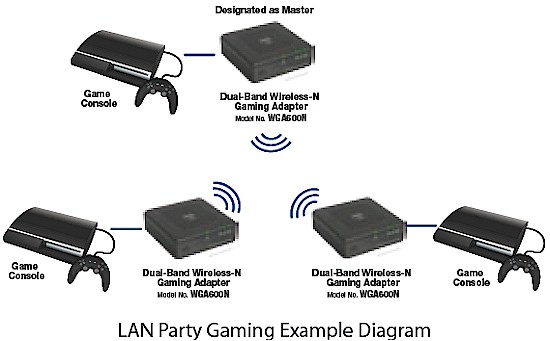 Figure 1: WGA600N LAN Party mode
Internal Details
Let's first look inside to see how the WGA6 differs from the WET610N. I already did a detailed internal look at both the WGA6 and WET610N. Where the WET6 uses a Metalink WLANPlus chipset with Forward Error Correction technology to allegedly optimize streaming video, the WGA6 uses Atheros wireless married to a Ubicom processor (Figure 2).
Figure 2: WGA600N board
Specifically, the radio uses an Atheros AR9160 dual-band 3×3 MIMO MAC/Baseband and AR9104 dual-band 2×2 MIMO 802.11n Radio. The CPU is a Ubicom IP5090U, which brings along Ubicom's WISH—a wireless version of its automatic QoS technology. The two internal fixed-position antennas are positioned at the rear and right side (viewed from the front) of the product.
Features
The WGA600N's footprint is slightly smaller than a CD case. Since it's designed to sit flat on your desk, the antennas are not positioned as high as the WET6's. Figure 3 shows the front and rear panel lights, controls and connections, which include a button to initiate a Wi-Fi Protected Setup pushbutton session and a 10/100 Ethernet port on the back. There are also wall-mount screw slots on the bottom of the case.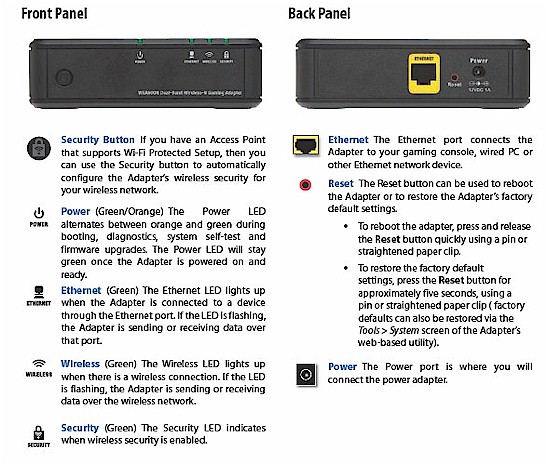 Figure 3: WGA600N Front and Rear panels
The slideshow provides a walkthrough of most of the WGA6's important screens, so I won't repeat all that information here. Figure 4 shows part of the Basic Wireless page, which does not include a site survey / connect feature.
Figure 4: Basic Wireless settings
If you use the web interface to select and connect to a network, you'll need to first visit the Wireless Status page to see a list of in-range networks, then the Basic Wireless page where you would manually enter the SSID of the network that you want, then finally the Device Info page to confirm that you are actually connected.
Note that, unlike the WET6, the WGA6's Device Info page does not display the link rate of the connection, which is helpful when debugging problem connections and confirming whether a device is using 20 or 40 MHz bandwidth mode. On the other hand, the WGA6 does show whether in-range networks support draft 11n (on the Wireless Status page), while the WET6 doesn't.
Cisco obviously prefers that users have a WPS-enabled router and just push its WPS button and the button on the front of the WGA6 to connect, or load up and run the install wizard.
As is my practice, I never loaded the install CD or used its "wizard". Instead, since I had Cisco send me a WPS-enabled WRT400N along with the WGA6, I tried a push-button WPS connection. I'm happy to report that it connected up on the first try, using a 5 GHz band connection secured via WPA2/AES. When I pressed the buttons again, I got the same result. So if you want to direct the WGA6 to connect to a specific band, you'll need to use the 802.11 Band radio buttons shown in Figure 4 to select the band.
Performance
I used the open-air test method described here to test the WGA6's performance. Since one of the main reasons for this review is to compare the WET610N and WGA600N, I had Cisco resend a WRT400N router, which I had used for the WET610N's tests. So testing was as apples-to-apples as I could make it.
The 400N had the latest 1.0.01 B19 firmware and I left all factory default settings in place, except to set channel 1 for the 2.4 GHz mode tests and channel 36 for the 5 GHz tests and to switch between 20 and 40 MHz wide channel modes as needed. The WGA6 was upgraded from 1.00 to 1.05 firmware, with all defaults left in place except for disabling WISH.
Figure 5 shows a composite of downlink throughput tests made at the six test locations in four wireless modes: 2.4 GHz, 20 MHz channel; 2.4 GHz, 40 MHz channel; 5 GHz, 20 MHz channel; and 5 GHz, 40 MHz channel. Each column represents the average throughput from a one minute test. Best case downlink throughput of 63.9 Mbps was measured at Location A using a 40 MHz channel in the 5 GHz band.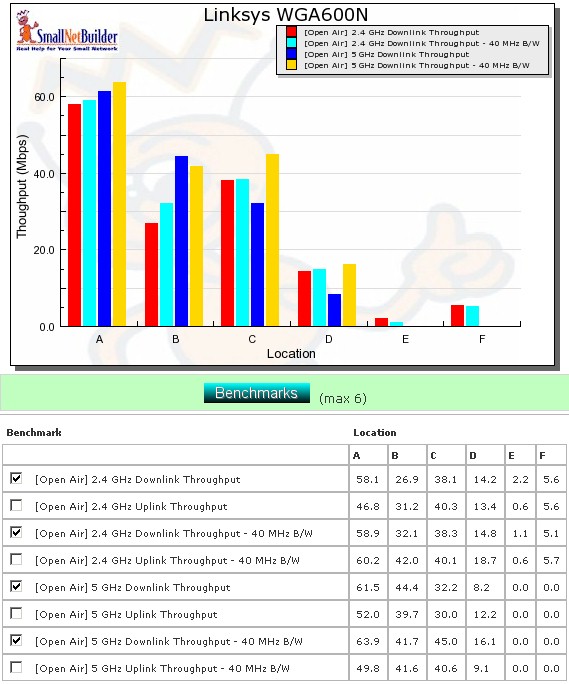 Figure 5: WGA600N six location downlink summary
As with most draft 11n products, I wasn't able to connect in Locations E and F in 5 GHz using either a 20 or 40 MHz channel. I had no problems connecting or running tests in all locations using the 2.4 GHz band, although throughput in Location E was so low that I'd say it was marginally usable.
Figure 6 shows a composite of the actual IxChariot test results running downlink 2.4 GHz w/ 20 MHz channel. Throughput variation is pretty low, and comparable with what I saw with the WET610N (open the plot).
Figure 6: Six location wireless throughput – 2.4 GHz, 20 MHz channel, downlink
Once again, because the 400N's throughput variation is low to start with (open the plot), I can't say for sure where the secret sauce is hidden. But either way, the combination of WRT400N and WGA600N produce steadier throughput that most draft 11n combinations that I have tested.
Figure 7 shows a six location plot for the uplink direction of all modes tested, which typically shows slightly lower speeds than downlink. Best case uplink throughput of 60.2 Mbps was again measured using a 40 MHz channel at Location A, but in the 2.4 GHz band. The IxChariot uplink plot looks similar to the downlink, with somewhat higher variation, however.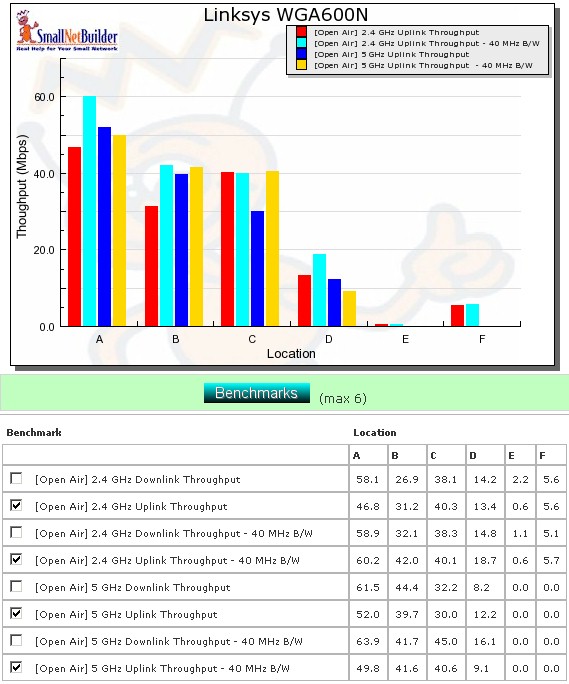 Figure 7: WGA600N six location uplink summary
Wireless Security Throughput
Because link rates are supposed to be limited to 802.11g (54 Mbps) speeds (as per 802.11n) when using WEP and WPA/TKIP wireless security, I'm going to stop showing the IxChariot plots and just confirm whether products conform. I ran the checks and the WGA600N does indeed limit speeds to 11g rates which result in best case throughput in the low 20 Mbps range.
Wireless Performance – Competitive Comparison
We now finally come to the comparison you've been waiting for. Figure 8 shows a comparison using the 2.4 GHz band and 20 MHz mode for the WGA600 and WET610N.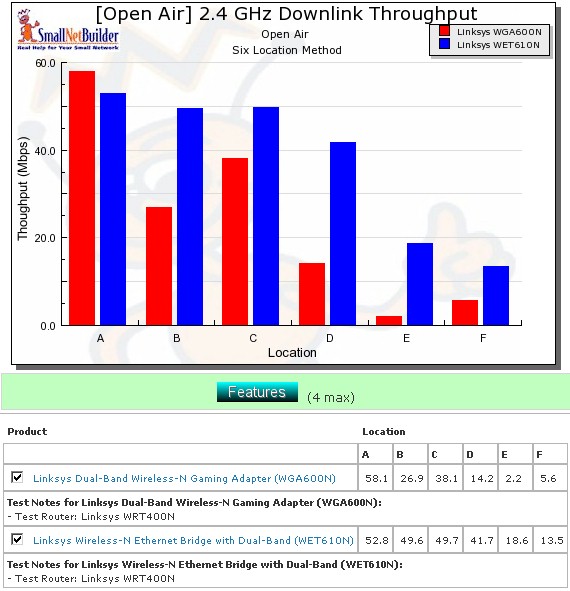 Figure 8: Competitive comparison – 5 GHz, 40 MHz channel, downlink
Although the WGA6 has the highest best-case throughput, the WET6 is clearly better across all other test locations.
The throughput summary tables (Tables 1 and 2) will help you easily compare products across the four combinations of bands and modes tested. The charts were generated by going through each six-location comparison plots and putting an X in the product's box that had the highest throughput for each test. If throughput differed by 1 Mbps or less, then both products got an X.
Product
2.4GHz /20
2.4GHz / 40
5GHz / 20
5GHz / 40
A
B
C
D
E
F
A
B
C
D
E
F
A
B
C
D
E
F
A
B
C
D
E
F
Linksys WGA600N
X
X
X
X
X
X
Linksys WET610N
X
X
X
X
X
X
X
X
X
X
X
X
X
X
X
Table 1: Best downlink throughput summary
Adding up the checkmarks for each product shows that the WET610N is the clear overall winner for both down and uplink in the 2.4 GHz band. The products are more evenly matched in the 5 GHz band in 20 MHz bandwidth mode. But the WET610N again wins in 5 GHz 40 MHz bandwidth mode.
Product
2.4GHz /20
2.4GHz / 40
5GHz / 20
5GHz / 40
A
B
C
D
E
F
A
B
C
D
E
F
A
B
C
D
E
F
A
B
C
D
E
F
Linksys WGA600N
X
X
X
X
Linksys WET610N
X
X
X
X
X
X
X
X
X
X
X
X
X
X
X
X
X
Table 2: Best uplink throughput summary
Closing Thoughts
Given the WET610N's superior performance, Cisco is probably safe retiring the WGA600N when it comes time to trim the product line again. But before they do, they should add either an AP or "LAN Party gaming" mode to the WET6 (I vote for the latter).

See the slideshow for an admin interface tour