At a glance
Product
Linksys Wireless-AC Universal Media Connector (WUMC710) [Website]
Summary
5 GHz only AC1300 class bridge with four-port Gigabit switch
Pros
• Four-port Gigabit switch
Cons
• 5 GHz only
• Poor performance
• Old-school setup process
Typical Price: $121 Buy From Amazon
Introduction
You would think with AC1750 and AC1900 routers all the rage now, that there would be a growing market for matching bridges. But there are precious few of these beasties, most of which are basically the same hardware as their router equivalents with a firmware load locking them into functioning as dedicated bridges.
The other two things that are suppressing the market for dedicated AC bridges are their high cost—essentially the same as their router siblings—and the fact that many top-end routers include bridge functions.
Linksys' WUMC710 is the rare bird that is trying to fly against the prevailing wind. It's a 5 GHz only AC1300 class (3×3) dedicated bridge with built-in four-port Gigabit switch. And to perhaps entice buyers who would otherwise opt to buy a second router for their bridge, it's priced very aggressively right now at about half its normal $90.
This review was originally going to be a head-to-head including WD's My Net AC Bridge. But since WD has exited the business and because I had already tested it, the only thing I'll do is use it for comparison when I discuss the WUMC710's performance.
I should also mention that Linksys has discontinued its WES610N N900 bridge. So if you simply must have a Linksys wireless bridge, the WUMC710 is your only option for now.
Speaking of the WES610N, the WUMC710 looks very much like it as shown in the callout diagram below. There's not much to it with four Gigabit Ethernet ports and power port on one end and indicators and Wi-Fi Protected Setup (WPS) switch on the other.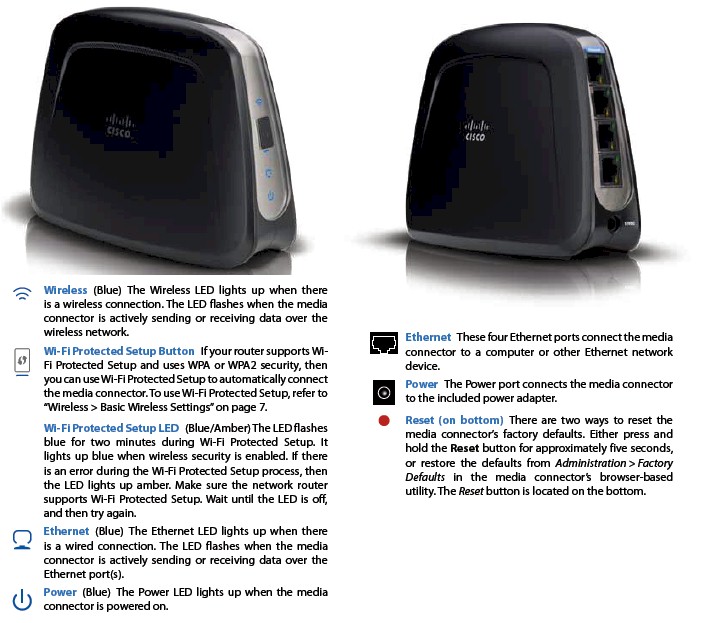 Linksys WUMC710 callouts
The vertical design has the three antennas spread across the arched top of the bridge, so you'll probably want to point one of the sides toward the router you're bridging to for best performance.
Internal Details
A peek at the FCC ID internal photos shows a pretty standard first-generation AC router design based around Broadcom's BCM4706 SoC and BCM4360 AC radio.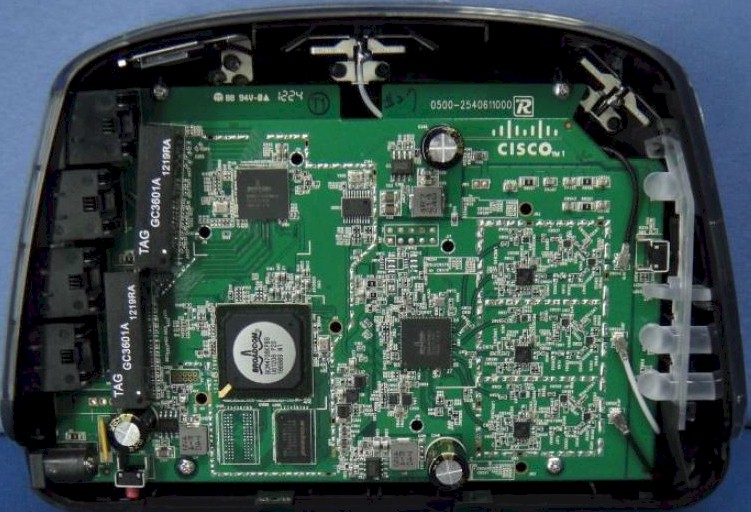 WUMC710 inside
The table below compares the 710 to Linksys' EA6500 AC1750 router.
WUMC710
Linksys EA6500
CPU
Broadcom BCM4706
Broadcom BCM4706
Switch
Broadcom BCM53125 (unconfirmed)
Broadcom BCM53125 (unconfirmed)
RAM
64 MB
128 MB
Flash
?
128 MB
2.4 GHz Radio
None
– BCM4331
– MicroSemi LX5535 2.4 – 2.5 GHz Power Amplifier (x3)
5 GHz radio
– Broadcom BCM4360
– Skyworks SE5003L 5 GHz, 23dBm Power Amp
w/ Power Detector (x3)
– Broadcom BCM4360
– Skyworks SE5003L 5 GHz, 23dBm Power Amp
w/ Power Detector (x3)
WUMC710 component summary
Setup
I've been testing a lot of bridges lately and have to say that most have greatly improved upon the convoluted and often frustrating setup process that have been the hallmark of these devices. Sad to say, the WUMC710's setup is more old school than new if you don't opt to set it up using WPS pushbutton.
The 710 will grab an IP address if it detects a DHCP server plugged into any of its LAN ports. But since you would normally plug the device you are trying to connect into it (which won't have a DHCP server), it will set itself to a default IP of 10.100.1.1. This means you'll need to set your device IP to something in the same range (like 10.100.1.10) to connect to the admin pages and finish the setup.
Alternatively, you can plug the 710 into your LAN router, let it grab an IP, check your router's DHCP list for the 710's IP address, use that IP to access the server and set a static IP so that you don't lose it.
Compared to the captive-portal techniques I've been seeing on the other more recent-vintage N bridges I've been testing, setting up the 710 was much more difficult. Here's a shot of the login landing screen showing the classic Linksys admin look.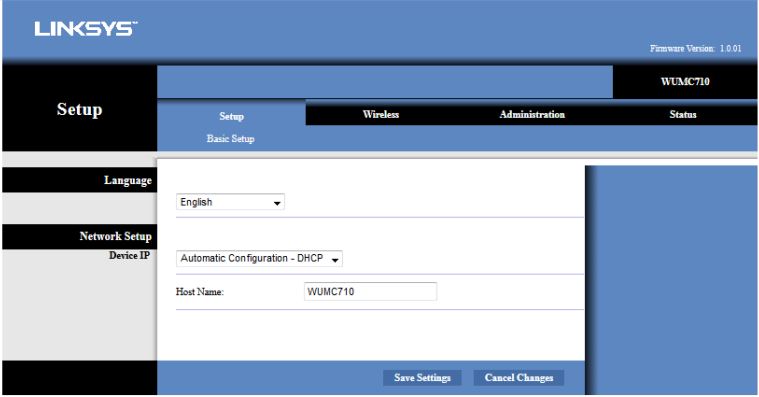 Basic Setup screen
I've put screenshots of the other admin screens in the gallery below.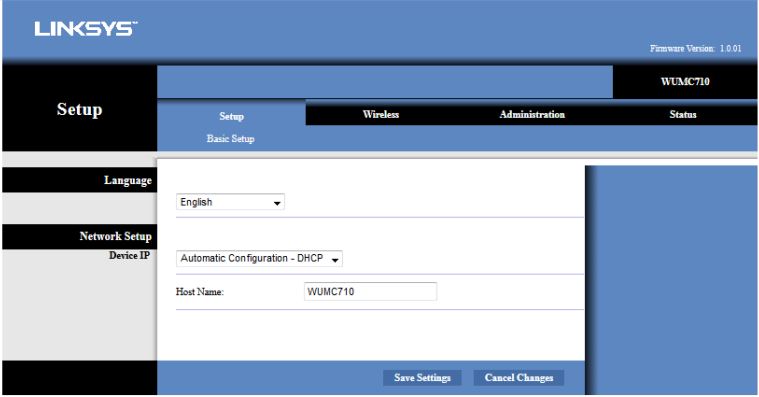 This screen determines how the WES610N gets its IP address. Default is shown, with the other option static. Default IP if no DHCP server is detected is 10.100.1.1
Default wireless setup is WPS.
You can also enter the SSID of the target network direction via manual option.
There is also a site survey. Clicking the connect button takes you back to the manual wireless setup screen where you confirm the network SSID and enter the WPA key.
No more confusing WMM settings. All you get to do is enable/disable. Leave these alone because you need WMM enabled to get link rates above 54 Mbps.
Management settings are self-explanatory. There is no HTTPs admin support.
Device information including LAN port status
Status of the wireless network. Kudos, Linksys, for including link rate!
Features
The WUMC710 functions only as a wireless bridge, not an AP and not a repeater. So the feature set is pretty simple:
Static and dynamic IP for bridge IP
WEP, WPA / WPA2 Personal wireless security
Wi-Fi Protected Setup (WPS) support, pushbutton and PIN
Wireless Network Site survey
Missing features
HTTPs admin access
Can't dim or shut off LEDs
No transmit power adjust
Performance
I used our new test process, which is also used for testing wireless adapters, to test the WUMC710. The bridge had its original v1.0.01 firmware loaded because there have been no updates. The bridge was placed so that its left side (viewed from the indicator end of the product) faced the test chamber antennas, which were 8" away. The ASUS RT-AC66U reference router was set to Channel 153 and Auto 20/40/80 MHz bandwidth mode.
The Benchmark Summary shows the averages of all the measurements made in both directions. Note the distinct imbalance between up and downlink.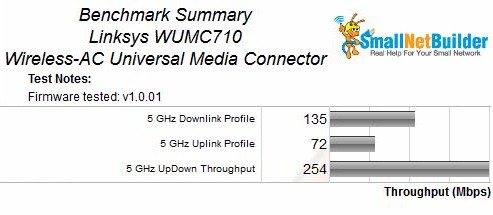 Benchmark Summary
As I mentioned earlier, I have tested only one other dedicated AC1300 bridge, the WD My Net AC Bridge. So both are included in the throughput vs. attenuation plots below.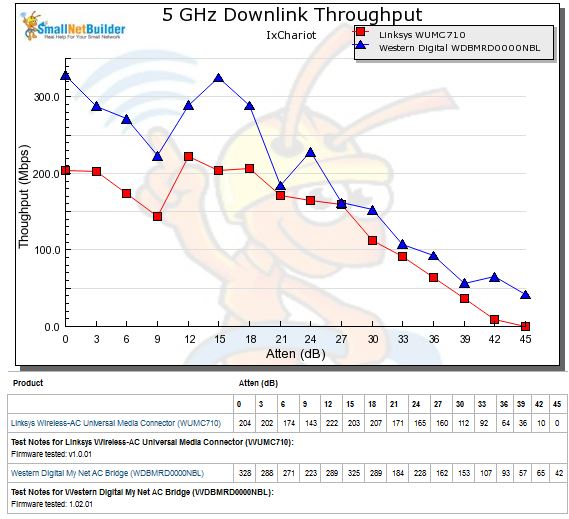 5 GHz downlink throughput vs. attenuation
The WUMC710 is clearly outperformed by the WD bridge, especially on uplink.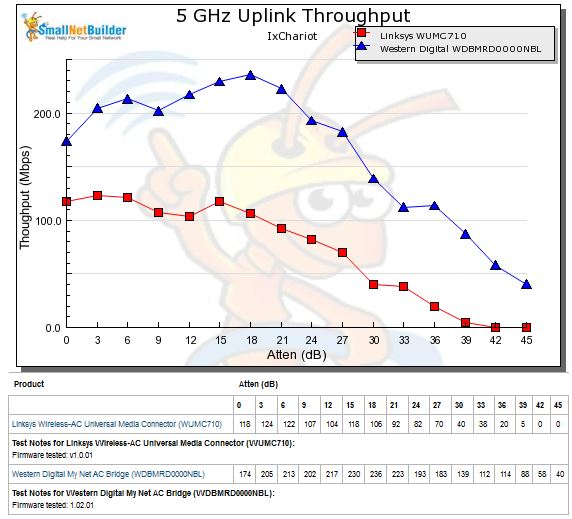 5 GHz uplink throughput vs. attenuation
Closing Thoughts
Given its rather disappointing performance, the only thing the WUMC710 has going for it is its price. If $50 is all you have in your AC bridge budget, the Linksys is the only game in town. But if you're willing to goose your budget to $60 or so and don't mind buying a discontinued product, the WD My Net AC Bridge
is the better performer of the two.
But given these two uninspiring choices, I suspect most of you will look for sales on your favorite AC router if you need a bridge.
Buy Wireless-AC Universal Media Connector from Amazon