At a glance
Product
NETGEAR N900 Video and Gaming Adapter (WNCE4004) [Website]
Summary
N900 class bridge with built-in four-port 10/100 switch
Pros
• Easy setup
• Relatively inexpensive
Cons
• 10/100 vs. Gigabit switch
• Poor 5 GHz performance
Typical Price: $70 Buy From Amazon
Introduction
With the lull in new routers while the stuff announced earlier this month at CES is finished up, I've switched the testbed over to testing wireless adapters and bridges. Today, I'm looking at a relatively new entry, NETGEAR's WNCE4004. Since it's always nice to have something to compare to, I also retested ASUS' EA-N66, which was reviewed back in August 2012 using our old process.
Why should you care about N900 bridges? Well, just remember that the 2.4 GHz side of AC routers still is an 802.11n radio. And if you have an AC1300 or AC1750 router, that radio is N450 class, just like you'll find in an "N900" bridge.

If you're looking to bridge in the 2.4 GHz band, using an "N900" bridge vs. an AC bridge or router can save you a lot of money.
In their never-ending quest to put bigger numbers on product packaging, wireless manufacturer marketeers decided to use the same class designation for adapters and bridges used in "equivalent" routers. So an N900 bridge really has a maximum link rate of 450 Mbps in either band. Adapters and bridges never operate simultaneously in both bands.
The WNCE4004 is a simple device in that it functions only as a bridge, while the ASUS EA-N66 can also function as an access point and a non-WDS repeater. Where the NETGEAR has a mixed advantage over the ASUS is in its embedded four-port switch. I say mixed because the switch is 10/100 vs. the single Gigabit Ethernet port on the ASUS.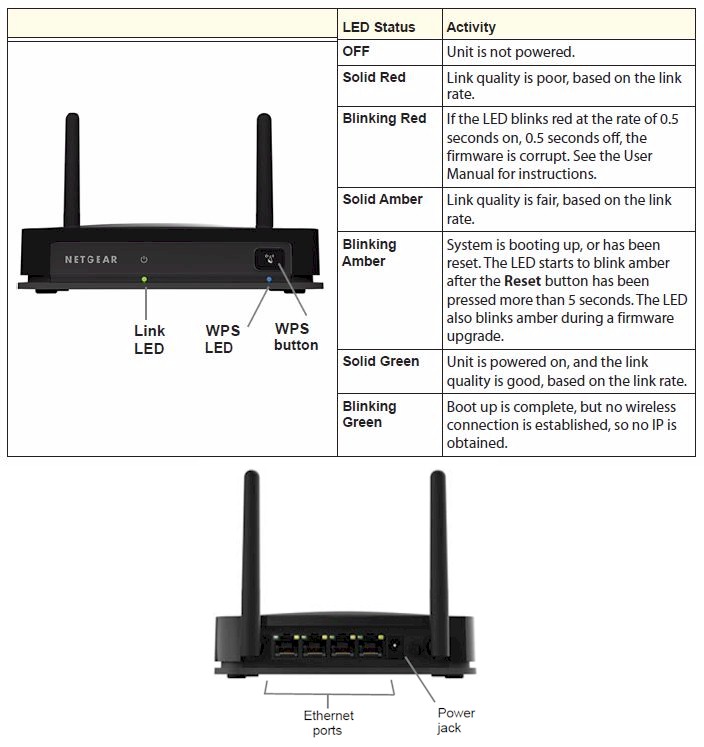 NETGEAR WNCE4004 callouts
The NETGEAR's controls are simple as shown in the callout diagram above. Its approximately 4" x 5" footprint doesn't take up much space and it conveniently has mounting slots on its bottom panel.
Internal Details
The FCC ID photos clearly show the Atheros AR9580 3×3 dual-band 802.11abgn radio. But they are not clear enough to clearly make out the main SoC. So I had to open it up and peel off the thermal pad coupling it to its RF cover to identify the 400 MHz Atheros AR7241 Network Processor that is the 4004's heart.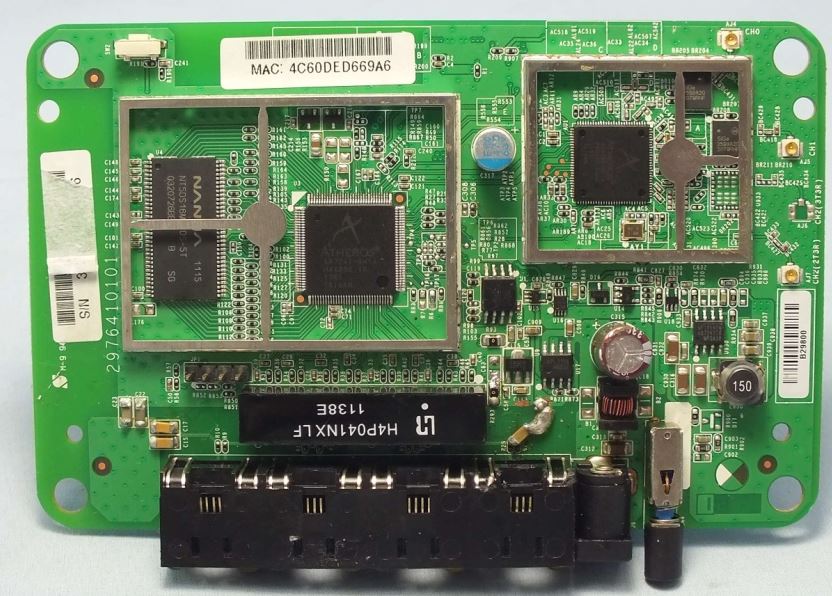 WUMC710 inside
The table below compares the key components of the WNCE4004 and ASUS EA-N66. Both make do with dual-band radio SoCs. But since NETGEAR opted to include a four-port switch, they ended up with two SoC's vs. the ASUS' one.

NETGEAR WNCE4004
ASUS EA-N66
CPU
Atheros AR7241 Network Processor @ 400 MHz
Ralink RT3883F 802.11n 2.4/5GHz 3T3R 450/450Mbps Single Chip AP/Router SoC
Switch / Ethernet
In CPU
Realtek RTL8211CL Integrated 10/100/1000 Gigabit Ethernet Transceiver
RAM
32 MB
128 MB
Flash
8 MB
8 MB
Radio
– Atheros AR9580
– SiGe 2593A20 Dual Band 802.11n Wireless LAN Front End (x2)
– In RT3883F
– Outboard 2.4 GHz and 5 GHz amplifiers (3 per band)
WNCE4004 component summary and comparison
If you look carefully at the table and the board photo, you'll see only two SiGE front end modules, but three antennas. This would seem to indicate a 2×3 (two transmit, three receive) design, which would be capable of only a 300 Mbps maximum link rate. But I confirmed that the bridge did connect at 450 Mbps on both bands when connected to an appropriately configured ASUS RT-AC66U.
Setup
I bemoaned the Linksys WUMC710's annoying setup process, noting that newer bridges are much easier. Well, the WNCE4004 is one of the newer breed that don't make you jump through hoops (or futz with your device's IP settings) to get it set up.
Everything you need to know is printed on the label on its bottom panel, although in teeny-tiny type that people of a certain age may need a magnifier to read (ahem). As long as your device is set to receive its IP address information via DHCP (and most are by default) you'll be up in a jiffy.
Just power up the WNCE4004, wait for its Link light to blink green, aim your browser at http://www.mywifiext.net and follow the instructions on the starting screen seen below. Alternatively, you can push the WPS button on the bridge and your router and get connected.
Setup Wizard start
I've put screenshots of the other setup and admin screens in the gallery below.
When you log into http://www.mywifiext.net on a factory fresh WNCE4004 you'll see this screen
Clicking the Continue button on the first screen starts this network scan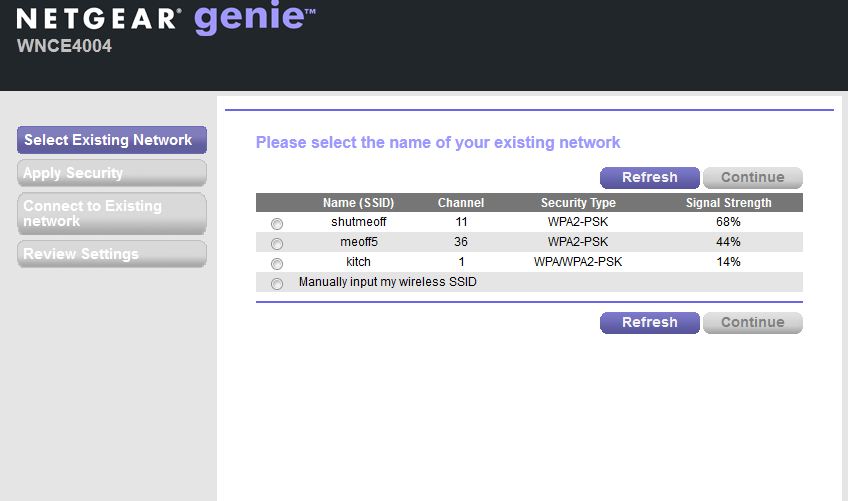 Network scan results.
After you select a network, enter its wireless security key.
Wait for connection. It usually takes less than 2 minutes
Connected. Almost done
Almost done again
Yeesh! You can skip this if you like. Didn't seem to work on Firefox 26.
Finally, finally done
You can assign a static IP to the bridge here. It conveniently shows its current IP address here.
This screen can be confusing. It's not showing the devices connected to its own switch. It's more a general network scan for all active devices.
Not much to do here. The router or AP you are bridging to controls the wireless settings.
If you'd rather push a software WPS button, here it is.
Features
The WNCE4004 functions only as a wireless bridge, not an AP and not a repeater. So the feature set is pretty simple:
Static and dynamic IP for bridge IP
WEP, WPA / WPA2 Personal wireless security
Wi-Fi Protected Setup (WPS) pushbutton
Wireless Network Site survey
Note that admin access is HTTP only, no HTTPS. One of my pet peeves with bridges is that some don't show both the link rate and signal strength of the connection. Unfortunately, the WNCE4004 shows only link rate in its Status screen.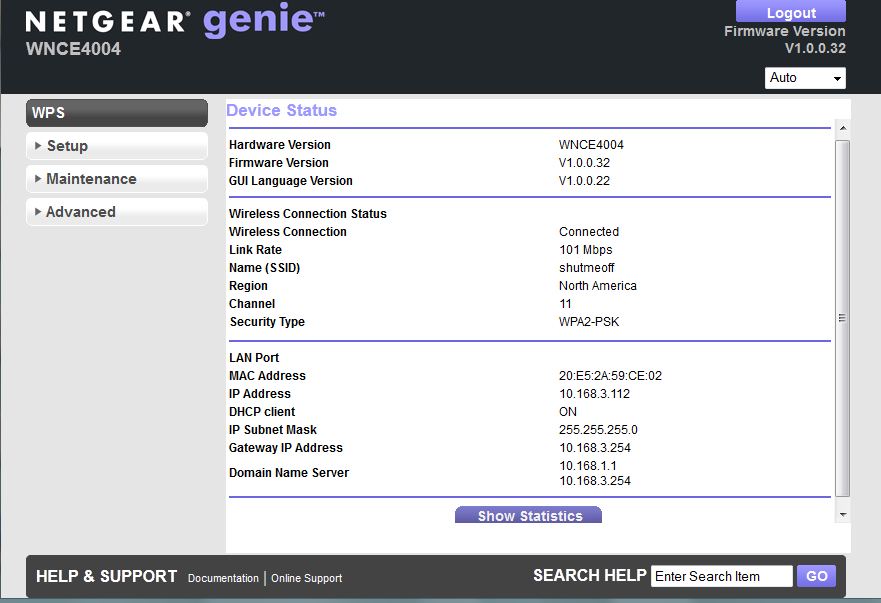 Status screen
Same thing in the Statistics screen, unfortunately.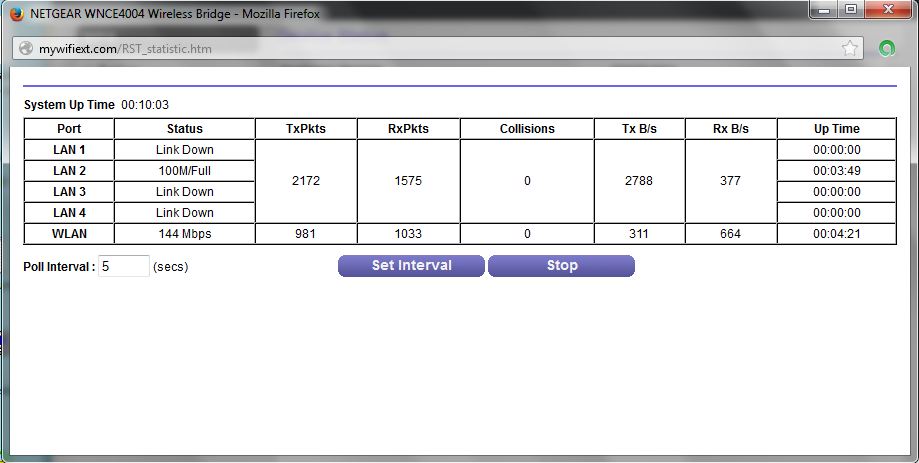 Statistics screen
The only time you see signal strength is in the network scan results screen in the setup wizard.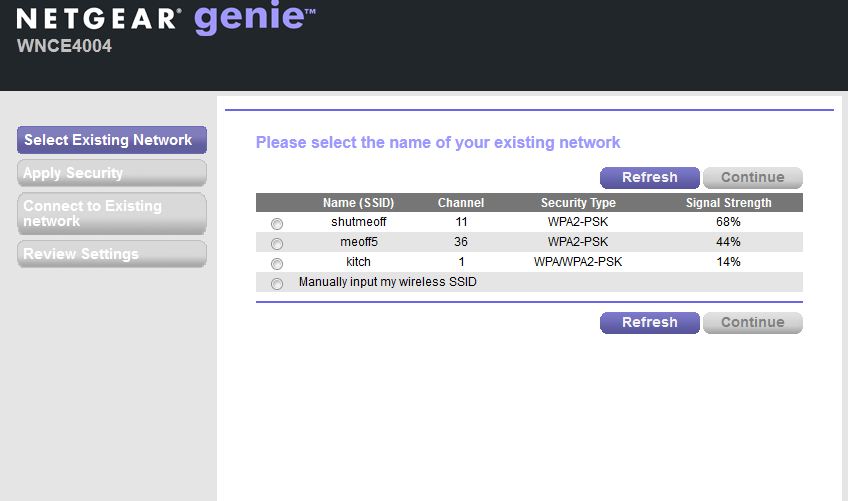 Network scan result
Performance
I used our new test process, which is also used for testing wireless adapters, to test the WNCE4004 and to retest the ASUS EA-N66. The bridge had its original v1.0.0.32 firmware loaded. There have been no updates. The bridge was placed so that its front side (indicator side) faced the test chamber antennas, which were 8" away. The ASUS RT-AC66U reference router was set to Channel 153 and Auto 20/40/80 MHz bandwidth mode for 5 GHz tests and Channel 6 and 20 MHz bandwidth mode for the 2.4 GHz band run.
The Benchmark Summary shows the averages of all the measurements made in both directions. 2.4 GHz up and downlink results are balanced pretty well. But 5 GHz uplink looks like the WNCE4004's weak spot.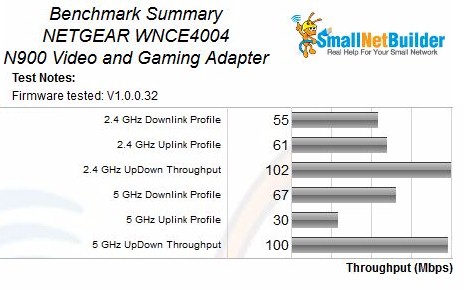 Benchmark Summary
For the throughput vs. attenuation profile plots, I've pulled in the ASUS EA-N66. So this is an N900 vs. N900 bridge comparison. First 2.4 GHz downlink. The ASUS starts with a bit of an edge in the lower attenuations (higher signal levels), but falls off more quickly. Advantage here goes to the NETGEAR.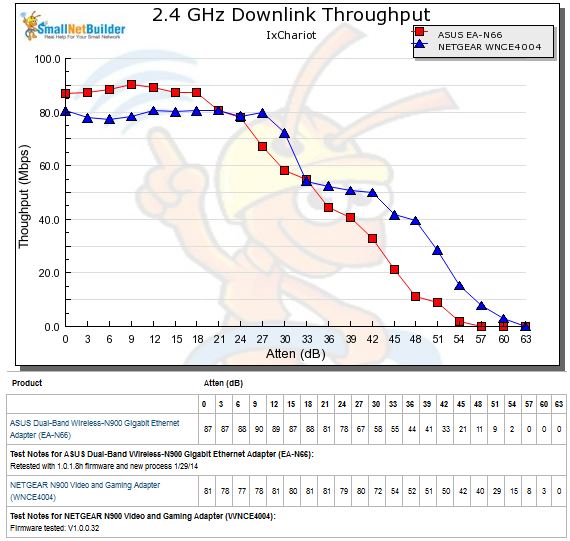 2.4 GHz downlink throughput vs. attenuation
Same thing happens on 2.4 GHz uplink. Advantage again, NETGEAR.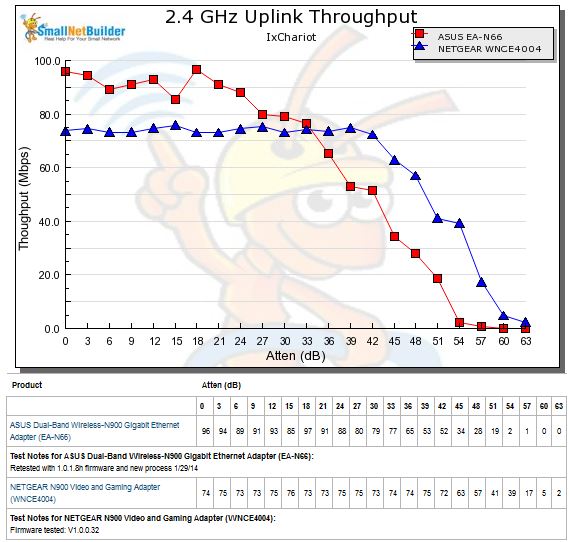 2.4 GHz uplink throughput vs. attenuation
The NETGEAR's advantage doesn't carry through to the 5 GHz band, unfortunately. The ASUS' strong signal throughput is almost 2X the NETGEAR's. The only good thing for the WNCE4004 is that it does a bit better at the higher attenuations (lower signal levels).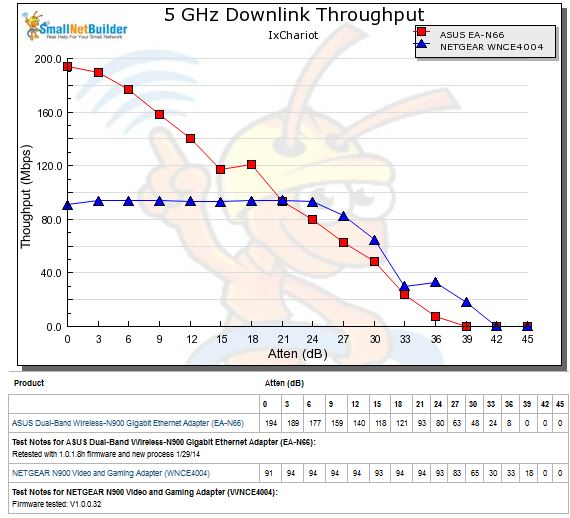 5 GHz downlink throughput vs. attenuation
The result for 5 GHz uplink is similar, except this time the ASUS' initial throughput is 4X higher! It seems that something was preventing the NETGEAR from accessing the higher link rates it needed to achieve the ASUS' higher throughputs.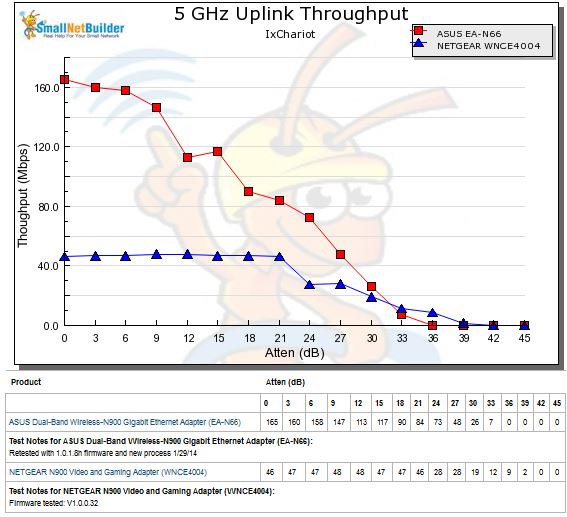 5 GHz uplink throughput vs. attenuation
Closing Thoughts
The choice between the NETGEAR WNCE4004 and ASUS EA-N66 is clear, depending on your needs. If low cost, good 2.4 GHz performance and connecting multiple devices are your priorities, go for the NETGEAR. If 5 GHz performance is your primary concern and you'd like the option to repurpose your purchase as an access point or repeater, then put the ASUS in your shopping cart.
Buy N900 Video and Gaming Adapter from Amazon