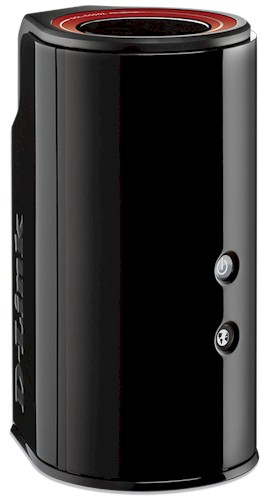 At a glance
Product
D-Link Gaming Router AC1300 with StreamBoost Technology (DGL-5500) [Website]
Summary
QCA-based AC1300 class router with Qualcomm Streamboost automatic traffic shaping.
Pros
• Nothing in particular
Cons
• USB 2.0
• Slow storage writes
• Lacks many wireless features including bridging / repeating
Typical Price: $130 Buy From Amazon
Overview
It has taken longer than I intended to get this review of the first router equipped with Qualcomm's StreamBoost automatic traffic shaping technology posted. I actually finished the wireless tests shortly after receiving the product around the end of July. But some oddities with wireless performance, which I'll get to later, caused it to slip to the back burner in hopes that D-Link and Qualcomm Atheros (QCA) would issue new firmware, so that I only have to do this review once. But with no new firmware in sight, I'm pressing on with the review.
Even though D-Link is positioning it as a "Gaming" router, (hence, the DGL- prefix vs. the DIR- used on its other wireless routers) the DGL-5500 is packaged in the same cylindrical package used on all its new routers except the DIR-810L AC750 class box.
This means the front of the 5500 has only power and "Internet" indicators, which use color and blinking to indicate power, boot, WPS and internet connection status. There are no indicators to show Ethernet or wireless activity / status.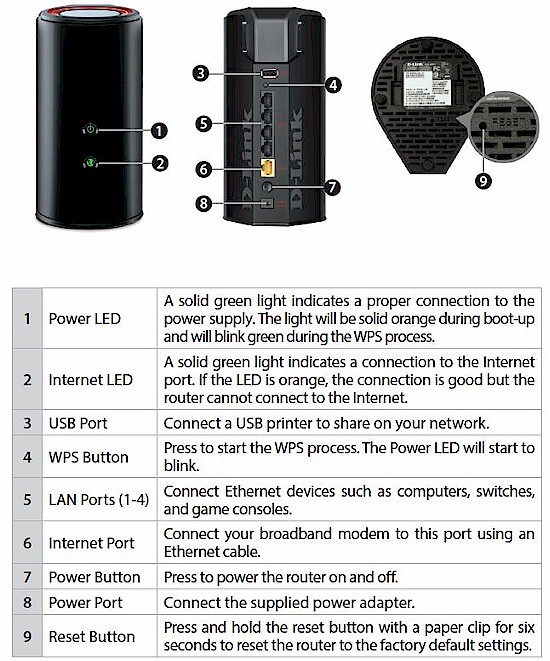 DGL-5500 ports and buttons
All the 5500's Ethernet ports are Gigabit. But the single USB port that supports storage sharing is 2.0 not 3.0.
Inside
Digging into the 5500's FCC ID photos confirms its QCA-based design. The photos aren't clear enough to positively identify all its components. But it's safe to assume that D-Link has stuck with QCA's 11ac "reference platform, which consists of the QCA9558 dual-band, 3-stream 802.11n SoC, QCA9880 3-stream 802.11ac radio solution, and AR8327 Gigabit Ethernet switch.
The photo below shows the 5 GHz radio that's in the form of an oversized PCI-e card.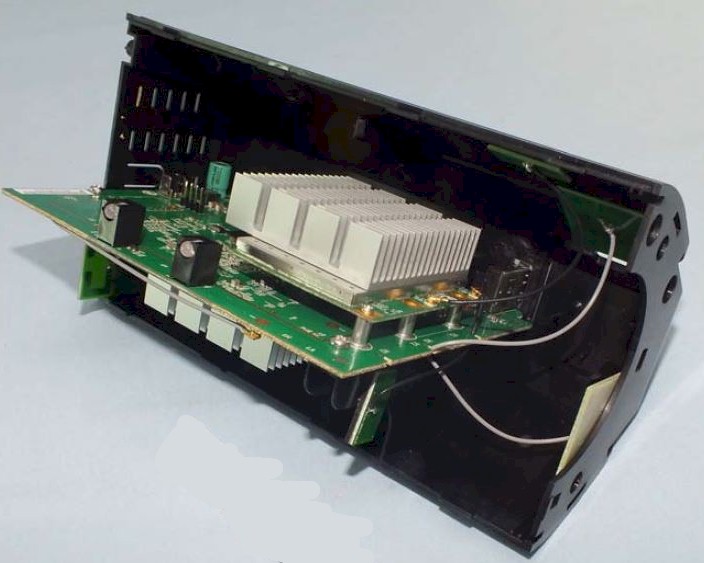 D-Link DGL-5500 inside
There are more fuzzy photos of design details in the gallery below.
Detail showing side of board with 5 GHz radio module covered by heatsink
Bottom of board with main CPU / 2.4 GHz radio, covered by heatsink and RF shield
With heatsink and RF can removed we see the main CPU & 2.4 GHz radio and 128 MB of RAM. Note the three outboard 2.4 GHz power amplifiers
The 5 GHz radio is on a PCI-e module. Note the two outboard power amplifiers and the unloaded component pads for a third RF channel.
The five antennas (three 2.4 GHz, two 5 GHz) have a mix of horizontal and vertical polarization. Note the 2.4 GHz antenna at the bottom of the router case.
The table below compares the DGL-5500's component breakdown with TP-Link's Archer C7, which is very similar in design. While the Archer C7 is a full AC1750 class router, D-Link opted to go for a mixed three-stream / two-stream AC1300 design. I never really understood the allure of this mix in N750 class products and I remain puzzled in its use in AC products. But I suppose if I saw a chance to differentiate products to squeeze out a bit more profit, I'd take it too.
D-Link DGL-5500
TP-Link Archer C7
CPU
QCA9558 dual-band, 3-stream 802.11n SoC
QCA9558 dual-band, 3-stream 802.11n SoC
Switch
Atheros AR8327
Atheros AR8327
RAM
128 MB Nanya NT5TU32M16DG-AC (x2)
128 MB Winbond W9751G6JB DDR2 (x2)
Flash
8 MB ?
8 MB Winbond W25Q64FV
2.4 GHz Radio
In QCA9558
– Unidentified 2.4 GHz power amp (x3)
In QCA9558
– Unidentified 2.4 GHz power amp (x3)
5 GHz radio
– QCA9880 3×3 802.11ac radio
– Unidentified 5 GHz power amp (x2)
– QCA9880 3×3 802.11ac radio
– SiGE 5005L 5 GHz power amp (x3)
Table 1: D-Link DGL-5500 / TP-Link Archer C7 key components
Features
The 5500 mostly implements D-Link's standard router feature set, which we covered most recently in the DIR-868L review. D-Link has nicely posted an emulator so that you can test-drive most of the 5500's admin features for yourself.
The router comes with no password set. So if you decide to skip the setup wizard that auto-launches on first access, you can click right into the My Network view. Even if you do run the wizard, you don't have to enter an admin password.
I should say that you get this view only if you have enabled StreamBoost. If you haven't, you get a screen that says only "This page is used for StreamBoost. Click here to set up StreamBoost".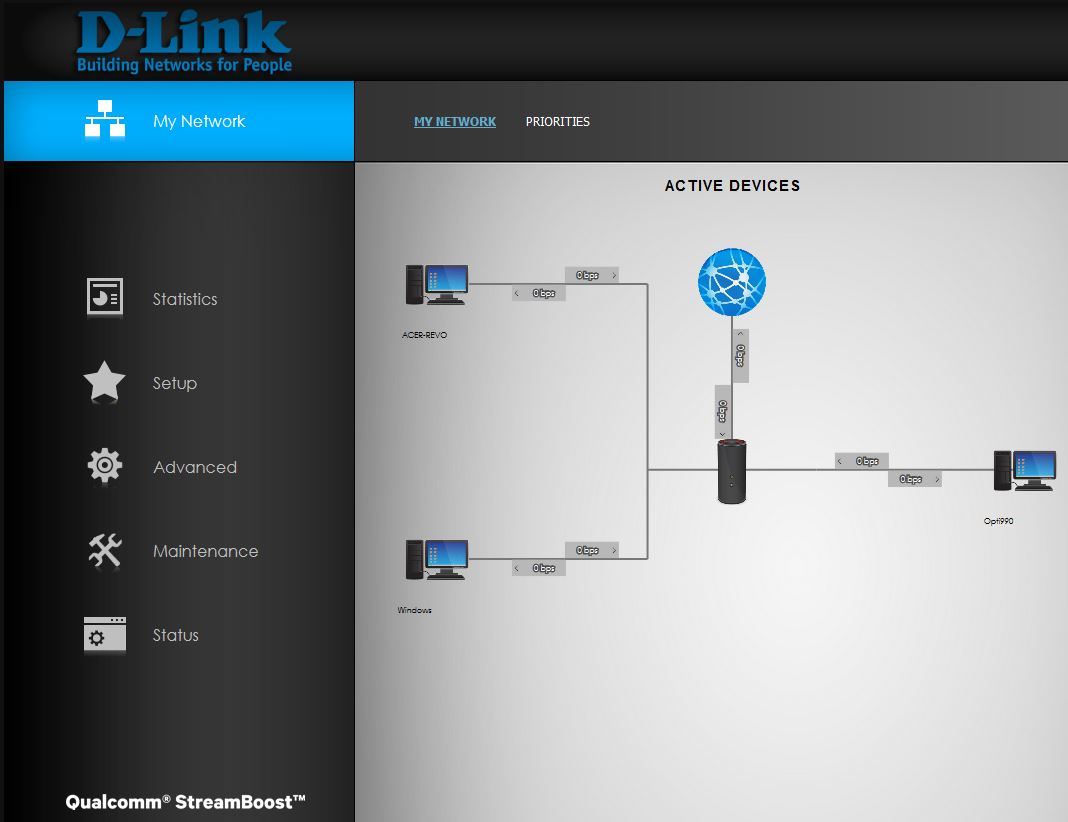 My Network page
The web interface isn't very mobile-friendly since it requires a window width over 1200 px wide to display some of the StreamBoost screens without scrolling. Even worse, the other admin pages appeared to need a full 1280 px wide screen to display all text. No scroll bars appeared with narrower screens; text was just cut off as illustrated below.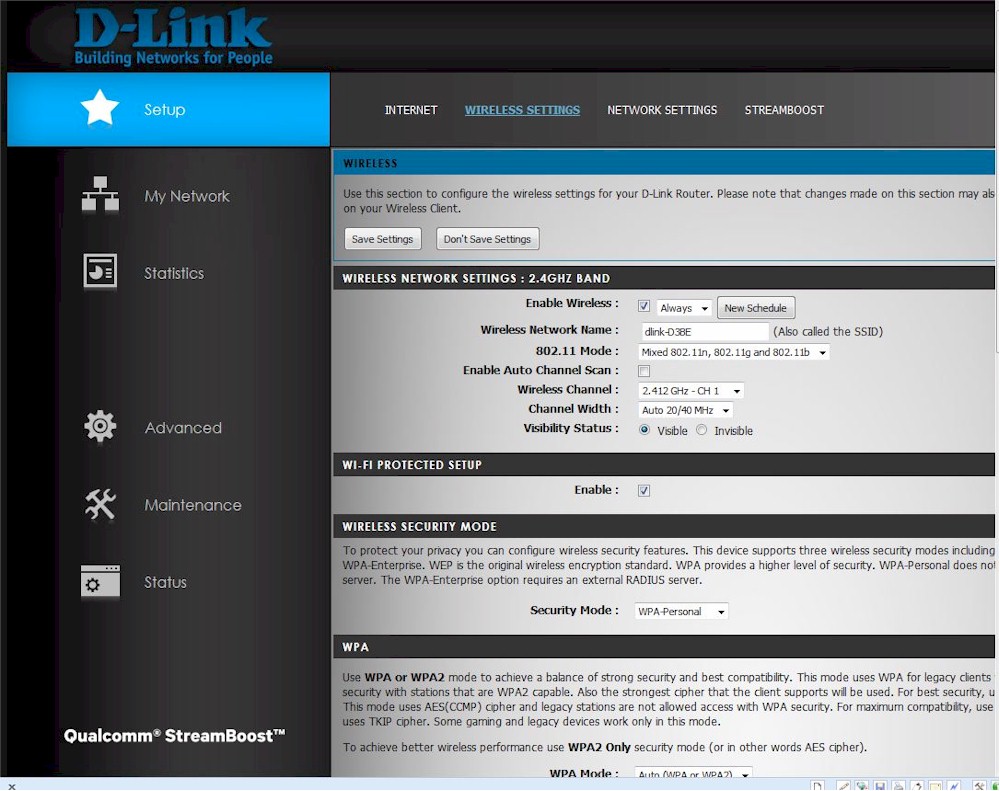 Cut off screen text
I also found I needed to reload the My Network page at times to get the device view to properly display. When briefly playing with StreamBoost, the browser seemed to lock up on a few occasions, too.
Aside from the My Network / StreamBoost page, you'll find familiar D-Link admin screens as you click into the other main admin sections. Clicking on any of the left-hand icons makes it bounce to the top of the list in a little cutesy animation.
Here is a summary of the DGL-5500's features.
Routing
DHCP, Static, PPPoE WAN types
DHCP server with MAC address reservation, lease time setting and NetBIOS controls
DMZ host
SPI firewall disable, anti-spoof checking
WAN ping allow / deny
IPv4 Multicast stream enable
PPTP, IPsec, RTSP, SIP ALG disables
Schedulable single port, port range forwarding. (Can set source and destination ports on single ports [virtual servers])
Allow / deny (global) MAC address filtering for network access
Outbound port filtering by IP or MAC address with selectable web access logging
40 domain-based allow / deny (global) Web access filters
8 inbound IP range allow / deny (global) filters
Remote admin access enable, IP access filtering, port setting and graphic authentication enable
UPnP support
HTTPs admin access enable
StreamBoost automatic traffic shaping
Sharing features
Basic SMB storage sharing
Unspecified media server
Since this is a new chipset for D-Link, some of the features you normally expect to find on a D-Link router aren't supported:
PPTP, L2TP, DS-Lite WAN types
IPv6
Static routes
Dynamic DNS
WPS PIN
Triggered port forwarding
WAN port speed set
Syslog support
Email alerts and log send
Since the 5500 is a "gaming" router, it doesn't work with D-Link's mydlink cloud service. That's no great loss in my book, given mydlink's limited feature set that is fragmented among a handful of Android and ioS apps.
Wireless
Table 2 summarizes the basic wireless setting modes and channels supported.
Setting
2.4 GHz
5 GHz
Channel
Auto [default]
1 – 11
Auto [default]
36, 40, 44, 48
149, 153, 157, 161
Channel Width
20 MHz only
20/40 MHz (Auto) [default]
20 MHz only
20/40 MHz
20/40/80 MHz (Auto) [default]
Network Mode
802.11b only
802.11g only
802.11n only
Mixed 802.11g and 802.11b
Mixed 802.11n and 802.11g
Mixed 802.11n, 802.11g and 802.11b [Default]
802.11n only
802.11ac only
Mixed 802.11a and 802.11n
Mixed 802.11ac and 802.11n
Mixed 802.11ac, 802.11n and 802.11a [default]
Security Modes
None
WEP
WPA-Personal
WPA-Enterprise
WPA
Auto (WPA or WPA2)
WPA2 only
WPA only
Table 2: Wireless settings summary
The 5500's wireless feature set is smaller than found on less expensive routers. Note access to channel 165 in the 5 GHz band is not supported.
WPS implementation seems a bit odd, with only an enable under the 2.4 GHz band settings. The router supports WPS pushbutton mode only. There is no WPS PIN shown in the admin GUI, so also no way to change it.
As with the routing features, the 5500's wireless feature list is light compared to other D-Link routers. You might miss having:
Guest networks
Bridging / repeating
Physical wireless on/off switch
Scheduled wireless on/off
Transmit power adjust
Wireless client-to-client isolation
Wireless guest isolation from LAN
Storage
The 5500's USB sharing feature is also very basic, with only a media server enable and name box tucked into the Server page, which handles single port forwarding. There is no mention of Shareport Plus, D-Link's drive and printer sharing feature found on its other routers.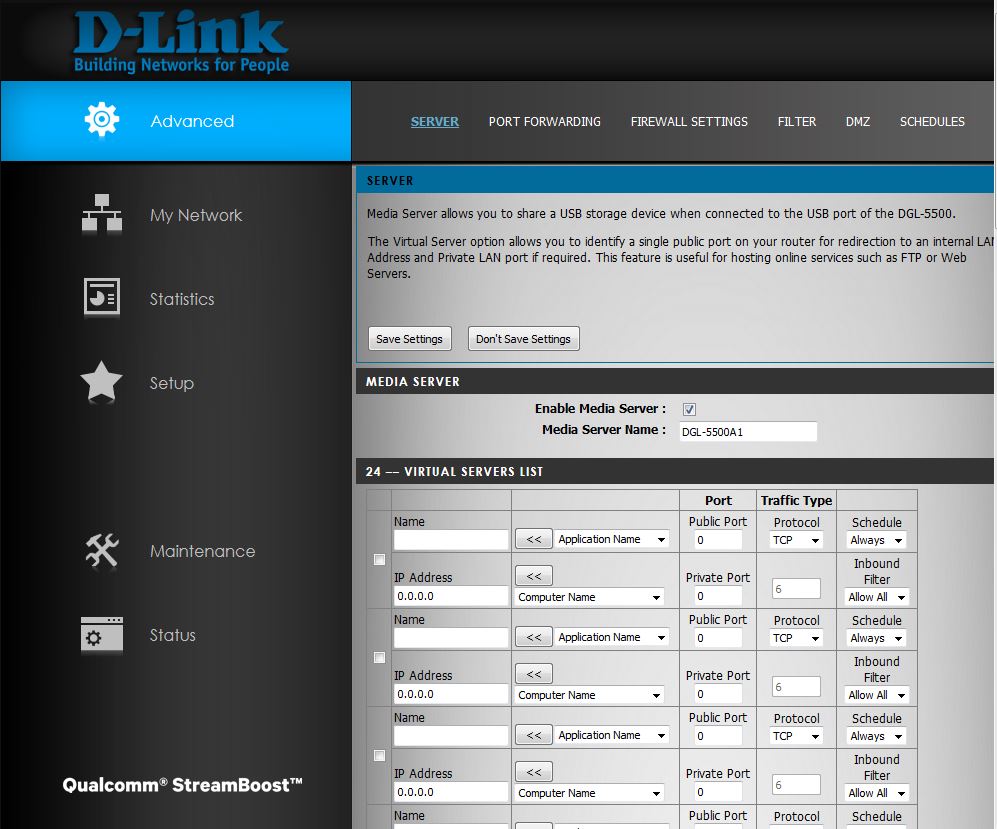 Server page
The good news is that the 5500 connected to our USB standard drive (Startech USB 3.0 eSATA to SATA Hard Drive Docking Station (SATDOCKU3SEF) containing a WD Velociraptor WD3000HLFS 300 GB drive) without a problem. I was even able to pull and reconnect it for formatting without ejecting it (there is no control for this) and had no problem reconnecting. The SMB implementation appears to not support Windows browsing, so I had to mount the drive using \\192.168.0.1.
I ran Windows filecopy tests using the standard NAS testbed to the 5500 with formatted in FAT32 and NTFS. Table 3 compares the 5500's performance with three AC1200 class routers.
DGL-5500
DIR-850L
TRENDnet
TEW-811DRU
NETGEAR R6100
Processor
QCA9558
Realtek RTL8197D
Broadcom BCM47081A0
Atheros AR9344
FAT32 Write (MBytes/s)
4.0
6.1
8.9
7.8
FAT32 Read (MBytes/s)
11.6
9.7
10.8
10.5
NTFS Write (MBytes/s)
4.0
5.3
3.6
9.9
NTFS Read (MBytes/s)
11.0
7.2
9.4
10.5
Table 3: File copy throughput
The results compare storage performance using four different processors, one of which is dual-core (Broadcom BCM47081A0). From what I can see, none of these routers has a strong performance advantage in this department.
StreamBoost
The main reason D-Link is hoping you'll pay $200 for an AC1300 class router is its StreamBoost automatic traffic shaping feature. The explainer from QCA provides background details and will have to hold you for now. I spent a short time trying to see if StreamBoost made a difference and the only conclusion I reached was that I'll need to spend more time. So we'll be doing a separate article on StreamBoost to give it a good workout to see if it is truly a differentiating feature.
Routing Performance
Routing throughput was measured running 1.01 firmware, using our router test process. Table 4 summarizes the results.

| Test Description | DGL-5500 |
| --- | --- |
| WAN – LAN | 556 Mbps |
| LAN – WAN | 498 Mbps |
| Total Simultaneous | 471 Mbps |
| Maximum Simultaneous Connections | 32,734 |
| Firmware Version | 1.01 |
Table 4: Routing throughput
The IxChariot composite plot below shows generally well-behaved throughput in each direction. With around 500 Mbps of throughput in each direction, D-Link clearly isn't going for Gigabit wire-speed routing with the 5500. I suppose they wanted to reserve valuable CPU for the StreamBoost features.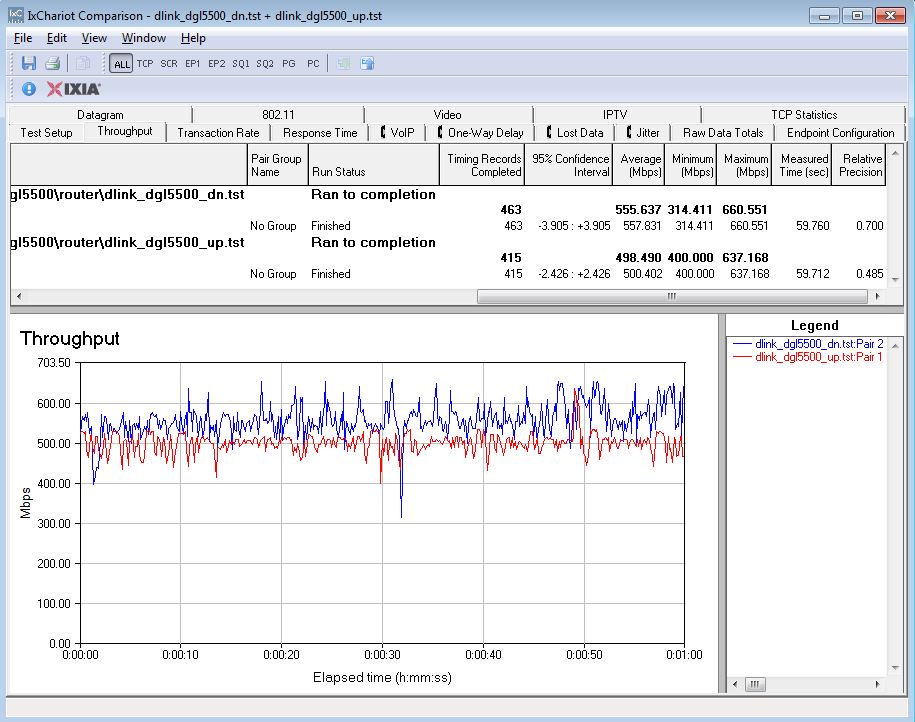 D-Link DGL-5500 routing throughput unidirectional summary
The simultaneous up/downlink throughput shows even throughput sharing between up and downlink with, again, around 500 Mbps of total throughput available. Simultaneous session handling should be fine for everyone at well over 32,000 sessions.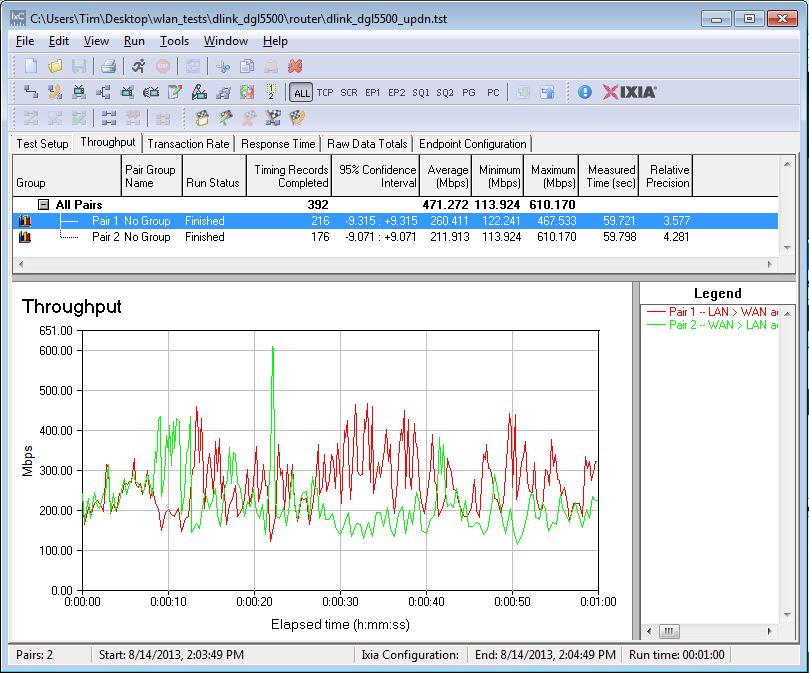 D-Link DGL-5500 routing throughput bidirectional summary
Wireless Performance
The DGL-5500 is Wi-Fi Certified for 802.11a/b/g/n (not ac) and defaulted to Auto 20/40 Channel Width on the 2.4 GHz radio and Auto 20/40/80 MHz bandwidth mode for the 5 GHz radio upon power-up. The router comes with different 2.4 and 5 GHz SSIDs set, so you'll be able to connect to your desired band without having to change router settings.
I successfully ran a pushbutton Wi-Fi Protected Setup (WPS) session with a Win 7 client. The WPS session completed quickly and resulted in a WPA2/AES secured connection with the same WPA2 pre-shared key set for both radios. Note that I was prompted for WPS only when connecting to the 2.4 GHz radio. So I guess that WPS enable checkbox under the 2.4 GHz radio settings only is intentional.
I was all set to run 40 MHz Coexistence and Fat channel intolerant tests but was only able to get the Intel Centrino 6300 client to show link rates of 40 or 60 Mbps with my house network on Channel 11, the router using Channels 1 and 5 and the wireless client parked right next to the router. Even switching the router back to 20 MHz only mode showed an 11 Mbps link rate.
I had no problem linking at 20 MHz rates during testing using the ASUS PCE-AC66 client. And inSSIDer also showed proper advertised maximum link rates of 216 Mbps and 450 Mbps in 20 Mbps and 20/40 Mbps Auto mode, respectively with the Intel 6300 client.
Awhile back, QCA had told me about some special sauce they have that adjusts bandwidth mode (and link rate) on a frame-by-frame basis, so perhaps this is what I'm seeing. But if the result is showing the user low link rates, I'm sure folks aren't going to be happy, since link rate is what most people judge their wireless performance by. I'm sure we'll come back to this in the retest article.
All tests were run using our wireless test process and 1.01 version firmware loaded. The router was first reset to factory defaults and Channel 6 was set for 2.4 GHz and Channel 153 for 5 GHz. 20 MHz bandwidth mode was set for 2.4 GHz and 80 MHz mode (to enable draft 802.11ac link rates) was set for 5 GHz. The test client was connected using WPA2/AES encryption.
The router were positioned 8" from the chamber antennas in all test positions. The 0° position had the router front facing the chamber antennas.
The retest Benchmark Summary below shows the average of throughput measurements made in all test locations.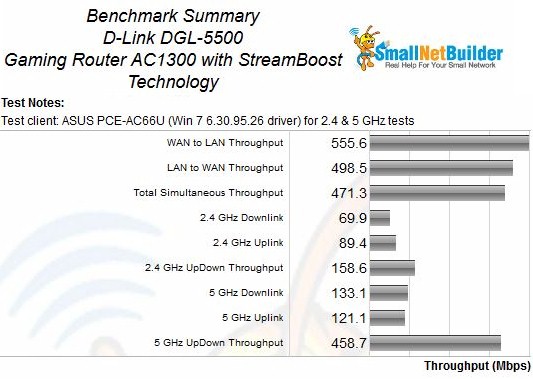 D-Link DGL-5500 Benchmark Summary
Since the 5500 is the only AC1300 router we have tested, I'll have to compare it to AC1750 class routers, which also have 3×3 2.4 GHz radios, i.e. 216 Mbps maximum 20 MHz mode link rates. The 5500's 70 Mbps of average downlink throughput ranks it toward the bottom of those products, whose downlink averages range from a high of 91 Mbps for the Buffalo WZR-1750DHP to a low of 58 Mbps for the TRENDnet TEW-812DRU. The 5500's 89 Mbps average uplink does much better putting it in the #3 spot behind the ASUS RT-AC66U with 95 Mbps and TP-LINK Archer C7 with 93 Mbps.
For 5 GHz, the 5500's 133 Mbps average downlink essentially ties the 134 Mbps of TRENDnet's TEW-811DRU. And the 5500's 121 Mbps uplink average beats the next-best EnGenius ESR1200 at 103 Mbps by a comfortable margin.
For the 2.4 GHz profiles, I again used AC1750 class products, choosing the #1 ranked Broadcom-based D-Link DIR-868L and tied-for-#2 ranked TP-LINK Archer C7, which uses the same QCA9558 SoC as the DGL-5500.
The 2.4 GHz downlink profile shows a throughput dip at low attenuations that we've seen with other products. Once the 5500's throughput recovers, it tracks between the other two products as throughput starts to fall off. At 45 dB of attenuation and above, throughput tracks closer to the DIR-868L. But at the important 60 dB point used for 2.4 GHz range ranking, the 5500 manages only 2 Mbps of throughput, for a weak win over the DIR-868L at 1 Mbps.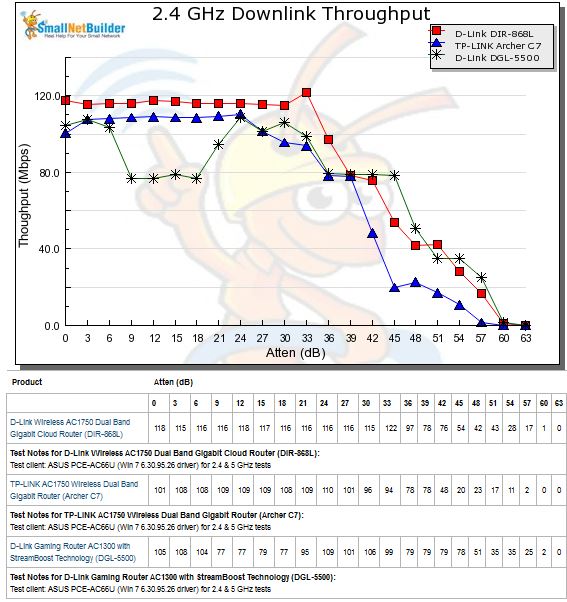 2.4 GHz Downlink Throughput vs. Attenuation
The 2.4 GHz uplink plot shows no dip in the early going, but instead one in the 30 dB attenuation range. After throughput bounces back, all three products track pretty closely down to the bottom. Of the three, only the DGL-5500 is still connected at 60 dB, although with only 2 Mbps of throughput for the one minute test run.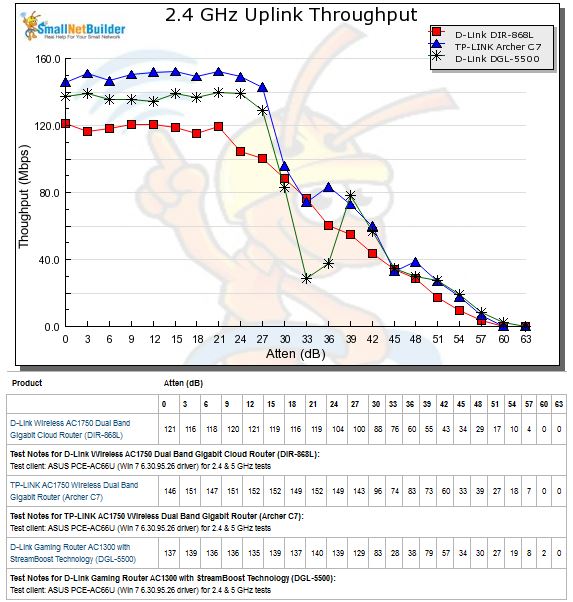 2.4 GHz Uplink Throughput vs. Attenuation
Wireless Performance – more
For 5 GHz, I compared AC1200 class products, which support 867 Mbps maximum 11ac link rates. I chose the #1 ranked TRENDnet TEW-811DRU and #2 ranked D-Link DIR-850L.
The 5 GHz downlink plot shows both the DGL-5500 and TRENDnet TEW-811DRU clearly out-performing the DIR-850L throughout the test range. The TRENDnet is still going relatively strong for the maximum 45 dB attenuation test, while the DGL-5500 wasn't able to maintain a connection.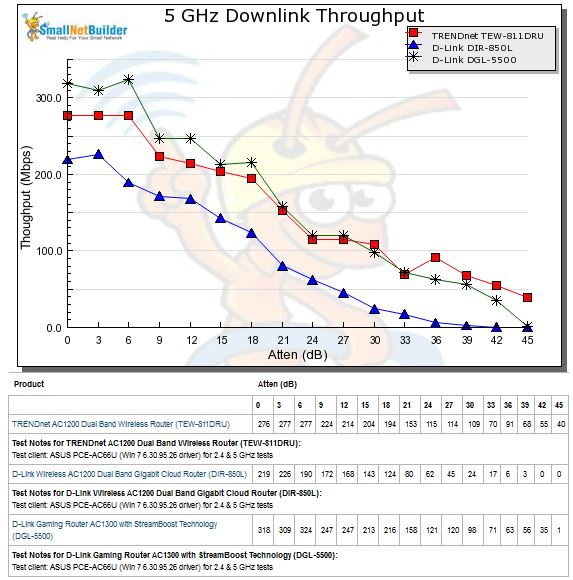 5 GHz Downlink Throughput vs. Attenuation
The 5 GHz uplink plot shows the DGL-5500 tracking above the other two products throughout its run. Except, once again, it disconnected for the last 45 dB test run.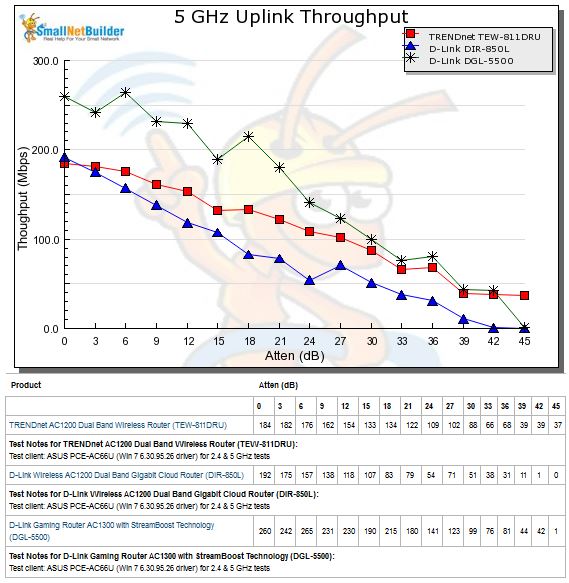 5 GHz Uplink Throughput vs. Attenuation
I called out the DIR-868L for its large variation in performance among the four test runs with the router rotated 90° each time. Well, the DGL-5500 is even worse in this regard. The 2.4 GHz downlink composite plot shows that the throughput dip with attenuations in the 9 to 15 dB range occured in three out of four runs, so it is not a fluke. (The bold line indicates the values entered into the Charts database.)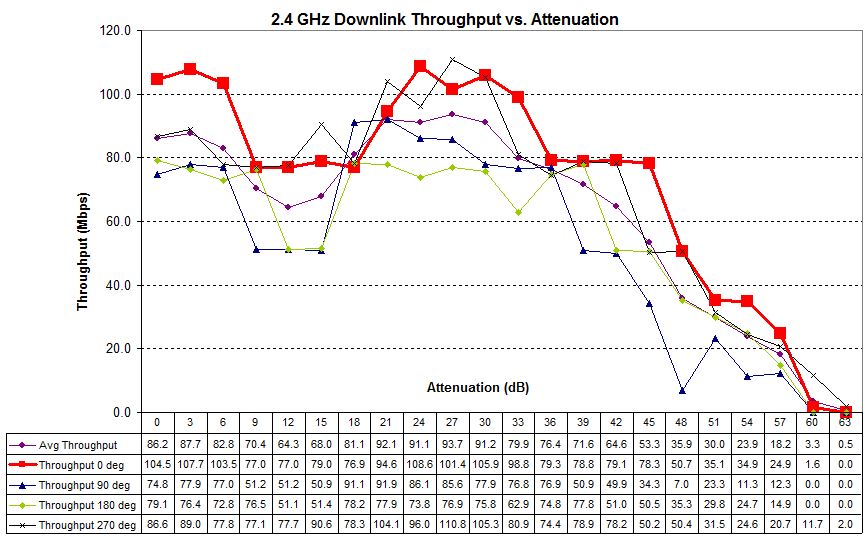 Four test runs – 2.4 GHz downlink – D-Link DGL-5500
The 2.4 GHz uplink plot shows that the dip in the 30 dB attenuation range also occurs in more than one run.
Four test runs – 2.4 GHz uplink – D-Link DGL-5500
5 GHz downlink runs don't show any dips. But the 90° run ended quite early with an obvious disconnect.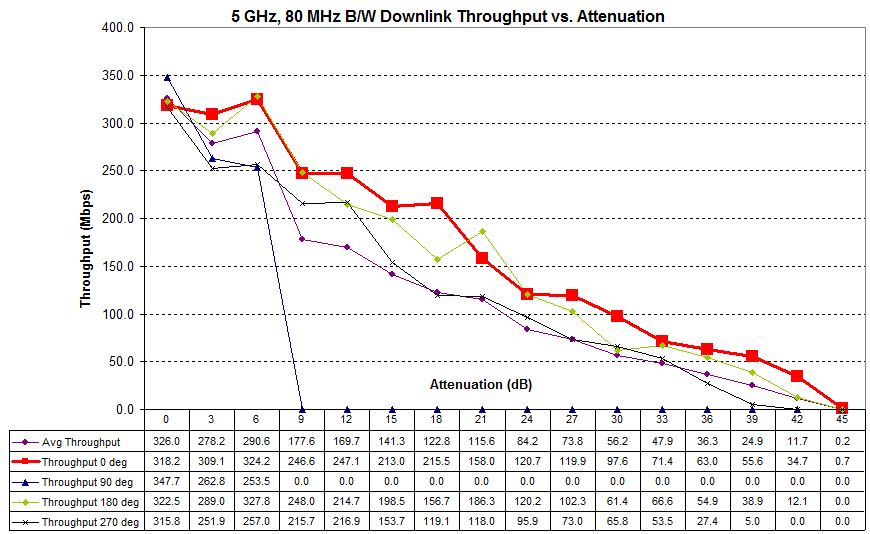 Four test runs – 5 GHz downlink – D-Link DGL-5500
5 GHz uplink again showed the best performance was obtained with the front of the router facing the test chamber antennas.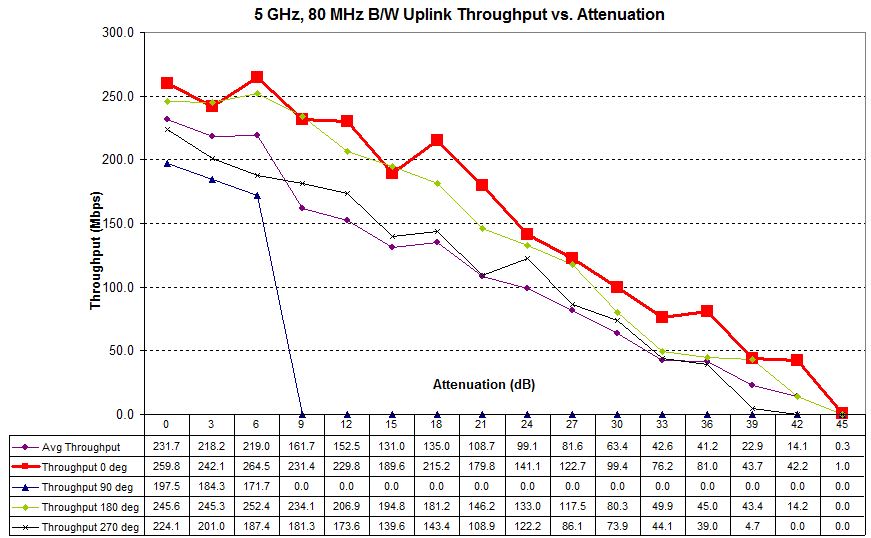 Four test runs – 2.4 GHz uplink – D-Link DGL-5500
The conclusion is that D-Link's unusual antenna arrangement is perhaps more directional than the cylindrical format might suggest—at least when the router and client are very close together.
Closing Thoughts
The DGL-5500 is the only AC1300 class router we have tested, so its #1 ranking is irrelevant. Comparing its 2.4 GHz N450 side to AC1750 class routers shows it fares relatively poorly on downlink, but much better running uplink. Comparing its 5 GHz AC867 class performance to AC1200 class routers shows that the 5500 is much more competitive and can hold its own nicely against them.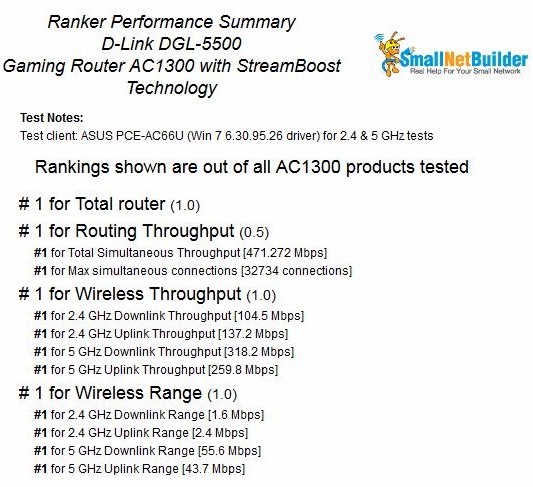 D-Link DGL-5500 Router Ranking Summary
D-Link perhaps made a wise choice marketing the DGL-5500 as a "gaming" router, since that crowd will do most anything to gain any performance edge they can. They are probably the only group that will pay $200 for a router with fewer features, lower maximum wireless link rates and lacking the ability to be used in pairs as a bridge.
In the end, D-Link is counting on StreamBoost to carry the day for what would otherwise be a draft 11ac router priced closer to the $100 that many AC1200 class routers now ask. So I'll be sure to give StreamBoost a good workout and report back soon.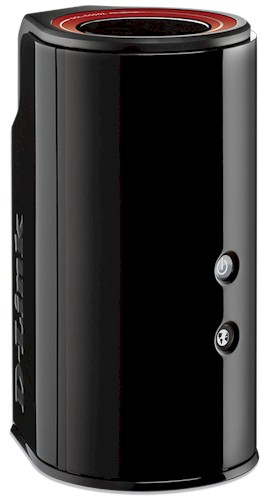 Buy Gaming Router AC1300 with StreamBoost Technology from Amazon