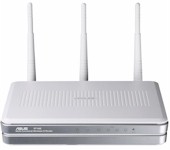 The
ASUS RT-N16 Multi-functional Gigabit SuperSpeedN Router has been added to the Router and Wireless Charts.
The RT-N16 is ASUS' latest and top-of-line 802.11n router. It is built around a Broadcom BCM4718 Intensi-fi XLR 802.11n Simultaneous Dual-Band (2.4/5 GHz) Router SoC Wireless Network Processor, which includes the processor, BB/MAC and radios. But only the 2.4 GHz radio is enabled, making the RT-N16 a 2.4 GHz single-band router. The Gigabit WAN and four LAN ports are handled by a Broadcom BCM53115 switch and there is 128 MB of RAM and 32 MB of flash.
The RT-N16′ main claims to fame are its two USB ports that support an external drive for SMB/CIFS file sharing, FTP and as storage for the HTTP, FTP, BT (BitTorrent) download client and USB printer for sharing. But NAS throughput is very slow, measuring only 2 MB/s for write and 5 MB/s for read using our Vista SP1 file copy test. There is also priority-based QoS on the router, but it is for uplink only.
Routing throughput measured 141 Mbps WAN to LAN and 143 Mbps LAN to WAN. Maximum simultaneous sessions maxed out at our test limit of 200, although ASUS says the RT-N16 can support "up to 300,000 sessions", which we obviously can't confirm.
Wireless performance from the Broadcom-based radio wasn't particularly impressive for speed, although it did reach all six of our test locations in both 20 MHz and 40 MHz bandwidth modes. Average throughput across all six test locations was only 29.5 Mbps and 37.2 Mbps running downlink in 20 MHz and 40 MHz bandwidth modes and 27.4 and 42.3 Mbps uplink. Maximum throughput was 84 Mbps running uplink in Location A in 40 MHz bandwidth mode.
We encountered problems with the RT-N16's DNS caching / relay using our standard test methods behind two other NAT routers that prevented any Internet connection. So we're waiting for ASUS to resolve this issue and to obtain Wi-Fi Certification before doing a full review.