At a glance
Product
Tenda Nova Whole Home Mesh WiFi System (MW6) [Website]
Summary
Very inexpensive Realtek-based three node AC1300 class mesh Wi-Fi System
Pros
• Three mesh nodes for not a lot of money
• Simple setup
Cons
• App connection to router isn't reliable
• No QoS or device priority mode
Typical Price: $142 Buy From Amazon
Introduction
It's been just about two years since we reviewed eero, the first mesh/distributed Wi-Fi System to ship. This once bright and shiny Wi-Fi market segment is old news now, with plenty of competition, some company exits and eroding margins as discounting becomes more common. So anyone coming to market with a Wi-Fi System at this point needs to bring something good to the party attract buyers.
Enter the three-node Tenda MW6 Nova Whole Home Mesh WiFi System. Tenda's usual marketshare-grabbing weapon of choice is price and the Nova is no diferent. Nova has typically sold on Amazon for around $200, but is now down to $130 (!) as I write this.
Nova is not your typical Qualcomm-based three-pack mesh system, because it uses Realtek chipsets. And while it's set up and managed via iOS or Android apps, it relies on Wi-Fi, not Bluetooth to make the intial setup connection.
All three 3" cubes in the kit are the same, with two Gigabit Ethernet ports and a single power port. Each contains a two-stream dual-band AC1200 class radio supporting maximum link rates of 300 and 867 Mbps for 2.4 and 5 GHz, respectively. In case you care, Nova also supports MU-MIMO, which delivers little benefit in general and even less in a two-stream design.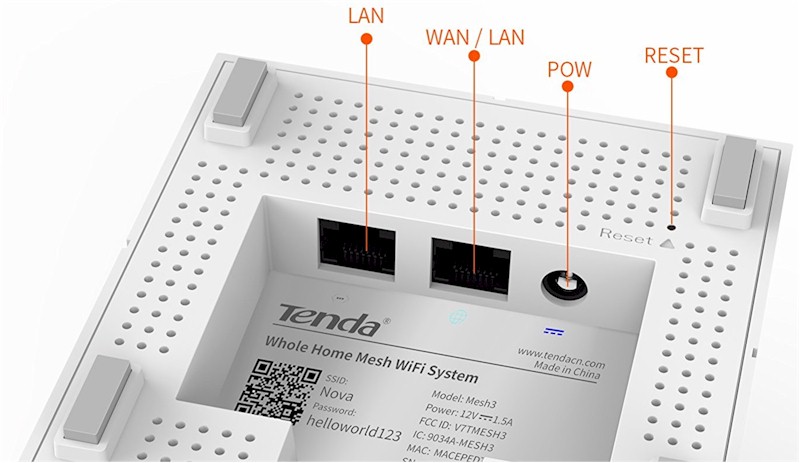 Tenda Nova connectors
There's a single LED at the top of each cube that glows steady blue when each node is happy and uses the other colors shown below from the installation guide for other states.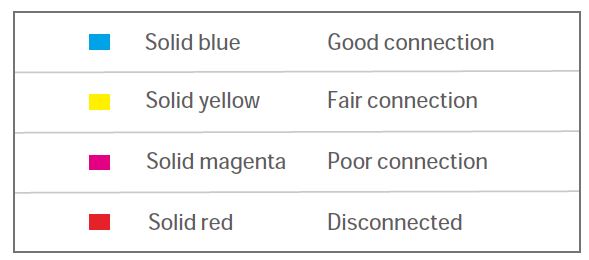 Tenda Nova LED color decoder
Inside
Tenda released the FCC ID photos, which were used to identify most of the main components The first photo is the view with the bottom cover removed, showing heatsinks and antenna connections. The two Ethernet ports sit on a small rider board that attaches to the main board via a connector.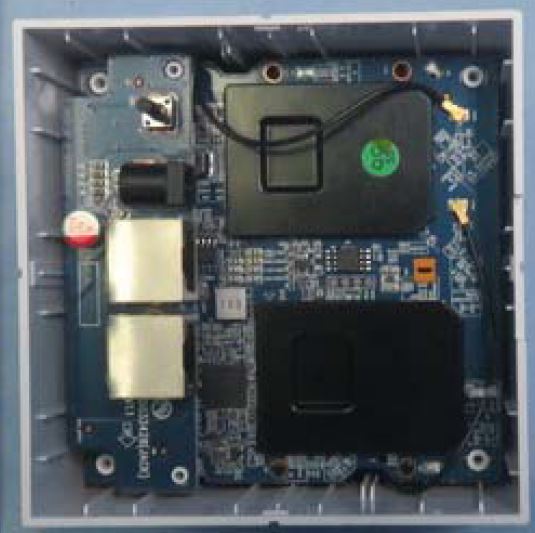 Nova inside
The next photo shows the board removed from the case with connector board, heatsinks and RF can tops removed. It's not clear enough for component ID, but the FCC file has component close-ups that were.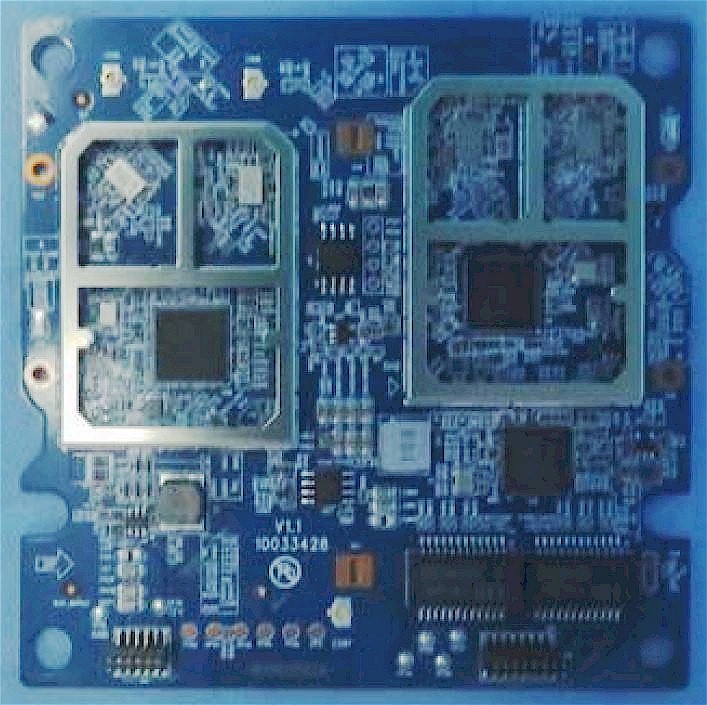 Nova board top
The bottom of the board is normally covered with a heatsink plate with raised areas that connect to the gridded areas via thermal pads for additional heat transfer.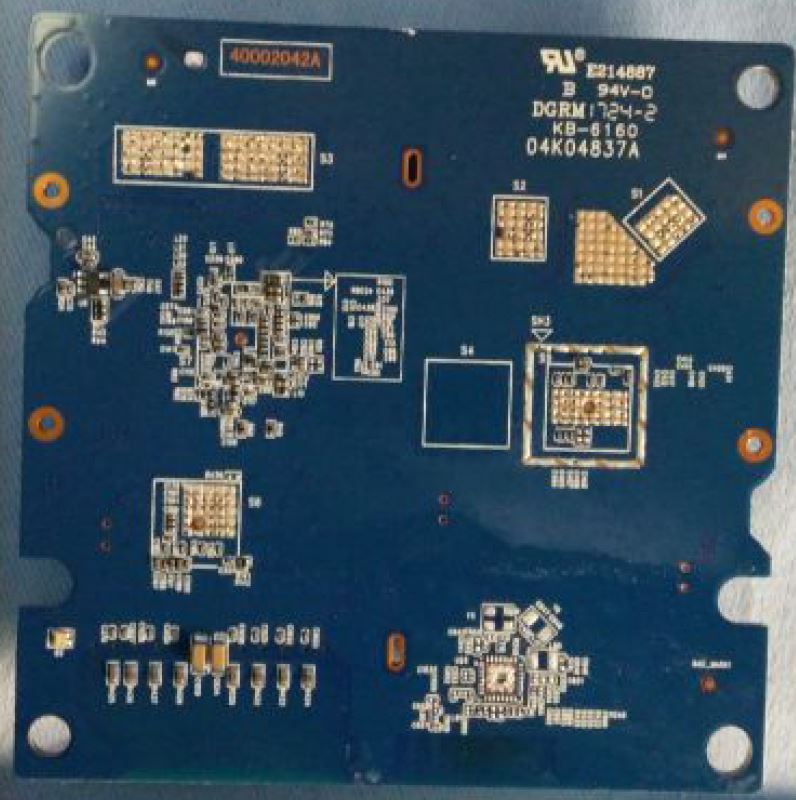 Nova board bottom
The table compares Nova's key components against TP-Link's Deco M5, which looks to be Nova's main price competitor. Since I have no way to get accurate pricing on components, I can't say whether Deco's single Qualcomm SoC design is cheaper to build than Nova's two SoCs.
Tenda Nova
TP-Link Deco M5
CPU
Realtek RTL8197FS 802.11bgn WiSoC (single core)
Qualcomm IPQ4019 (quad core)
Switch/Ethernet
?
QCA8072
RAM
128 MB
256 MB
Flash
16 MB
32 MB
2.4 GHz Radio
– In RTL8197FS
– Skyworks 85331-11 2.4 GHz front end(x2)
– In IPQ4019
– Skyworks 85303-11 2.4 GHz Front End (x2)
5 GHz Radio
– Realtek RTL8812BRH 802.11ac/abgn PCIe WLAN Network Controller
– Skyworks 85743-11 5 GHz front end (x2)
– In IPQ4019
– Qorvo PA5542 5 GHz power amp (x2)
Bluetooth
N/A
CSR 8811 Bluetooth 4.1
IoT
N/A
N/A
Table 1: Component summary and comparison
What I can say is that Nova's design is, according to WikiDevi, essentially the same used in Tenda's AC10 and AC10U routers. Note that the 128 MB of RAM is embedded in the RTL8197FS and there is no Bluetooth radio, as previously mentioned.

Features and Admin
Setup and management is via Android and iOS apps; there is no web GUI. I used the Android 3.3.2.1953 app and V1.0.0.14(4258) firmware for the review. Setup is refreshingly different from setting up a typical Wi-Fi system. Basically, once you make it past the connection screen below, you are prompted to enter a network name/SSID and password and that's pretty much it. The root node automatically finds other nodes and adds them to the mesh.
Nova is a self-contained system that doesn't rely on a cloud service for system operation. It does, however, rely on a Tenda-hosted relay service to authenticate Nova logins. The exception to this is during initial setup before you've given Tenda either your email or a mobile phone number to establish an account. When you initially connect to Nova's SSID, you're sent right to the setup screens.
I had intermittent problems reliably connecting to Nova. Some days the app would connect just fine. On others, I couldn't get past the screen below, no matter what I did, including multiple reboots, app reinstalls and memory clears and even after resetting Nova to factory default.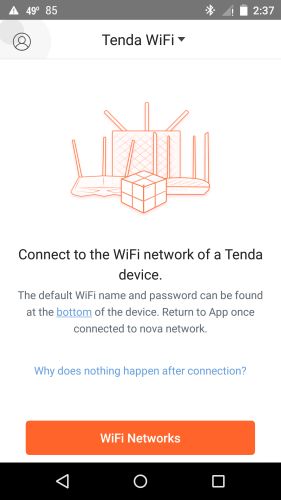 Tenda Nova No Connection screen
Even when I could connect, the "Failed to connect to the router" message would often come up and I'd get sent back to the No Connection screen. Very annoying.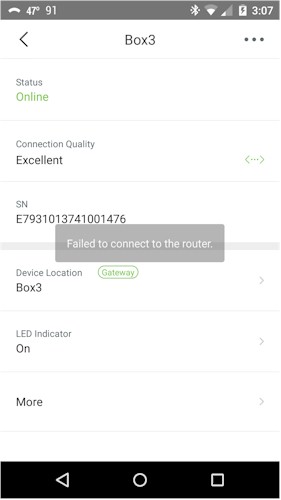 Tenda Nova No Connection screen
It also appears that the app has no way to connect to Nova without reaching out to its cloud relay server, even if you are directly connected to Nova's Wi-Fi. I later learned the trick to local management is to disconnect your modem or ISP router from Nova. Once the WAN port was disconnected, I was able to get past the connect screen to the other administration pages. Tenda has some work to do here. The good news is the network appears to keep running if internet goes down, so at least local traffic will be ok.
Once the app launches, you'll get the Home screen shown below. Similar to Zyxel's Multy X, the speeds shown here are supposed to be real-time throughput being used. There currently is no way to check your internet connection speed to the Nova's WAN port, as many other Wi-Fi Systems have. Tenda says they plan to add this feature at some point.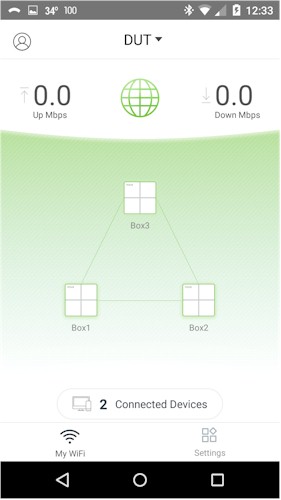 Tenda Nova My WiFi screen
I started and stopped downloading a very large file a few times and the speed displays properly showed my 10/1 DSL connection maxed out. When stopping and starting the download, there was a 5-8 second delay between my action and the speed display change.
The app has just two menus, the My WiFi shown above and Settings, shown below. The Settings menu is more than one screen long, so the image below was cut-and-pasted from three screen grabs.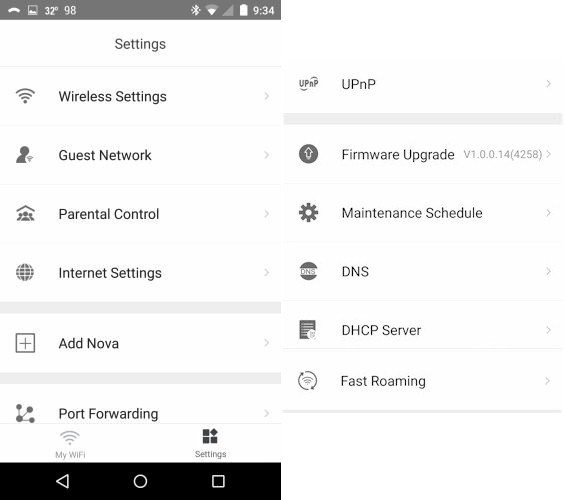 Nova app – Diagnose, Parental Control, Setttings screens
Nova's feature set is summarized in the tables below. Nova supports both AP mode (bridging the NAT router portion) and Ethernet backhaul. It also supports the unusual combination of 802.11v and r (products usually support k and v), which is disabled by default and enabled via the Fast Roaming Settings menu. There is no RSSI-based roaming assist to help move devices that don't support 802.11v and r. Band steering is also supported, but only from 2.4 to 5 GHz for dual-band devices.
Features
# of Ethernet ports
2
CPU
Realtek RTL8812BRH
RAM (MB)
128
Flash (MB)
16
Firmware
V1.0.0.14(4258)
Cloud Service

N

Web Admin

N

DHCP Reserve

N

Ethernet backhaul

Y

AP Mode

Y

Wireless Bridge

Y

Wireless
System Type
Mesh
# of Wi-Fi radios
2
# of streams
2
# of backhaul streams
2
Class
AC1200
Wi-Fi Radio 1
2.4 GHz: Realtek RTL8197FS + Skyworks SKY85331-11 2.4 GHz front end(x2)
Wi-Fi Radio 2
5 GHz: In RTL8812BRH + Skyworks 85743-11 5 GHz front end (x2)
Wi-Fi Radio 3
N/A
Bluetooth Radio
None
IoT Radio
None
FCC ID
V7TMESH3S
Antenna
Internal
WPS

N

RADIUS

N

MU-MIMO

Y

Guest Network

Y

Band Steering

Y

AP Steering

N

Roam Assist
11vr
Notes
Dual-band devices are steered to 5 GHz

Firewall
Port Forward

Y

DMZ

N

Content Filtering

N

Rogue Device Block

N

Threat Protection

N

Internet Pause

Y

User Accounts

Y

UPnP

Y

UPnP disable

Y

Notes
– Devices can be blacklisted
– Devices must be assigned to a group to pause internet

WAN
Static

Y

Dynamic

Y

PPPoE

Y

PPTP

N

L2TP

N

IPv6

N

QoS
Device Priority

N

Direction
N/A
Traffic Priority

N
Nova FAQ say a total of 10 nodes can be supported, but recommends stopping at six "considering to the network stability". Since Nova is available only in a three-pack, you might want to wait to see if Tenda offers Nova singles before expanding.
The gallery has more screenshots and commentary.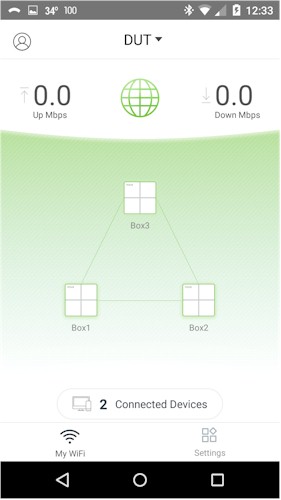 My WiFi shows the network overview. The layout and node connections do not accurately describe network topology.
Tapping a node provides access to useful details.
Tapping Connected Devices on My WiFi shows device details. WiFi band is shown, but not signal level.The icon at lower right on the first screen is used to blacklist devices (prevent connection).
Wi-Fi settings are very basic.
These are the default Guest settings, Disabled by default.
These screens are reached from the Parental Control settings, where you create a Group. The settings apply to the group.
WAN types are set in the Internet Settings screen.
You can define custom port forwarding rules or pick from a list of standard ports. There is no DMZ feature.
UPnP is disabled by default
You can set up a reboot schedule here.
Change your DNS server here.
You can select the LAN DHCP server range. You can't make DHCP reservations.
You enable 802.11v and r support here.
Routing Performance
All performance tests were done with Android 3.3.2.1953 app and V1.0.0.14(4258) firmware using select tests from the Version 10 Router process.
The iperf3 WAN to LAN and LAN to WAN throughput tests came in at 926 and 927 Mbps, respectively. Nova results are highlighted in the charts below, showing it ranking in a little below the middle for WAN to LAN and top third for LAN to WAN.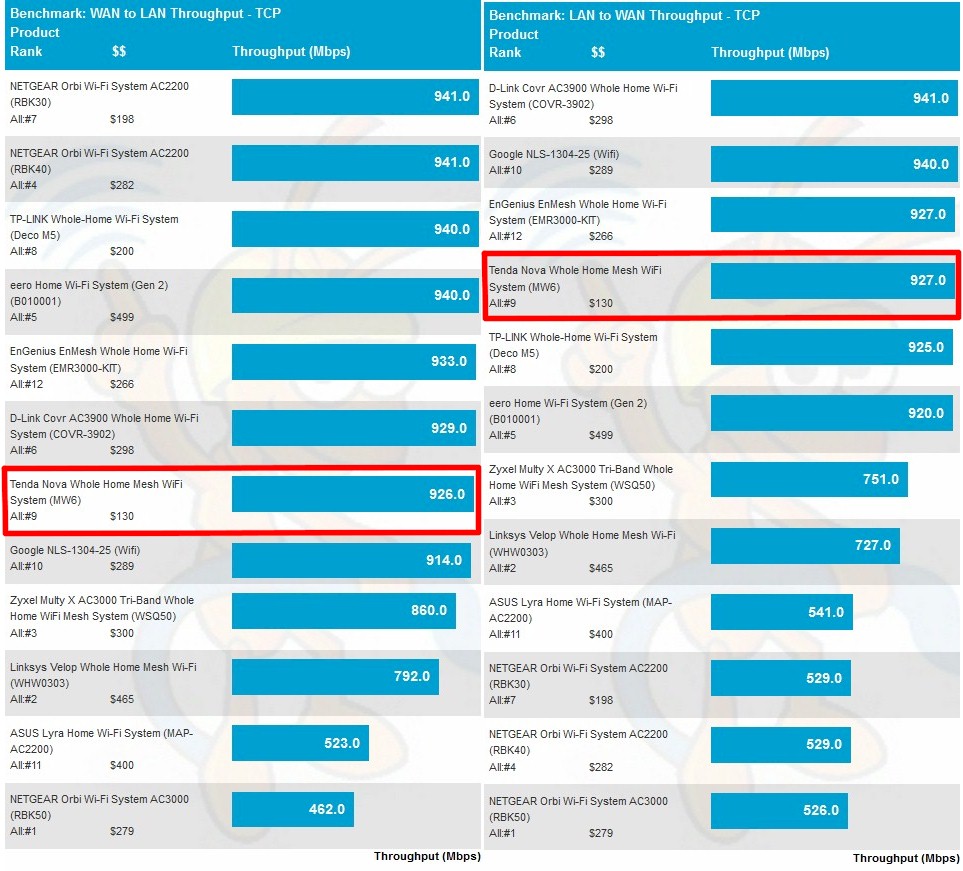 Routing throughput – iperf3 method
I'll be comparing Nova with Google WiFi and TP-Link's Deco M5 from here on; both are three node, two radio, three-pack systems.
WAN to LAN testing using the tougher HTTP method benchmarks show mixed results. Nova outperforms Deco at smaller file sizes, but drops behind on the two larger files. Both, however, trail Google WiFi significantly.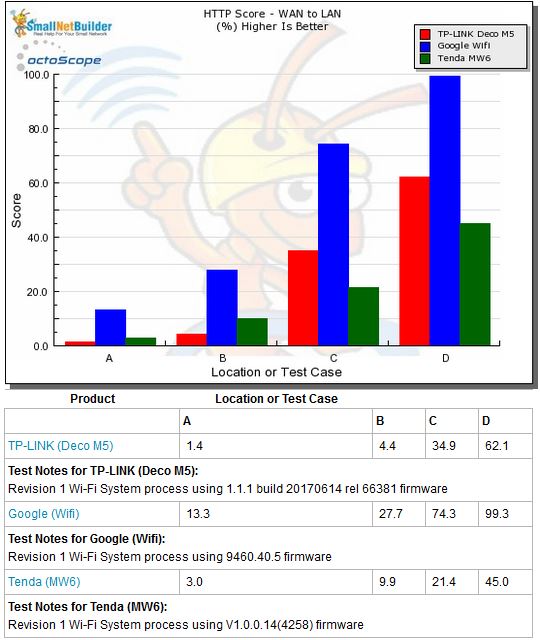 Routing throughput – HTTP Score comparison – WAN to LAN
Plot key file size: [A] 2 KB, [B] 10 KB, [C] 108 KB and [D] 759 KB file
LAN to WAN shows essentially the same pattern. It appears Nova's single core processor can't match the quad-core Qualcomm IPQ4019 in the Deco and GWiFi.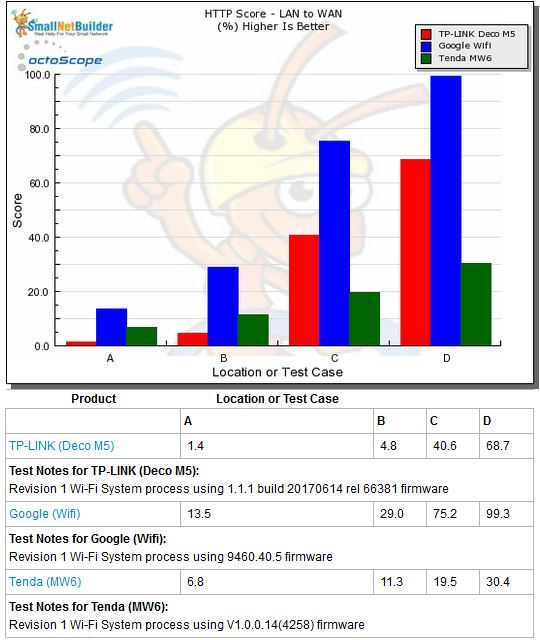 Routing throughput – HTTP Score comparison – LAN to WAN
Wi-Fi Performance
Nova was run through our Wi-Fi System test process, letting Nova use whichever channels and bandwidth it chose. It settled on channels 6 with 40 MHz bandwidth for 2.4 GHz and channel 40 with 80 MHz bandwidth for 5 GHz. Since each Nova node has only two radios, they all need to use the same channel in both bands so that both can be used for backhaul.
Here's what Nova looked like in the octoBox 18" test chamber.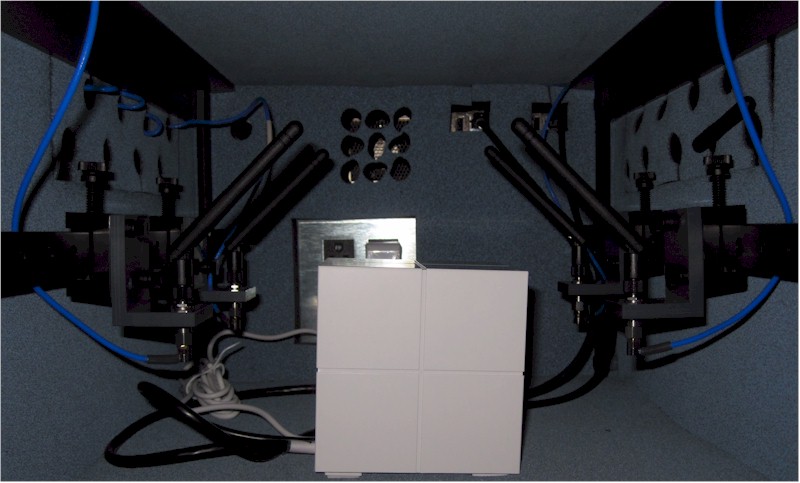 Nova in test chamber
Throughput vs. Attenuation (RvR)
The Rate vs. Range or RvR benchmarks look at how throughput varies with decreasing signal. This test is done on the root node, so is a best-case view and does not include any effects from backhaul links.
Nova ran a bit "hot" on 2.4 GHz, exceeding the octoScope Pal reference client's -30 dBm maximum recommended input level. As I've done when previously encountering this condition, I started the 2.4 GHz RvR tests with 9 dB of attenuation. But so that the ranking algorithms don't get messed up, the results are shifted by 9 dB. In other words, add 9 dB to the attenuation values shown in the plot to get the actual attenuation applied for each test.
The 2.4 GHz downlink plot shows Nova running behind Deco at the strongest signal levels, but catching up around 21 dB of attenuation (30 actually), then running above Deco from 36 dB (45 dB) onward. Both products handlily beta Google WiFi, which is handicapped by being spectrum-friendly and limiting itself to using only 20 MHz of bandwidth.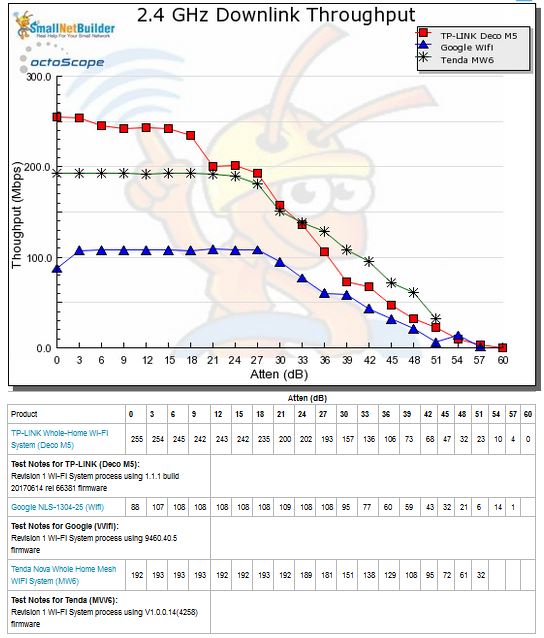 Throughput vs. Attenuation – 2.4 GHz downlink
2.4 GHz uplink shows similar results, except Nova doesn't catch up to the TP-Link until the 39 dB (48 dB actual) test.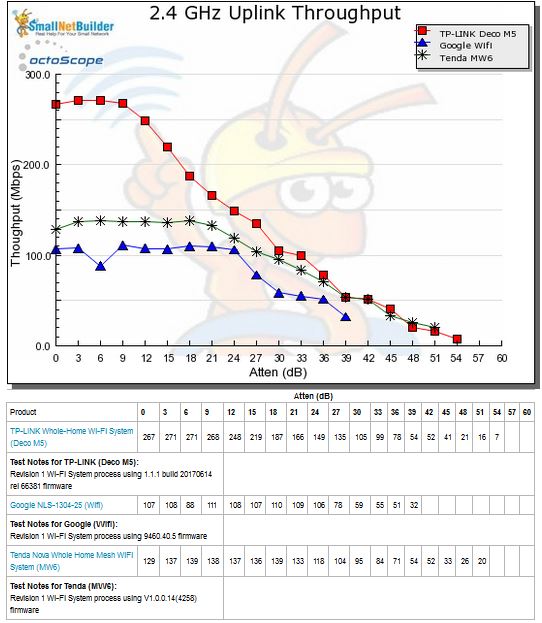 Throughput vs. Attenuation – 2.4 GHz uplink
5 GHz downlink runs usually show more interesting results and that's the case for Nova. Although it doesn't reach the peak throughput of both GWiFi and Deco, its flatter curve outperformed the other two as signal levels dropped.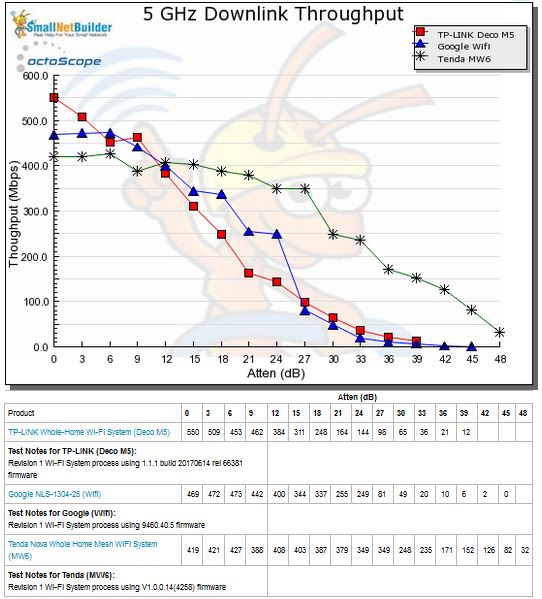 Throughput vs. Attenuation – 5 GHz downlink
On 5 GHz uplink, however, Nova's relatively didn't provide an advantage until later on in the plot.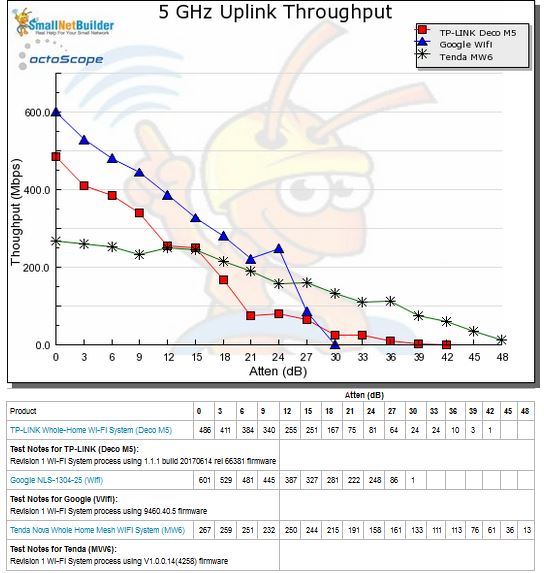 Throughput vs. Attenuation – 5 GHz uplink
Backhaul
Wi-Fi Systems live or die on the strength of their backhaul bandwidth. Backhaul tests run traffic between the root node LAN-side Ethernet port and the Ethernet port on each leaf mesh node. The results below made me do a double-take! But I reran the tests and Nova does indeed outperform the four-stream backhauls of NETGEAR's RBK50 Orbi and the just-tested Zyxel Multy X, with 487 Mbps downlink and 532 Mbps uplink throughput!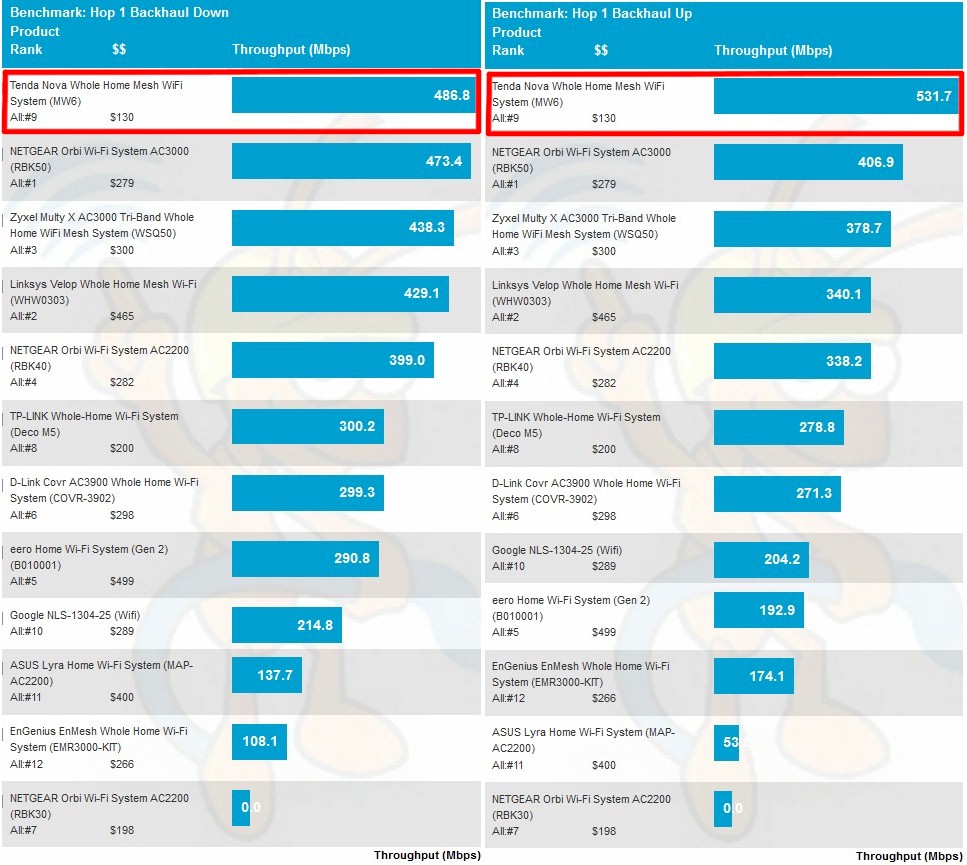 Wi-Fi System Backhaul – Hop 1
Although high, these rates are not impossible to achieve with a two-stream 5 GHz AC client. A glance at the 5 GHz downlink Router Charts benchmark with the Maximum selector set shows a top result of 614 Mbps by NETGEAR's four-stream R7800 Nighthawk X4S and 529 Mbps from Linksys' tri-band two-stream EA8300.
Adding a hop, however, slows things down considerably. Nova manages only 121 Mbps downlink and 103 Mbps uplink through the backhaul link between first and second "leaf" nodes. This means if your Novas end up configured in multi-hop, the devices connected to the second hop Nova will be running much slower than those connected to the root and first hop nodes.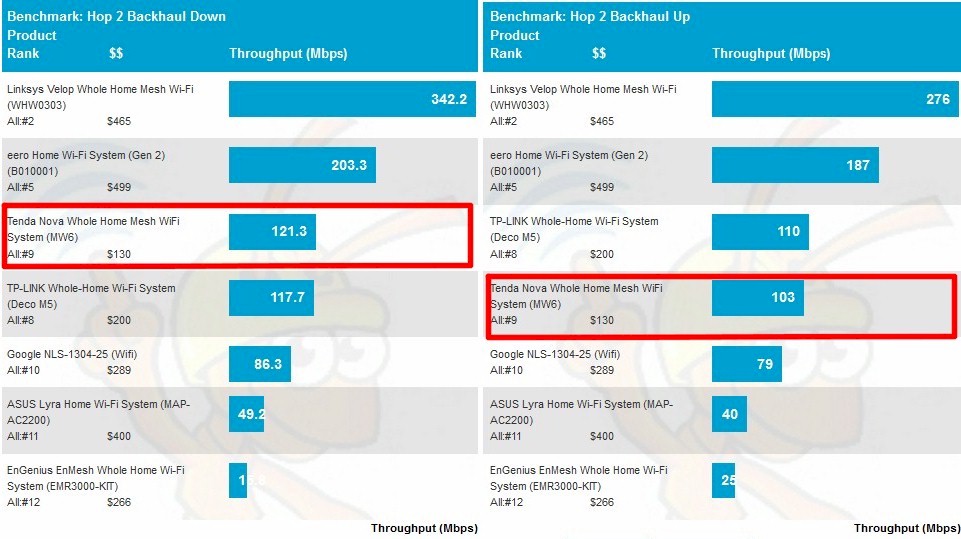 Wi-Fi System Backhaul – Hop 2
Wi-Fi System
These benchmarks measure up and downlink 2.4 and 5 GHz throughput at each system node, by "walking" the octoScope Pal dual-band test client from node to node. Since tests are made with 0 dB attenuation between the Pal test client and each system node, all measurements are best case. The only exception is that all 2.4 GHz tests were made with 9 dB of attenuation between node and Pal client to avoid overload, as previously discussed. In the following charts, A bars represent the root node, B bars the Hop 1 node and C bars the Hop 2 node.
The 2.4 GHz downlink chart shows very similar throughput for Nova on the root and Hop 1 nodes, most likely due to the high backhaul bandwidth between them. Nova outperforms GWiFi on all three benchmarks, but beats Deco only on the root and Hop 2 tests. GWiFi is a disadvantage in this test because it uses only 20 MHz bandwidth in 2.4 GHz.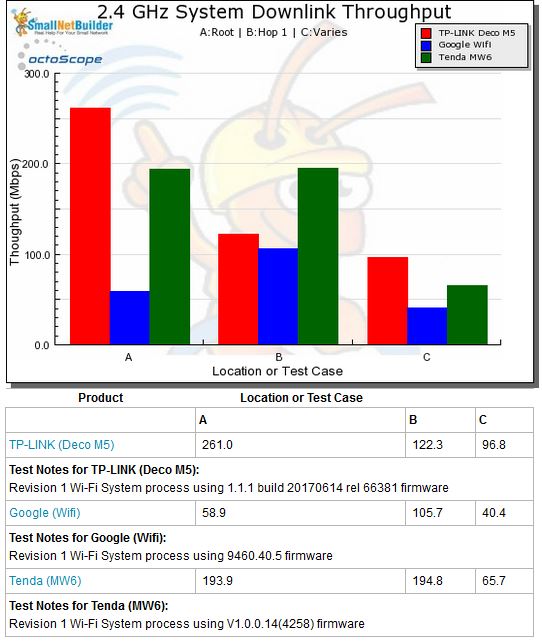 Wi-Fi System Performance – 2.4 GHz downlink
GWiFi's throughput improves for the uplink tests, but not enough to beat Nova. This time, Nova beats Deco on Hop 1 and Hop 2 tests.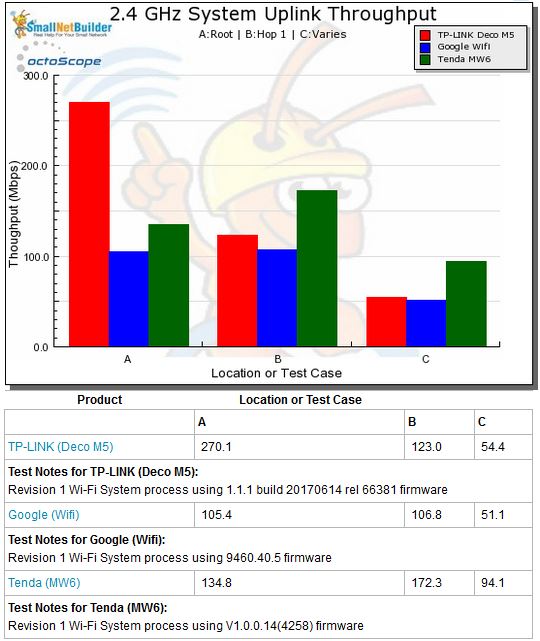 Wi-Fi System Performance – 2.4 GHz uplink
5 GHz downlink results show the TP-Link beating both Nova and GWiFi, only just barely on the Hop 2 benchmark.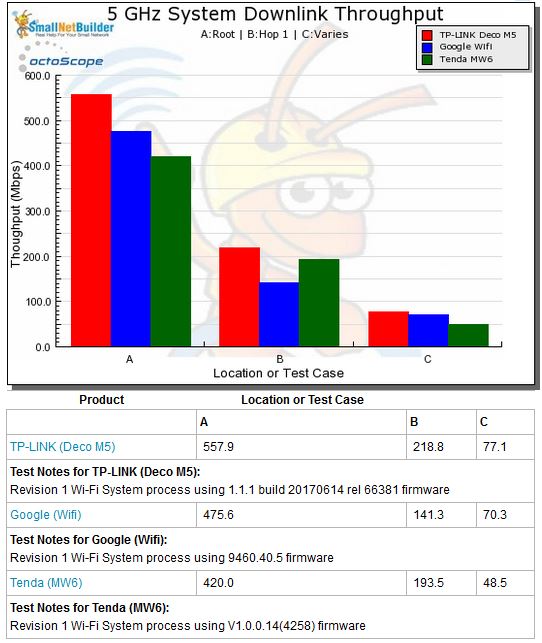 Wi-Fi System Performance – 5 GHz downlink
5 GHz uplink is the weakest set of results for Nova, only beating GWiFi on the Hop 2 benchmark. The overall winner for this series of tests is obviously TP-Link's Deco.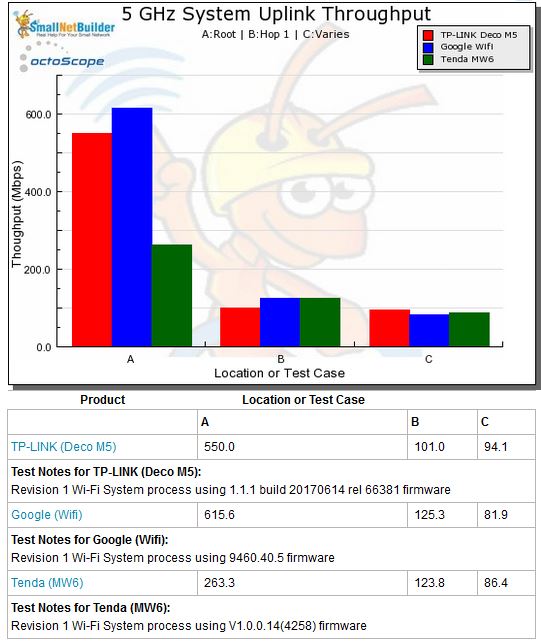 Wi-Fi System Performance – 5 GHz uplink
Capacity
Our Wi-Fi System capacity test uses three 2×2 AC clients, a 2.4 GHz client is connected to the root node and 5 GHz to the others. To avoid overload, 9 dB of attenuation was once again applied between the Pal and mode fot the 2.4 GHz Pal; 0 dB was used for both 5 GHz Pals. This test runs for 30 minutes to see if any attempts are made to balance throughput by throttling backhaul or client bandwidth so that more bandwidth is made available to the other.
The Capacity bar chart shows total throughput for the three test clients in each direction. Even with its very strong Hop 1 backhaul, Nova ranks relatively low in this benchmark, ending up in the lowest third of the results in both directions.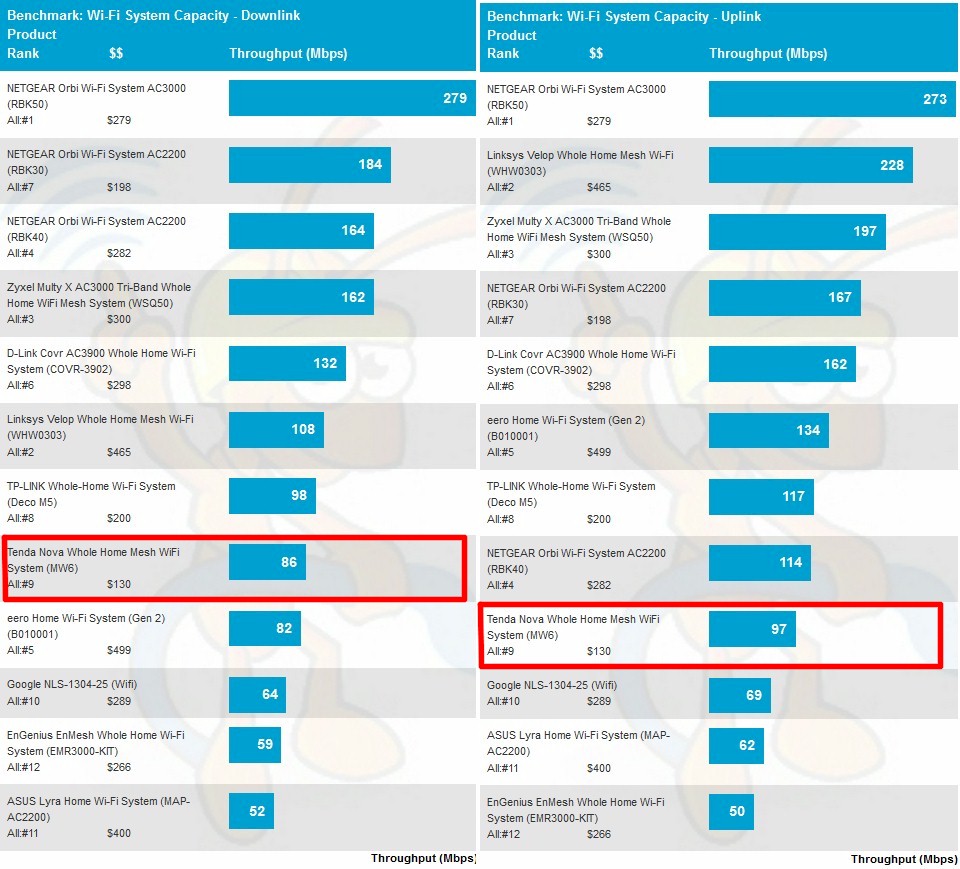 Wi-Fi System Capacity
The capacity throughput vs. time plots usually provide some insight into the aggregated results. The Downlink plot clearly shows the root node 2.4 GHz connection getting the highest average throughput, averaging around 190 Mbps. Hop 1 throughput seems lower than it should be, given the 5 GHz client and high bandwidth Hop 1 backhaul. But since one 5 GHz radio must serve both fronthaul (client) and backhaul duties, something has to give. In this case, the Hop 1 connected client gets only an average of around 50 Mbps and the Hop 2 client about half that.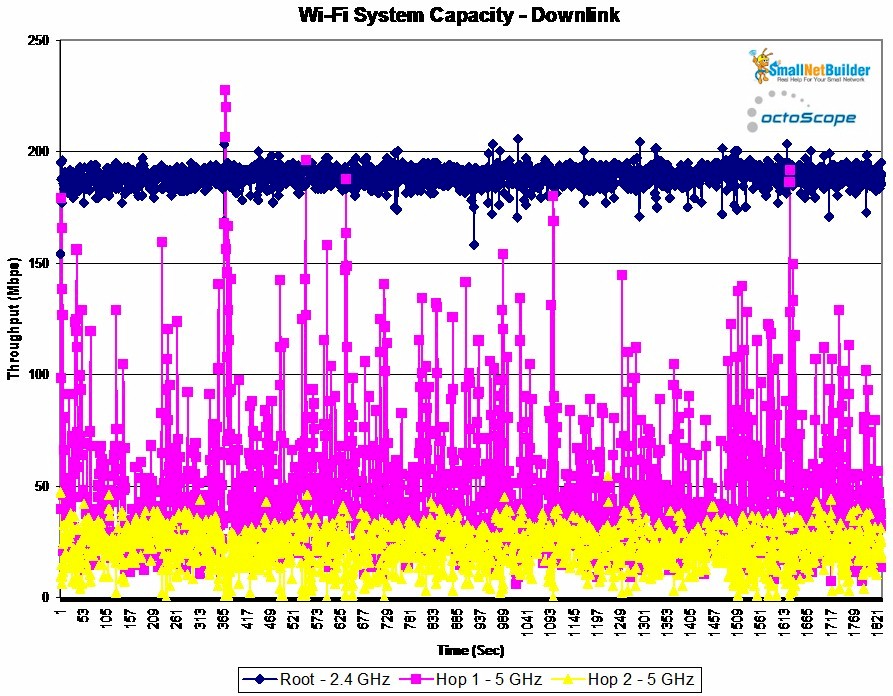 Wi-Fi System Capacity vs. time – Downlink
Uplink, on the other hand, shows throughput distribution among the nodes more like I'd expect, with root node the highest averaging around 160 Mbps, Hop 1 averaging closer to 100 Mbps and Hop 2 eking out a paltry 15 Mbps or so.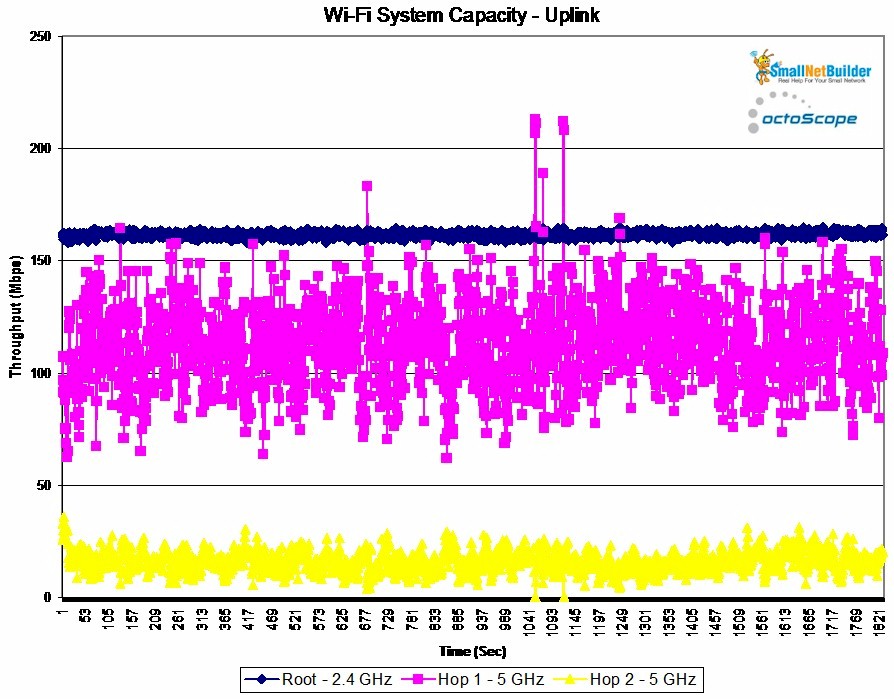 Wi-Fi System Capacity vs. time – Uplink
Closing Thoughts
Google has sold a lot of WiFi's by pricing aggressively at around $300 for a three-node system when competitors were $100 or $200 higher. Since then, everyone except Linksys (Velop) and eero has realized getting upwards of $450 for a three-node Wi-Fi System is a heavy lift and has moved pricing closer to the $300 that buyers seem more willing to spend.
So what happens when a company best known for really cheap routers enters a market dominated by much more expensive and better known competitors? With Tenda's Nova, I think we're finding out. Unlike Zyxel with its Multy X, Tenda knows it needs an edge to attract attention and, if it stays significantly below its competition, it's bound to move some product.
Of course, if you can't deliver performance, those Novas aren't going to stay sold for long. But even though it comes in at #9 in our Wi-Fi System Ranker, it outranks both Google WiFi (#10) and ASUS' Lyra (#11), which are both priced signficantly higher.
Before you jump on me for drawing that conclusion about Lyra based on my original testing, consider this. Once I got the heads up from ASUS that the Version 3.0.0.4.382.11464 Lyra firmware released in January was about as good as it was going to get, I ran a quick Hop 1 backhaul test as a quick performance check. When I got only 35 Mbps down and 42 Mbps up, I stopped right there and put it back on the shelf.
So if you've seen Nova on Amazon and have been curious whether a $130 Wi-Fi system can be any good, well, now you know.
Buy Nova Whole Home Mesh WiFi System from Amazon