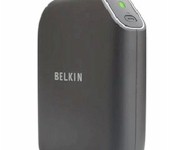 The Belkin Play Max Wireless Router has been added to the Router and Wireless Charts.
The Play Max is the top of the line of Belkin's revamped "app" based wireless N routers. The new approach is described in this news item.
The Play Max is a Broadcom-based dual-radio design using a BCM4718 Intensi-fi XLR 802.11n Simultaneous Dual-Band (2.4/5 GHz) Router SoC Wireless Network Processor, which includes the processor, BB/MAC and radios. The radio in this device appears to be used for the 2.4 GHz radio only, while a Broadcom BCM43224 Integrated 802.11a/b/g/n is used for the 5 GHz radio.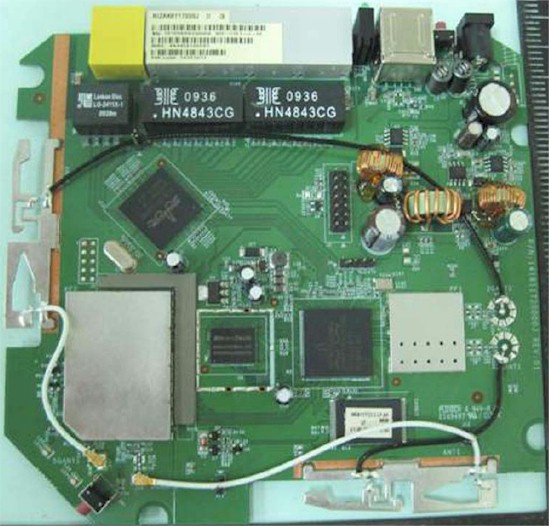 Belkin Play Max board
A Broadcom BCM53115 switch provides the Gigabit WAN and LAN ports without jumbo frame support and 64 MB of RAM and 8 MB of flash round out the design.
The Play Max also has two USB 2.0 ports that can share a printer and have a USB drive attached. The attached drive can be used with the Vuze BitTorrent download app, for general networked file storage and apps for UPnP / DLNA media serving and client backup via a bundled client.
All apps are provided in Windows and Mac OS forms and must be installed on a networked computer. There is also uplink-only four-level priority-based QoS. WDS bridging / repeating is not supported.
Routing throughput measured 84 Mbps WAN to LAN, 90 Mbps LAN to WAN and 88 Mbps with both directions running simultaneously. Our new Maximum Simultaneous Connection test came in at 8,170, a bit lower than Cisco's new Valet M10 router.
Wireless performance is a mixed bag. It didn't produce the highest speeds in either the 2.4 or 5 GHz band that we've seen using a single direction test, with a best-case 89.9 Mbps @ Location A in the 2.4 GHz band w/ 20 MHz bandwidth mode. 5 GHz performance was good, but not exceptional, and joined our failed-to-reach-test-Locations-E-and-F club.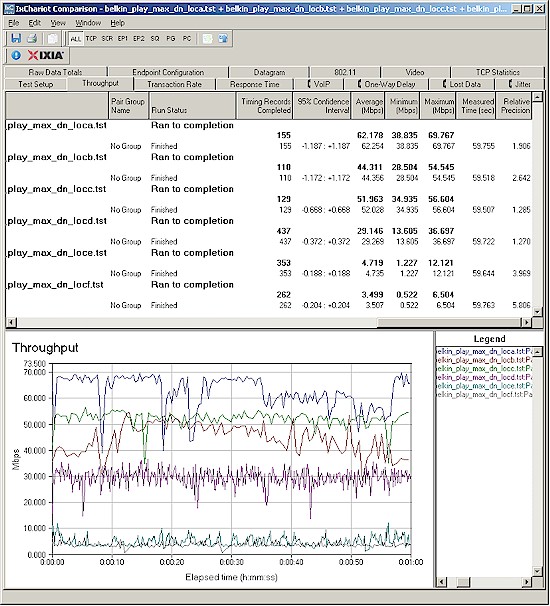 Belkin Play Max Wireless Throughput – 2.4 GHz, 20 MHz B/W downlink
One issue that could be holding the router back in the Wireless charts was the tendency of its link rate to get stuck at higher link rates in weaker signal locations, which produced lower throughput. For a few tests, we had to disconnect and re-associate the client and router in order to get better throughput.
On the plus side, however, we found that running simultaneous up and downlink tests produced 120 Mbps of total throughput (Location A, 2.4 GHz, 40 MHz B/W), indicating more bandwidth available to share with multiple clients.
File transfer speed to the shared USB drive using our Vista SP1 file copy test produced speeds of only around 3.5 MB/s for write and just shy of 4 MB/s for read, using both FAT and NTFS-formatted drives.