At a glance
Product
NETGEAR Orbi (RBK50) [Website]
Summary
AC1200 class router and extender system connected by dedicated 4×4 AC2600 class wireless backhaul. Four port Gigabit Ethernet switches on both base and satellite units. Supports MU-MIMO
Pros
• Best performance of any multi-unit / mesh system.
• Base unit is a full-featured AC1200 class router
• MU-MIMO supported for both client and backhaul
Cons
• Nothing significant
Typical Price: $151 Buy From Amazon
Introduction
Updated 11/30/16 Guest networks supported
Updated 11/11/16 Clarified default SSID password
Updated 11/3/16: Multiple Satellites are available and supported.
My first look at NETGEAR's Orbi in Mesh Mashup Redux – NETGEAR's Orbi Checks In concluded it is the best of the multi-unit Wi-Fi systems I've seen so far. But since that review focused primarily on only one aspect of its performance, it's time to take a more complete look at Orbi.
Orbi is NETGEAR's entry in what I'll call the "Wi-Fi System" sweepstakes. But it can't really be called a "mesh" Wi-Fi system because, uh, it isn't. Mesh systems form wireless connections among multiple units (nodes) to move data between an Ethernet connected root node and other wireless-connected nodes. Mesh systems like Luma and eero typical come in three-packs, with one node connected to your internet modem via Ethernet and the others connecting to the root node directly or to each other.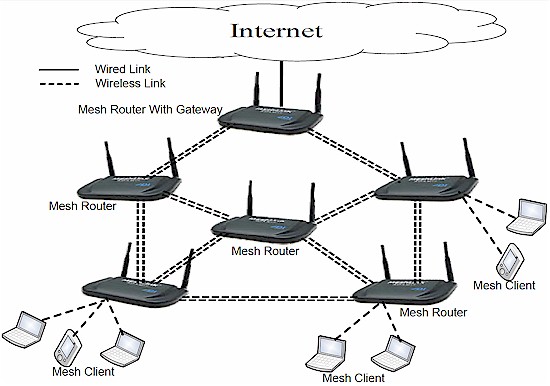 Orbi's architecture is more like a conventional router + wireless extender with one key difference. Orbi uses a dedicated 4×4 MU-MIMO radio to connect separate AC1200 class simultaneous dual-band radios in both Router and Satellite."Mesh" systems like eero, Luma and Ubiquiti Networks' Amplifi don't have dedicated backhaul radios. They use their AC1200 class radios for both backhaul and client device connection.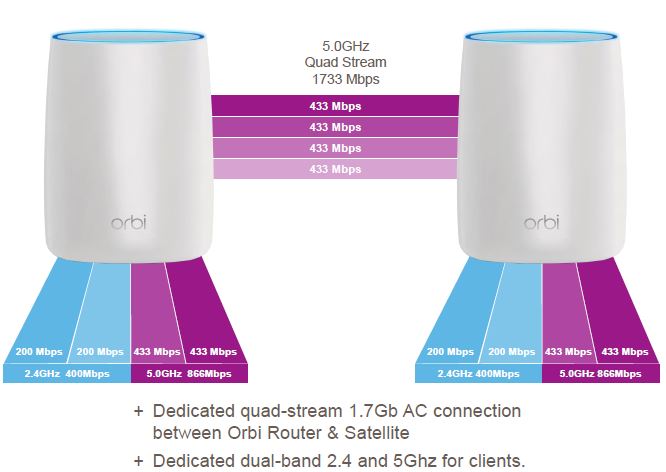 NETGEAR Orbi radio architecture
The only exception is eero, which has a shared 2×2 AC 2.4 / 5 GHz Hi-band radio and additional 2×2 5 GHz low-band class radio. All other systems have two 2×2 AC radios, one for each band. So "mesh" competitors have at best a maximum link rate of 867 Mbps to work with and must split that link's bandwidth between backhaul and client. Orbi's 4×4 AC backhaul supports a 1733 Mbps maximum link rate and therefore much higher bandwidth. As we saw in the Mesh Mashup review, this gives Orbi a significant performance advantage, even with backhaul operating in 5 GHz.
Orbi could be mistaken for an air freshener, albeit a rather large one, which might limit its WAF compared to the much smaller Luma and eero. But its off-white color, lack of blinking lights in normal operation and absence of an unsightly antenna farm (there could have been eight y'know) will argue in its favor.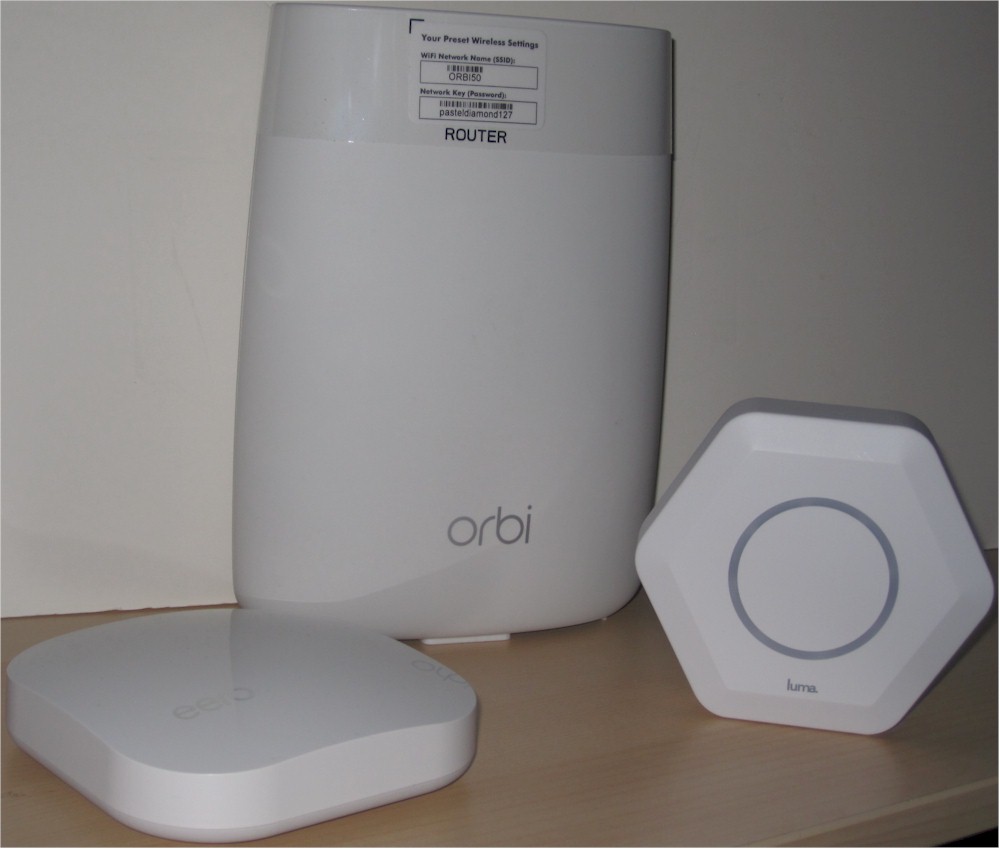 NETGEAR Orbi and friends
The Orbi system comes as a kit containing one Router and One Satellite / extender. The callout diagram below shows they're basically the same unit, differing only in the color of the top panel and markings on the rear panel. Both have four Gigabit Ethernet ports, with one doing duty as a WAN port on the Orbi Router. Both have a single USB 2.0 port that has no function right now.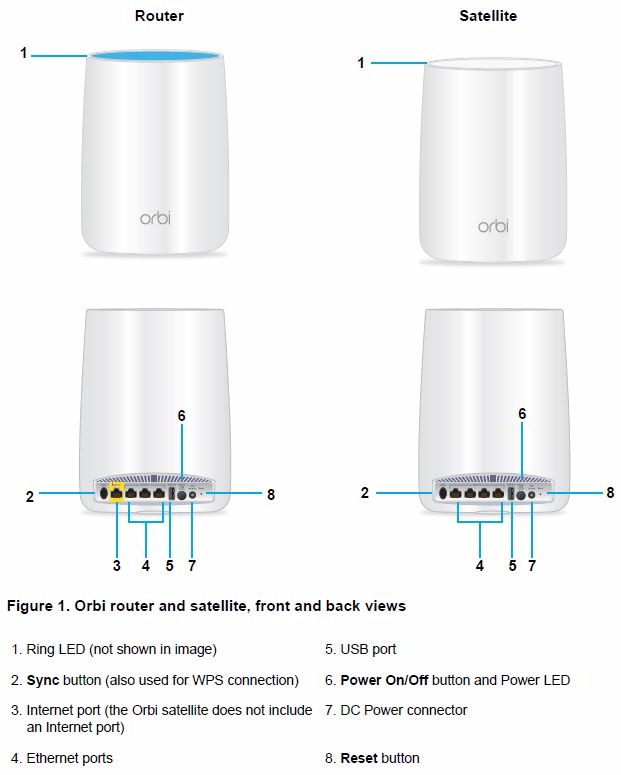 NETGEAR Orbi callouts
Router and Satellite come pre-synced and should connect when you first power them up. If they don't or if you want to set a new password for the connection between the two, aka "backhaul", you'd use the Sync button. This button is also used to start a Wi-Fi Protected Setup (WPS) pushbutton session for connecting devices that support WPS.
The Orbi Router (RBR50) can also be purchased separately ($250) if you just want an (expensive) AC1200 class router. The Satellite (RBS50) can be pre-ordered now, for late November shipment, but will require new firmware before it can be supported. When that new firmware appears, it's unclear whether additional satellites will form a mesh (communicate with each other) or star (communicate back to the Orbi router) network.
Updated 11/3/16
Readers report that Costco is selling an Orbi "three-pack" with one Router and two Satellites. There are reports of other retailers, including Best Buy, selling separate Satellites. Two Satellite configurations are reported to work, but only with both Satellites connecting to the Router, not to each other. Firmware v1.4.0.16 adds support for adding additional satellites to the setup wizard.
Inside
Orbi's FCC inside photos are under temporary non-disclosure until late January 2017. So after testing was complete, I opened up the Orbi router. (Tip to others attempting this: remove all labels!).
Orbi is built on a Qualcomm / Qualcomm Atheros platform. In fact, it's the first product to use Qualcomm's SON (Self-Organizing Network) technology introduced this past January at CES 2016. The photo below of the connector side of the board shows the Qualcomm IPQ4019 2×2 802.11 SoC, that supports device connection. The CSR8811 Bluetooth 4.1 radio SoC is photo top center. Its antenna is to the right of the mini RF connector.
Note the IPQ4019 supports MU-MIMO. But with only two streams, total throughput improvement may be hard to detect, even if you have at least two MU-MIMO enabled devices. The 5 GHz 4×4 backhaul radio is supplied via a QCA9984 on the other side of the board, which also supports MU-MIMO. This could give Orbi an edge when NETGEAR enables multi-satellite support. This 4×4 SoC also supports 160 MHz channels, although NETGEAR makes no mention of this in any Orbi literature and didn't mention it during the pre-launch briefings.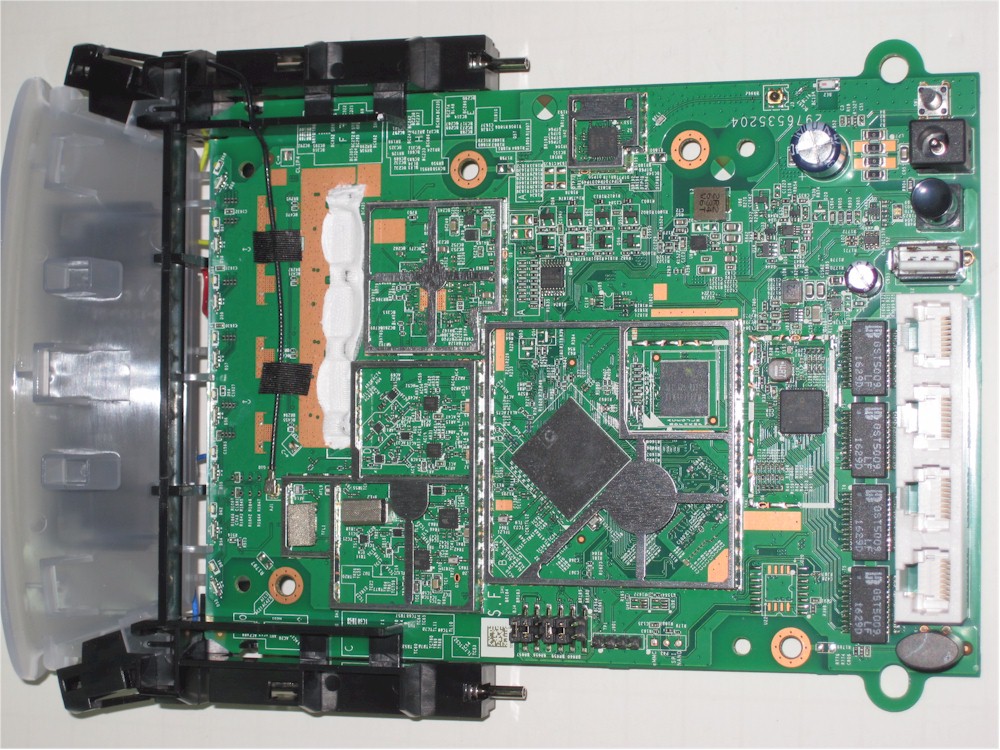 Orbi board
Orbi's internal antennas are worthy of note. I don't know how to describe the design, but they are not the usual bent-metal or PC board designs. Four 5 GHz backhaul radio antennas are at the top; two dual-band device connection antennas are set below them on Orbi's sides.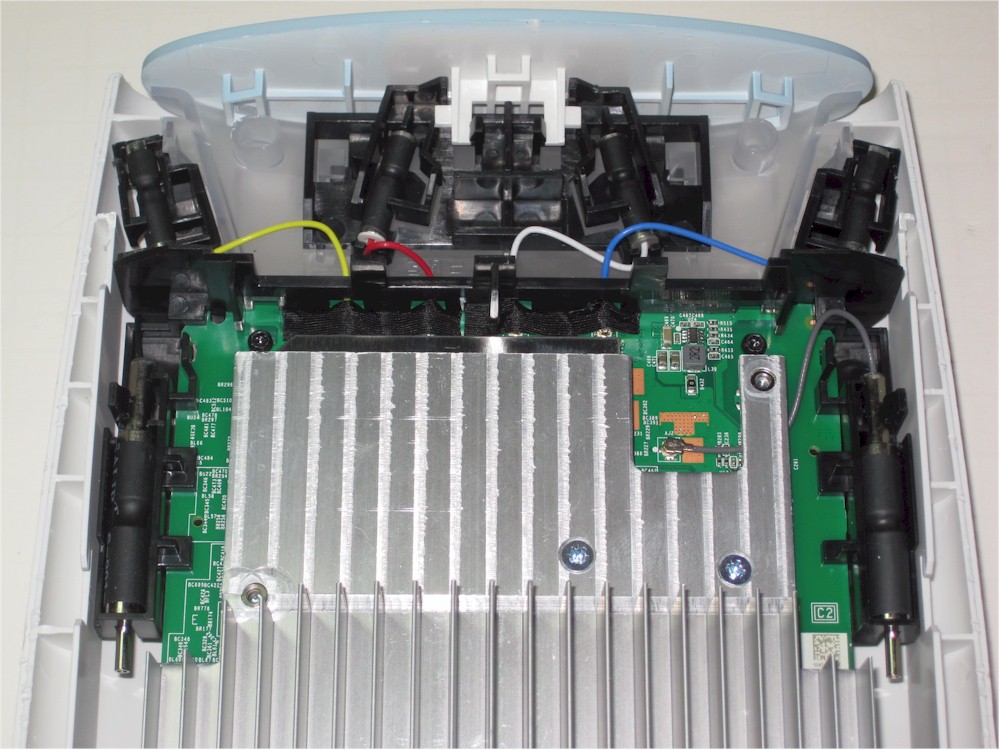 Orbi antenna detail
The complete component list is in Table 1, along with eero and Luma. Note that I'm giving eero the benefit of the doubt and listing its 5 GHz only radio as dedicated to backhaul; I'm not sure if that's actually the case. Even if it is, however, eero's backhaul is a 2×2 connection vs. Orbi's 4×4, providing half the maximum potential bandwidth. Orbi also includes a Bluetooth 4.1 radio, which can be used with an Orbi app for setup.
NETGEAR Orbi
Luma
eero
CPU
Qualcomm IPQ4019
Qualcomm IPQ4018 2×2 a/b/g/n/ac SoC
Qualcomm dual-core IPQ8062 @ 1 GHz
Switch
QCA8075
QCA8075
Qualcomm Atheros QCA8337
RAM
512 MB
256 MB
512 MB
Flash
4 GB
128 MB
2 MB
8 MB
4 GB
2.4 GHz Radio
– In IPQ4019
– Skyworks SKY2623L 2.4 GHz Power Amp (x2)
– In IPQ4018
– Skyworks RFX8425 2.4 GHz RF front end (x2)
-QCA9982 2×2 MU-MIMO 802.11abgnac radio
– RFMD RFFM4204 2.4 GHz Front End (x2)
5 GHz radio
– In IPQ4019
– RFMD RFPA5542 5 GHz power amp (x2)
– In IPQ4018
– Skyworks SKY85716-11 5 GHz RF front end (x2)
– QCA9982 2×2 MU-MIMO 802.11abgnac radio
– RFMD RFPA5522 5 GHz power amp (x4)
5 GHz backhaul
– QCA9984
– RFMD RFPA5542 5 GHz power amp (x4)
None
– QCA9882 2×2 MU-MIMO 802.11abgnac radio
– RFMD RFPA5522 5 GHz power amp (x2)
Bluetooth
CSR8811 Bluetooth 4.1 SoC
CSR8510 Bluetooth 4.0 SoC
Atheros AR3012 Bluetooth 4.0 SoC
Table 1: Component summary and comparison
The gallery below has more pictures of Orbi in various stages of undress.
This is the view when you remove Orbi's cover
Other side of the board with case removed.
Bottom with heatsink removed.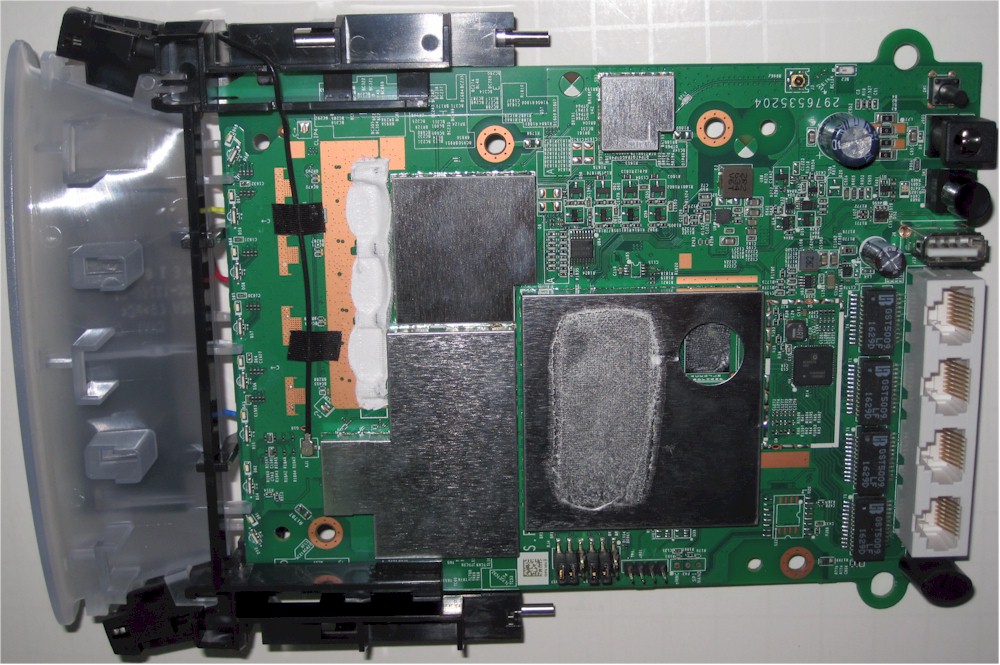 Top with heatsink removed. The device in the peek-a-boo RF can hole is the 4 GB flash module. It connects directly to a block on the heatsink for best thermal transfer.
Bottom with RF can tops removed. 512 MB RAM is photo right; 4×4 5 GHz backhaul radio is photo left.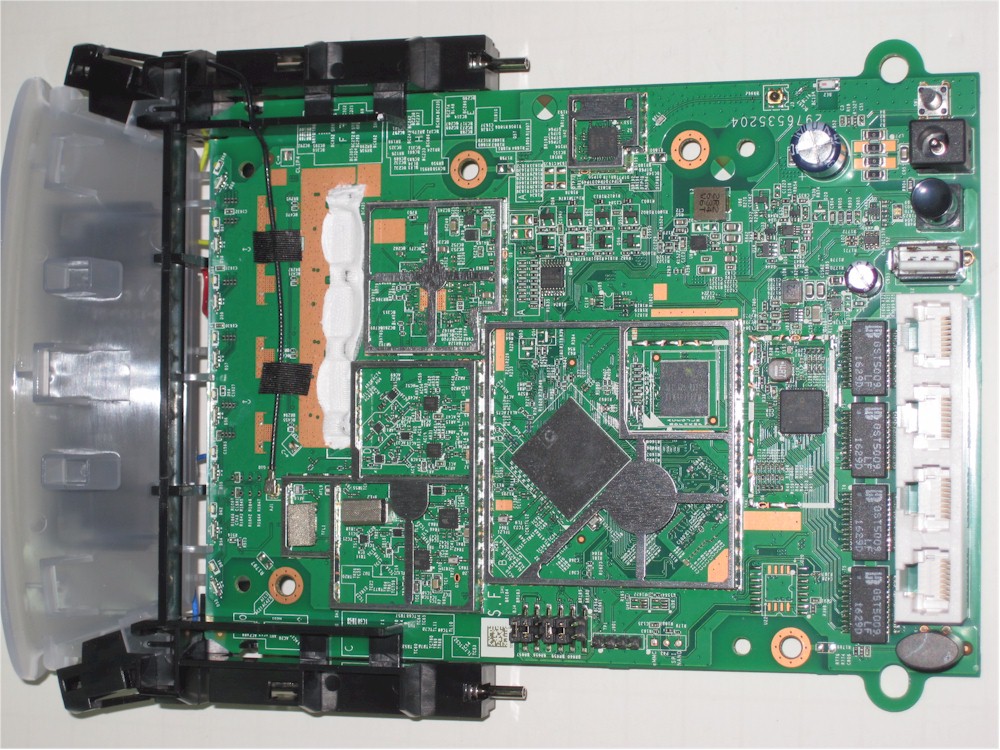 Top with RF can tops removed. The Qualcomm IPQ4019 2×2 SoC and 4 GB flash module are photo center. QCA8075 Gigabit switch sits near the RJ45 connectors at photo right.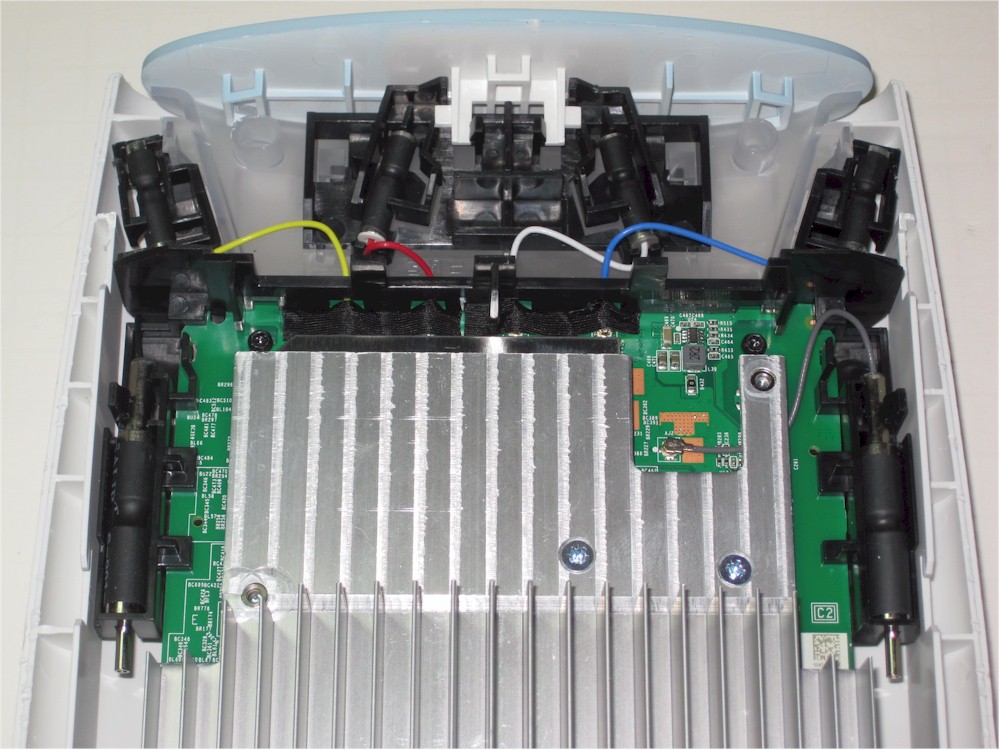 Four 5 GHz backhaul radio antennas are at the top; two dual-band device connection antennas are set below them on Orbi's sides.
Setup
Orbi departs from the "mesh" Wi-Fi crowd in the way it sets up. There is no need to install an app, surrender your email or mobile phone number or sign up for a cloud service. The lack of companion cloud service works to Orbi's favor for those who eschew the approach taken by eero, Luma and other Wi-Fi product upstarts. With no cloud service needed, Orbi will continue to operate, even when NETGEAR moves on to newer products.
Although Bluetooth 4.1 is built in, the Orbi setup guide directs you to (gasp!) launch a web browser and log into http://orbilogin.com to complete setup. Many folks may not need to do even that, since the Orbi Router and Satellite come already paired. Setup was more like installing a pair of powerline adapters than setting up any other of the mesh products tested so far. I plugged them in and looked at indicator "halo" on the Satellite to determine whether I needed to move it for a better signal (I didn't).
About the only reason you have to log into Orbi is to change the default admin password, change the network name and set a wireless password. I'm surprised Orbi departs from NETGEAR's policy of setting a unique network name and password as it does on its other genie-based routers. Perhaps this will change in a future firmware release.
Update 11/11/16: Orbi defaults to the SSID ORBI50, but does set a unique word-salad+number (Ex. octopusbanana45) wireless password. HTTPS administration is also supported, but not with automatic redirection. You need to preface the admin URL with https://.
The main setup quirk is that you can only use the http://orbilogin.com URL if you are connected wirelessly. If you still connect via one of those archaic Ethernet networks like me, you'll need to hit the default IP of 192.168.1.1.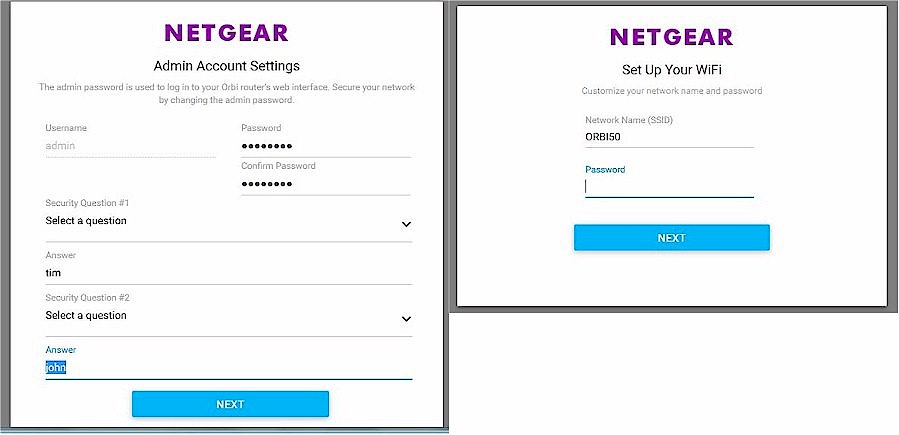 Orbi setup – two essential steps
Features
Orbi departs from the "mesh" approach in feature set as well. eero provides only the bare essentials and Luma tries to differentiate itself with additional security features. But the Orbi router implements a good deal of the standard NETGEAR genie OS. So it supports more router features that advanced users may need than eero, Luma or even Ubiquiti Networks' Amplifi. Check the screenshot below that shows the Advanced Home page; it will be pretty familiar to anyone who has used another NETGEAR router.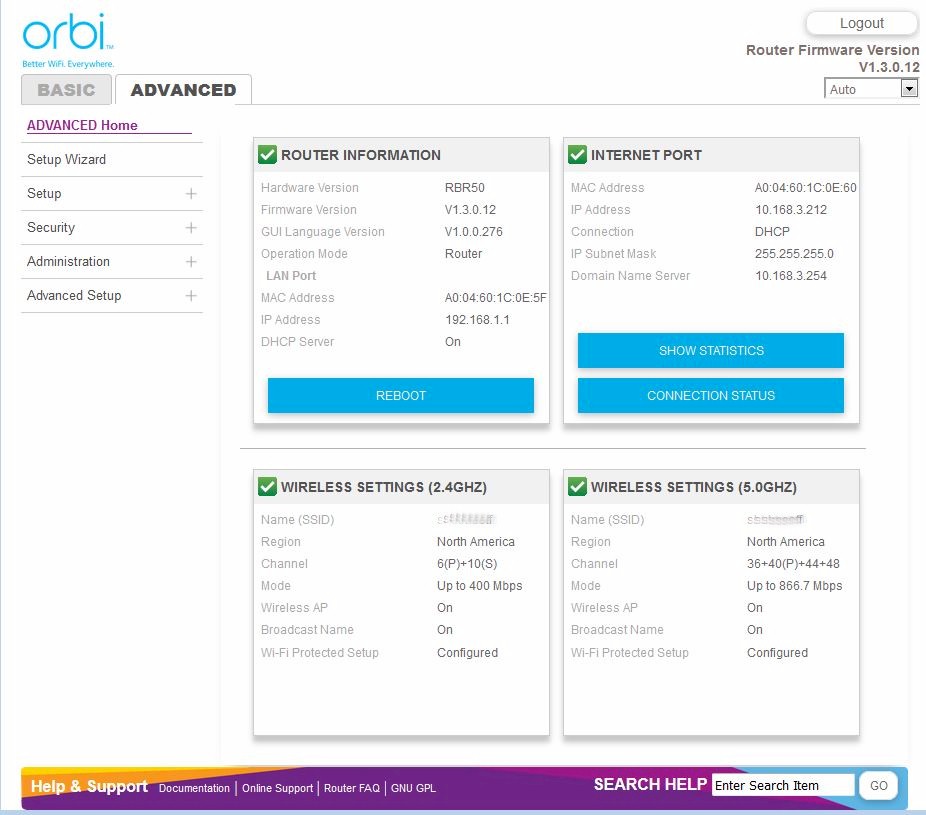 Orbi Advanced Home
I'm not going to do a feature deep dive, so download the User Manual if you want details. But here's a quick key feature summary:
Supports static, dynamic, PPPoE, PPTP and L2TP WAN types
IPv6 WAN (Auto detect, Auto Config, 6to4 Tunnel, 6rd, Pass Through, Fixed IP, DHCP, PPPoE)
Router / AP mode
DHCP server address reservations
OpenDNS based Parental controls
Dyamic DNS (NETGEAR, No-IP, Dyn.com)
OpenVPN (required V1.3.0.12 or higher)
Static and triggered port forwarding
Allow / block network connection access control
Schedulable keyword / domain based website blocking
Schedulable outbound service blocking
Emailable logs and blocked site access alerts
Detailed logging
Device list with IP address, MAC Address and connection type
Static Routes
Secure remote management with IP control and port number change
UPnP NAT traversal controls and portmap table (enabled by default)
Traffic Metering w/ counter reset and limit warning
Updated 11/30/16
Two missing features even casual users may desire are support for Wi-Fi Guest networks and any sort of QoS / Traffic prioritization / bandwidth shaping. Guest networks are said to be coming, but there is no firm schedule I know of.
Firmware V1.4.0.16 adds Guest network and other features, but doesn't include QoS / Traffic prioritization.
Wireless Features
Since this is a rather unique wireless router, these features deserve more attention. Let's start with the basic wireless setup. The wireless setup screen is the same in Basic or Advanced mode. It lets you set the channels for the 2×2 class client / device connect radio. The 2.4 GHz setting offers Auto and Ch 1-11, while the 5 GHz allows only low-band channels (36 – 48).
Wireless security is password method only; no RADIUS support. Wi-Fi Protected Setup (WPS) is also supported by pressing the Sync button to start a WPS pushbutton session.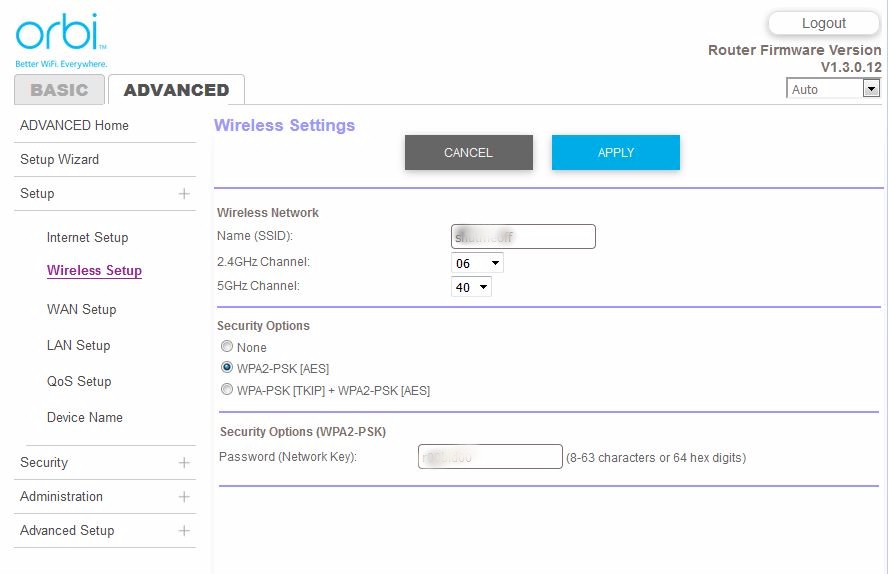 Basic wireless
The high band is used by the 4×4 backhaul radio, which has no controls. You can, however log into it by getting its IP address from the Connected Device listing and using the Router's login credentials. That will bring you to the page below, which is mostly see-and-not-touch. The hamburger menu offers only Status (this page), Connected Devices, Firmware Update and Logout options. Note there is no information presented about the backhaul connection.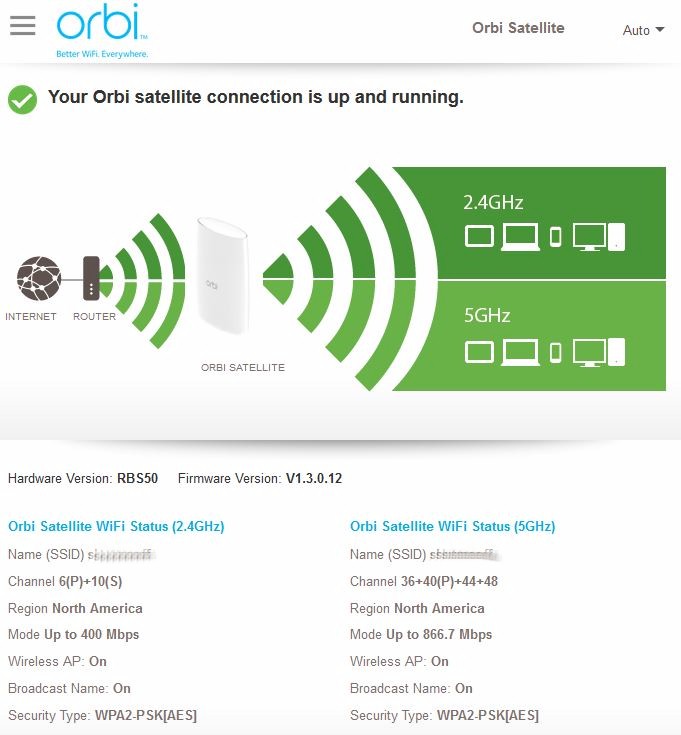 Basic wireless
Even though there is a Firmware update option, you don't have to log into the Satellite to update it. When I updated to 1.3.0.12 after testing to verify whether OpenVPN had been added (it had), I did it all from the Router.
The only other control related to the Satellite is the ability to generate a new backhaul password, i.e. resync the Router and Satellite, found in the Advanced Wireless menu shown below. Note the lack of bandwidth controls, which accounts for the 400 Mbps 2.4 GHz linkrate shown above. This indicates QAM-256 support for that radio.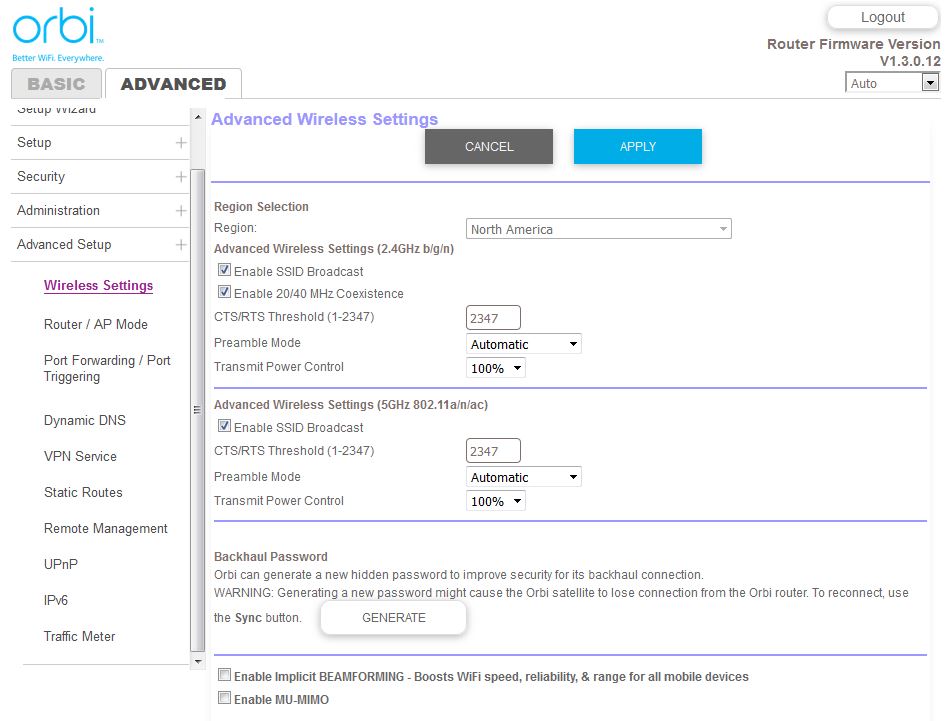 Advanced wireless
Since Orbi is a multi-device system, inquiring minds want to know how smoothly devices move between Router and Satellite. I had no problem during my open air testing; the NETGEAR A6200 client moved from Router to Satellite without requiring a forced reconnection. But, as is typically the case, that movement was due to the client and nothing in Orbi's bag of tricks. NETGEAR says Orbi currently supports only band-steering and 802.11k and 802.11v. 802.11r AP to AP roaming is coming in a "future" firmware release.
Routing Performance
Routing throughput was measured using the latest V4 router test process using v1.2.0.6 firmware. Table 2 summarizes the results and includes Luma and TP-Link Archer C5 V2 for comparison. Luma isn't found with other AC1200 class routers in the Charts because it could not run the wired functional test suite. So it would be unfair to rank it with other AC1200 class routers. But Luma ran the new performance tests just fine, so can be fairly compared for them.
Luma does, in fact, perform better than Orbi and the TP-Link for both TCP and UDP benchmarks. I now use the total simultaneous benchmarks to judge routing performance, since many products tend to max out the unidirectional tests.
| Test Description | NETGEAR Orbi | Luma | TP-Link Archer C5 V2 |
| --- | --- | --- | --- |
| WAN – LAN TCP (Mbps) | 924 | 941 | 919 |
| LAN – WAN TCP (Mbps) | 935 | 941 | 919 |
| Total Simultaneous TCP (Mbps) | 1570 | 1764 | 881 |
| TCP Connection | Fail | Pass | Fail |
| WAN – LAN UDP (Mbps) | 406 | 960 | 364 |
| LAN – WAN UDP (Mbps) | 342 | 950 | 459 |
| Total Simultaneous UDP (Mbps) | 964 | 1898 | 794 |
| UDP Connection | Fail | Fail | Fail |
Table 2: Routing performance comparison
Because Orbi acts like a normal wireless router, I was able to run the complete new functional test suite on it. It posted a functional score of 90.6, which means it failed 23 of the 245 tests in the functional suite. But some of the failures could cause problems for some users since they involved DNS and DHCP failures. The complete test results spreadsheet can be downloaded here.
Wireless Performance
Orbi is not Wi-Fi Certified right now. But NETGEAR usually Certifies most of its products, so that may come in time. I had no problem configuring Orbi for testing since no constant internet connection was required. Channel 6 was set on the 2.4 GHz radio and Channel 40 on the 5 GHz. Because I could neither set separate SSIDs for each band nor 20 MHz bandwidth for 2.4 GHz, I had to rely on the Intel ProSet wireless utility to control the client. I set up profiles that connected to each band's BSSID (MAC address) and limit 2.4 GHz connection to 20 MHz link rates. I confirmed the proper link rates were in use before running tests.
Orbi was centered on the test chamber turntable as shown in the photo below. The 0° position for the router had the front facing the chamber antennas. Regular readers might notice a third antenna has been added to the chamber. It's there for other test configurations I'm working on; the current test process still uses the 2×2 Intel AC STA.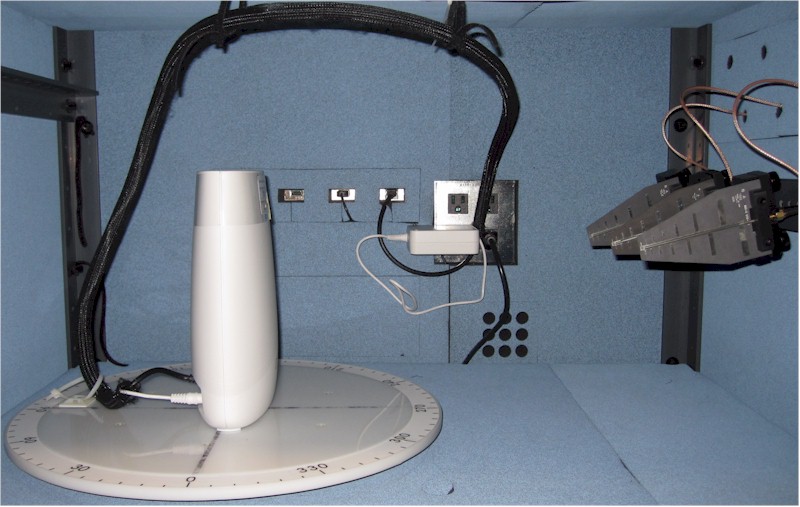 Orbi in test chamber
This is the first review using the new Chart tools, which prevent comparing products using different test processes. So I have only one AC1200 class router that has also been tested using the full V9 test process, TP-Link's Archer C5 V2.
The 2.4 GHz downlink profile clearly shows Orbi maintained connection throughout the entire test range, even though its maximum throughput was lower than the TP-Link's. This gave Orbi an overall 2.4 GHz average throughput of 72 Mbps vs. the Archer C5 V2's 62 Mbps.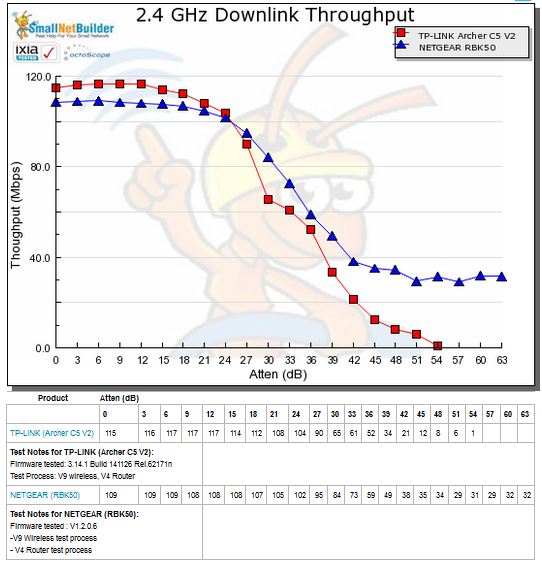 2.4 GHz Downlink Throughput vs. Attenuation
The 2.4 GHz uplink plot again shows that Orbi went the distance but also had higher maximum throughput than the TP-Link. Overall averages for this benchmark were 62 Mbps and 41 Mbps for the NETGEAR and TP-Link, respectively.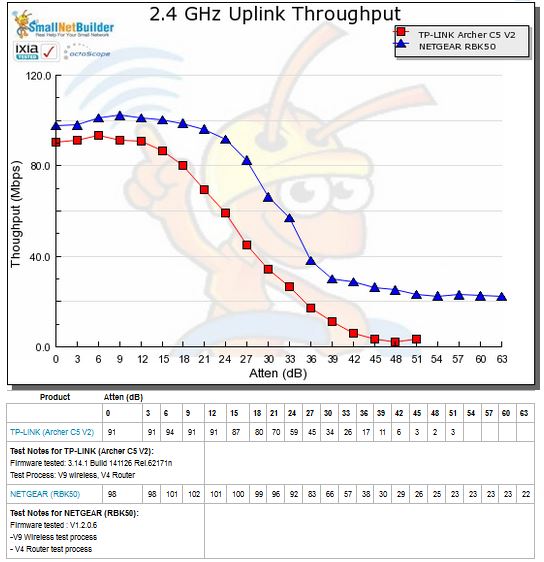 2.4 GHz Uplink Throughput vs. Attenuation
5 GHz downlink shows Orbi also completing all tests in this benchmark while the TP-Link again connected relatively early. Throughput of the two devices was generally evenly matched however, except for a few negative deviations for the TP-Link. Overall average throughput measured 221 Mbps (Orbi) and 197 Mbps (Archer C5 V2).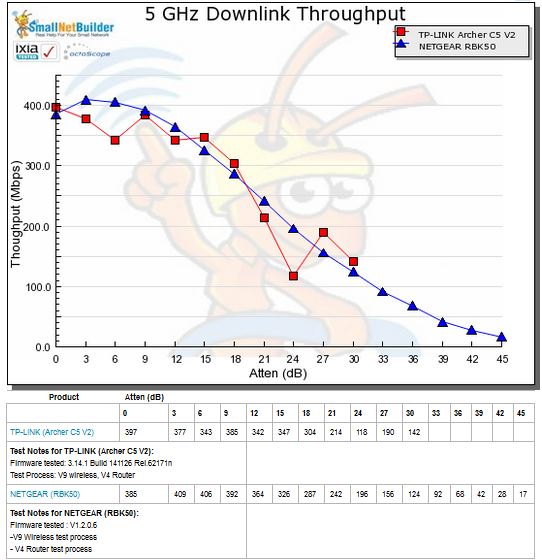 5 GHz Downlink Throughput vs. Attenuation
Finally, for 5 GHz uplink, Orbi finally shows some weakness. But while throughput tracked below the TP-Link, Orbi again completed all tests. Overall average throughput was 141 Mbps (Archer C5 V2) and 115 Mbps (Orbi).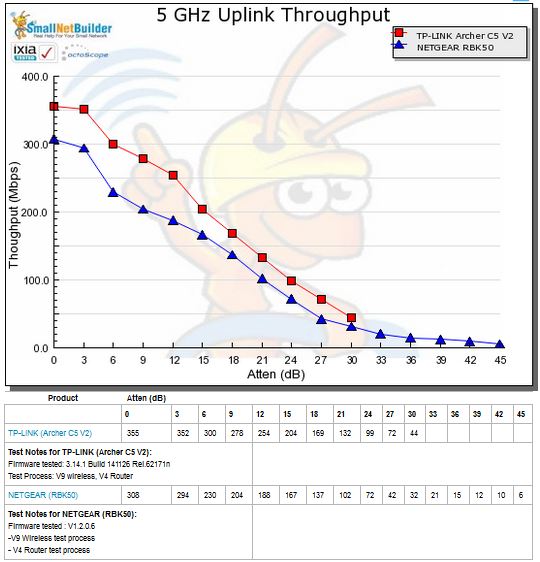 5 GHz Uplink Throughput vs. Attenuation
NOTE!: The new Charts use a new averaging method. The old charts averaged only non-zero points, which could increase the average value for benchmarks that had fewer data points. The new method averages over the entire benchmark range, which is 0 – 63 dB for 2.4 GHz benchmarks and 0 – 45 dB for 5 GHz. This ensures that products that disconnect early are not unfairly ranked higher.
Multi-Node Test
So Orbi performs decently as an AC1200 router. But does that 4×4 backhaul really provide a performance advantage? The open air tests performed in Mesh Mashup Redux – NETGEAR's Orbi Checks In, show it certainly does. I'm not going to repeat all the findings here and instead show only one chart. It shows Orbi delivering over 200 Mbps of downlink throughput (Router to client) in all tested locations.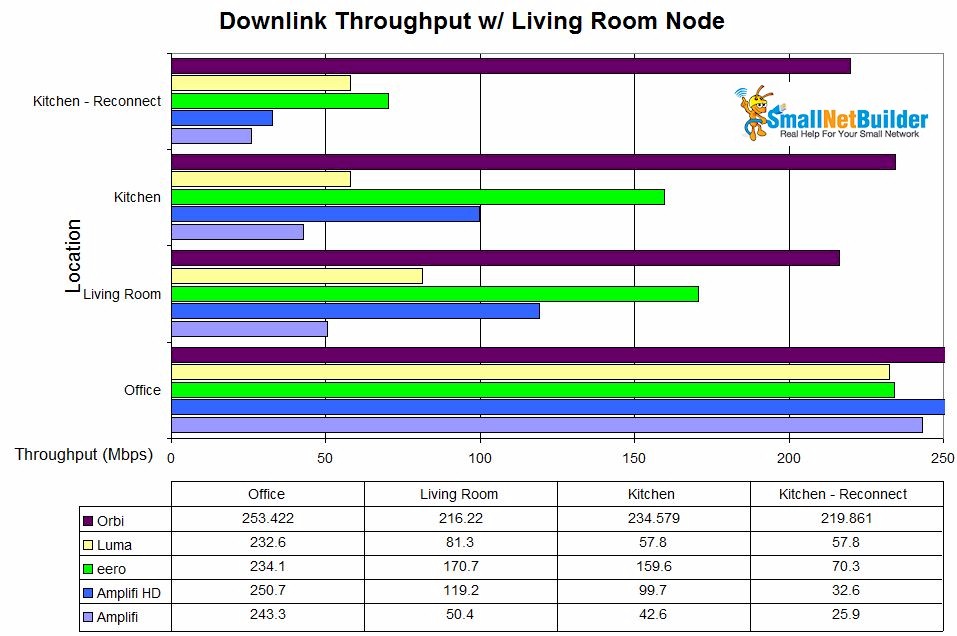 Mesh throughput summary w/ Living Room node – downlink
The interesting thing about these results is that throughput remained essentially the same even in the Kitchen location, which has a few sheerock walls and a large refrigerator in the signal path. The Kitchen – Reconnect results represent two-hop performance for everything except Orbi. Since Orbi connects the Router and Satellite via separate backhaul link that is not used for client connection, there is no "hop" retransmission throughput penalty.

Wireless Bridge
One thing I forgot to do in the Mesh Mashup reviews was to check wireless bridge performance. Orbi, Luma and eero all provide at least one Ethernet port on their nodes and support Ethernet device connection. Ubiquiti Networks' Amplifi has no Ethernet port on its "mesh nodes" / extenders, so can't be used for wireless bridging.
For the test, I set up each product with the root node in my office on the lower level of one end of my home and another node, or in Orbi's case the Satellite, in the hallway and living room locations, one floor up. (See the first Mesh Mashup review for location details.) As with the previous tests, I just turned products on and let them link up. I used the same Lenovo x220i laptop for testing, but connected it via Ethernet to one of each product's Ethernet ports.
The downlink chart below shows performance by location. It's clear the Living Room location has a better connection to the root node, just as it's clear that Orbi's backhaul is far and away better than eero and Luma's, with a best case run of 528 Mbps. Keep in mind no wireless devices were pulling bandwidth during the test; you're seeing only backhaul performance.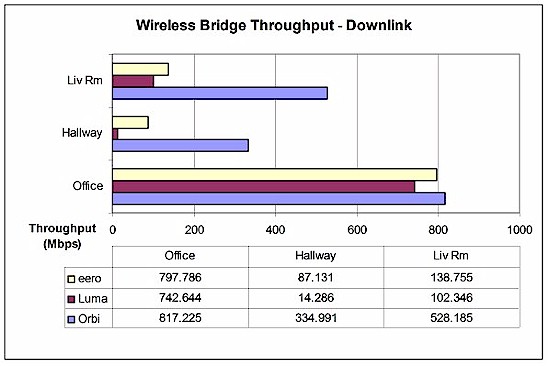 Wireless bridge performance – downlink
Uplink performance ran about 100 Mbps lower for Orbi. Still, 414 Mbps of TCP/IP throughput is better than I've gotten with any wireless extender and even better than obtained using AV2 MIMO powerline (check the Location C results in the powerline charts for comparison).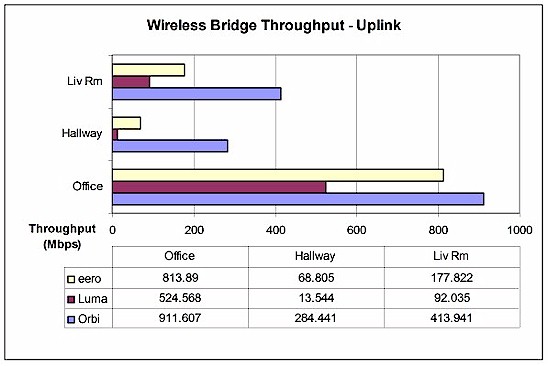 Wireless bridge performance – uplink
One test note worthy of sharing is the difficulty I had getting wireless bridging to work with eero. Each time I connected the test laptop, eero's light would turn red and I was unable to ping the root node. I finally ended up in a chat with eero support, who confirmed the problem. I eventually was able to complete the tests by power cycling eero numerous times. eero got back to me a few days later and offered this explanation:
When you connected your laptop, the eero misinterpreted the ethernet cable and was expecting it to be connected to your modem. The eero then began its process for taking over the "primary" eero role, which caused the disconnections. The eero then realized what was actually happening and recovered.
I did not have this problem with Luma, which has separate "In" and "Out" ports (I used the "Out"), or Orbi.
Closing Thoughts
I've seen some grousing in the SNBForums Orbi threads about Orbi's $400 price tag and I suppose, rightfully so. You can buy most any AC5300 / AC5400 BHR for less, including NETGEAR's Nighthawk X8 and ASUS' RT-AC5300. Only NETGEAR's just-announced AD7200 class Nighthawk X10 costs more at $500.
But while it may look like a pumped-up air freshener, Orbi is simply the best solution available right now for your best shot at getting high-bandwidth Wi-Fi that will cover most homes and apartments. It simply takes the best-available, proven Wi-Fi technology and combines it with minimal smoke and mirrors (with no cloud service required) into an attractive package that is simpler than its no-brainer "mesh wireless" competition to set up. Any unlike eero, Luma et al., Orbi supports enough routing features to keep most advanced users happy, even supporting OpenVPN and OpenDNS based parental controls.
If you're tired of wimpy Wi-Fi, it's time you tried Orbi.
Buy Orbi from Amazon