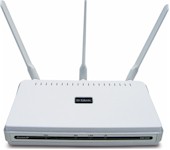 The D-Link DAP-2555 AirPremier N Dual Band, PoE Access Point powered by CloudCommand has been added to the Wireless Charts.
The DAP-2555 is a single radio 2.4 / 5 GHz 802.11n access point positioned for the small business market. The hardware is the same as D-Link's DAP-2553 (the 2555 carries the same FCC ID) we reviewed last year.
But instead of the usual browser-based management, the DAP-2555 is wrangled via PowerCloud Systems' CloudCommand cloud OS. CloudCommand is intended to make multi-AP wireless networks easy to install and centrally administrate.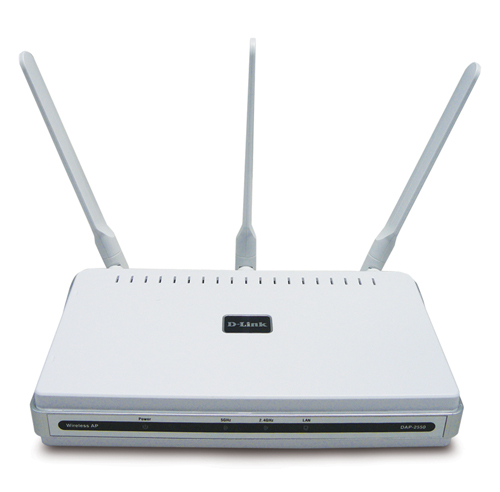 I've included the fuzzy FCC ID photo from the DAP-2553 review below, which is clear enough to show the Atheros devices that power it. Fortunately, the internal pictures file had close-ups of the key devices, which are an Atheros AR9132 802.11n 400 MHz Wireless Network Processing Unit (WNPU) and AR9106 Dual-band 3×3 MIMO 802.11n radio.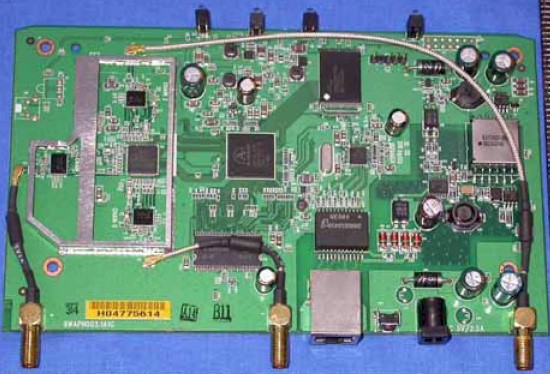 DAP-2555 board
There was no close-up of the Gigabit Ethernet device, but I'm guessing it's an Atheros AR8121. 16 MB of Spansion flash rounds out the design.
The 2555's feature set is somewhat different than the 2553's and I'll save the details for the full review. But you get only one primary SSID and one Guest SSID, there is no WDS bridging and repeating and you can't use the AP as a wireless client. You still have the option of 802.3af PoE power and there is VLAN support.
The DAP-2555 is Wi-Fi Certified, but did not properly default to 20 MHz bandwidth mode in the 2.4 GHz band. In fact, there is no control at all provided for channel bandwidth mode. Auto 20/40 mode appears to be set for both 2.4 and 5 GHz bands, judging from the maximum 300 Mbps link rates I saw. So I had to limit channel bandwidth on the client side for testing.
If you need to support older clients, you'll need to find another product. WPA2/AES (and open) are the only encryption options provided. There are no encryption options at all provided for the Guest network, but you can force clients to log in via a web captive portal. Only one password is provided for this, however.
Highest 2.4 GHz throughput of 64.5 Mbps was measured using our wireless test process in Location A running uplink with the client set to Auto 20/40 mode. Highest 5 GHz band throughput of 63.3 Mbps was again in Location A, running uplink with the client set to Auto 20/40 mode. All tests were run using WPA2 / AES security.
Wireless performance was generally unimpressive. Although I was able to run tests in all locations using the 2.4 GHz band, uplink throughput with the client set to Auto 20/40 mode was unusable for all practical purposes. And during 5 GHz testing with the client set to Auto 20/40 mode, I experienced multiple disconnects during testing, even in medium to strong signal test locations B and C.
I pulled three other dual-band access points into the Wireless Performance tables below for comparison: the D-Link DAP-1522, D-Link DAP-2553 and NETGEAR WNDAP350. The 2.4 GHz band comparison doesn't show a clear winner, although the DAP-2555 provides higher throughput in the lower signal locations D, E and F with the client forced to 20 MHz bandwidth mode.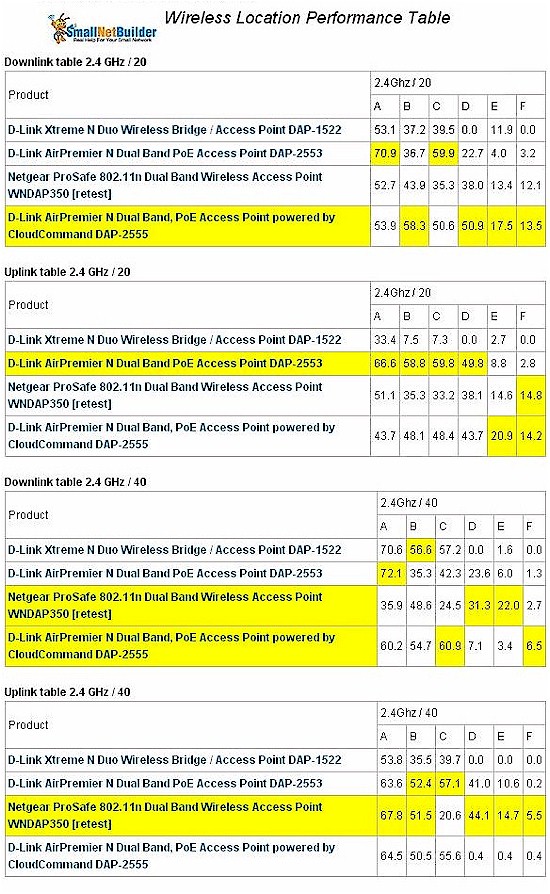 5 GHz band results are curious, showing the identical hardware twin DAP-2553 with significantly higher (90+ Mbps) bandwidth in some locations.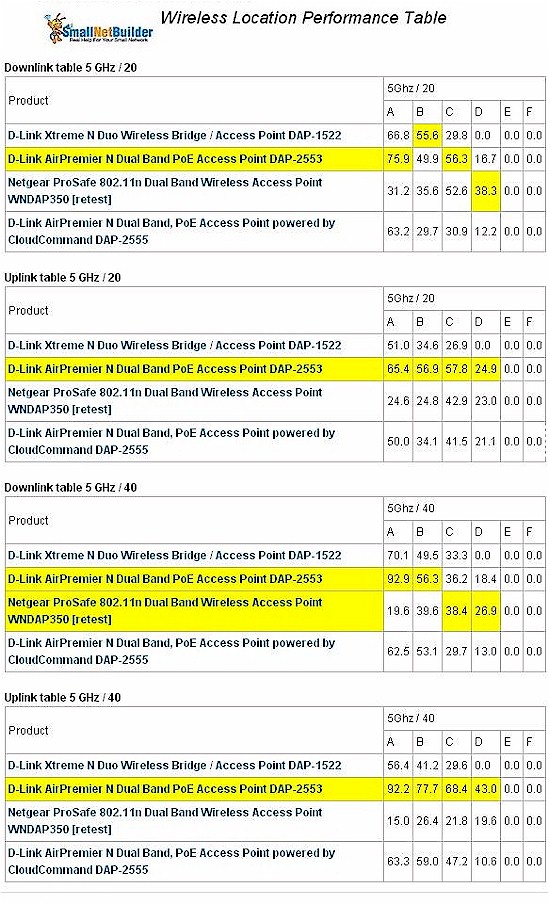 Here are links to the IxChariot wireless test plots if you'd like to check throughput stability.
You can further explore the DAP-2555's performance and compare it to other products using the Wireless Charts. The full feature review is here.