At a glance
Product
Linksys Max-Stream AC2200 MU-MIMO Tri-band Wireless Router, (EA8300) [Website]
Summary
Qualcomm-based three-radio two stream router with gigabit Ethernet ports supporting MU-MIMO and USB 3.0 storage and printer sharing
Pros
• Decent performance for a two-stream router
• Supports DFS channels
• Second 5 GHz radio can be separately bridged
Cons
• No OpenVPN server
• Meh storage performance
• Two stream MU-MIMO is useless
Typical Price: $78 Buy From Amazon
Introduction
"Tri-band" routers have had an interesting history. Originally dubbed "XStream", tri-band (Band 1 = 2.4 GHz; Band 2 = 5 GHz Ch 36 – 48; Band 3 = 5 GHz Ch 149 – 165) was originally conceived by Broadcom as a way to buy time against MU-MIMO until they could get their own late-to-the-party MU-MIMO chipset to market. Broadcom's pitch, as described in MU-MIMO vs. XStream: The Coming Battle For Wi-Fi Airtime, boiled down to why buy something that also requires buying new devices when you can get the same or better benefit from our stuff that works with what you already own?
There was apparently enough in that argument to get folks to buy into this new router class, which also pushed prices up to new heights. It also didn't hurt that the addition of another radio let Wi-Fi marketeers add in its maximum link rate to make the big number on the box (BNOB) even bigger.
Prices and numbers on the box got even bigger with tri-band's move from three-stream to four-stream radios and still buyers bought. But then "mesh" Wi-Fi Systems became the shiny new object to attract buyers' bucks. Since tri-band technology was old news and there were no more tricks left to artifically pump up the BNOB, marketeers fell back to the other tried-and-true trick, lower price. I looked at NETGEAR's attempt at lower-cost tri-band in its R8000P Nighthawk X6S and came away unconvinced that, even with MU-MIMO also thrown in (oh, the irony!), that it was a better way to go than NETGEAR's less expensive four-stream R7800 Nighthawk X4S.
In the meantime, tri-band found its true calling in Wi-Fi Systems, which needed the flexibility and additional bandwidth a third radio brought to the party. NETGEAR went upscale to a four-stream radio and dedicated it to backhaul in its original RBK50 Orbi, while Linksys (Velop), eero (gen2) and others went with two-stream and shared it between front and backhaul, just like the other two radios. Ironically (again), it wasn't Broadcom that benefited from this new application of tri-band, but Qualcomm instead. Because all Wi-Fi systems to date are based on Qualcomm chipsets.
So now enters Linksys' EA8300 Max-Stream AC2200 Tri-Band Wi-Fi Router to bring it all full circle. It's basically the dual-stream Qualcomm tri-band design that forms the core of the Wi-Fi Systems mentioned above, but in the form of a standalone router.
Linksys has played it straight with the AC2200 rating, which adds maximum 2×2 link rates of 400 Mbps in 2.4 GHz plus 867 Mbps for the two 5 GHz radios to get 2134 Mbps, which is rounded up. They sorta had to, since the EA8300's innards don't support the useless 160 MHz / 80+80 MHz bandwidth used to pump up the EA9300's BNOB.
The EA8300 has only four non-upgradeable external antennas. There are mounting screw slots on the bottom panel to enable facing the rear panel up or down. The front panel callout diagram below describes the front panel lighting.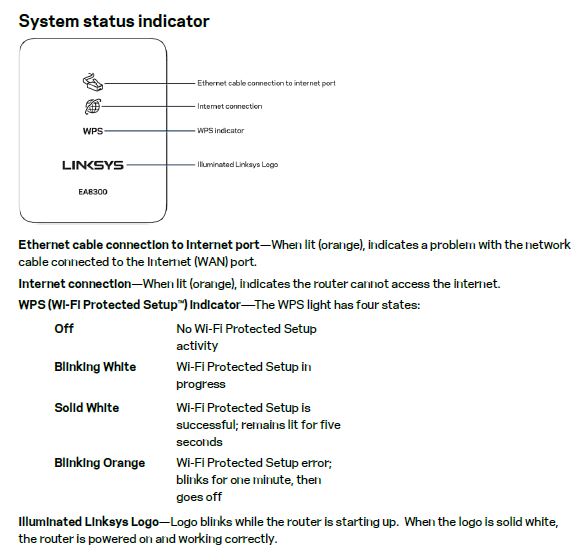 EA8300 front panel callouts
The rear panel has one USB 3.0 port, four 10/100/1000 Mbps Ethernet LAN ports and one Gigabit WAN port. Port aggregation can be enabled in the admin GUI on ports 1 and 2 (I did not test this) and every port has its own link and activity LEDs that should be called out in the diagram. The right side of the router sports a Wi-Fi Protected Setup (WPS) switch. There is no wireless on/off switch.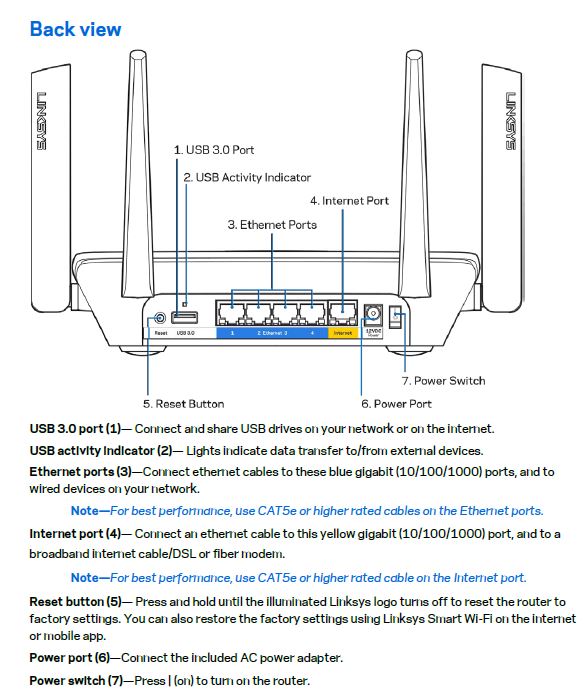 EA8300 rear panel callouts
Inside
Linksys has released the FCC internal pictures, so I did not open the router for a look. The first photo, with top cover removed, shows heatsinks covering the key components, which I'll get to shortly. You have to squint a bit due to low photo contrast, but it's clear the left side two antennas are dual-band and the right pair are dedicated to the second 5 GHz radio.
Linksys EA8300 inside
The radios are clearer in the photo below with heatsinks and RF can tops stripped away. The highlighted white rectangular parts are band-shaping filters and indicate the two 5 GHz radios. Component closeups in the FCC file allowed identification of all key components except the 2.4 GHz transmit power amplifiers.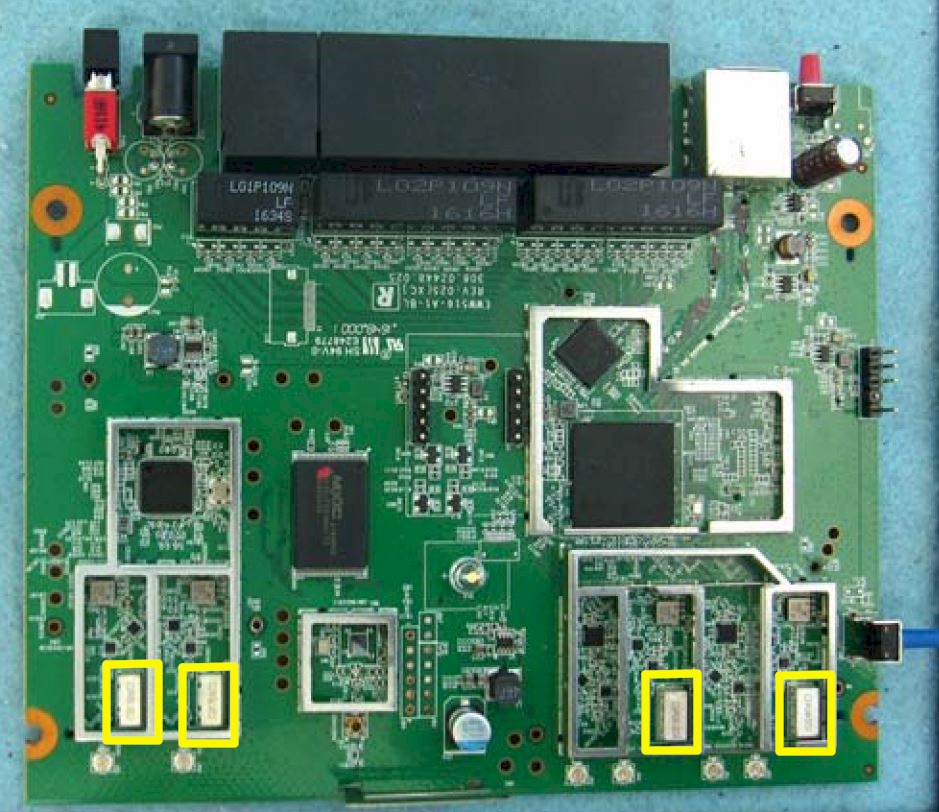 Linksys EA8300 board
The table summarizes the key components for the EA8300 and Linksys Velop, to which it bears a close resemblance, including a (non-functional) Bluetooth 4.1 radio. So close, that the EA8300 list includes Velop's 2.4 GHz transmit power amplifiers as a guess. Also included are eero Gen 2 and the Orbi "mini", that use 2×2 backhaul vs. the original's 4×4, so you can see design similarities.
Linksys EA8300
Linksys Velop
eero Gen 2
NETGEAR Orbi RBK40/30
CPU
Qualcomm IPQ4019 quad-core Wave2 2×2 a/b/g/n/ac SoC
– Qualcomm IPQ4019
Qualcomm IPQ4019
Qualcomm IPQ4019
Switch
QCA8075
QCA8072
QCA8072
QCA8075
RAM
256 MB
512 MB
512 MB
512 MB
Flash
256 MB
4 GB Samsung KLM4G1FEPD
4GB eMMC
4 GB
2.4 GHz Radio
– In IPQ4019
– MSC5533621E (maker unknown) 2.4 GHz power amp (x2) [guess]
– In IPQ4019
– MSC5533621E (maker unknown) 2.4 GHz power amp (x2)
– In IPQ4019
– Skyworks 85331-11 2 GHz front end (x2)
– In IPQ4019
– Skyworks SKY2623L 2.4 GHz Power Amp (x2)
5 GHz radio
– In IPQ4019
– Skyworks SKY85408-11 5 GHz Power Amp (x2)
– In IPQ4019
– Skyworks SKY85408-11 5 GHz Power Amp (x2)
– In IPQ4019
– Quorvo QPF4518 5 GHz front end (x2)
– In IPQ4019
– Quorvo QPF4518 5 GHz front end (x2)
5 GHz radio #2
– QCA9886 2×2 a/n/ac SoC
– Skyworks SKY85408-11 5 GHz Power Amp (x2)
– QCA9886 2×2 a/n/ac SoC
– Skyworks SKY85408-11 5 GHz Power Amp (x2)
– QCA9886
– Skyworks 85736-11 5 GHz front end (x2)
– QCA9886 2×2 5 GHz a/n/ac SoC
– Quorvo QPF4518 5 GHz front end (x2)
Bluetooth
CSR8811 Bluetooth 4.1 SoC
CSR (part # ?)
Silicon Labs EFR32MG
CSR8811 Bluetooth 4.1 SoC
ZigBee
N/A
– Silicon Labs EM3581 ZigBee / Thread SoC
– SiGe 2432L 2.4 GHz ZigBee front end
In Silicon Labs EFR32MG
N/A
Table 1: Component summary and comparison
Although the components are similar, the physical design of the EA8300 and Velop are quite different. The FCC photos show Velop's board has less space to work with, so put the IPQ4019 shared 2.4/5 GHz radios on one side and the dedicated QCA9886 second 5 GHz radio on the other.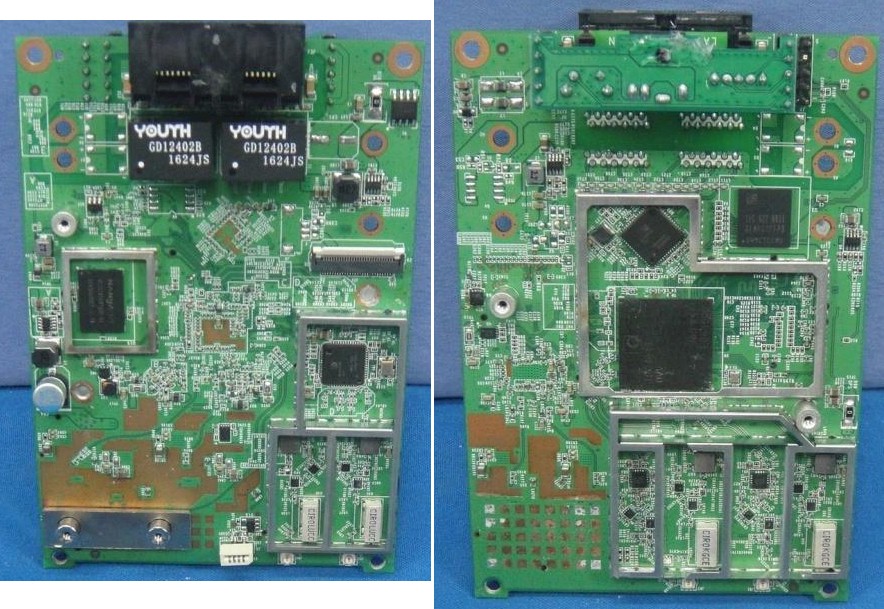 Linksys Velop board
Features
The EA8300's supports Linksys' standard "Smart Wi-Fi" feature set, which is described pretty well in the EA9500 review.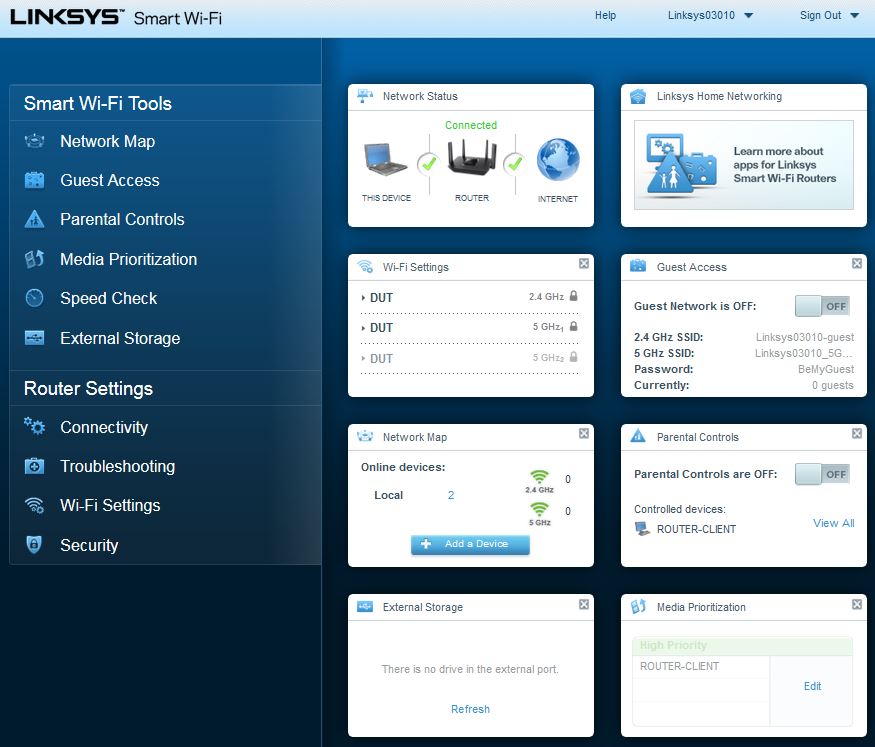 Linksys Smart Wi-Fi home
The default wireless settings are shown in the screenshot below. While Linksys uses the Broadcom-coined "Smart Connect" term in its marketing material, here, it's called plain-ol band-steering. Perhaps due to the use of Qualcomm technology, the EA8300 defaults to band steering among all three radios (the Broadcom-based EA9200, EA9300 and EA9500 band steer only between the two 5 GHz radios).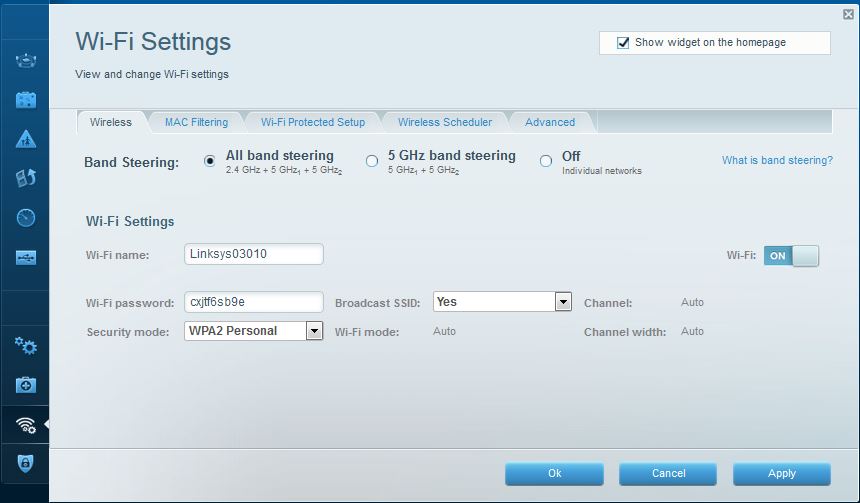 Linksys EA8300 Wi-Fi Defaults
Turning band steering off exposes the controls shown below for all three radios, with the settings I used for testing.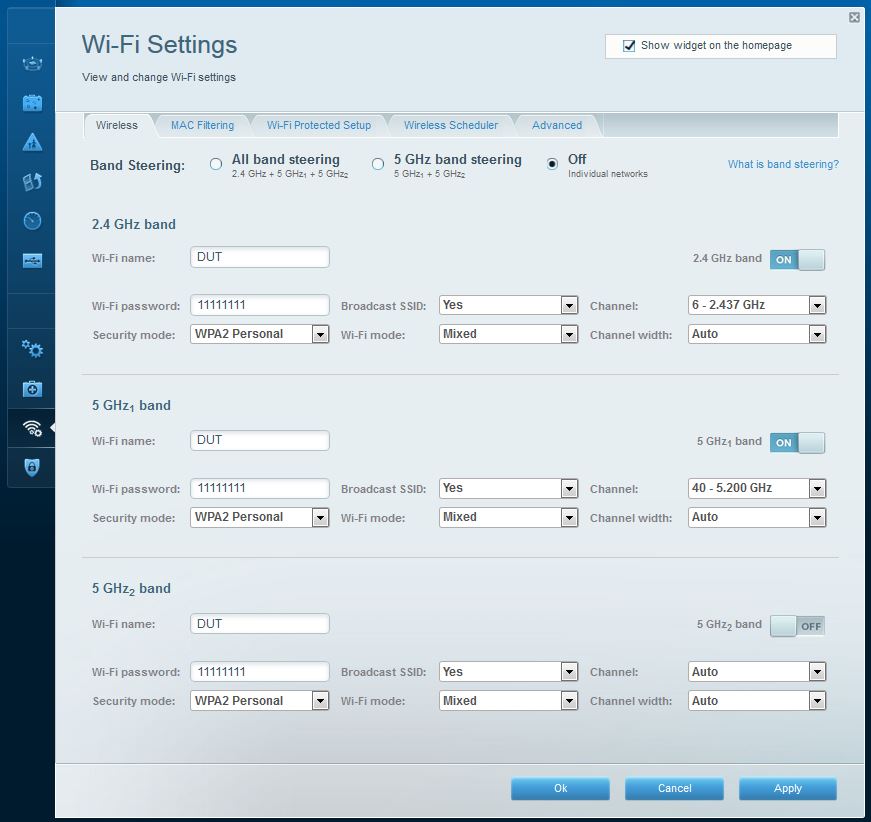 Band steering disabled
Linksys's routing features continue to lag far behind ASUS and somewhat behind NETGEAR's. Like other EA series routers, the EA8300 does not support OpenVPN as Linksys' Marvell-based WRT routers do. However, non-WDS based Wireless bridging and repeating are supported, but hidden in the Connectivity > Internet Settings > Type of Internet Connection control.
It's not clear from the User Manual, but if you assign unique SSIDs to the two 5 GHz radios, Linksys confirmed you should be able to link up a second EA8300 to get the equivalent of a two-node Velop. However, unlike Velop, the link between two EA8300s would be dedicated to backhaul.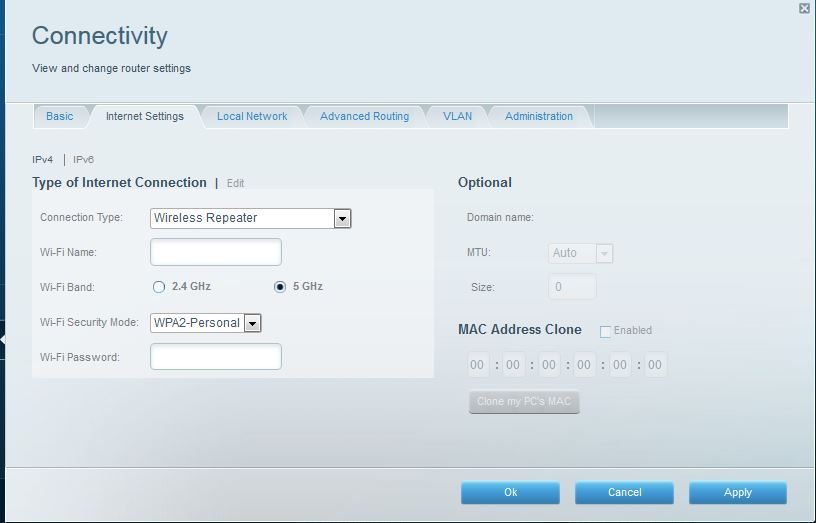 Wireless Repeating setup
If you make your way to the Wireless > Advanced tab, you'll find an Airtime Fairness enable, which is off by default. Airtime Fairness provides a shot at improving total wireless bandwidth use by keeping slower devices from hogging too much air time. It's not a panacea, though, so you should experiment and see if it's right for you.
Speaking of Advanced Wireless settings, the hidden advanced-wireless.html menu in the EA8300 brings up the page shown below, which contains no controls on either 2.4 or 5 GHz tab. So there are no controls to enable/disable beamforming, MU-MIMO or anything else.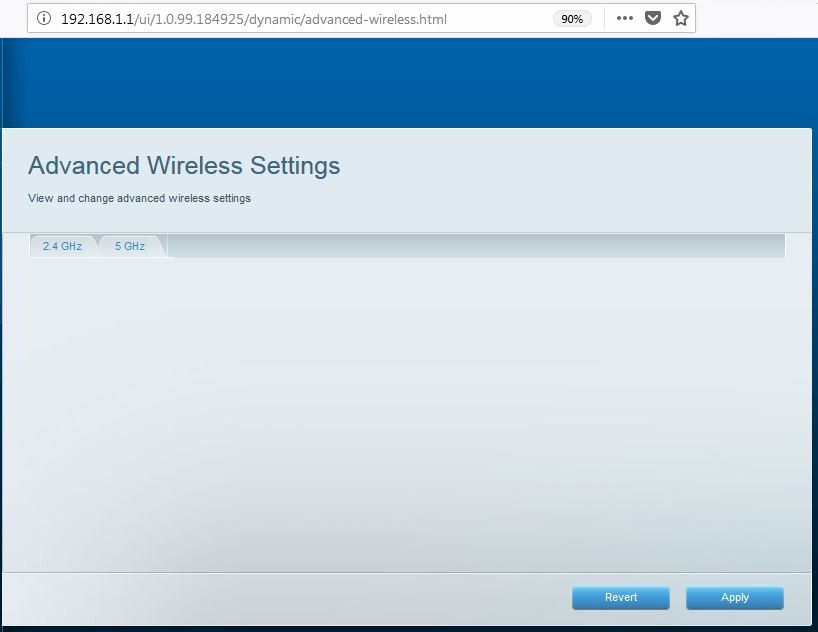 Hidden Advanced Wireless page
Storage Performance
Our standard router storage test procedure was used to measure file copy throughput for FAT32 and NTFS volumes connected via USB 3.0. The NTFS results below are not much to write home about. They're about as good as the best performing routers produce with USB 2.0 connections.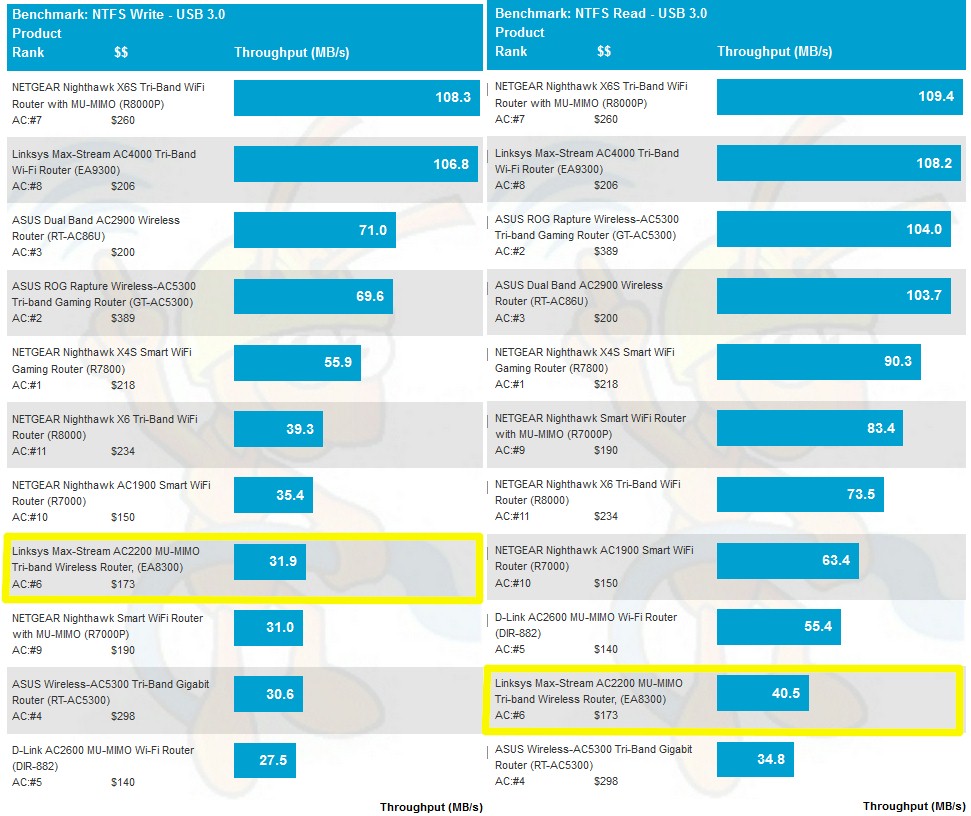 USB 3.0 storage performance – USB 3.0, NTFS
Routing Performance
The EA8300 was tested with the V10 router test process, loaded with 1.1.3.184925 firmware. I threw in the EA9300's results to compare against Linksys' next step up in tri-band routers, which is Broadcom-based.
| Test Description | Linksys EA8300 | Linksys EA9300 |
| --- | --- | --- |
| WAN – LAN Throughput (Mbps) | 815 | 941 |
| LAN – WAN Throughput (Mbps) | 775 | 941 |
| HTTP Score – WAN to LAN (%) | 41.3 | 56.9 |
| HTTP Score – LAN to WAN (%) | 42.2 | 57 |
| Bufferbloat Score- Down Avg. | 433 | 494 |
| Bufferbloat Score- Down Max. | 213 | 385 |
| Bufferbloat Score- Up Avg. | 181 | 415 |
| Bufferbloat Score- Up Max. | 40 | 305 |
| CTF Score (%) | 23.9 | 56.7 |
| Firmware Version | 1.1.3.184925 | 1.1.9.181086 |
Table 2: Routing throughput
I was somewhat surprised to not see the iperf3-based WAN-LAN and LAN-WAN throughput benchmarks top out at the 941 Mbps many other routers clock in with. But the HTTP and CTF Scores are where you want to focus. The numbers above are averages of scores for four file sizes. The plot below shows the per filesize results for the EA8300 and EA9300. The EA8300 actually out-performs the EA9300 in the smallest 2 KB file test, but can't keep up in the larger filesize tests. I don't know why the EA8300 doesn't handle the 108 KB filesize as efficiently as the EA9300.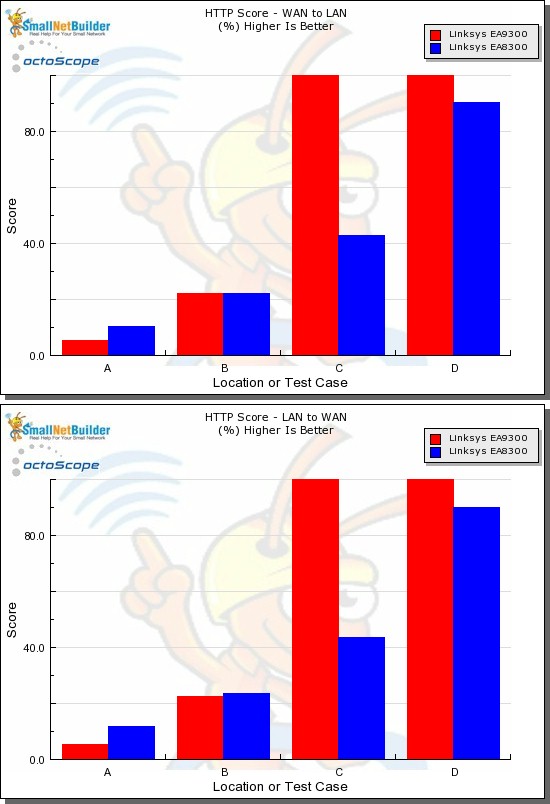 HTTP Score comparison
Plot key file size: [A] 2 KB, [B] 10 KB, [C] 108 KB and [D] 759 KB file
Comparing average Bufferbloat scores from the table above, average downlink bufferbloat was about the same, but average uplink and maximum bloat in both directions was worse than the EA9300's. Before you get too concerned, converting theEA8300's scores back to latency [(1/score) x 1000] yields 2.3 msec average WAN to LAN and 5.5 msec LAN to WAN. The 40 score for LAN to WAN converts to 25 msec.
The Cut Through Forwarding tests look for throughput reduction when various router features are used. The 23.9% is the worst case throughput reduction measured when enabling the Media Priority feature and assigning the test computer as highest priority. Turning off the Connectivity > Administration > Express Forwarding featured (enabled by default) knocked down throughput to around 30% of normal. Using the Parental Control feature to block google.com for the test computer also slowed things to around 30% of normal throughput.
Wireless Performance
The EA8300 is Wi-Fi Certified and was tested with the Revision 10 wireless test process loaded with 1.1.3.184925 firmware. The router was reset to factory default, then set to Channel 6 and 40 MHz bandwidth for 2.4 GHz and Channel 40 and 80 MHz bandwidth for the low band 5 GHz radio. The high band radio was disabled. WPA2/AES encryption was used for all connections. The Revision 10 process still uses 20 MHz bandwidth for 2.4 GHz tests for throughput vs. range, but uses 40 MHz for peak throughput tests. These settings are enforced by the octoScope Pal test client.
The router body was centered on the test chamber turntable with all antennas vertical as shown in the photo below. The 0° position for the router had the front facing the chamber antennas. Although you see four chamber antennas in the photo, only the center two are used for throughput vs. attenuation testing, which is done with the Pal set to operate as a 2×2 AC device.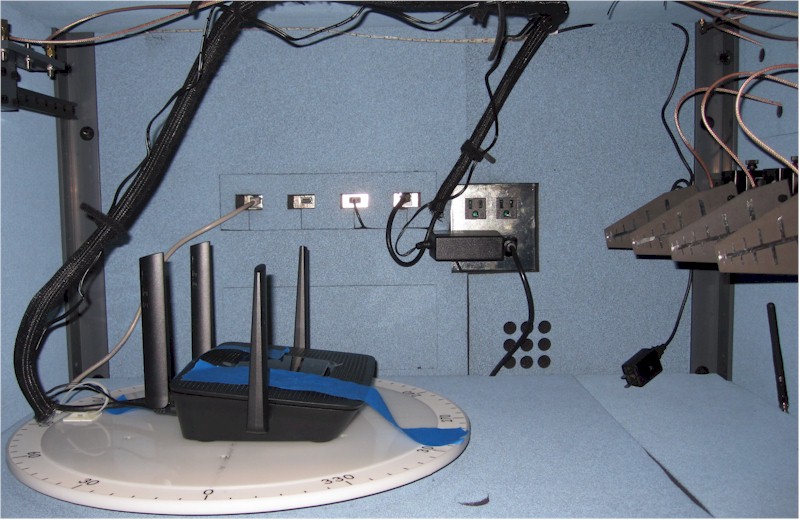 EA8300 in test chamber
I'll be comparing the EA8300 against two three-stream tri-band routers, Linksys' EA9300 and NETGEAR's R8000P.
The 2.4 GHz downlink profile shows the two Linksys EA's tracking together and the NETGEAR following below until it meets up with the EA9300 around 30 dB.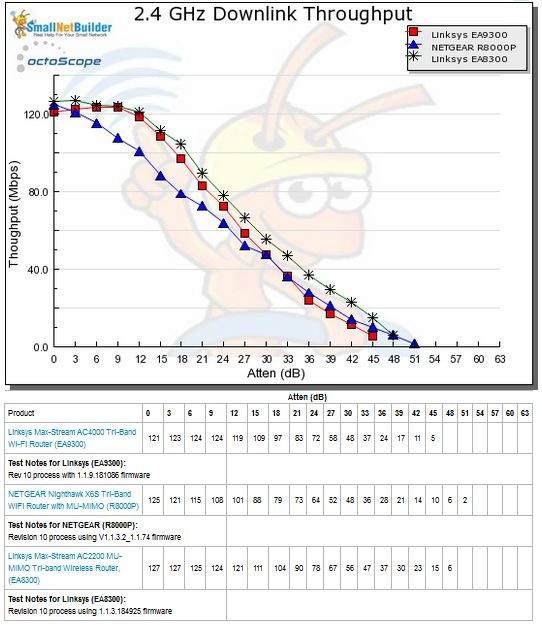 2.4 GHz Downlink Throughput vs. Attenuation
2.4 GHz uplink shows distinctly different characteristics for all three products. The EA8300 has highest maximum throughput, but falls off a bit more quickly than the NETGEAR. The EA9300 is the poorest performer of the group in this benchmark.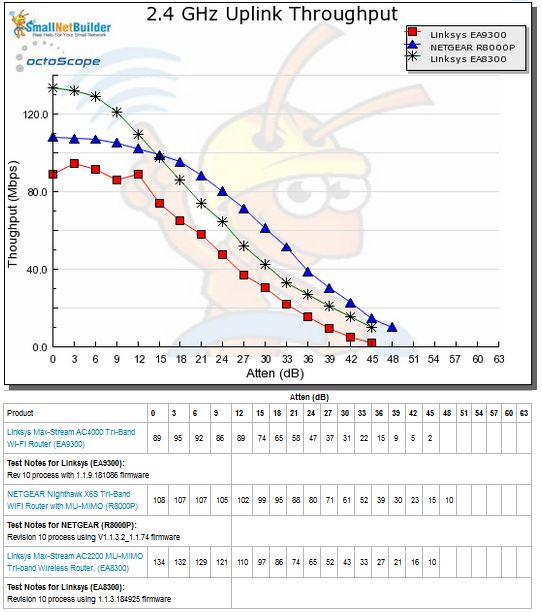 2.4 GHz Uplink Throughput vs. Attenuation
5 GHz downlink clearly shows the EA9300 and NETGEAR with distinctly lower performance. The common element between the two is the use of Broadcom's relatively new BCM4365E radio SoC. Linksys questioned this result after the EA9300 review and suspected a problem with the octoScope Pal test client, which is Qualcomm-based. octoScope worked with Linksys and found the performance shown was, indeed, real and not in error.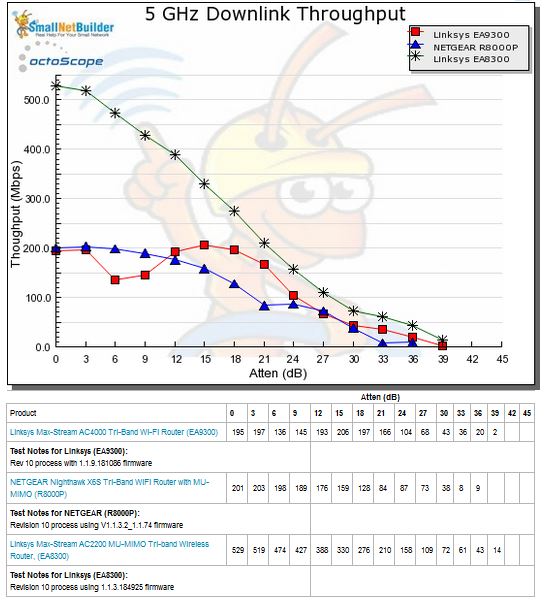 5 GHz Downlink Throughput vs. Attenuation
5 GHz uplink shows all three products with similar performance characteristics.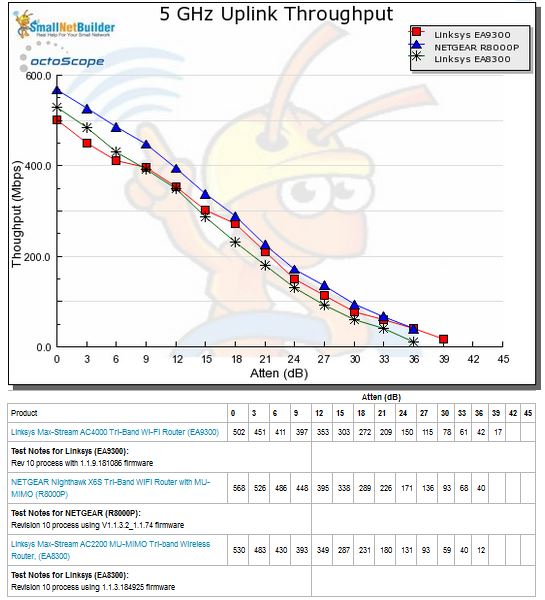 5 GHz Uplink Throughput vs. Attenuation
For our peak wireless performance tests, the octoPals are configured as 4×4 AC devices and left to negotiate their best connection, with 10 dB of attenuation applied on 2.4 GHz. The latter is necessary so the 2.4 GHz octoPal isn't overloaded.
The octoScope Pal test client reported the maximum possible 2.4 GHz link rate of 400 Mbps for receive, but only 360 Mbps for transmit for the EA8300's 2.4 GHz tests. For 5 GHz, both receive and transmit link rates were the 866 Mbps maximum.
| Test Description | Linksys EA8300 | Linksys EA9300 | NETGEAR R8000P |
| --- | --- | --- | --- |
| 2.4 GHz Peak Downlink (Mbps) | 313 | 384 | 497 |
| 2.4 GHz Peak Uplink (Mbps) | 289 | 327 | 237 |
| 5 GHz Peak Downlink (Mbps) | 658 | 772 | 637 |
| 5 GHz Peak Uplink (Mbps) | 700 | 855 | 681 |
Table 3: Peak Wireless throughput
I don't put much value on peak rates in the Router Ranker algorithm and neither should you, because they are so seldom achieved in real world use.
As is now my practice, I did not test MU-MIMO performance, which makes even less sense in two-stream products.
Closing Thoughts
The EA8300 ranked #6 out of 13 routers tested with the latest Revision 10 process. That's notable because it's the only two-stream router in the Revision 10 ranker and beat out both three-stream NETGEARs (R8000 and R8000P). It also beat its more expensive three-stream EA9300 sibling.
When looking at the ranking performance details below, keep in mind the ranker algorithm weights average wireless throughput and range scores significantly higher than peak and maximum benchmarks. The four-stream two-radio NETGEAR R7800 Nighthawk X4S remains the #1 ranked router, albeit at $40 more as I write this.
EA8300 Router Ranker Performance Summary
So while it has decent wireless performance, the EA8300's real value will be for two different buyers. For folks who have good coverage, but are having trouble keeping up with the demands of too many wireless streamers in the household, the EA8300's second 5 GHz radio will add bandwidth capacity for less money than more expensive three and four-stream alternatives. The extra bandwidth can be used by wireless devices, or to link up a wireless bridge with its own bandwidth supply.
For coverage-challenged buyers, the second 5 GHz radio can be used as a dedicated backhaul link to a second EA8300, or a tri-band extender like NETGEAR's EX8000, or Linksys' $60 cheaper RE9000. This makes a lot more sense than spending about the same, or more, for a four-stream AC5300/5400 tri-band router with all its radios stuck in one spot.
Buy Max-Stream AC2200 MU-MIMO Tri-band Wireless Router, from Amazon