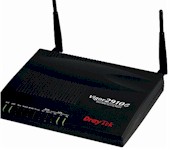 Updated 12/4/09 The Draytek Vigor 2910G Dual-Wan Wireless Router has been added to the Router and Wireless Charts.
The 2910G has a single 10/100 WAN port and four switched 10/100 LAN ports, one of which can be configured as a second WAN port.
Key components are a Samsung S3C2510 processor, Micrel KSZ8995XA 10/100 switch, 16 MB of RAM and 4 MB of flash. The radio is a Gigabyte GN-WIAG02 mini PCI card using an Atheros AR2414A SoC Super-G radio.
The 2910G's key features are the dual-WAN ports that support automatic failover and load balance modes, ability to FTP files to an attached FAT-formatted USB drive and a VPN endpoint that can handle site-to-site and client VPN via PPTP, L2TP or IPsec tunnels. The USB drive can't be used for network file sharing.
It also has many bandwidth and QoS controls including bandwidth limits in both up and download directions to and from the Internet and for wireless clients. Four-level priority-based QoS in both directions is also supported.
Routing throughput shows the limitations of the older Samsung processor with only 28 Mbps WAN to LAN, LAN to WAN and Total Simultaneous throughput and only 40 Simultaneous Sessions. It could be that the router's fairly aggressive SPI was interacting with our IxChariot tests and holding down the session number. But 40 sessions is all we could reliably obtain.
Wireless performance from the Atheros Super-G-based was typical of G routers, with around 22 Mbps up and downlink in the strong signal locations falling back to a respectible 3 – 5 Mbps in the weakest signal locations.
Downlink speed in Location A was only 11 Mbps, however, perhaps due to radio overload. We couldn't verify this, however, since there is not transmit power control. It should also be noted that neither the 2910G, nor the Gigabyte radio module is Wi-Fi Certified. WDS bridging / repeating is supported, as is WEP and combined WPA/WPA2 wireless security. But Wi-Fi Protected Setup (WPS) is not in the feature set.