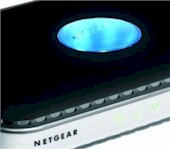 The Netgear WNDR3300 RangeMax Dual-Band Wireless N Router has been added to the Wireless and Router Charts. In an effort to drive down the cost of dual-band two-radio draft 11n routers, the WNDR3300 takes the unique approach of using an 802.11b/g second radio.
The all-Broadcom design uses a BCM4704 processor, 16 MB of RAM and 4 MB of flash. The 10/100 WAN and LAN ports are handled via a BCM5325 switch. A BCM4321 Baseband/MAC and BCM2055 2.4/5GHZ Intensi-fi draft 11n transceiver make up the dual-band 11n radio. The second radio is provided by a BCM4318 single chip 802.11b/g chip. Each radio has its own printed-circuit "metamaterial" antennas; three for the draft 802.11n radio and two for the 802.11b/g.
Routing throughput is plenty fast with unidirectional throughput topping out at just under 90 Mbps. Simultaneous bi-directional throughput is slightly over 100 Mbps. Maximum Simultaneous sessions measured only 104. Routing features are the usual set that come with Netgear routers, with the addition of upstream-only priority-based 4 level QoS.
The 3300 comes up with the draft 11n radio set to the 5 GHz band and 40 MHz bandwidth mode (Netgear refers to this and the 20 MHz bandwidth modes as "270 Mbps" and "130 Mbps" respectively) and the 11b/g radio covering the 2.4 GHz band. You can switch the draft 11n radio to the 2.4 GHz band, which shuts off the 11b/g radio. You cannot have simultaneous 2.4 and 5 GHz draft 11n support.
Wireless performance was, frankly, very disappointing. 5 GHz throughput vs. path loss testing showed abbreviated 5 GHz range compared to competing products and evidence of problems with the rate adjustment algorithms. Throughput with the draft 11n radio switched to the 2.4 GHz band in 20 MHz bandwidth mode was an abnormally low 12-13 Mbps. The only good news in wireless performance is that the 11g radio seemed solid.
There's a slideshow here and we'll have a full review soon. But in the meantime, you should probably wait for Netgear to work the kinks out on this science experiment.
Update 7/3/2008 Read the full review.