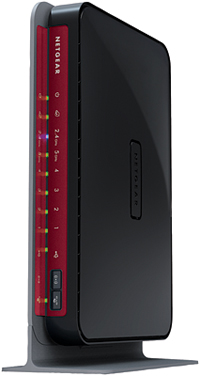 At a glance
Product
NETGEAR N600 Wireless Dual Band Gigabit Router Premium Edition (WNDR3800) [Website]
Summary
High performance dual-band, dual-radio 802.11n router with bandwidth metering external USB drive and printer sharing w/ UPnP AV / DLNA media server, 'cloud' file access and completely new admin GUI.
Pros
• Revamped user interface
• Many new features including printer sharing and remote file access
Cons
• Lower routing speed than WNDR3700v2
Typical Price: $270 Buy From Amazon
Overview
Updated 10/1/2011: Corrected WEP info
Fans of the latest in consumer router technology are abuzz about NETGEAR's latest additions, the WNDR3800 and WNDR4500. NETGEAR sent the WNDR3800 first, so that's what I'm looking at this time. Stay tuned for the WNDR4500 soon.
The WNDR3800 looks just like its predecessor, the WNDR3700v2, except for a sporty red front panel band as shown in Figure 1. In fact, the 3800's hardware platform is almost identical to the 3700v2's, which I'll get to in a bit. The key difference is that NETGEAR has packed the 3800 with as many features as would fit and gave it an entirely revamped admin interface.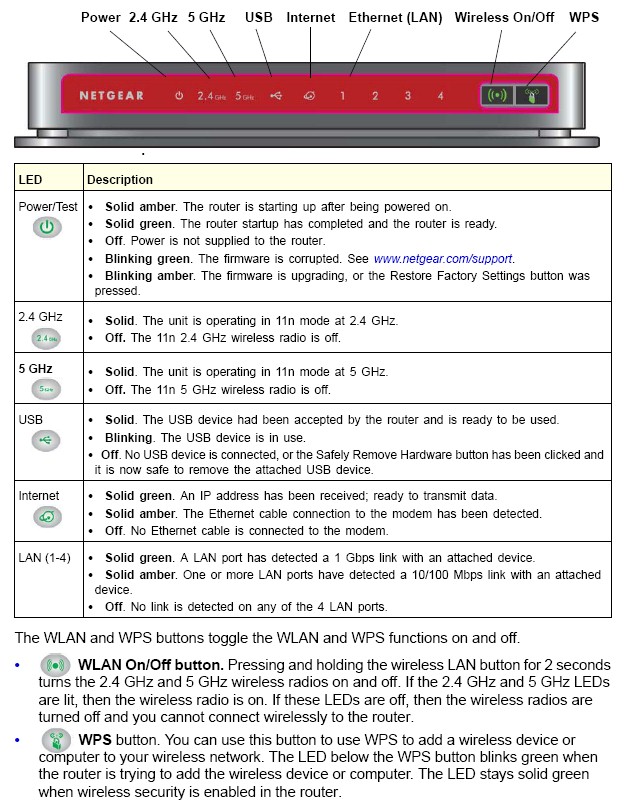 Figure 1: NETGEAR WNDR3800 front panel
The rear panel diagram in Figure 2 shows the same Gigabit port complement as the WNDR3700v2 that includes one USB 2.0 port. The 3800's USB port is more talented than the 3700v2's, adding USB printer sharing. Drive sharing features have been enhanced with a UPnP / DLNA server and remote-access "cloud" sharing.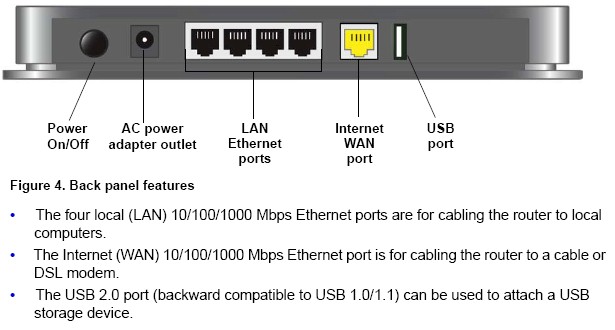 Figure 2: NETGEAR WNDR3800 back panel
Inside
As noted above, the 3800's hardware is virtually the same as the 3700v2's. In fact, they share the same FCC ID (PY308300092), so the RF design must be the same. The only difference is that the 3800's RAM has been doubled from the 3700v2's, to 128 MB. Flash stays the same as the v2 at 16 MB, which was doubled from the 3700v1.
I've summarized the key components in Table 1. Note that neither radio has external power amplifiers. Check out internal board shots in the WNDR3700v2 review.

| | WNDR3800 | WNDR3700v2 |
| --- | --- | --- |
| CPU | Atheros AR7161 Wireless Network Processor | Atheros AR7161 Wireless Network Processor |
| Switch | Realtek RTL8366SR | Realtek RTL8366SR |
| RAM | 128MB | 64 MB |
| Flash | 16 MB | 16 MB |
| 2.4 GHz Radio | AR9223 2.4GHz single chip 2×2 | AR9223 2.4GHz single chip 2×2 |
| 5 GHz radio | AR9220 2.4GHz/5GHz single chip 2×2 | AR9220 2.4GHz/5GHz single chip 2×2) |
Table 1: WNDR3800 and WNDR3700v2 components
Features
Craig Ellison will have a complete feature review of the WNDR3800 in a week or so [done], since there are a few new things such as ReadySHARE Printer sharing, ReadySHARE Cloud and OpenDNS based parental controls. There is also a new Clear Channel selector that continuously monitors for neighboring network interference and automatically changes channel to avoid it.
NETGEAR is trying an interesting strategy in its wireless product line by having two top-of-line products. The company's marketing message for the WNDR3800 and 4500 is that you should choose the 3800 if you want the most features and the 4500 if you want the highest performance.
This puts buyers in an interesting position since spending the most money (for the 4500) doesn't get you the most goodies as shown in Figure 3.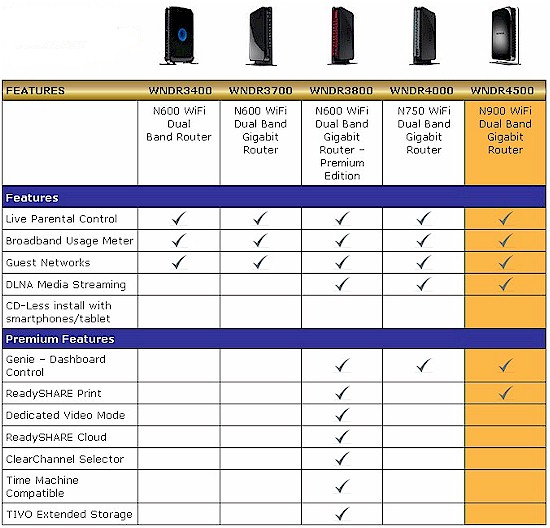 Figure 3: Premium features compared
I'll give you a taste of the new NETGEAR Genie user interface that Craig will review in detail.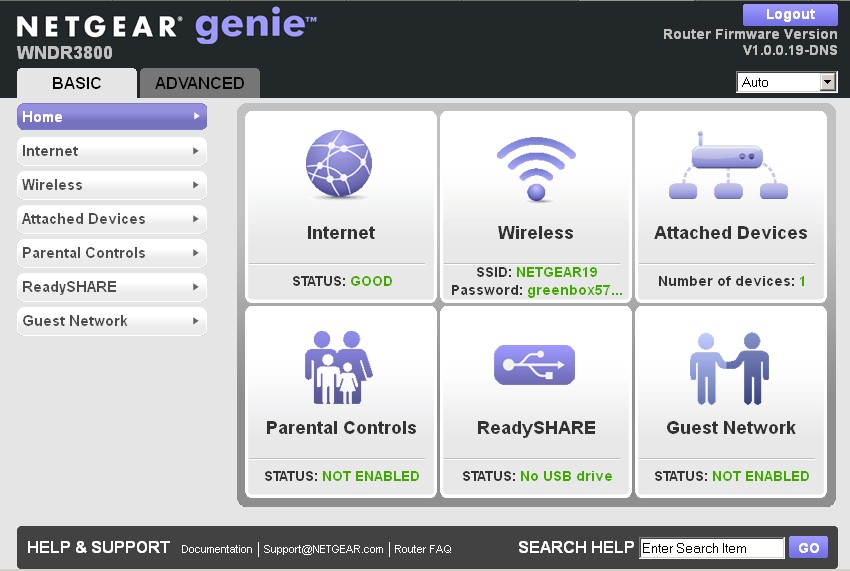 Figure 4: NETGEAR Genie Basic view
NETGEAR has finally brought its admin GUI into the new millenium with a completely revamped interface that offers both Basic (Figure 4) and Advanced (Figure 5) views. I didn't drill through every screen. But my initial reaction is that I like the new interface. Now if the ReadyNAS guys could just take a hint and fix their GUI…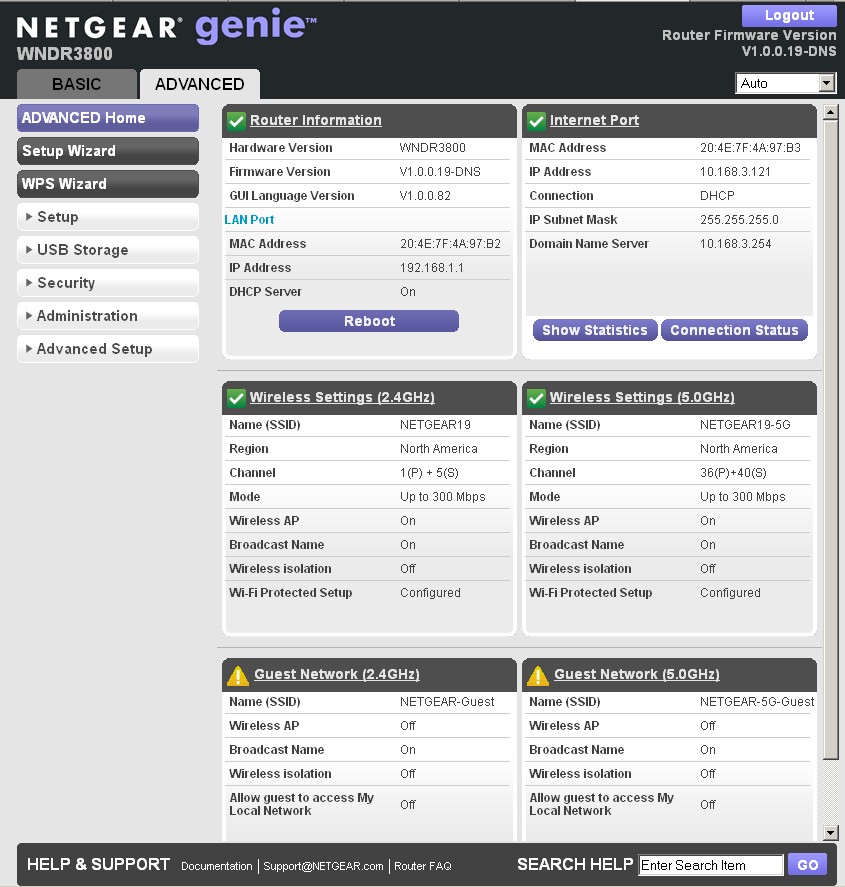 Figure 5: NETGEAR Genie Advanced view
Updated 10/1/2011
Two things that you should be aware of right now. is that WEP support has been completely removed from the 3800. First, WEP is available only if you select 802.11b/g compatible Up to 54 Mbps mode. According to NETGEAR, this is now a requirement (removal of WEP support from high-throughput modes) for Wi-Fi Certification.
Second, IPv6 support has been added for WAN connections with Auto Detect, Auto Config, 6to4 Tunnel, Pass through, Fixed IP, DHCP and PPPoE types. There is no IPv6 support on the router LAN side in its DHCP server, however.
Routing Performance
Routing throughput running the latest V1.0.0.19-DNS firmware and our router test process measured 335 Mbps WAN to LAN, 363 Mbps LAN to WAN and 398 Mbps total with up and down tests running simultaneously. The IxChariot composite plot below in Figure 6 shows slightly higher downlink speed than uplink in the simultaneous up/down test, but the inverse when each test is run separately.
Maximum simultaneous connections topped out at numbers indicating a maximum of 8,192 connections. So it looks like NETGEAR used some of the 3800's expanded RAM to make P2P and gamers happier.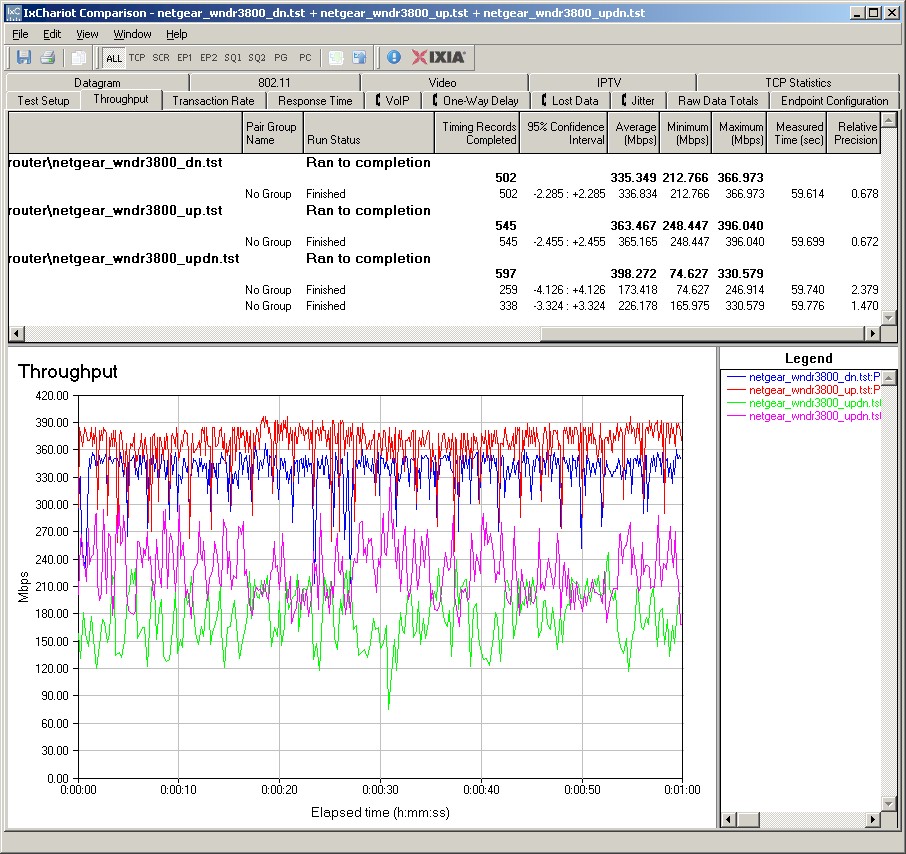 Figure 6: WNDR3800 wired routing performance summary
On the downside, routing throughput has dropped about 15 – 20 % vs. the WNDR3700v2 as shown in Table 2. Since throughput significantly higher than your ISP connection speed doesn't do you any good, this is not a big deal for most of us.

| | WNDR3800 | WNDR3700v2 | WNDR4000 |
| --- | --- | --- | --- |
| WAN > LAN (Mbps) | 335 | 429 | 676 |
| LAN > WAN (Mbps) | 364 | 420 | 624 |
| Simultaneous (Mbps) | 398 | 469 | 701 |
| Max. Connections | 8192 | 4096 | 4096 |
Table 2: NETGEAR router throughput comparison
Sharing Performance
I ran quick Windows filecopy tests using the standard NAS testbed to the WNDR3800 with my standard Iomega UltraMax Pro drive configured in RAID 0 and formatted in FAT32 and NTFS.

| | WNDR3800 | WNDR3700v2 | WNDR4000 |
| --- | --- | --- | --- |
| FAT32 Write (MBytes/s) | 12.5 | 9.9 | 6.1 |
| FAT32 Read (MBytes/s) | 13.3 | 14.2 | 6.9 |
| NTFS Write (MBytes/s) | 4.3 | 3.0 | 4.6 |
| NTFS Read (MBytes/s) | 12.0 | 12.1 | 4.3 |
Table 3: NETGEAR router throughput comparison
The results in Table 3 say you wouldn't notice any performance difference between the 3800 and 3700v2 if you use either for file sharing. And writes to an NTFS-formatted drive will be pretty slow.
Wireless Performance
The WNDR3800 is Wi-Fi Certified and properly defaulted to 20 MHz bandwidth mode on the 2.4 GHz radio on power-up. The 5 GHz radio defaulted to Up to 300 Mbps mode, which is NETGEAR's terminology for Auto 20/40 mode.
A pushbutton Wi-Fi Protected Setup (WPS) session run on each radio with a Win 7 client completed quickly and resulted in a WPA2/AES secured connection.. All tests were run with this secured connection using our latest wireless test process. As is our standard, Channel 1 was used for the 2.4 GHz band and Channel 36 for 5 GHz.
I ran 2.4 and 5 GHz Wireless Performance tables for the 3800, 3700v2 and WNDR4000. Highest 2.4 GHz throughput for the 3800 of 80 Mbps was measured in Location A running downlink with the client set to Up to 300 Mbps mode. Running simultaneous up and downlink tests yielded 101 Mbps in the same location and condition.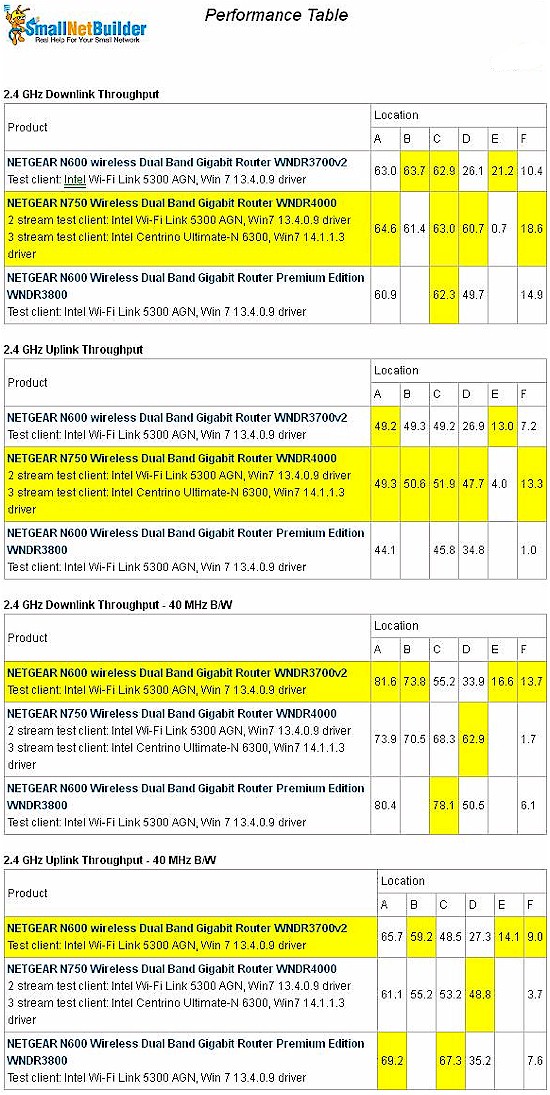 Figure 7: Wireless Performance summary – 2.4 GHz
The "winner" in this comparison varies. For 20 MHz mode ("Up to 130 Mbps" in NETGEAR-speak), the WNDR400 is best overall. But in 20/40 mode, the 3800 pulls ahead in the stronger-signal locations. In all, it doesn't look like the 3800 is better than the 3700v2, as I wouldn't expect it to be, given that it uses the same board (except for more RAM).
The IxChariot plot in Figure 8 shows relatively little throughput variation, which is also seen in the other test plots.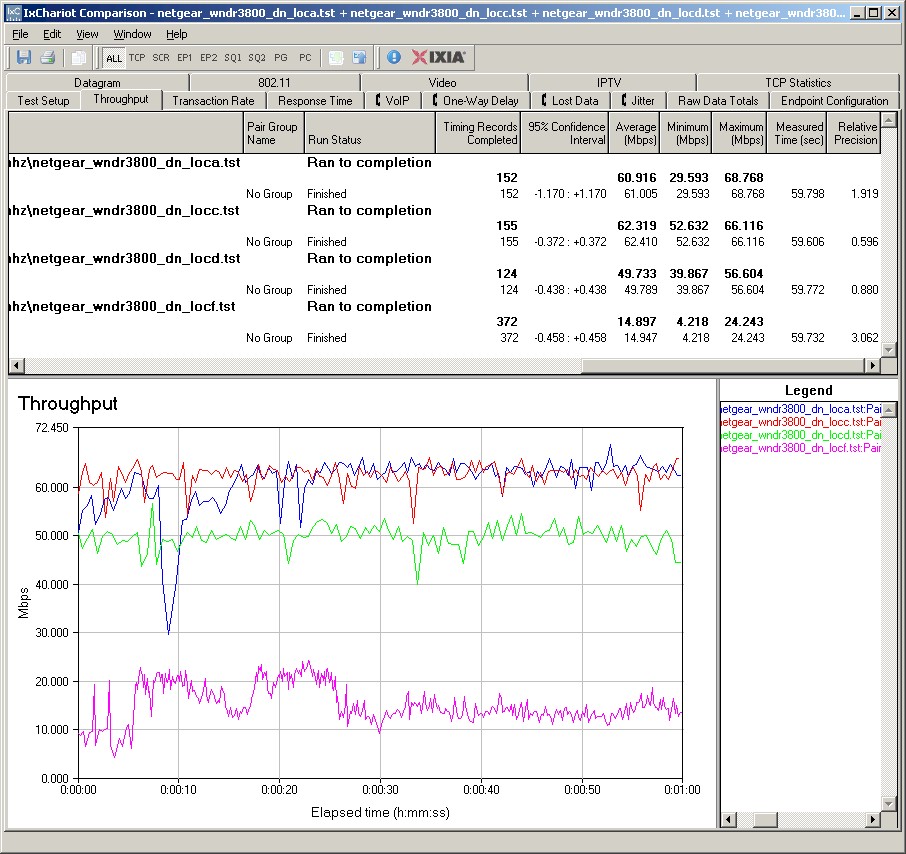 Figure 8: WNDR3800 IxChariot plot – 2.4 GHz, 20 MHz, downlink
Here are links to the other 2.4 GHz plots for your reference:
Figure 9 compares the three routers in the 5 GHz band. Highest WNDR3800 throughput of 66 Mbps was measured using our wireless test process in Location A running downlink with the client set to Up to 130 Mbps mode. The highest simultaneous up and downlink test of only 77 Mbps was measured in Location A, but also in Up to 130 Mbps mode. So, just as I found with the WNDR3700v2, using channel bonding in the 5 GHz band doesn't buy you higher throughput, either with single or multiple connections.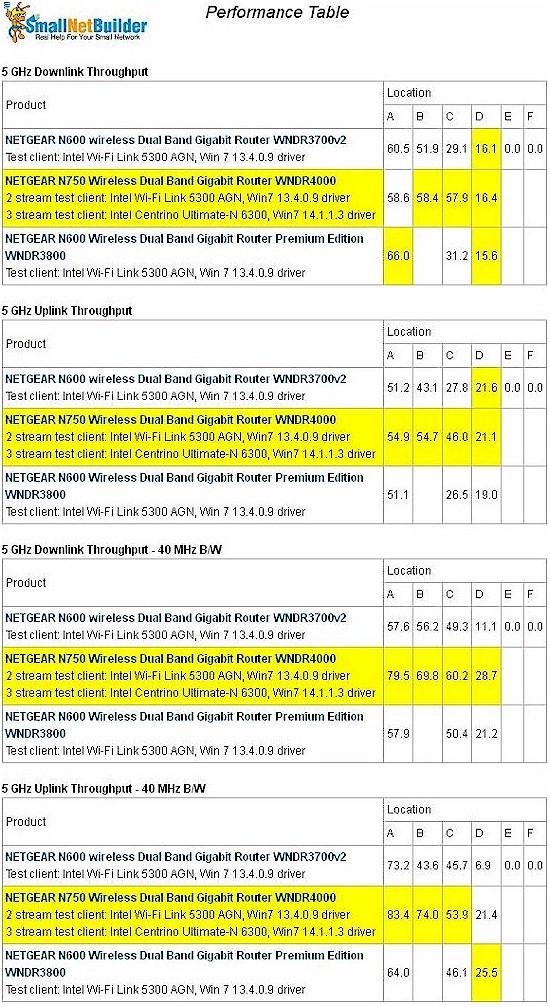 Figure 9: Wireless Performance summary – 5 GHz
Throughput variation was generally low in the 5 GHz band, except when running the Location A downlink test in Up to 300 Mbps mode as shown in Figure 10.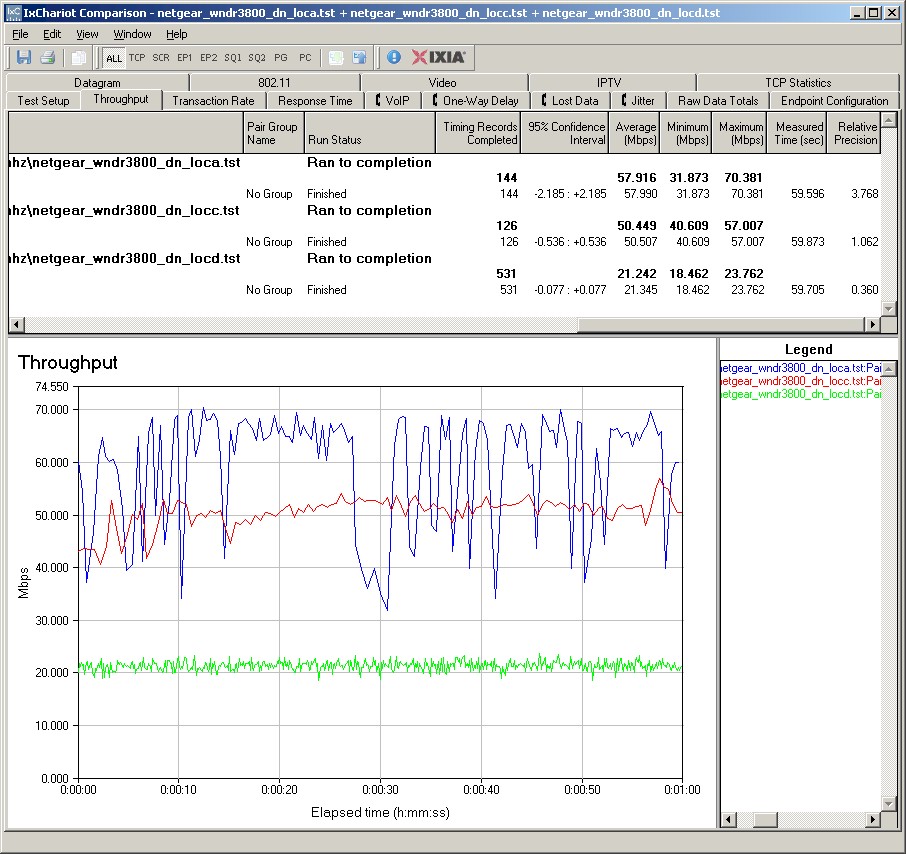 Figure 9: WNDR3800 IxChariot plot – 5 GHz, 20 MHz, downlink
Here are links to the other plots for your reference:
Closing Thoughts
The WNDR3800 is for those who want more features than they can get from the WNDR3700v2 and don't mind paying around $30 street more for it. The better bet for performance, however, is the WNDR4000, which is also around $10 cheaper.
Be sure to read Craig's review of the WNDR3800's features. You can also explore and compare the WNDR3800's performance using the Router Chart and Router Finder.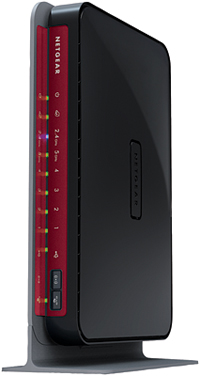 Buy N600 Wireless Dual Band Gigabit Router Premium Edition from Amazon