At a glance
Product
Open Mesh Universal 802.11ac Access Point (A40) [Website]
Summary
2×2 AC1200 class PoE-powered cloud-managed access point. Supports Wi-Fi backhaul
Pros
• PoE powered
• Supports mesh backhaul
• Cloud-based portal supports multiple sites
• Good for indoor and outdoor use
Cons
• No local admin option
• Iffy, inconsistent roaming in open air tests
Typical Price: $0 Buy From Amazon
At a glance
Product
Open Mesh Universal 802.11ac Access Point (A60) [Website]
Summary
3×3 AC1750 class PoE-powered cloud-managed access point. Supports Wi-Fi backhaul
Pros
• PoE powered
• Supports mesh backhaul
• Cloud-based portal supports multiple sites
• Good for indoor and outdoor use
Cons
• No local admin option
• Iffy, inconsistent roaming in open air tests
Typical Price: $0 Buy From Amazon
Introduction
Updated 9/14/17 – Support comments modified
Ubiquiti's cheap UAP access points seem to be the suggested go-to for those looking to build a network with access points instead of repurposed routers or store-bought Wi-Fi Systems. And I have to admit, they're tough to beat on price.
But there are other vendors out there who want a piece of the small business/prosumer access point market, including Open Mesh. Open Mesh is not to be confused with OpenMesh, the "generic and efficient data structure for representing and manipulating polygonal meshes" or Open-Mesh, the "development platform for a collection of tools to build free and open mesh networks".
The Open Mesh this review is about is a descendant of the MIT Roofnet project. Some of those folks went on to start Meraki, which was purchased by Cisco in 2012. Others started Open Mesh in 2007, with the goal of creating an easy to deploy Wi-Fi system. The Portland Oregon company was snapped up by business continuity solution provider Datto early this year, which also sells the A40 and A60 APs and other gear under its Datto Networking line.
The A40 and A60 are very much built in the same platform. The specs taken from the datasheet show they have the same footprint and, aside from the number of streams, essentially the same specs. Both are powered by 802.3af Power over Ethernet only. A PoE injector must be ordered separately for each AP if you don't have a PoE switch. Open Mesh has a few, including the cloud-managed S8-L that we'll be reviewing later.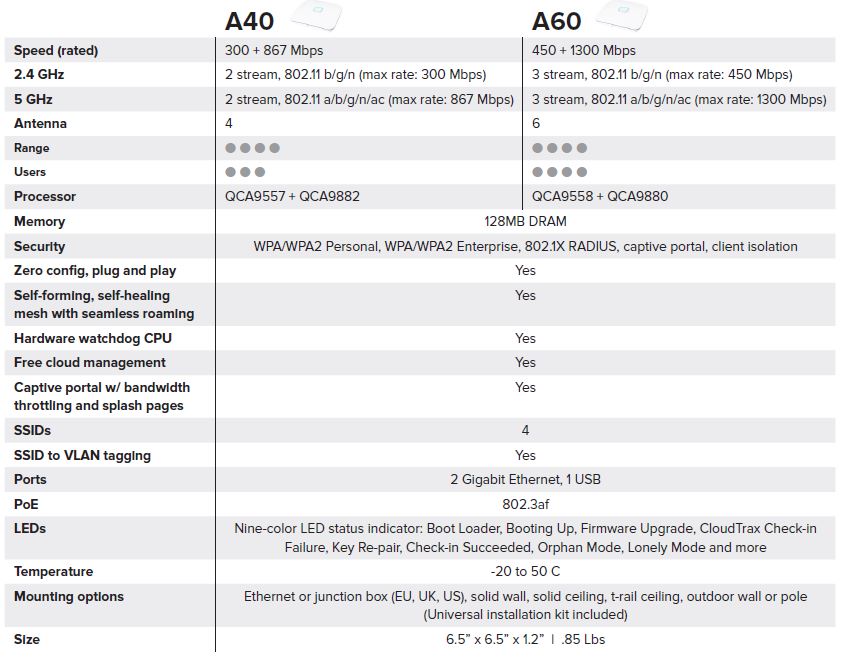 Open Mesh A40/A60 specs
Both APs have a two-port gigabit Ethernet switch that makes it easy to daisy-chain connections if you need to. The USB port doesn't do anything, it's just there for "future expandability".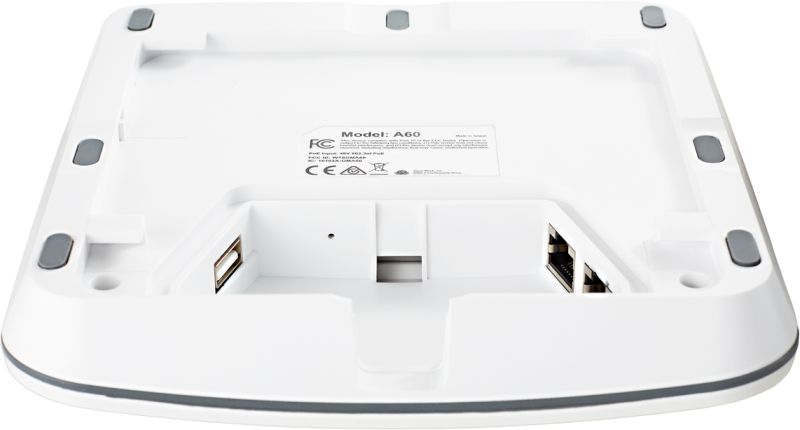 Open Mesh connector view
The enclosure is water and dust "resistant", using silicone gaskets under the removable cover (removed for the photo) and between top and bottom covers to help make it so.
Open Mesh says the APs are IP55 rated and good for -20° to +50° C. The cable entry gasketing should be mounted pointed downward, since it is not water-tight. Each AP ships with a mounting plate and clips that support wall, ceiling, pole or ceiling tile T-rail mounting (video below)
Inside
Like Ubiquiti's UAPs, the AP40 and 60 are built on Qualcomm platforms, although not with the same chipsets. Here's the FCC photo of the A40 board with RF can tops removed. Note the empty position at photo right for a third dual-band antenna.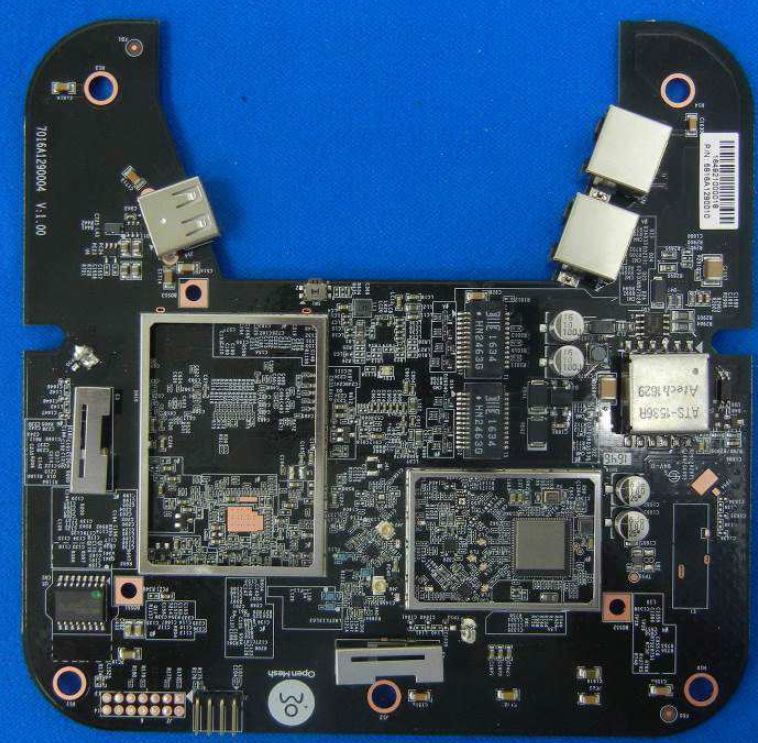 Open Mesh A40 board
Here's the A60 board.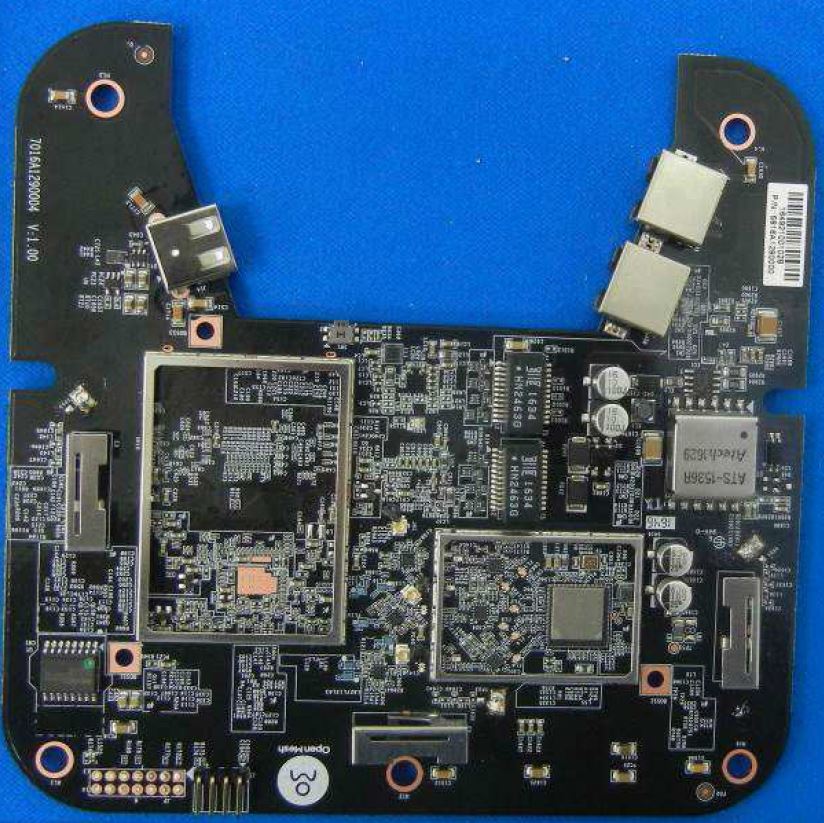 Open Mesh A60 board
The next photo shows the silicone gasketing. Note the signal path to all antennas is via mini coax cable.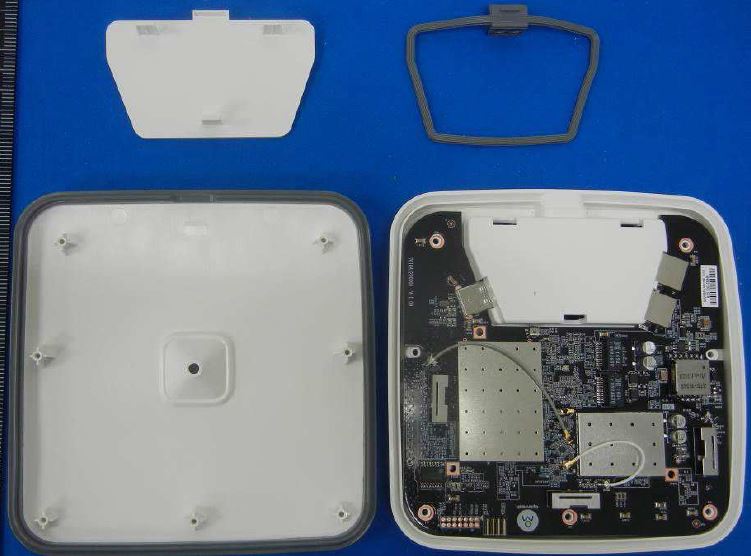 A60 inside view – top
The last photo shows the board removed to reveal the heatsink pate on the bottom cover.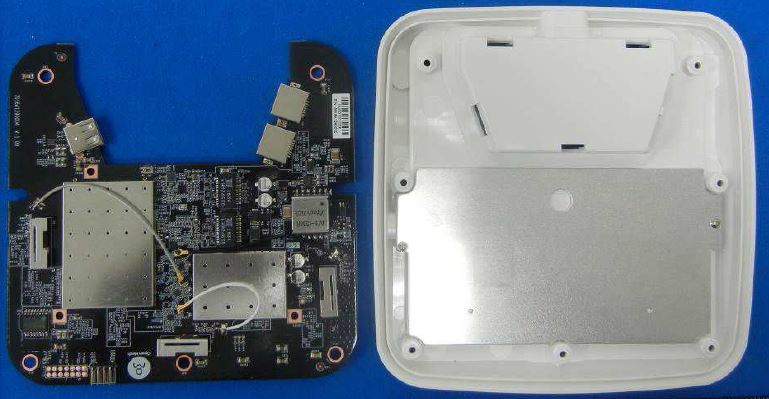 A60 inside view – bottom
The component summary shows Ubiquiti and Open Mesh made different component choices.
Open Mesh A40
UAP-AC-Lite
Open Mesh A60
UAP-AC-PRO
CPU
Qualcomm QCA9557 2×2 11abgn WiFi SoC
QCA9563 3×3 802.11bgn wireless SoC
Qualcomm QCA9558 3×3 11abgn WiFi SoC
QCA9563 3×3 802.11bgn wireless SoC
Switch
?
Atheros AR8033 (Ethernet PHY only)
?
QCA8334
RAM
128 MB
128 MB
128 MB
128 MB
Flash
16 MB
16 MB
16 MB
16 MB
2.4 GHz Radio
– In QCA9557
– Unidentified front end/power amp (x2)
– In QCA9563
– Anadigics AWL9293 2.4 GHz front end (x2)
– In QCA9558
– Unidentified front end/power amp (x2)
– In QCA9563
– Anadigics AWL9293 2.4 GHz front end (x3)
5 GHz radio
– QCA9882 11abgnac 2×2 radio SoC
– Unidentified 5 GHz front end/power amp (x2)
– Ubiquiti U-AME-G1-BR4A
(Custom labeled Atheros AR9888?)
– Anadigics AWL9581 5 GHz front end (x2)
– QCA9880 11abgnac 3×3 radio SoC
– Unidentified 5 GHz front end/power amp (x2)
– QCA9880 3×3 a/b/b/n radio SoC
– Anadigics AWL9581 5 GHz front end (x3)
Table 1: Access Point component summary and comparison
Features
Open Mesh's cloud-based CloudTrax is the only option for managing their APs. This is in line with Open Mesh's focus on users who are deploying across multiple sites, such as retailers with multiple stores, or VARs who support multiple customers. The good news is that, once set up, a network can keep running if its cloud connection goes down. While the connection is down, however, statistics would not be updated. But they wouldn't be lost, since logs are stored local to each AP.
The first screenshot shows the Network Overview screen.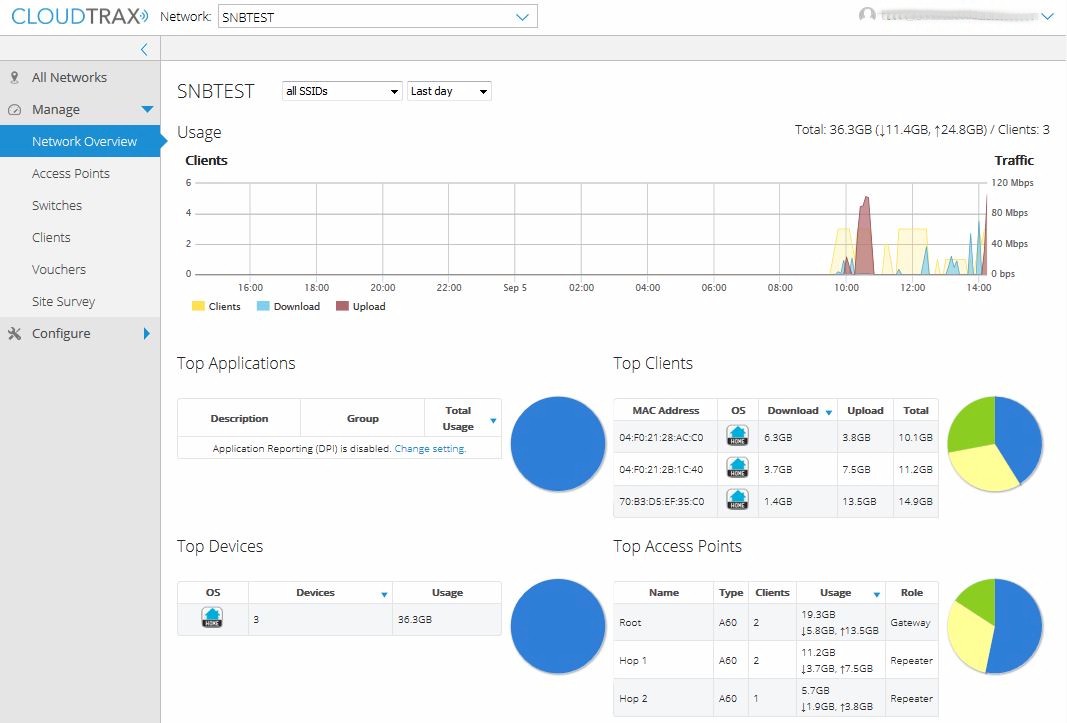 CloudTrax Network Overview
The Access Points screen provides a summary of what's on the network. It shows a three-AP mesh configuration that I'll be covering in a follow-on review. Yes, that's correct, Open Mesh access points can be connected via Ethernet, or Wi-Fi backhaul that supports multiple hops. I can attest to the fact that backhaul is dynamic; note the "Hop 2" node switched to a single hop configuration while I was doing some debugging.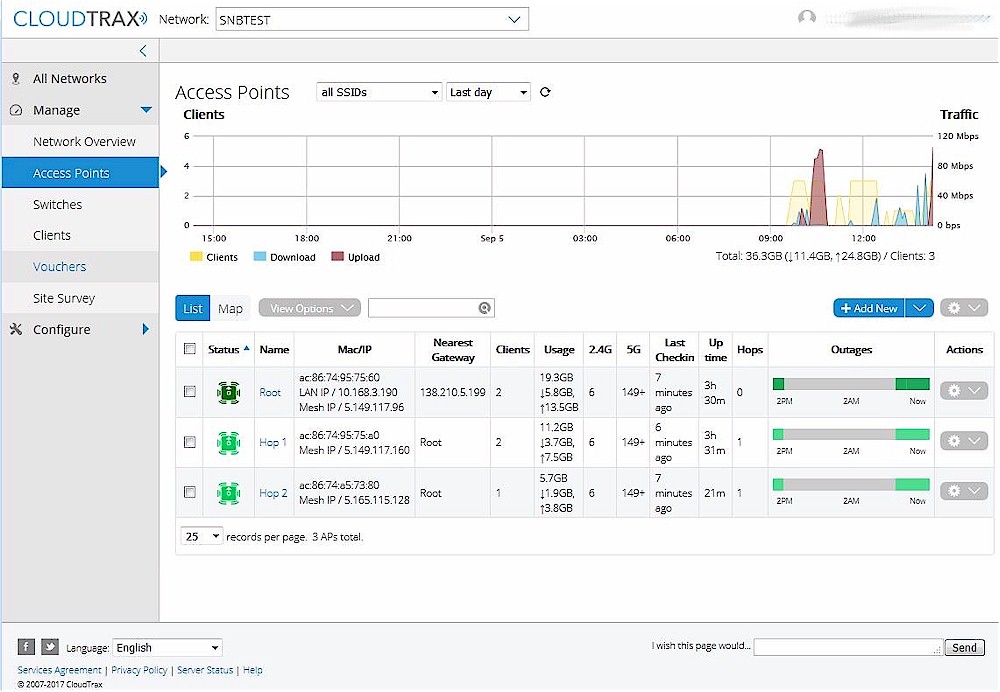 CloudTrax Access Points view
Clicking on an AP brings up a detailed view. Note the backhaul RSSI and speed information provided in the Mesh and Tool: Neighbors boxes.
CloudTrax Access Points view
Radio settings made here override network-wide settings made in the Configure submenus. Only some of the many settings are shown.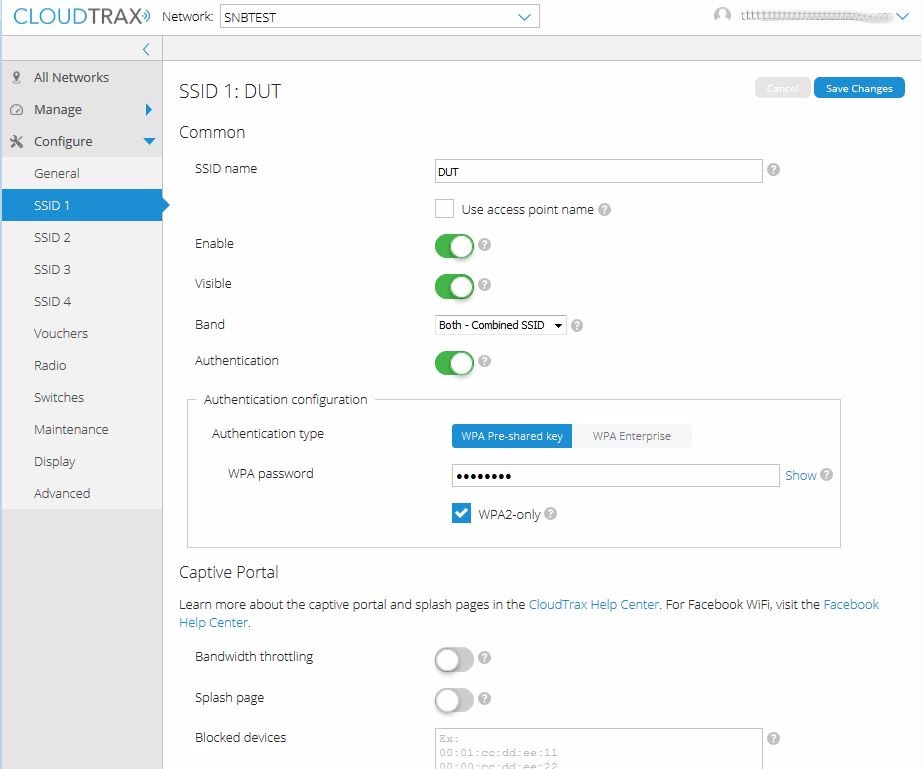 CloudTrax Access Points view
I'm not going to do a CloudTrax feature walkthrough since Open Mesh did such a good job on theirs. You'll learn everything you need to know in about 4 minutes.
In case you didn't view the video, here are the feature highlights:
Physical map view of AP locations with Google Maps integration
Captive portal with voucher option
Events and alerts
Bandwidth throttling
MAC-based device blocking and access control
Band-steering (beta)
802.11r roaming support (beta)
Scheduled Wi-Fi
VLAN support
Statistics and analytics
Multi-site management
WLAN groups
Updated 9/14/17
Open Mesh support options include the Help Center that has FAQ, there are videos and on-demand webinars (these require giving up an email address), you can file a trouble ticket or simply email [email protected]. However, there are no support forums.
Wireless Performance
Neither the A40 nor A60 are Wi-Fi Certified. Both were tested using our Revision 10 Wireless Test process using 6.3.14 firmware. Note this version is a public beta, which was offered as an upgrade when I installed each AP. Channel 6 and 20 MHz bandwidth mode were used on 2.4 GHz, channel 40 and 80 MHz bandwidth mode on 5 GHz.
The photo below shows the A60 (or A60) in the octoScope test chamber. I raised it up a bit so that the chamber antennas were ensured an optimum signal.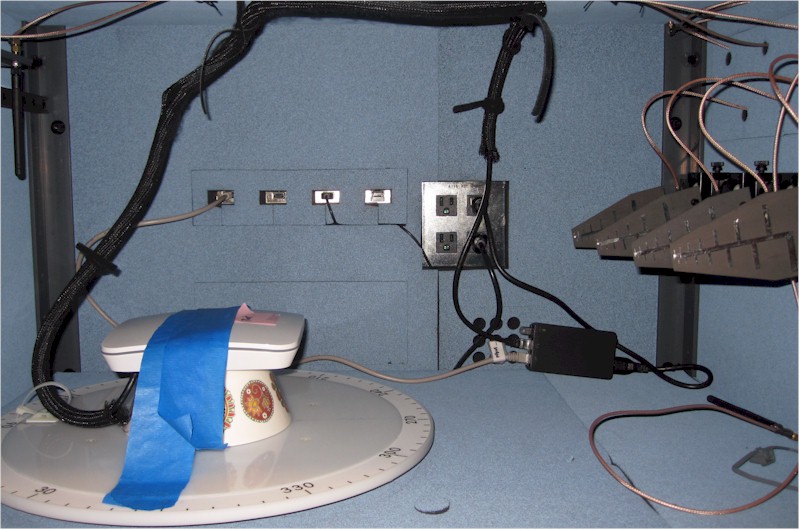 Open Mesh A40/A60 in test chamber
These are the first access points tested with the Revision 10 process. Since I knew you'd ask, I retested Ubiquiti's UAP-AC Lite and UAP- AC Pro. Each was upgraded to 3.8.6.6650 firmware and the CloudKey controller to run Unifi 5.5.20.
The 2.4 GHz downlink plot shows all products following a similar "waterfall" curve, but with the Open Mesh APs having a slight advantage at the lower attenuation values (higher signal strengths). But by the time signal levels get near cutoff, all products are tracking in a relatively tight band. Still, advantage goes to Open Mesh for this benchmark.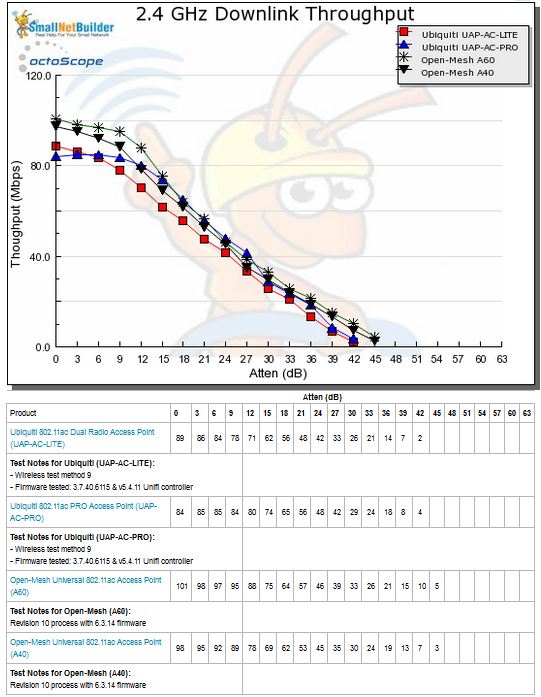 2.4 GHz Downlink Throughput vs. Attenuation
The 2.4 GHz uplink plot shows more spread among the products, with the three stream Ubiquiti and Open Mesh APs having a throughput advantage over the two-stream versions. Since all tests are done with a two-stream client, the effect is likely from the 3×3 radios' extra diversity and receive gain.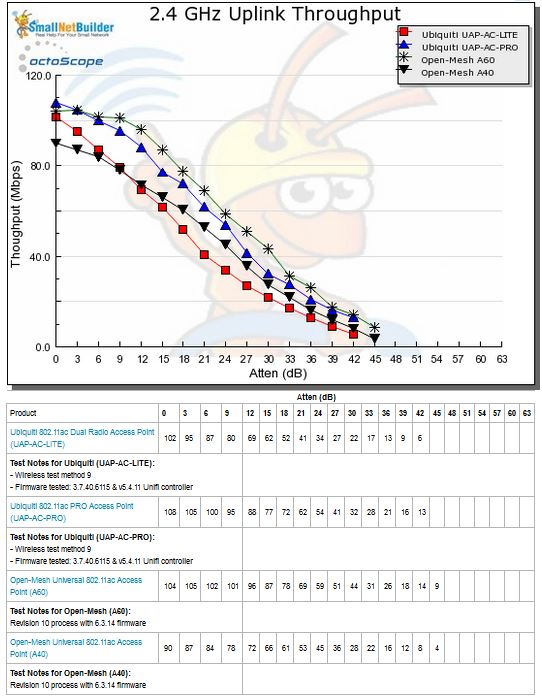 2.4 GHz Uplink Throughput vs. Attenuation
5 GHz downlink results present a stark contrast between Open Mesh and Ubiquiti.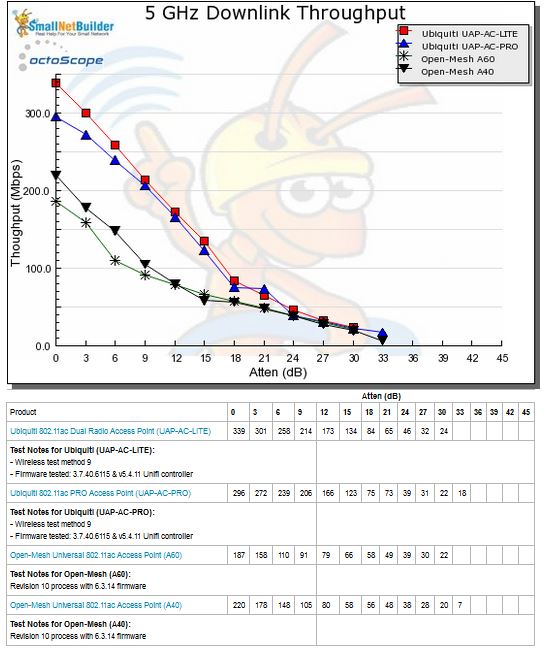 5 GHz Downlink Throughput vs. Attenuation
Digging into the client statistics produced by the octoScope Pal client device, it looks like Ubiquiti's client firmware is getting higher link rates from similar signal levels (RSSI)…

Ubiquiti UAP-AC-Lite client statistics
…while Open Mesh is getting lower link rates.

Open Mesh A40 client statistics
5 GHz uplink results show Ubiquiti isn't perfect, though. Oddly, the 2×2 AC Lite does significantly outpaces the 3×3 AC Pro. The Pal statistics, however, don't show a big difference between up and downlink RSSI and link rate for the AC Pro. So perhaps something else is afoot.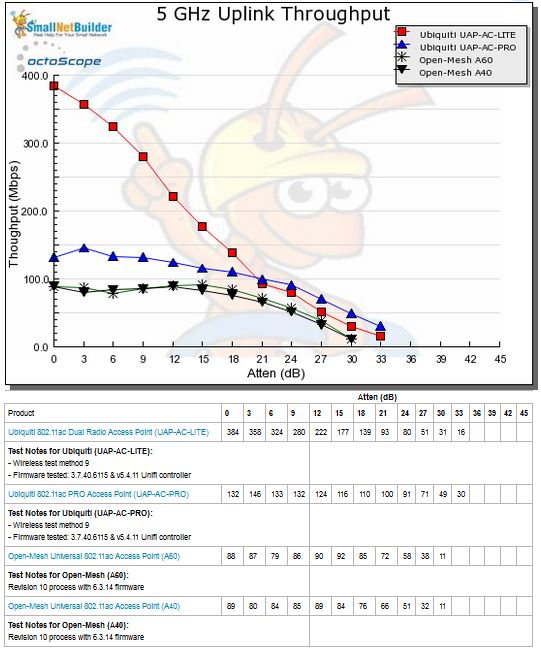 5 GHz Uplink Throughput vs. Attenuation
Our peak throughput benchmarks set the octoScope Pal to 4×4 mode, remove all attenuation and multi-path emulator and run 8 simultaneous connections. I don't pay much attention to these benchmarks, since they have meaning only for folks with 4×4 devices, which would be a few PCIe-based desktop adapters and folks who run 4 stream bridges. But here are the results anyway.
The higher 2.4 GHz peak results are turned in by 3×3 APs, with the Open Mesh A60 beating the Ubiquiti UAP-AC-PRO on downlink and also on up.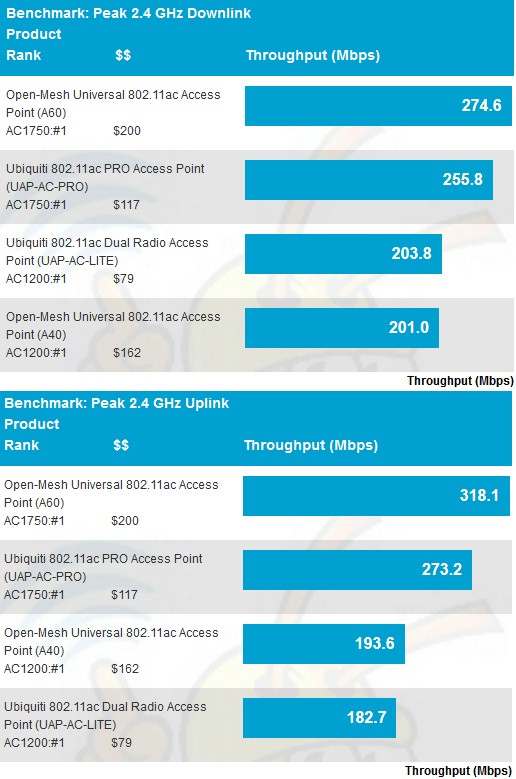 2.4 GHz peak throughput
For the 5 GHz peak tests both two and three stream Ubiquitis beat their Open Mesh counterparts. Looking at the Pal stats showed the Open Meshes didn't reach the peak rates on both up and downlink in each test.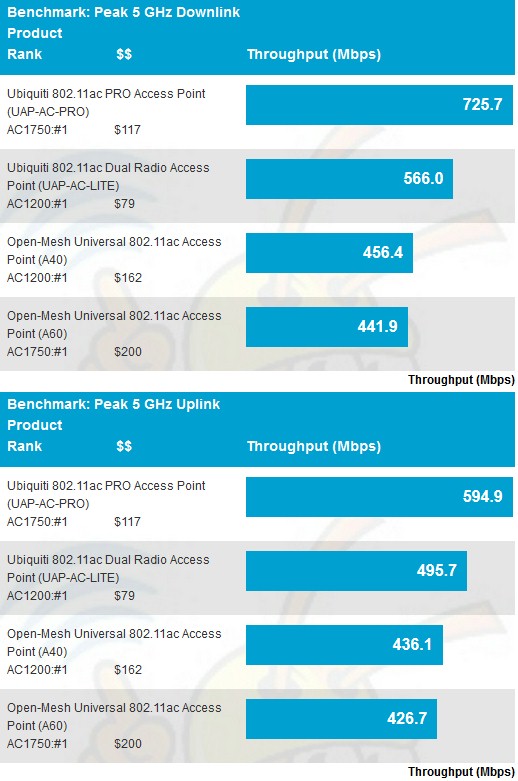 5 GHz peak throughput
Closing Thoughts
In the relatively brief time I spent with CloudTrax, I found I liked it better than Ubiquiti's UniFi. The features felt better organized and I didn't find myself getting lost as I sometimes did while navigating UniFi. The other plus is that Open Mesh's mesh really works and doesn't feel like a work in progress. I'll be revisiting both the A40 and A60 in three node mesh configurations in a follow-on review.
Of course, the main negative for some prospective buyers is Open Mesh's cloud-only management option. If you can't deal with that, then Open Mesh isn't for you. But if you are looking for an alternative to Ubiquiti's Unify and APs and can get past depending on a cloud service for management, then you should give Open Mesh a serious look.
Buy Universal 802.11ac Access Point from Amazon
Buy Universal 802.11ac Access Point from Amazon