Introduction
At a glance
Product
TRENDnet 450Mbps Dual Band Wireless N HD Media Bridge (TEW-680MB) [Website]
Summary
Ralink-based three stream dual-band N bridge with embedded four-port Gigabit Ethernet switch
Pros
• Very high throughput when paired with TRENDnet TEW-692GR
• Integrated Gigabit switch
Cons
• No AP mode. So can't use two to make a bridge
Typical Price: $94 Buy From Amazon
I've had TRENDnet's first-to-market dual-band three-stream 802.11n bridge sitting on my "To Review" shelf for too long. So, lest I have to make yet another New Year's resolution, I dusted it off, fired it up and here is what I found.
The 680MB looks very much like TRENDnet's other wireless bridges, such as its TEW-687GA single-band sibling [reviewed], with a vertical "sharkfin" format that gets its internal antennas oriented in a proper vertical plane.
Both have curvy glossy black plastic cases designed to sit on a desk or table. Thermal design is the same as the 687GA's, with two rows of narrow perforations on the top side, plenty of air intake vents on the case bottom and slim rubber feet raising those intake vents only 1/16" or so.
The front of the bridge has power and link / activity lights for wireless and the four switched Gigabit Ethernet ports. There is a WPS pushbutton on top (Figure 1).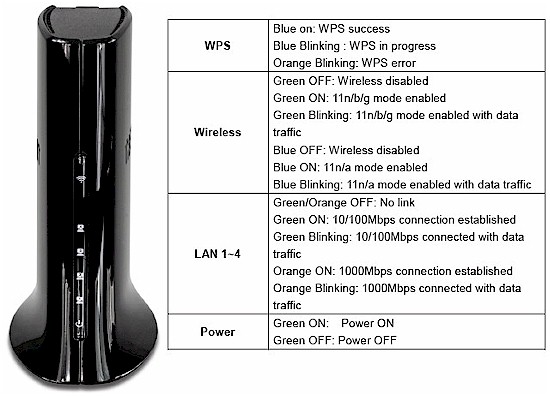 Figure 1: TRENDnet TEW-680MB front
The rear panel holds the power and Ethernet ports (Figure 2). You'll see a hole on the bottom of the 680MB for the recessed factory default reset switch.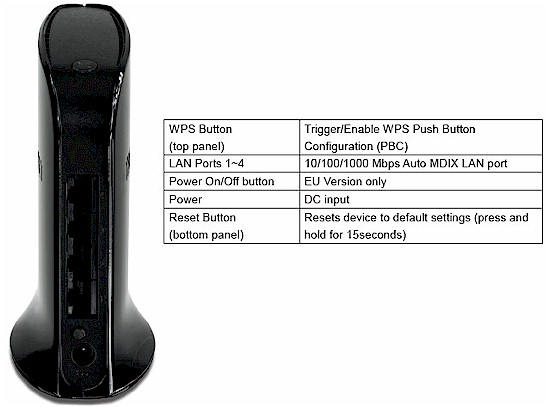 Figure 2: TRENDnet TEW-680MB rear
Inside
Figure 3 is a board photo taken from the FCC docs (FCC ID XU8TEW680MB). You can see three printed circuit dual-band antennas arrayed at the front, top front corner and top board edges. This view has the tops of the RF cans removed to show additional RF components, which I suspect are 2.4 and 5 GHz power amplifiers.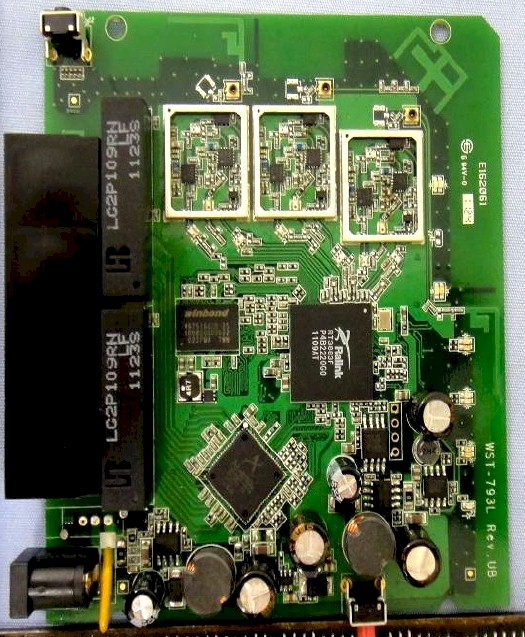 Figure 3: TRENDnet TEW-680MB inside
Detailed views in the FCC docs allowed me to ID most of the 680's components. Table 1 holds the summary, along with those for its single-band sibling.
| | TEW-680MB | TEW-687GA |
| --- | --- | --- |
| Wireless SoC | Ralink RT3883F 802.11n 2.4/5GHz 3T3R 450/450Mbps Single Chip AP/Router SoC | Ralink RT3883F 802.11n 2.4/5GHz 3T3R 450/450Mbps Single Chip AP/Router SoC |
| Ethernet | Atheros AR8327 7-Port Gigabit Ethernet Switch | Realtek RTL8211CL Integrated 10/100/1000 Gigabit Ethernet Transceiver |
| RAM | 64 MB | 32 MB |
| Flash | ? MB | 4 MB |
Table 1: TEW-680MB and TEW-692GA component summary
TRENDnet has used what appears to be its go-to three-stream N device, Ralink's RT3883F. This dual-band three-stream SoC is used in both adapters as well as its TEW-692GR and TEW-691GR three-stream N routers.
Figure 4 shows the 687GA's board, in the same orientation as the 680MB's, for your comparison pleasure.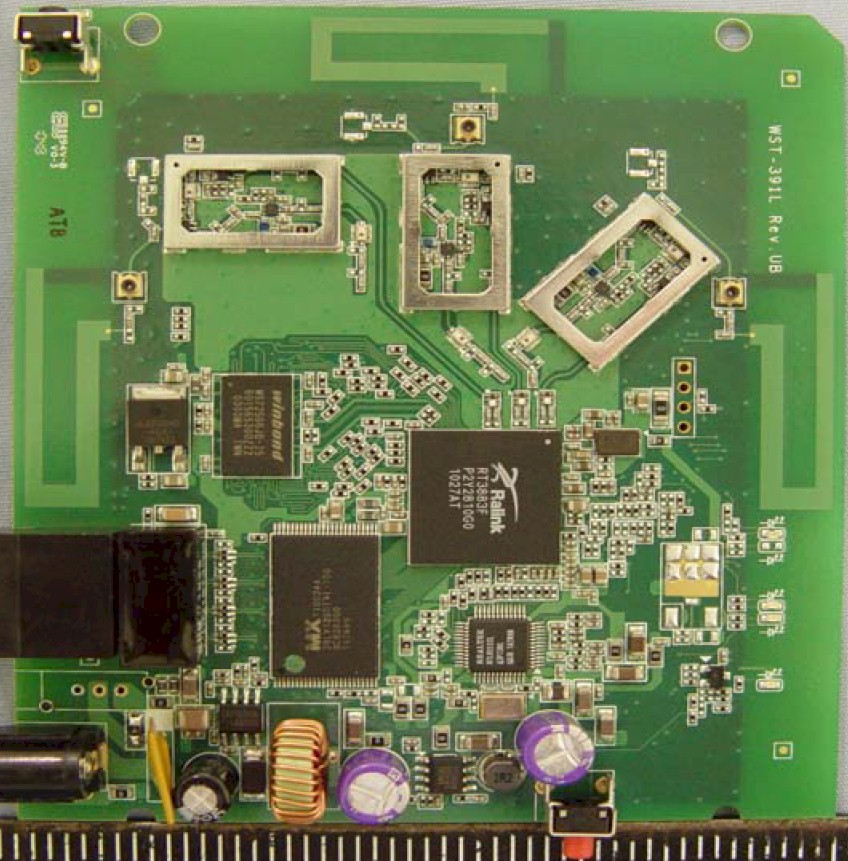 Figure 4: TRENDnet TEW-687GA board
Setup and Features
Setting up for the TEW-680MB is the same as for the 687GA. I got a successful WPA2/AES-secured connection by doing a WPS pushbutton session with the TRENDnet TEW-692GR I used as the 680MB's test partner.
Alternatively, you can connect a client to one of the 680MB's Ethernet ports, set it to a 192.168.10.XXX address and reach the bridge at its factory-default 192.168.10.110 IP. Entering http://TEW-680MB.trendnet into the browser of a computer directly-connected to the 680MB will also work.
Once you log in, you'll get the status screen shown in Figure 5.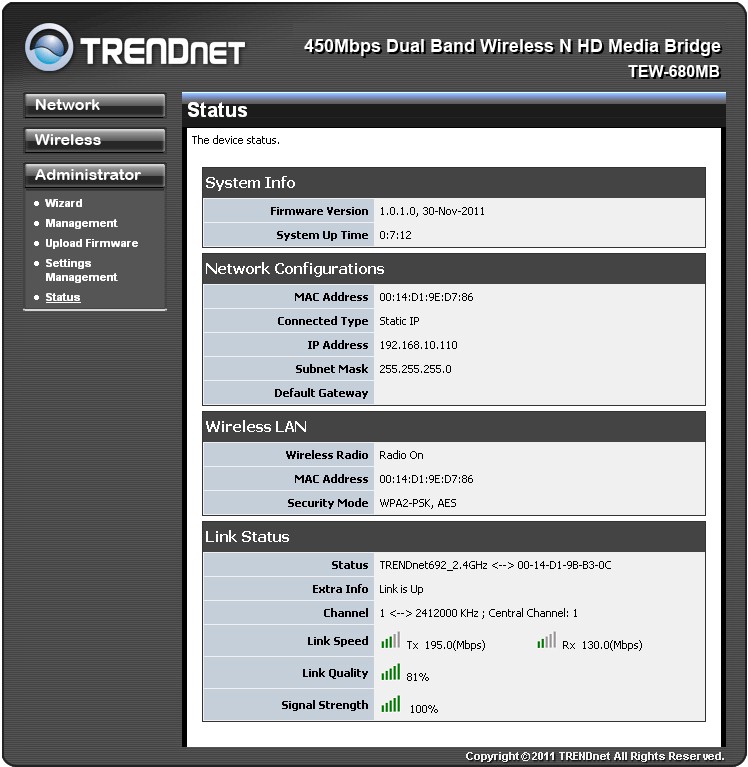 Figure 5: TRENDnet TEW-680MB status screen
As with the 692GA, if you plan to try for 450 Mbps links, you'll need to change the Channel Bandwidth setting on the 680MB, as well as your three-stream router, from its 20 MHz bandwidth default to 40 MHz mode (or Auto 20/40). You can actually leave 20/40 mode set in the bridge, since it will adapt to whatever the router is set to.
Figure 6 shows the "advanced" wireless settings, which are really the only ones. I've exposed the dropdown menu to show the available modes (a/b/g/n mixed is the default), which curiously don't include 5 GHz 802.11n only. The HT Mode options hidden by the dropdown are Mixed Mode (default) and Green Field.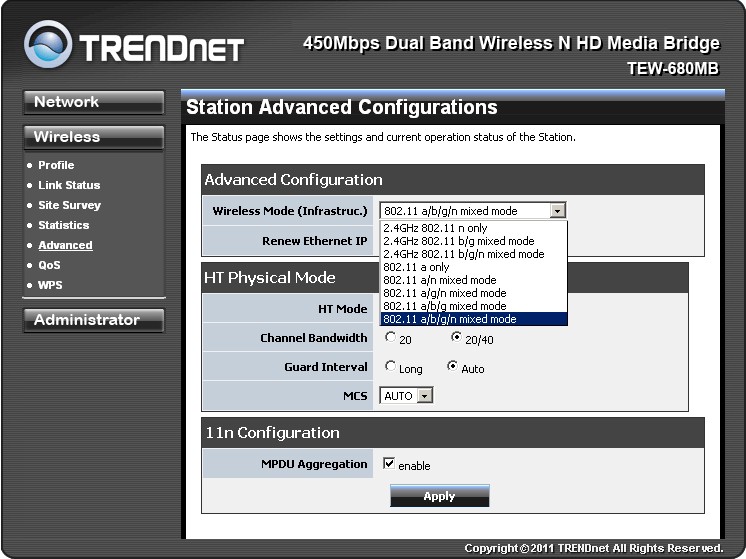 Figure 6: TRENDnet TEW-680MB Advanced Wireless settings
The MCS setting lets you limit the maximum link rate used if you want to muck with that for some reason. But you'll need the MCS table in the 692GA review to translate MCS to Mbps.
The defaults work just fine, so I'd just leave this setting alone.
As with the 692GA, there is no ability to adjust transmit power. But if you upgrade to the latest 1.0.1.0 firmware, you can see the up and down link rates (check Figure 5 above). There is still no way, however, to check the Ethernet link rates.
TRENDnet has been kind enough to provide an online emulator, so you can check out the full admin interface there.
Wireless Performance – 2.4 GHz
For testing, I used an approach similar to that used to test the TEW-687GA. The 687GA was paired with a TRENDnet TEW-691GR router, which supports 2.4 GHz three-stream N only. For the 680MB's testing, I used a TRENDnet TEW-692GR, which supports three-stream N in both bands. The 680MB was upgraded to 1.0.1.0 firmware and the 692GR was flashed with 1.0.0.11 firmware.
I changed the 680MB's Channel Bandwidth setting from its default of 20 MHz to 20/40 and used the Channel Bandwidth settings in the router to set the 20 MHz and 40 MHz modes as needed. I used WPA2/AES encryption for all tests. As is our practice, 2.4 GHz tests used Channel 1 and 5 GHz tests used Channel 36.
When running some initial tests, I noticed that throughput was significantly affected by the position of the adapter. In Location A, throughput peaked when the side of the adapter was pointed toward the router. But in Location F, pointing the front of the adapter toward the router location seemed to achieve better results. I used the position that yielded the best results.
Figure 7 summarizes 2.4 GHz results for the two TRENDnet adapters. Note that since they were tested with different routers, the results are not apples-to-apples comparable. But the numbers are interesting nonetheless.
It's normally very hard to get results > 100 Mbps using a single test stream when testing three-stream N routers with my standard test client, an Intel Centrino Ultimate-N 6300 card in a Lenovo x220i notebook. But the table below shows three out of four Location A tests came in well over 100 Mbps for single test streams.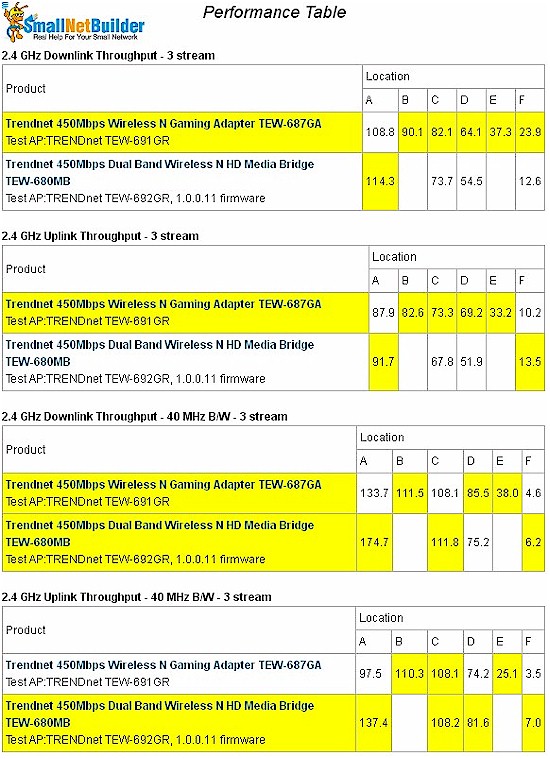 Figure 7: Wireless Performance Table – 2.4 GHz
Best case was 175 Mbps running downlink in 40 MHz bandwidth mode. Running simultaneous up/downlink tests yielded 105 Mbps total bandwidth in 20 MHz mode and a whopping 199 Mbps in 40 MHz mode. I think this is the highest I've ever measured for the simultaneous up/down test with three-stream products. To see if I could squeeze out any more throughput, I ran a test with two up/down pairs in 40 MHz mode (four streams total) and got 232 Mbps total throughput! Another new high in my three stream N testing.
Figure 8 shows a composite IxChariot aggregate plot for all 2.4 GHz band downlink tests using 20 MHz channel width. Throughput is generally well-behaved in this plot. But you can see it takes a second or so at the start of the run for throughput to ramp up in some tests. And note the throughput decline during the Location A test. I saw both affects frequently during testing. If you browse through the other plots you'll also see higher throughput variation at lower signal levels in some of the plots.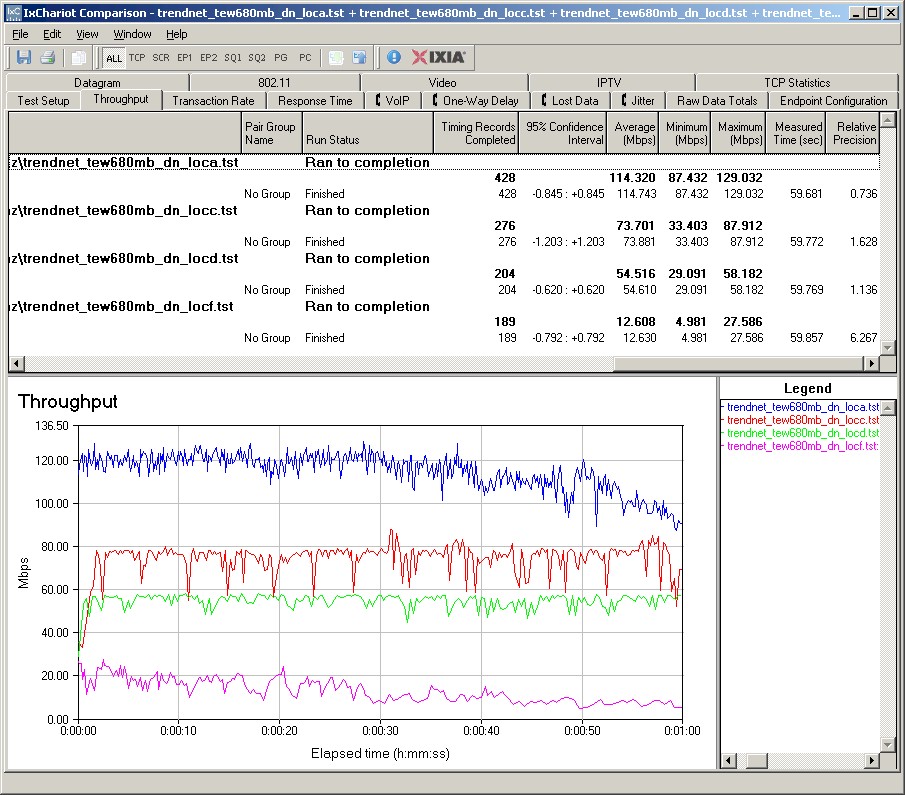 Figure 8: TRENDnet TEW-692GR router with TRENDnet TEW-680MB client – 2.4 GHz, 20 MHz mode
I'll also note that when I switched to 40 MHz bandwidth mode, the Location F connection got pretty iffy. I had to reconnect multiple times and futz with antenna position to maintain a connection long enough to run the test. I saw similar behavior when testing 40 MHz mode with the 691GR/687GA combo.
Here are links to the other 2.4 GHz IxChariot wireless test plots for your perusal, including the four-at-a-time test:
Wireless Performance-5GHz
Since the TEW-687GA doesn't support 5 GHz, Figure 9 shows only the results for the 680MB. Throughput both 20 and 40 MHz modes is significantly lower than 2.4 GHz band results. And it's no surprise that I couldn't detect the router signal in Location F.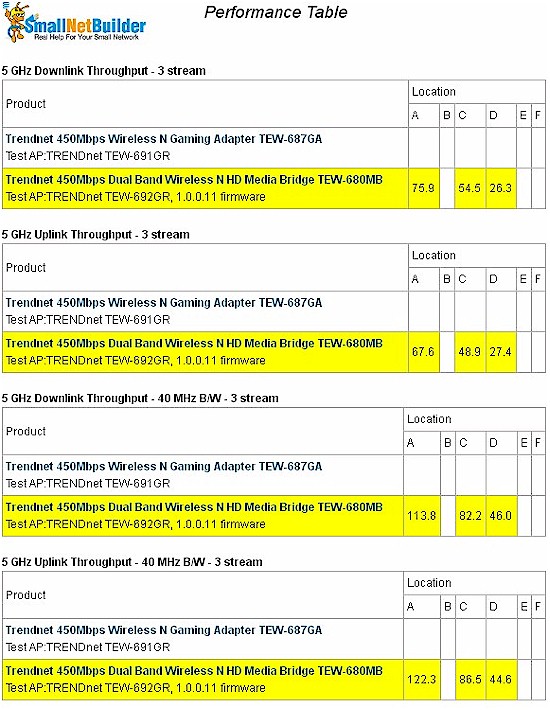 Figure 9: Wireless Performance Table – 5 GHz
Best case was 122 Mbps running uplink in 40 MHz bandwidth mode in Location A. The 20 MHz mode simultaneous up/down test produced only 92 Mbps total throughput, well below the 2.4 GHz results. But the 40 MHz mode test came in at 186 Mbps total, which is closer to the 2.4 GHz results. Running two up/down tests simultaneously squeezed out a bit more total throughput at 197 Mbps.
Figure 10 shows a composite IxChariot aggregate plot for all 5 GHz band downlink tests using 20 MHz channel width. If you browse through all the plots, you'll see higher throughput variation for uplink tests than we saw for the 2.4 GHz band.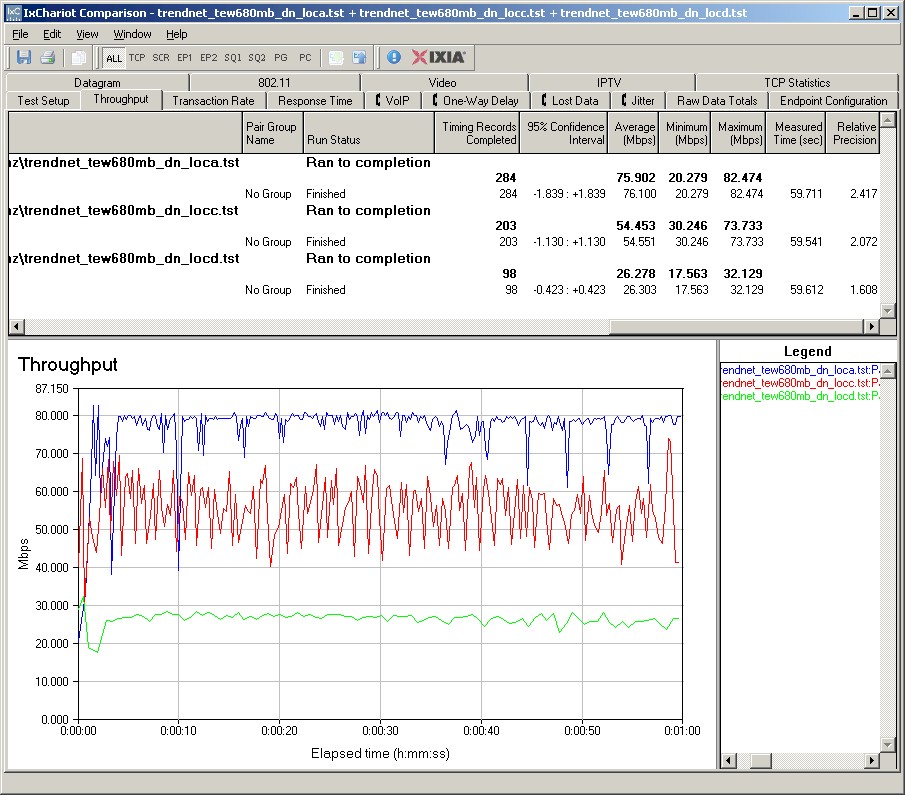 Figure 10: TRENDnet TEW-692GR router with TRENDnet TEW-680MB client – 5 GHz, 20 MHz mode
Here are links to the other 5 GHz IxChariot wireless test plots:
Closing Thoughts
If you want a dual-band 802.11n bridge that supports 450 Mbps maximum link rates in both bands, the TEW-680MB is currently the only game in town. I don't know why other manufacturers are letting TRENDnet have this market all to itself, but they are, at least for now. Fortunately, TRENDnet has come up with a pretty decent product and isn't really sticking it to you on pricing at around $100.
If you want to get the fastest possible wireless connection for a desktop, why mess with PCIe-based cards, or even USB adapters? The TEW-680MB lets you put your wireless connection anywhere an Ethernet cable can go for maximum placement flexibility. And its built-in four-port Gigabit Ethernet switch makes it an attractive way to get your network to your Ethernet-less home entertainment area.
Buy 450Mbps Dual Band Wireless N HD Media Bridge from Amazon