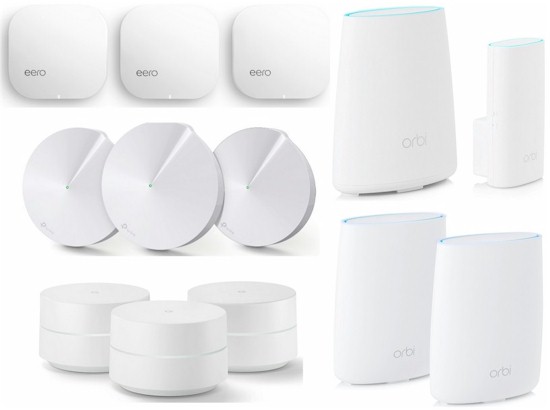 Introduction
Updated 11/21/17: eero, Deco specs corrected
Updated 9/29/17: Inside section added
It's been almost a year since the first Mesh Wi-Fi Mashup and the follow-on review that added NETGEAR's original Orbi. A lot has changed since then. The industry seems to have settled on "Wi-Fi System" as a better way to refer to this new breed of products designed to blanket your home with fast, seamless Wi-Fi. But, more importantly, a slew of new products have appeared, all aiming to unseat NETGEAR's original Orbi, which currently sits at the top of the market share heap.
So, it's time for a long-overdue look at four new Wi-Fi Systems, including NETGEAR's two Orbi "minis", eero's second generation trio and TP-Link's Deco M5 first mesh-based effort. To provide some context, I also retested Google Wi-Fi, because, as the low-cost leader, it's putting the most sales pressure on Orbi.
The Products
At some point, I hope to go back and do individual reviews. But with the backlog that has built up while the kinks were worked out of the Wi-Fi System test process, that may not happen any time soon. So here's a quick rundown of key product features.
Because their feature sets are very different from conventional wireless routers, I've created a different product category for Wi-Fi Systems. So they have their own Charts, Ranker and Finder. The feature tables below are taken from the Finder, which has more information than I've chosen to highlight here. Although there are two main types of Wi-Fi system—mesh and extender—both are treated the same in the Charts and Ranker.
You may notice eero Beacon is not included in this test because eero sent only one Beacon along with the three-node Pro. I'd prefer to test a one-Pro, two Beacon configuration, so will arrange that for a future test.
First, let's focus on what's the same about this group of products. All use multiple mini dual-band 802.11ac access points, that can themselves connect via Wi-Fi, to cover more area with higher bandwidth than a conventional single-point router, or at least that's the plan. Three of the five use a mesh architecture, in which APs (aka mesh nodes), can connect to each other to get back to the one node (the "root") that's connected to your modem. The Orbis use a more familar router / extender (aka "satellite") approach, where satellites can connect only to the router.
The advantage of mesh systems is that they can reach farther by having each node relay your data until it reaches the root. The disadvantage is that each relay point (aka "hop") usually reduces the bandwidth available to the devices connected to the farthest node.
Although the marketing folks have played the usual games with class designations, these are all 2×2 systems. Both flavors of the "mini" Orbis, which NETGEAR would prefer I call the Orbi WiFi System AC2200, adding RBK40 for the version with the desktop satellite and RBK30 for the version with the wall-plugged satellite, still have 2×2 client-facing radios. But the Original Orbi's dedicated 5 GHz backhaul radio has been downgraded from 4×4 to 2×2 to enable the mini's lower cost.
The takeaway here is to not let the difference in numbers fool you, all the products in this group connect to your devices with maximum link rates of 867 Mbps in 5 GHz and either 300 Mbps for Google Wi-Fi or 400 Mbps for the others in 2.4 GHz.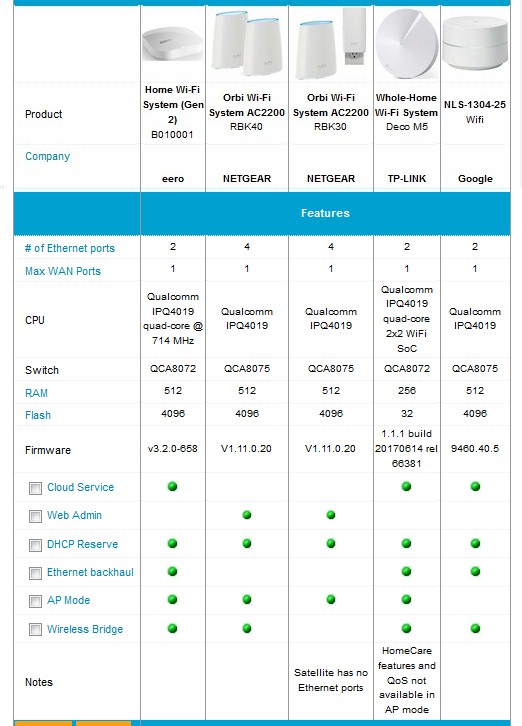 WiFi System Product features
The key difference in this group is in backhaul, or the way they connect among themselves to get back to the one node that's connected to your modem via Ethernet. The Feature table above shows eero, TP-Link and Google nodes can be connected via Ethernet, while the Orbis can't. Yes, yes, NETGEAR says Ethernet backhaul is on Orbi's roadmap, but they've been saying that since the original Orbi launched and have yet to provide a definite timeframe. By the way, if you have Ethernet where you want to place system nodes, you should perhaps be looking building a less expensive system using conventional access points, like Ubiquiti's UAP-AC Lite or PROs…
Another backhaul difference is how it is managed. Orbi does this locally, while the other three products require a companion cloud service to do the heavy lifting. eero Gen 2, Deco and GWiFi can all continue to operate if the cloud service temporarily goes away (eero originally couldn't, but they fixed that). But each cloud service is an essential part of its product, making the products not very useful without it.
Assuming Ethernet backhaul isn't an option, the more significant difference is in wireless backhaul options. Both Orbis and eero Gen 2 have a third 5 GHz radio, for a total of one 2.4 GHz and two 5 GHz. Both Orbi and eero dedicate one radio to the 5 GHz low band (channels 36 – 48) and the other to the high (channels 149 – 165). However, Orbi dedicates the 5 GHz high band radio to backhaul; clients can't connect to it. eero has a more flexible arrangement; devices can connect to any of its three radios.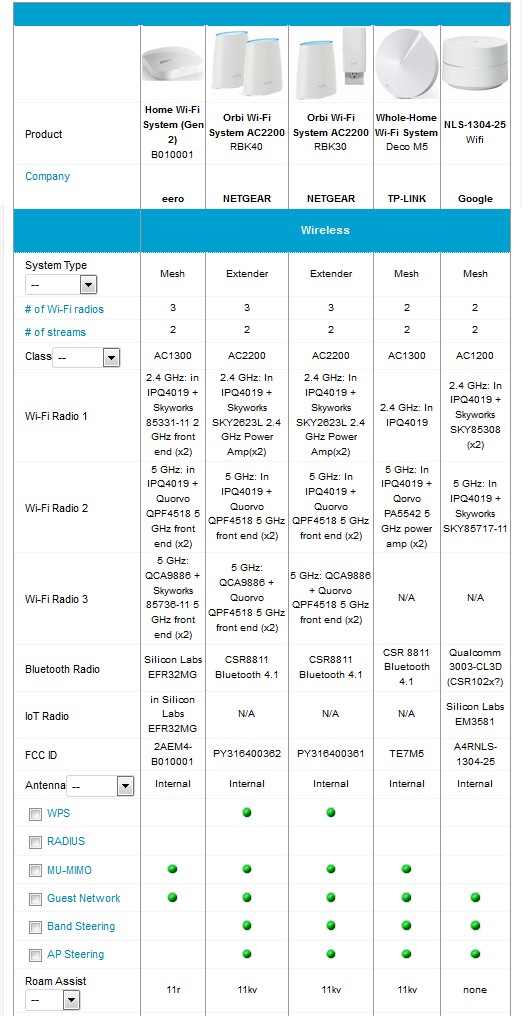 WiFi System Wireless Features
Note all the products are based on Qualcomm silicon, although not all use Qualcomm's Wi-Fi SON's mesh software platform. Google Wi-Fi is perhaps the furthest away from Wi-Fi SON, using a variant of ChromeOS and 802.11s compliant mesh routing. eero is rumored to have a descendant of the open mesh B.A.T.M.A.N. advanced protocol beating under its off-white shell.
Another glance at the Wireless table above shows all products in this group except eero support band-steering between the radios in a mesh node and node-to-node AP steering. But eero is the only one to implement 802.11r fast-transition, which makes for faster and smoother moves when a device decides it's time to look for a better connection. TP-Link and NETGEAR support 802.11k and v and Google Wi-Fi supports no roam-assistance protocols. See the articles linked from this SNBForum thread for help figuring out the differences among the three roaming assistance standards.
It's important to note that older devices don't support 802.11r and some may have problems interpreting the extra information it includes in Wi-Fi management frames. This is why other manufacturers may have shied away from implementing it. The Pal test device, which uses a Qualcomm chipset not commonly found in wireless devices, in fact could not connect to eero's 5 GHz radios. Fortunately, eero was able to disable 802.11r on my network so that I could complete testing. octoScope is looking into the incompatibility.
Wi-Fi System routing and firewall features are intentionally simplified and won't satisfy anyone who either likes a lot of router knobs to twiddle or needs routing features beyond reserving DHCP addresses or opening a few ports through the firewall, either manually or via UPnP. But in an effort to provide another reason to look their way, both eero and TP-Link's Deco have added features designed to keep you out of trouble on the internets.
These features are indicated by the Content Filtering, Rogue Device Block and Threat Protection attributes in the table below. Threat Protection means devices are blocked from accessing known-bad IP addresses/domains. Rogue Device Block means compromised devices that start showing abnormal behavior are taken offline. An example would be a smart plug that suddenly starts sending a lot outbound traffic, which would be sign it could be a slave bot in a DDoS attack.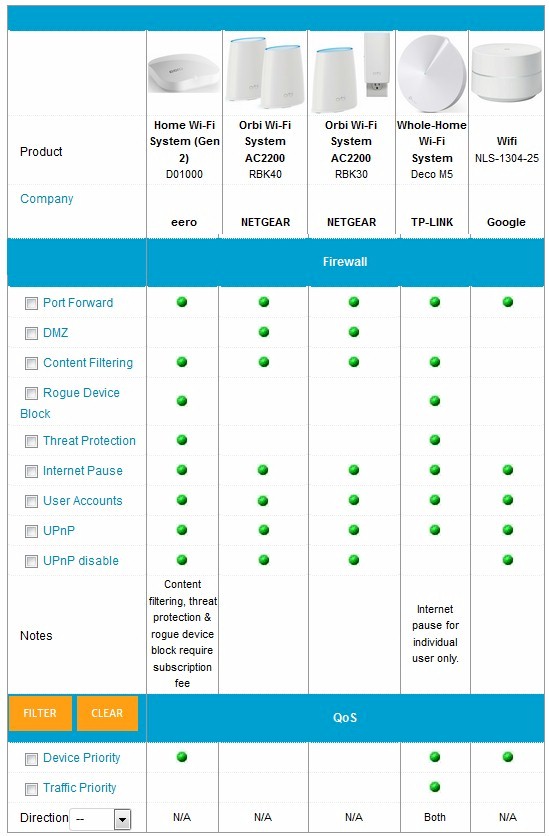 WiFi System Firewall / QoS Features
It's tough sorting through the marketing-speak, but both eero's Plus and Deco's HomeCare both have Threat Protection and Rogue Device Block features. Deco's Trend Micro-based HomeCare also includes category-based website filtering. TP-Link includes three years of HomeCare in the Deco M5's cost, while you need to pay $10/month or $99/year for eero Plus.
QoS features are usually limited to Device Priority, which enables setting one device at a time as a "high priority" device that gets first crack at available internet bandwidth. But Deco also supports automatic application-based QoS. Orbi supports neither.
I probably should have mentioned up top that Wi-Fi Systems typically use iOS and Android apps for setup and management. A Bluetooth connection is also typically used during the "onboarding", i.e. setup, process, with a switchover to management over Wi-Fi thereafter. While Orbi has an app for setup and management, you don't need to use it. You can do everything you need to do via web interfaces for both router and satellite.
Inside
Updated 11/21/17: eero, Deco specs corrected
Updated 9/29/17: Section added
After the review posted, I had some time to open up everything except the Orbi Mini wallplug.
eero Gen 2
Google Wi-Fi
NETGEAR Orbi RBK40/30
TP-Link Deco M5
CPU
Qualcomm IPQ4019 quad-core Wave2 2×2 a/b/g/n/ac SoC
– Qualcomm IPQ4019
– STM32F072 32 bit ARM Cortex-M0
– Infineon STM9615 Trusted Platform Module
Qualcomm IPQ4019
Qualcomm IPQ4019
Switch
QCA8072
QCA8075
QCA8075
QCA8072
RAM
512 MB
512 MB
512 MB
256 MB
Flash
4GB eMMC
– 4 GB eMMC (IF5055?)
-4 MB Winbond 25Q64FV
4 GB
32 MB
2.4 GHz Radio
– In IPQ4019
– Skyworks 85331-11 2 GHz front end (x2)
– In IPQ4019
– Skyworks SKY8530 2.4 GHz front end (x2)
– In IPQ4019
– Skyworks SKY2623L 2.4 GHz Power Amp (x2)
– In IPQ4019
– Skyworks 85303-11 2.4 GHz Front End (x2)
5 GHz radio
– In IPQ4019
– Quorvo QPF4518 5 GHz front end (x2)
– In IPQ4019
– Skyworks SKY85717-11 5 GHz front end (x2)
– In IPQ4019
– Quorvo QPF4518 5 GHz front end (x2)
– In IPQ4019
– Qorvo PA5542 5 GHz power amp (x2)
5 GHz backhaul
– QCA9886
– Skyworks 85736-11 5 GHz front end (x2)
N/A
– QCA9886 2×2 5 GHz a/n/ac SoC
– Quorvo QPF4518 5 GHz front end (x2)
N/A
Bluetooth
Silicon Labs EFR32MG
Qualcomm 3003-CL3D (CSR102x?)
CSR8811 Bluetooth 4.1 SoC
CSR 8811 Bluetooth 4.1
IoT
In Silicon Labs EFR32MG
– Silicon Labs EM3581 ZigBee / Thread SoC
– Skyworks SKY66109-11 2.4 GHz ZigBee front end
N/A
N/A
Table 1: Component summary and comparison
It's obvious the designs are very similar, all using Qualcomm's quad-core IPQ4019 2×2 11ac Wi-Fi SoC. The largest variation, besides the number of 5 GHz radios, is in choice of 2.4 and 5 GHz power amplifiers/ integrated RF front ends. Google Wi-Fi was the first of this bunch to include a Thread/ZigBee radio for IoT functions. But it supports only Philips Hue bulbs at this point. eero Gen 2 hasn't enabled IoT support yet.
The gallery has board shots with commentary.
View with bottom cover removed.6 separate antennas serve the three Wi-Fi radios. Bluetooth antenna is etched into the board
RF can tops removed to reveal components. QCA9886 5 GHz second radio is at photo top.
This is a pretty good sized heatsink and probably why eero's top feels so warm.
Strip off the heatsink and this is what you see.
Orbi mini is a lot easier to open than Orbi Sr.This is another good-sized heatsink.
View with heatsink and RF can tops removed.Bluetooth radio is photo lower left.
QCA9886 5 GHz backhaul radio is at photo middle left. Bluetooth antenna is at end of yellow cable. 5 GHz backhaul antennas are along the sides at bottom. Dual-band antennas are at top sides.
Yup, heatsinks on both board sides.
FCC photo with bottom cover removed shows heatsink plate
This is the view with the heatsink plate removed.
Here's the good ol' IPQ4019. Note the mix of bent-metal and printed circuit board antennas.
Testing
So now let's get to the fun stuff, how these puppies perform. I've already described the new Wi-Fi System test process and previewed some results. While testing this first group of products, I made a few process tweaks and added a capacity test to the suite. So if you read the test process article when it first published, you should read it again. Of course, all products were tested and/or retested using the final, updated process.
There is a lot of performance data produced by this new process, far more than my previous over-the-air process and way more than you'll get from any other publication. So as we go through the benchmarks, I'll try to explain which performance aspect each addresses.
Since Wi-Fi Systems take away user control of channel and bandwidth selection and operate with a single SSID for both bands, that's the way the process treats them. If a product chooses Channel 4 and 40 MHz bandwidth for its 2.4 GHz settings, that may be an odd choice, but that's the way it's tested. Let's begin.
Throughput vs. Attenuation (RvR)
We start with a look at how throughput varies with decreasing signal, commonly known as Rate vs. Range or RvR. This test is done on the root node, so is a best-case view and does not include any effects from backhaul links. Each of the following plots omits the Orbi RBK30 wall-plugged version because the tests were run on the router module only and used for both the RKB40 desktop and RBK30 wall-plug models. The Orbi wall-plug is the only case where the results shown could not be applied to the other modules in the system, since the are identical. (Even though the Orbi desktop router and satellite have different functions, they use the same hardware.)
The 2.4 GHz downlink plot reveals our first discovery; all this group of products except Google WiFi (GWiFi) use 40 MHz bandwidth mode in 2.4 GHz. I have very mixed feelings about not limiting the test client to operate with 20 MHz bandwidth in 2.4 GHz. I believe that is how the products will most often operate in the wild, if they properly follow 2.4 GHz coexistence rules and drop back to 20 MHz bandwidth mode if they detect another 2.4 GHz network operating on the same channel.
In our perfectly quiet chamber test environment, however, that's not going to happen. So unless a product explicitly limits 2.4 GHz operation to 20 MHz bandwidth—as GWiFi appears to do—it will be at a disadvantage in our tests, but may not be in the real world. So I'd like to hear from you. Do you see your devices operating at 40 MHz link rates in 2.4 GHz with your Wi-Fi System?
That being said, eero Gen 2 and Orbi have the highest average throughput, although both show lower throughput with low attenuation, a possible sign of problems dealing with higher signal levels. We'll come back to this in a bit.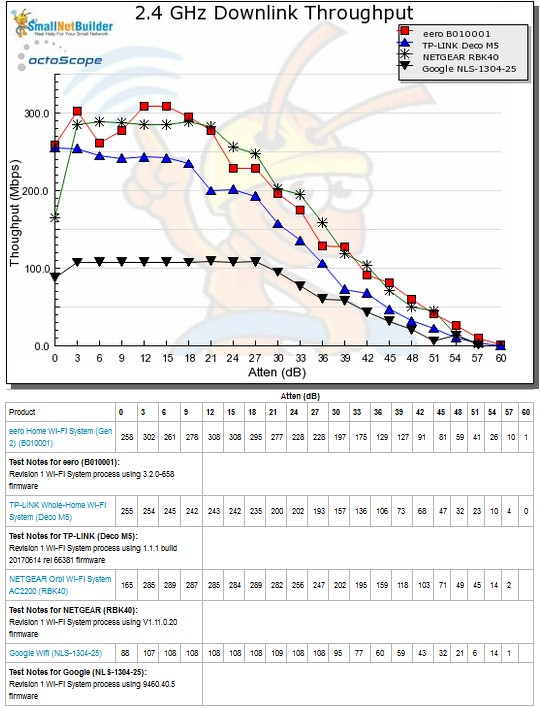 Throughput vs. Attenuation – 2.4 GHz downlink
For 2.4 GHz uplink, all products except GWiFi track together pretty well. eero Gen 2 once again shows some problems with strong signals.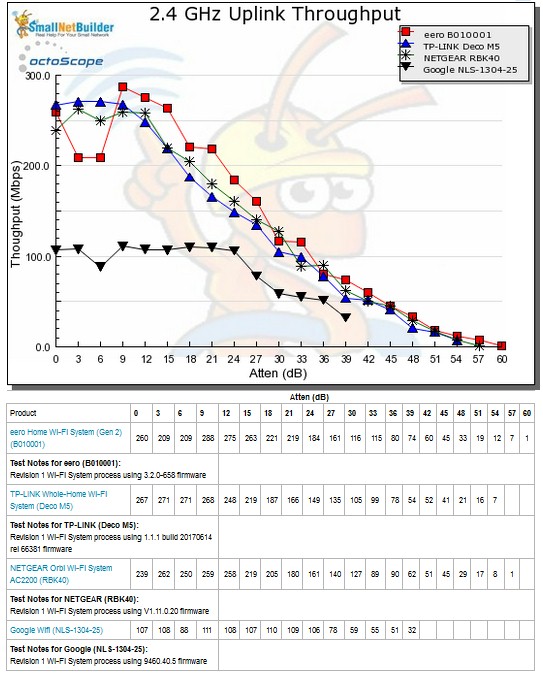 Throughput vs. Attenuation – 2.4 GHz uplink
With the 20 MHz bandwidth disadvantage out of the way, GWiFi shows it can track with the pack on 5 GHz downlink. But it and eero Gen 2 don't quite reach the throughput heights that Orbi and Deco do. I don't count that as a big disadvantage, however, since few devices will be sitting right next to the root node. More significant is that all four products track pretty well throughout the test range.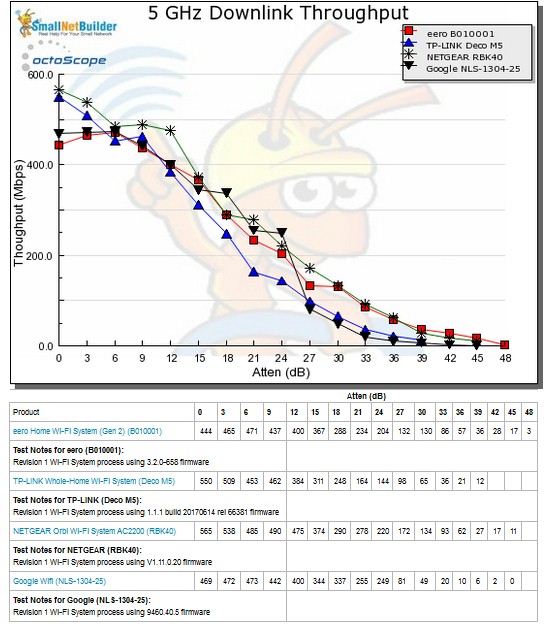 Throughput vs. Attenuation – 5 GHz downlink
5 GHz uplink shows GWiFi starting strong, but disconnecting 12 dB before the TP-Link and 15 dB before Orbi.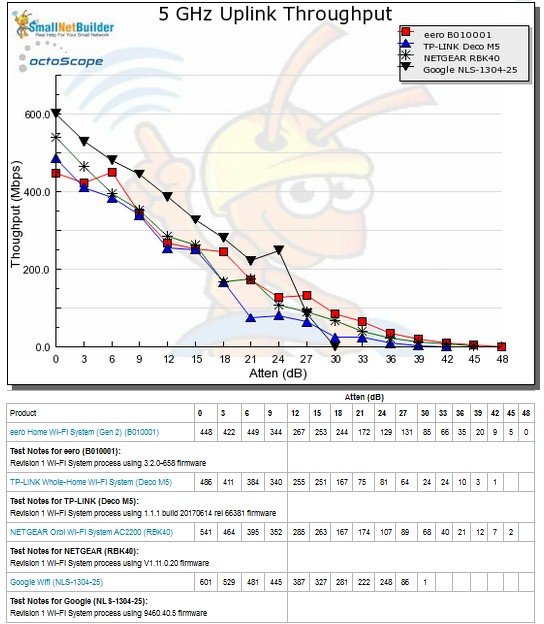 Throughput vs. Attenuation – 5 GHz uplink
The main takeaway from the RvR tests is the group is more alike than different, except for GWiFi's 20 MHz bandwidth limitation on 2.4 GHz.
Wi-Fi System
These benchmarks measure up and downlink 2.4 and 5 GHz throughput at each system node, by "walking" the octoScope Pal dual-band test client from node to node. Since tests are made with 0 dB attenuation between the Pal test client and each system node, all measurements are best case. As signal levels between system node and client drop (i.e. distance increases), throughput will decrease proportionate to the RvR curves above. The Pal devices can be set to associate only with a specific BSSID, which equates to an AP radio. So when we say we're measuring 2.4 GHz throughput at the Hop 2 node, we know that's what is being measured.
These benchmarks provide a good indication of what's happening in the backhaul in each node. Focus on the 5 GHz results in particular, since from the RvR results, we know all products can deliver at least 400 Mbps on the root node with no backhaul involved. For these tests, I'll show all five products because the Orbi desktop and wall-plugged satellites yield different results.
The 2.4 GHz downlink chart shows throughput measured at each node, with the A bars being the root node, B bars the Hop 1 node and C either the Hop 2 node or, in the case of router/repeater systems like Orbi, Hop 1 with 21 dB of attenuation applied between the node and Pal client device.
I chose to "move"—by increasing signal attenuation—the client away from the node instead of "moving" the repeater away from the router to reflect what should happen in real life. The device or app will indicate optimum placement of the satellite, which won't change when you move your client away. If you don't agree with my logic, that's fine; just look at the A and B results.
What we would expect to see is highest throughput for the Root node, lower throughput at the Hop 1 node and lower still throughput at the Hop 2 node. Higher throughput at each "Hop" node means the backhaul is doing a better job of delivering throughput to be passed on to clients associated there. Ignoring the oddly low Root node throughput for Orbis and GWiFi, for the moment, it's obvious Orbi's dedicated 5 GHz backhaul is doing the best job of delivering throughput to the Hop 1 node. And the 21 dB of attenuation thrown between the Pal and Orbi satellite doesn't do much to the throughput, mainly because we're dealing with 2.4 GHz.
eero Gen 2's three radios don't seem to be providing much advantage, in comparison. Its throughput drops by about half, just like the TP-Link Deco M5, which has only two radios. There's good backhaul management happening between the Hop 1 (Case B) and Hop 2 (Case C) nodes for eero and Deco because we're not seeing a similar 50% throughput drop. Not so for GWiFi, though, which takes a 60% throughput hit.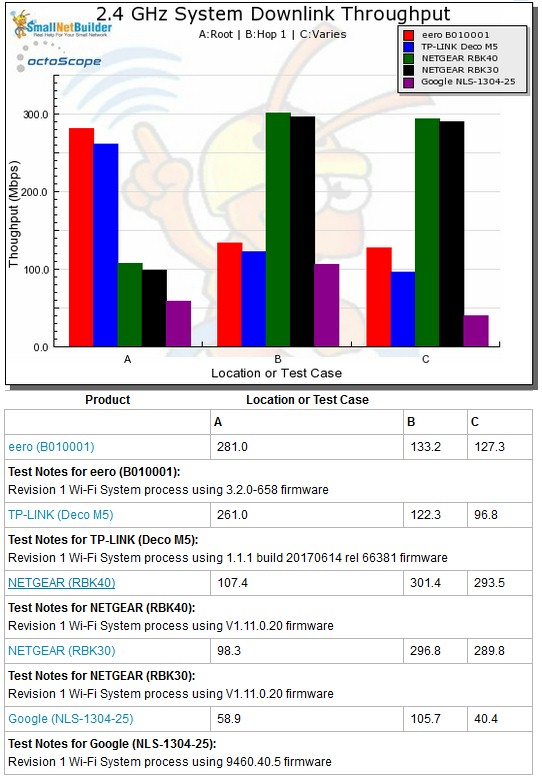 Wi-Fi System Performance – 2.4 GHz downlink
So what's going on at the Root node with the Orbis and GWiFi? Fortunately, the octoScope system logs throughput, channel, associated BSSID and transmit and receive link rates and RSSI for every measurement, so I was able to extract the plot below. It shows both Orbis and Google Wi-Fi taking a throughput dive around 30 seconds into the test run. The logs show this is due to a significant drop in receive link rate in each case. For eero Gen 2 and Deco M5, link rates cruise right along at 400 Mbps. I don't know what is the root cause, but this explains the low average throughput reflected in the system throughput plot above. I repeated the tests in each case and saw the drop each time.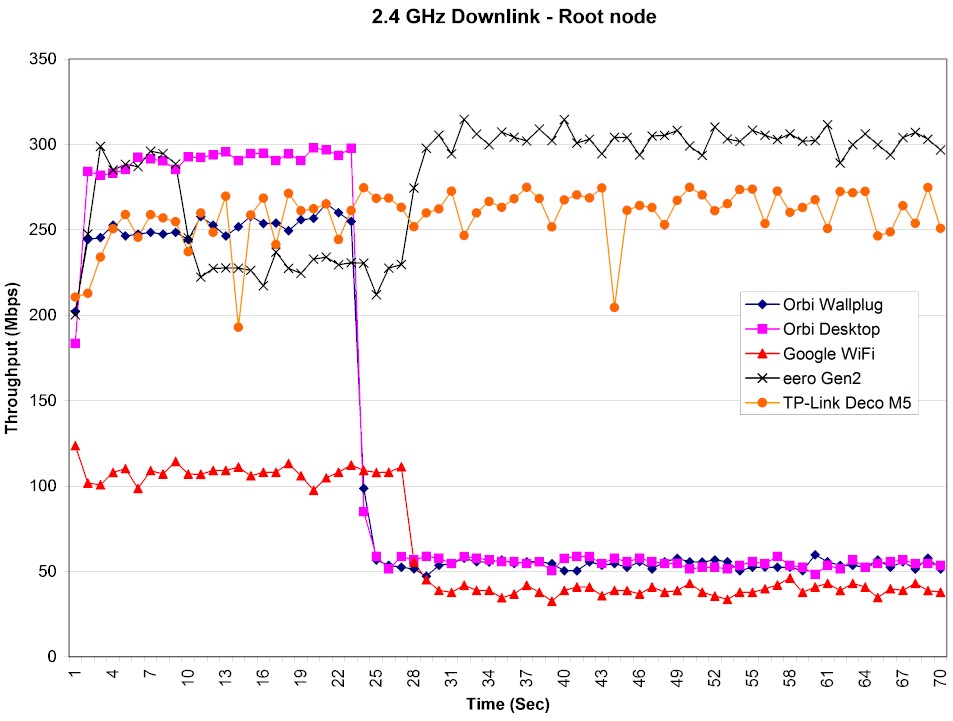 Wi-Fi System test – root node, 2.4 GHz downlink
Moving on to 2.4 GHz uplink, results are more like I'd expect. All products, except GWiFi show high root node throughput. Hop 1 (Case B) throughput is much improved for eero Gen 2, with the other products doing about the same as on downlink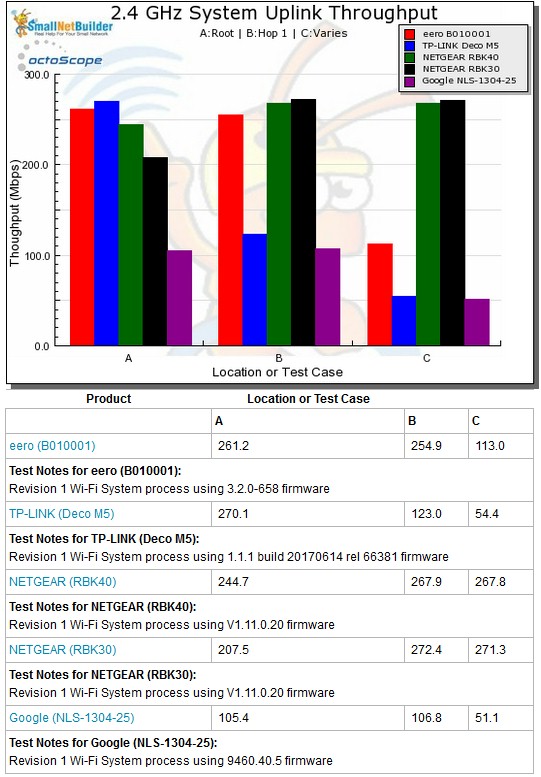 Wi-Fi System Performance – 2.4 GHz uplink
5 GHz downlink results show the expected pattern of descending throughput, even for Orbi, which illustrates the difference in effective range between 2.4 and 5 GHz. The takeaway here is the Orbi wallplug satellite isn't as effective as the desktop as distance increases. And this is without the disadvantage of wall outlets being physically lower than table tops and the effect being parked right next to a wall has on antenna radiation patterns. Despite all that, Orbi does the best in this benchmark, although eero gen 2 isn't far behind for the case C test.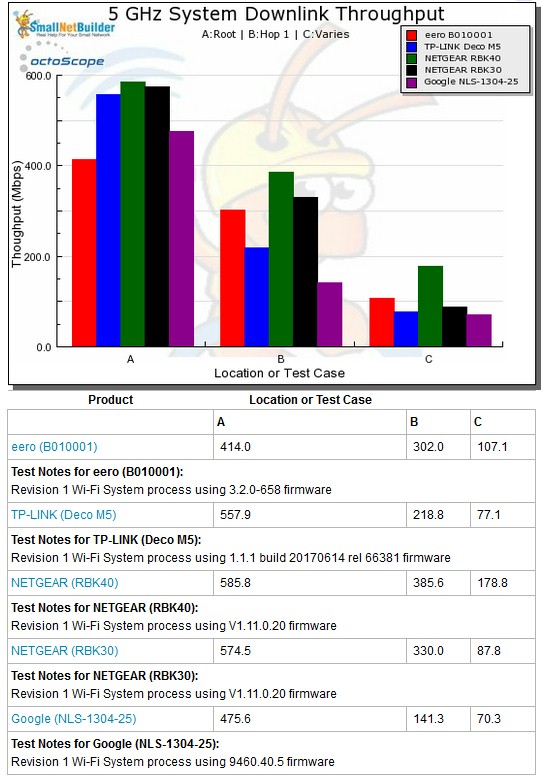 Wi-Fi System Performance – 5 GHz downlink
5 GHz uplink shows a similar pattern, with both Orbis and eero Gen 2 doing the best in test cases B and C, albeit with eero taking a more significant throughput hit in case C. Again, if you don't agree with the 21 dB attenuation technique applied to the Orbis for case C, just use the case B results.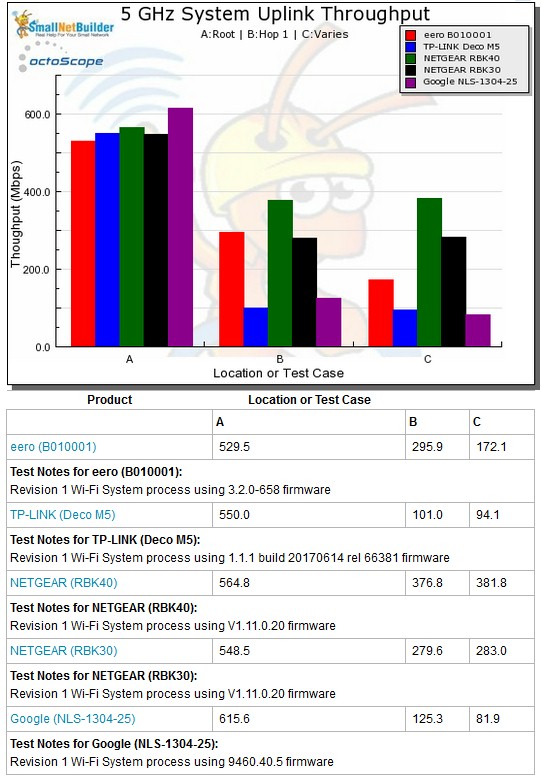 Wi-Fi System Performance – 5 GHz uplink
Backhaul
Since backhaul is a key factor in how well Wi-Fi Systems perform, we measure that directly. These tests run traffic between the root node LAN-side Ethernet port and mesh node/satellite Ethernet port. These benchmarks also show how much throughput is available to Ethernet devices you may wish to connect, using mesh nodes as wireless bridges.
The Hop 1 results show only the Orbi RBK40 desktop because the RBK30 wallplug satellite has no Ethernet port.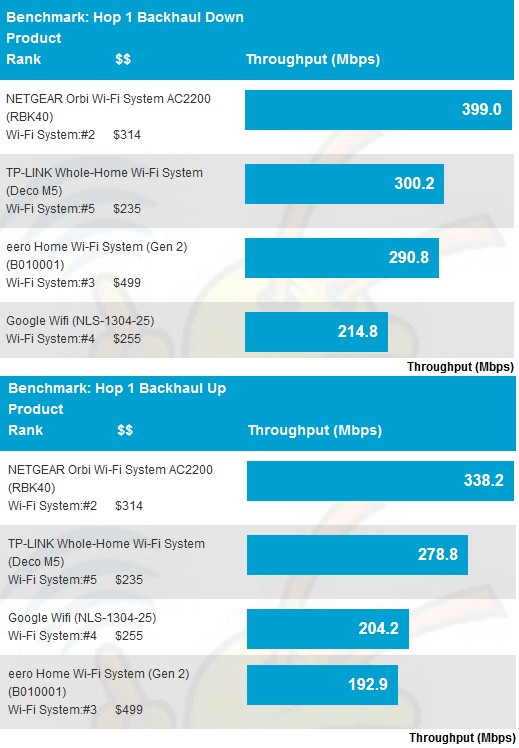 Wi-Fi System Backhaul – Hop 1
The results speak for themselves. Orbi is absent from the Hop 2 chart because it uses only one hop.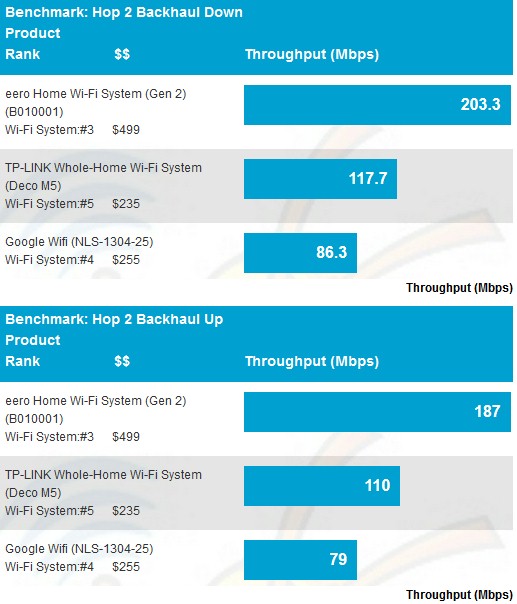 Wi-Fi System Backhaul – Hop 2
Orbi always uses its dedicated 5 GHz high-band 2×2 radio for backhaul. But the other products can use any of their two or three radios. I didn't sniff traffic or use a spectrum analyzer during the backhaul tests to see which radio was being used. But I can say which channels were in use, shown in the table below. Keep in mind nodes need to be on the same channel to use it for backhaul.
| | eero Gen 2 | Google WiFi | TP-Link Deco M5 |
| --- | --- | --- | --- |
| 2.4 GHz Root | 1-[1 6] | 11 | 2-[1 6] |
| 5 GHz Root | 36-[36 40 44 48] | 149-[149 153 157 161] | 44-[36 40 44 48] |
| 2.4 GHz Hop 1 | 1-[1 6] | 1 | 2-[1 6] |
| 5 GHz Hop 1 | 149-[149 153 157 161] | 149-[149 153 157 161] | 44-[36 40 44 48] |
| 2.4 GHz Hop 2 | 1-[1 6] | 1 | 2-[1 6] |
| 5 GHz Hop 2 | 36-[36 40 44 48] | 149-[149 153 157 161] | 44-[36 40 44 48] |
Table 1: Channels in use
The numbers in brackets [ ] indicate all channels used for 40 or 80 MHz bandwidth. Google WiFi's single 2.4 GHz number indicates 20 MHz bandwidth.
Capacity
I have long wrestled with trying to come up with a way to measure the capacity of Wi-Fi networks. This is becoming more urgent as more Wi-Fi devices compete for bandwidth on even modest home networks. So while Wi-Fi marketeers continue to flog the dead horse that Wi-Fi "class" (aka the big number on the box) has become to promote their wares, the real battle is moving to how efficiently Wi-Fi routers and Systems squeeze every available bit of bandwidth out of the airtime they have.
My first cut at assessing Wi-Fi system capacity is very simple, using three 2×2 AC clients, one connected to each node of three node systems. Traffic is then run to all three clients simultaneously and throughput measured for each traffic pair. For two node router/extender systems like Orbi, one client is connected to the router and two are connected to the satellite.
I considered different band/node assignments and settled on 2.4 GHz for the root node and 5 GHz for the others. I first tried associating a 5 GHz client to the root node, but found it just about choked off bandwidth to other system nodes, which wasn't a very interesting test.
As I've said a few times, backhaul management is key for good Wi-Fi System design. But so is the ability to manage how much bandwidth is allocated to backhaul vs. fronthaul (devices). My 5 GHz-on-the-root-node test showed fronthaul/backhaul bandwidth assignment isn't being done on current designs. Orbi doesn't count, because it has dedicated backhaul.
The Capacity bar chart shows total throughput for the three test clients in each direction. The surprise here is the Orbi RBK30 wallplug beat out the RBK40 desktop model.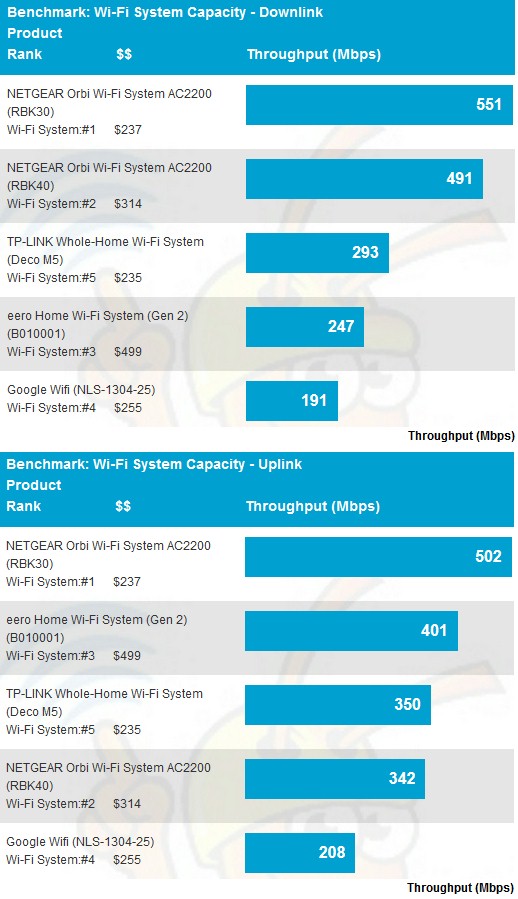 Wi-Fi System Capacity
Looking at the results for each test case shows why. On downlink, the RBK30 (black bar) did better than the RBK40 (green bar) in Test Case C. This test does not apply additional attenuation for the C test case for router/extender products. All clients are associated with 0 dB attenuation, ensuring maximum load on the associated node.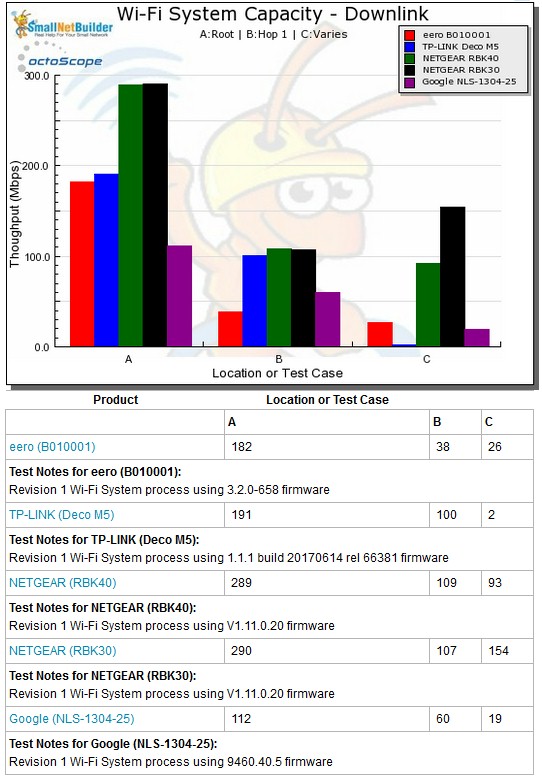 Wi-Fi System Capacity by Test Case – downlink
Uplink detail shows even more of a throughput advantage for the Orbi wallplug. The important thing to observe in this test is how little throughput is left for the Hop 2 node for eero, Deco and GWiFi. There's also a pretty good drop between root and Hop 1. It doesn't look like much fronthaul/backhaul balancing is happening in these systems. Each client takes whatever it can at each node.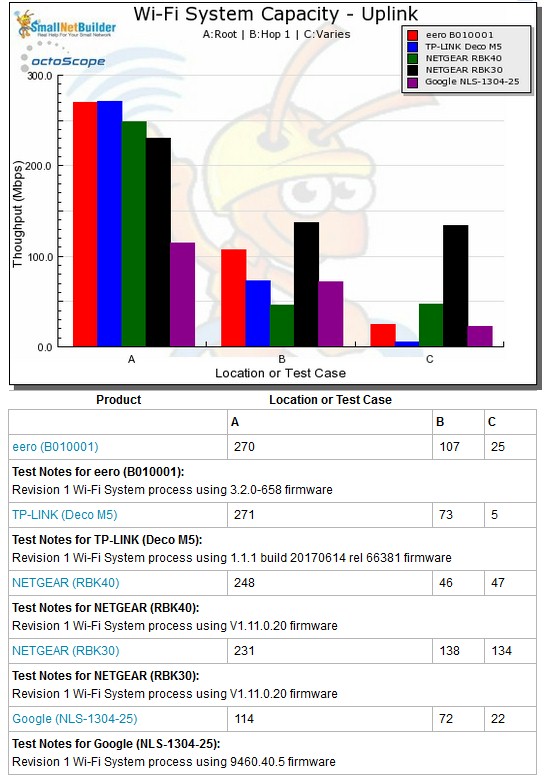 Wi-Fi System Capacity by Test Case – uplink
Capacity – more
We can also see if throughput changes over the course of this 30 minute test. This data isn't available in the Charts, but here's a little taste. First Orbi mini wallplug. Aside from the periodic glitches in root node throughput, each client gets pretty steady, although different throughput.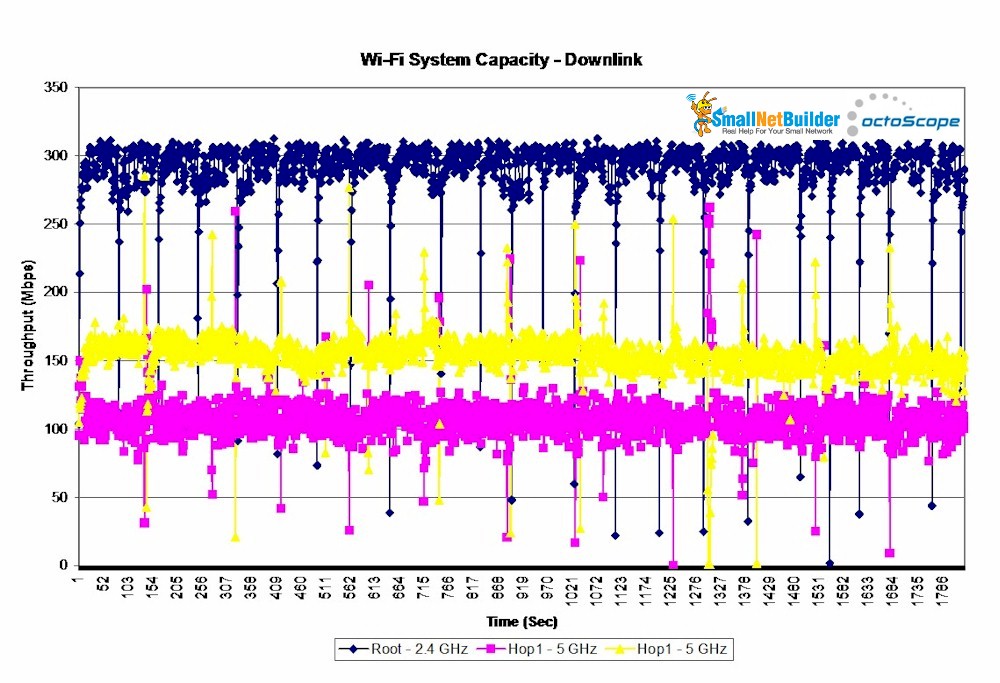 Wi-Fi System Capacity – Downlink – Orbi mini wallplug
The two 5 GHz clients appear to be battling for throughput in the Orbi mini desktop run, which is reflected in its lower total values in the Charts.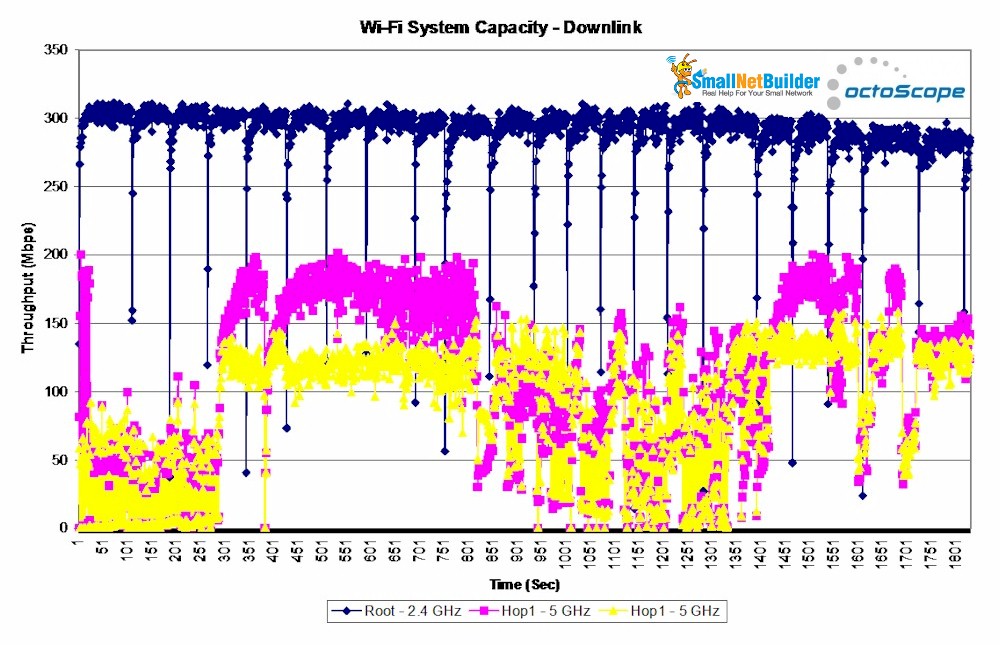 Wi-Fi System Capacity – Downlink – Orbi mini desktop
Here's how eero Gen2 fared…
Wi-Fi System Capacity – Downlink – eero Gen 2
…TP-Link Deco M5…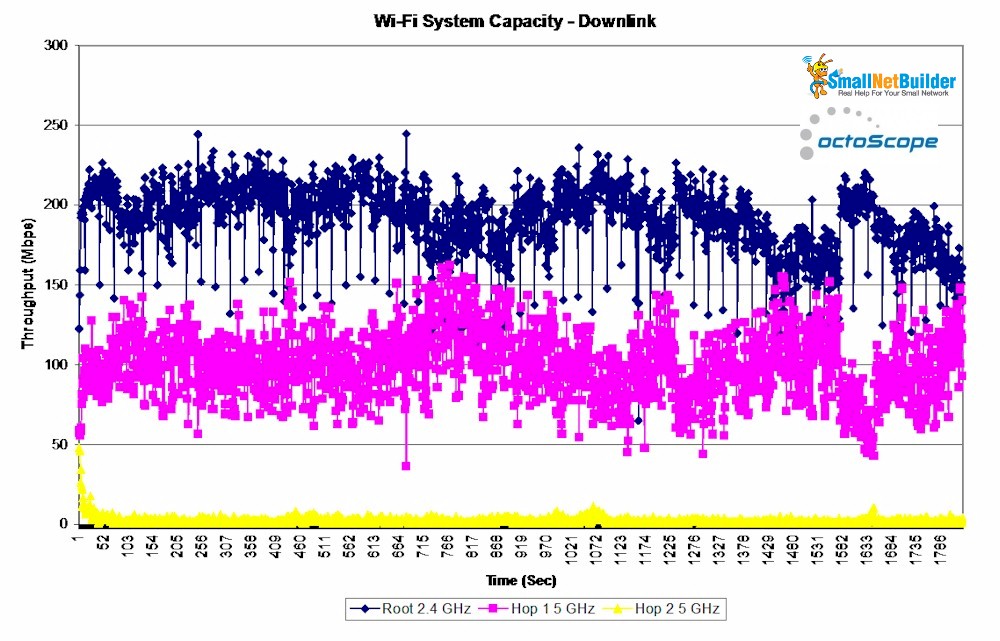 Wi-Fi System Capacity – Downlink – TP-Link Deco M5
…and finally Google Wi-Fi. In general, it doesn't look like any system tweaks are made during this test. That's perhaps to be expected, since there is no break in traffic.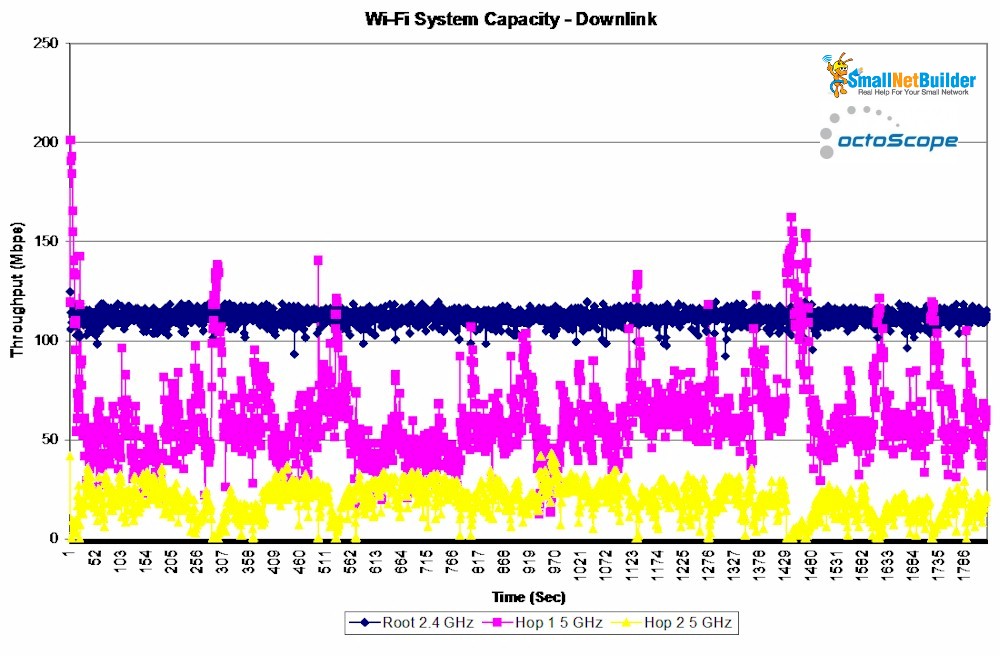 Wi-Fi System Capacity – Downlink – Google Wi-Fi
Routing Performance
Wi-Fi Systems also function as routers, of course. The simple iperf3 WAN to LAN and LAN to WAN throughput tests all came in over 900 Mbps, except for Orbi mini, which dropped to 529 Mbps for LAN to WAN. I don't know why.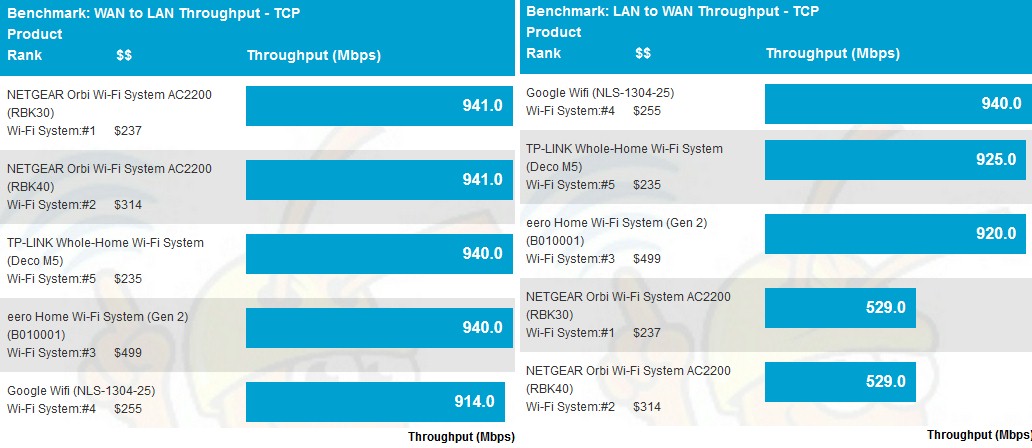 Routing throughput – iperf3 method
The HTTP test method is better at showing performance differences under load. This benchmark downloads four different size image files with 2K concurrent connections. TP-Link's Deco fared the worst with the smaller file sizes.But eero Gen 2 and Google Wi-Fi distinguished themselves on the larger sizes.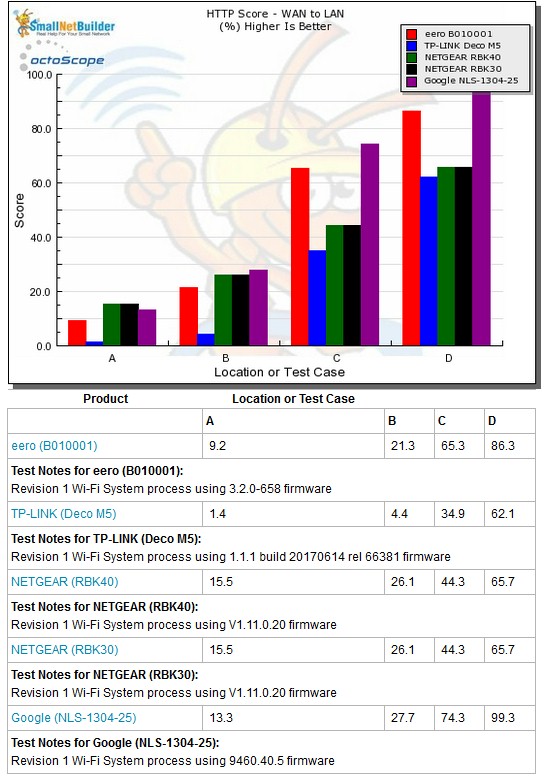 Routing throughput – HTTP Score comparison – WAN to LAN
Plot key file size: [A] 2 KB, [B] 10 KB, [C] 108 KB and [D] 759 KB file
The results are pretty much the same for uplink.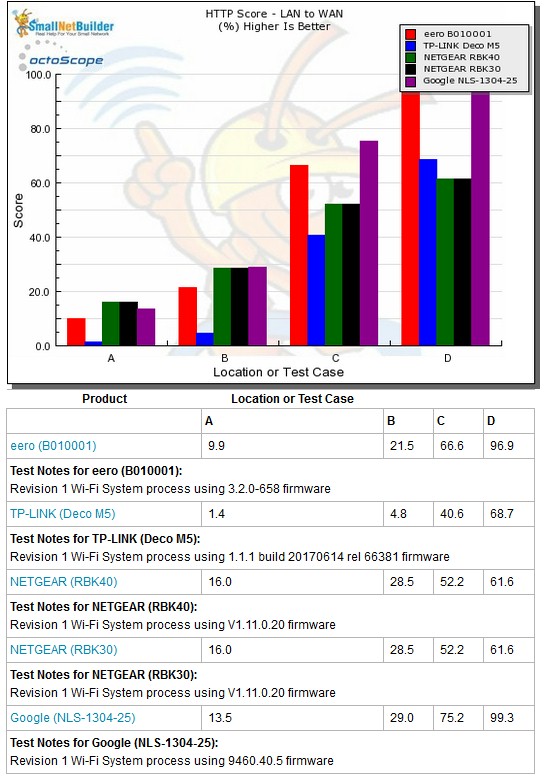 Routing throughput – HTTP Score comparison – LAN to WAN
Plot key file size: [A] 2 KB, [B] 10 KB, [C] 108 KB and [D] 759 KB file
Closing Thoughts
So with all that data, how the heck are you supposed to pick a winner? Fortunately, now that Wi-Fi Systems are in the Charts, the Wi-Fi System Ranker comes to the rescue! It's no surprise Orbi came out on top, but not the way I would have expected. Most likely due to its better showing in the Capacity test, the RBK30 wallplug kit beat the RBK40 desktop. The other surprise is that Google WiFi beat TP-Link's Deco M5, despite being hobbled by using 20 MHz bandwidth in 2.4 GHz.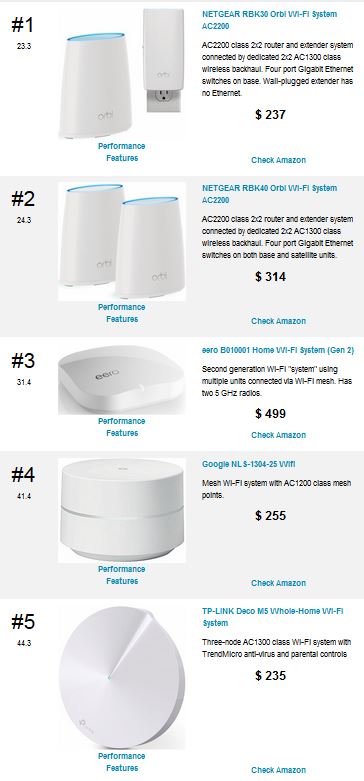 Wi-Fi System Ranker results
The Ranker Performance Summary detail shows GWiFi's edge came from higher 5 GHz RvR (throughput vs. attenuation) and Routing sub-ranks.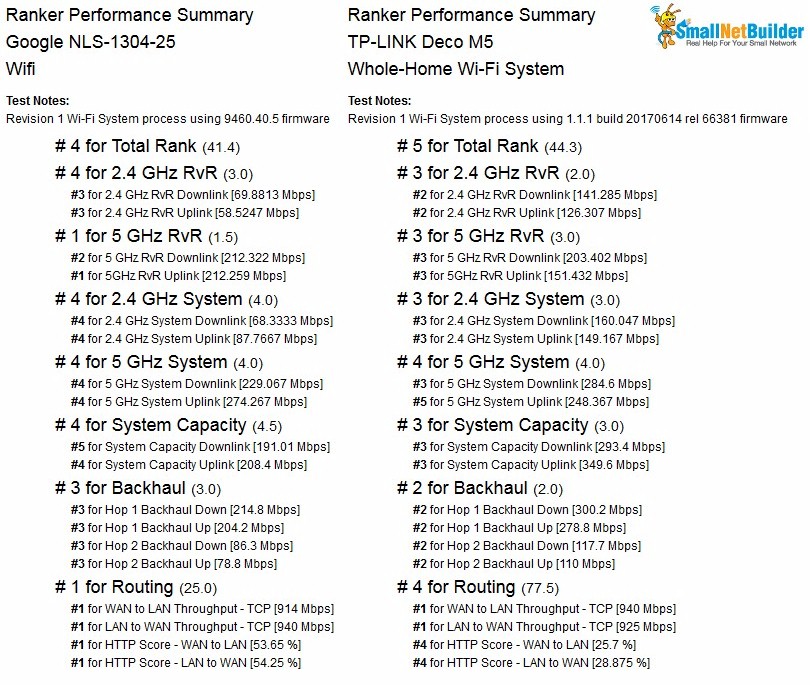 Wi-Fi System Ranker Performance Summary – GWiFi & TP-Link Deco M5
You'll notice I haven't awarded a #1 performance award and won't until I get all the products that have been waiting patiently for review and a few more of the original crop retested, too. In the meantime, if you've been waiting for our verdict before buying a Wi-Fi System, it looks like Orbi remains my recommendation, whether you buy the original RBK50 or one of the "minis".