Update 2 D-Link is trying to beat the CES rush with announcements of new home entertainment and monitoring products, a " 600 Mbps" dual-band N bridge/AP and single-bay 2.5 " SATA BYOD NAS.

In home entertainment, D-Link will be showing the Boxee Box media player revealed last month.
Also being introduced is the Pebble, a small media player for music, photos and video content with 802.11n wireless and Ethernet connections.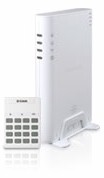 Home monitoring offerings include the Home Monitoring and Home Energy Monitoring Starter Kits. The Home Monitor enables remote monitoring of various wireless home sensors via the mydlink.com portal or text, email and voice-call alerts.
The Energy Monitor links to the Home Monitor and can be used to monitor and control power consumption of household appliances.
1/5/2010 Update: The kit is equipped with two power-usage sensor adapters, which automatically upload energy consumption data to users' personal mydlink.com account. There, real-time power usage levels, daily, weekly and monthly breakdowns, cost conversions and graphical analysis are available
Also in the home monitoring group is the 3G Door Phone. It has a built-in fixed focus 0.1 megapixel CMOS camera, which can stream captured images to a PC or 3G mobile device.
In wireless networking, D-Link is introducing the Xtreme N 600 Duo HD MediaBridge kit (now dubbed the "Rush" / DAP-1560). The Rush appears to be a four-stream (600 Mbps max. link rate), single radio, dual-band AP/bridge.
The D-Link Touch (DIR-865) could be the reincarnation of the Xtreme N 450 Dual Band Router announced at last year's CES, but which never shipped. This new offering is a three-stream dual-band, dual radio N router, with a 3" touch screen for setup and monitoring.

The third wireless offering is the Wireless N Pocket Router. It can be used as a router or AP and includes SharePort USB device sharing.
The last new wireless product is the Powerline 11n Wi-Fi Router that adds powerline networking connectivity to an 11n router. D-Link didn't say which powerline standard is used.
As part of its 2010 networking offerings, D-Link will be featuring a new mydlink.com "digital home" portal, perhaps to replace the d-life.com portal and products introduced at CES 2008. The Home Monitoring products mentioned above use this new portal.
Also being rolled out is a new NetEasy software program "designed to improve the complete user experience" for D-Link networking products. This looks like D-Link's version of Cisco / Linksys' Network Magic and is also said to "decrease[s] the user's need to obtain technical support by offering proactive troubleshooting".
Not so much a networking offering, D-Link will nonetheless be introducing a "full line" of USB 3.0 peripherals, including 4- and 7-port USB hubs and adapters.
Finally, the first new NAS from D-Link in over two years, the One-Bay Portable NAS will join the company's popular DNS-323 and DNS-343 two and four-bay products, offering single 2.5" SATA drive bay.
As is D-Link's custom, pricing and availability information for all the announcements was not announced and isn't yet available. A quick check of the FCC ID database, however, turned up only the Wireless N Pocket Router. So shipments of the other wireless products announced are probably not imminent. We'll update this article as the information becomes available.
1/5/2010 Update: The D-Link Home Monitoring Starter Kit with a MSRP of $149.99, the D-Link Home Energy Monitoring Starter Kit at $99.99 MSRP, and the D-Link 3G Door Phone priced at $199.99 MSRP are expected to be available in 2Q of this year.
1/6/2010 Update:
– Pebble availability is "first half 2010" with an MSRP of $199.99.
– Availability is "first half 2010" and no pricing set for the Rush, Touch and Wireless N Pocket Router.