Cisco today announced the expansion of its Linksys Smart Wi-Fi family with three new draft 802.11ac powered Linksys Smart Wi-Fi Routers, a new compact 802.11ac USB adapter, new features and new Smart Wi-Fi apps.
The three routers demonstrate the variety that is starting to appear in draft 11ac routers. The EA6700 HD Video Pro pictured below is a simultaneous dual-band "AC1750" with maximum link rates of 1300 Mbps for the 5 GHz radio and 450 Mbps for the 2.4 GHz radio. This is basically an EA6500 [reviewed], with two USB 3.0 ports replacing dual USB 2.0 ports. Although the EA6700 is very similar, Linksys says the EA6500 will remain in the Smart Wi-Fi router portfolio.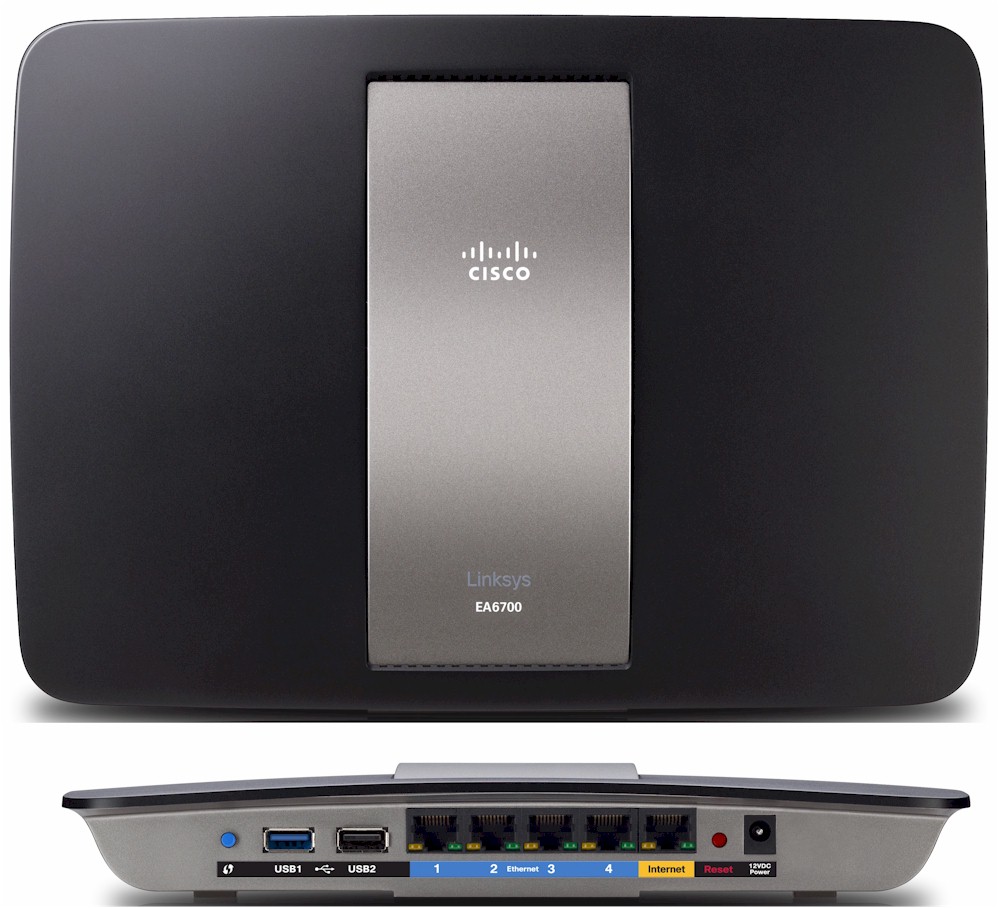 Linksys EA6700
The EA6400 Video Enthusiast keeps the maximum link rate of 1300 Mbps for the 5 GHz radio and drops the 2.4 GHz radio to 300 Mbps (AC1600). The entry-level EA6300 Advanced Multimedia model has a dual-stream draft 11ac 5 GHz radio, which drops the maximum link rate to 867 Mbps, with a 300 Mbps maximum link rate 2.4 GHz radio (AC1200).
All three routers have Gigabit Ethernet WAN (1) and LAN (4) ports and one or two USB 3.0 ports for storage sharing, depending on model. Linksys says the radios in all three use beamforming to help enhance range. But until clients start supporting the new draft 802.11ac beamforming standard, most users won't see any benefit from it.
Buyers who could see a beamforming benefit are those who buy the new Linksys AE6000 USB Wi-Fi Adapter (AC 580). If we're doing the math correctly, this is a single-stream adapter with maximum link rate of 150 Mbps when switched to the 2.4 GHz band and 433 Mbps when switched to 5 GHz. So its performance should give us an idea of what to expect if Apple adds draft 11ac radios to some of its products this year (rumor). The adapter is USB 2.0, not 3.0, by the way.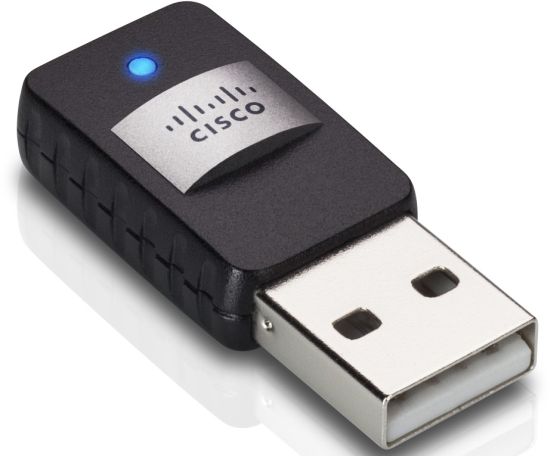 Linksys AE6000
To enhance the intelligence of its "Smart" routers, Linksys is adding a "smart network map", making sure all its Smart Wi-Fi routers can be installed without needing to run a CD and including the SimpleTap easy device connection NFC card introduced with its EA6500.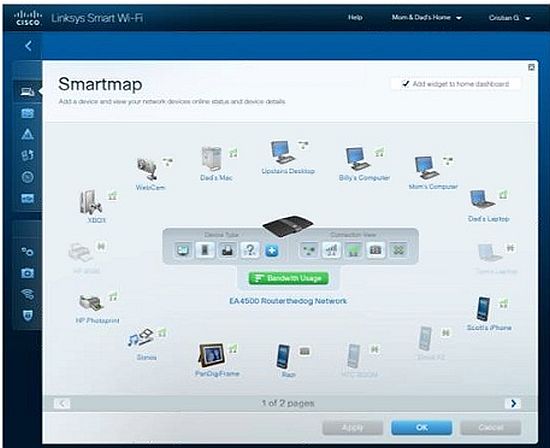 Linksys SmartMap
The stable of apps for Linksys' smarty routers has remained the same since they were rolled out next year. But the four new apps are being unveiled at CES:
File Finch (Fresh Consulting): Personal cloud for remote file access.
Qnext for Facebook (Qnext Corp.): Facebook connector for files stored on your Smart Wi-Fi router
save@home (Xoriant): One click saves photos from your smart phone to your Smart Wi-Fi router
Cisco also listed HipPlay from Axentra as a new app, but HipPlay was released in the first batch of apps last year. Maybe this version will work better than the old one [reviewed].
Everything, including the new apps, are said to be shipping "this spring". Prices will be announced at that time. Perhaps by then we'll be able to stop using "Cisco" every time we reference Linksys.