Updated 1/8/13: Corrected part numbers
D-Link added to the growing pile of draft 802.11ac routers with the introduction of one "gaming" and two "cloud" routers.
The new routers come in AC1750 (DIR-868L Wireless AC1750 Dual-Band Gigabit Cloud Router), AC1300 (DGL-5500 Gaming Router) and AC1200 (DIR-860L Wireless AC1200 Dual-Band Gigabit Cloud Router) flavors, which gives them the maximum link rates on each band shown in our handy-dandy decoder table below.
Designation
2.4 GHz N Radio
Maximum Link Rate (Mbps)
5 GHz AC Radio
Maximum Link Rate (Mbps)
AC1750
450
1300
AC1600
300
1300
AC1300
450
867
AC1200
300
867
AC580
150
433
Table 1: Draft 802.11ac router type decoder
All the new routers come in the cylindrical format shown in the photo of the top-end DIR-868L Wireless AC1750 Dual Band Gigabit Cloud Router below.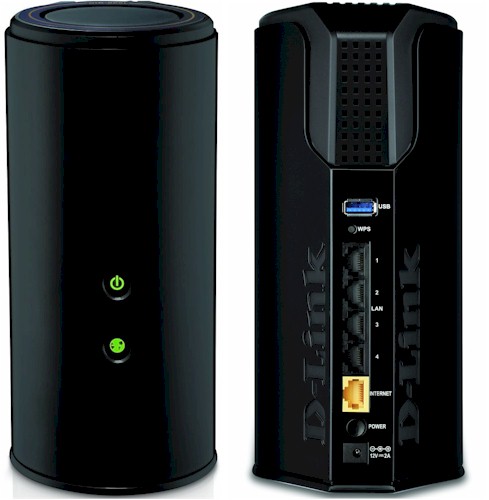 D-Link DIR-868L Wireless AC1750 Dual-Band Gigabit Cloud Router
In fact, all three routers not only look the same, but they all have Gigabit WAN (1) and LAN (4) ports and one USB 3.0 port supporting D-Link's Shareport storage and printer sharing.
The Cloud Router duo support D-Link's mydlink cloud services that support remote file and media access via iOS and Android apps and any web browser.
A key difference is that the DGL-5500 uses the Qualcomm Atheros VIVE draft 11ac chipset announced last Friday. That's why D-Link has dubbed it a "gaming" router, a term it has historically applied to routers using Ubicom's StreamEngine technology.
Since the VIVE chipset touts its "StreamBoost" technology, D-Link has followed its tradition. It's also logical to assume that the two cloud routers use Broadcom chipsets since neither mentions StreamBoost.
Updated 1/11/13: The VIVE chipset uses automatic QoS technology based on Bigfoot Networks' technology, not Ubicom's.
MSRPs are $169.99 for the DIR-868L and $149.99 for the DIR-860L and both are said to be available this April. D-Link will announce pricing for the DGL-5500 Gaming Router when it hits the shelves in "late Spring" of this year.
IP Cameras
D-Link continues to crank out "cloudy" network cameras that work with its mydlink cloud service. The two latest additions are the DCS-931L Cloud Camera 1050 and DCS-933L Cloud Camera 1150 pictured below.
Both support 640×480, 320×240 and 160×120 resolution with fixed focus lenses, have built-in microphones and connect via 10/100 Ethernet or built-in 2.4 GHz 802.11bgn radio. The radio in both cams can also act as a wireless range extender.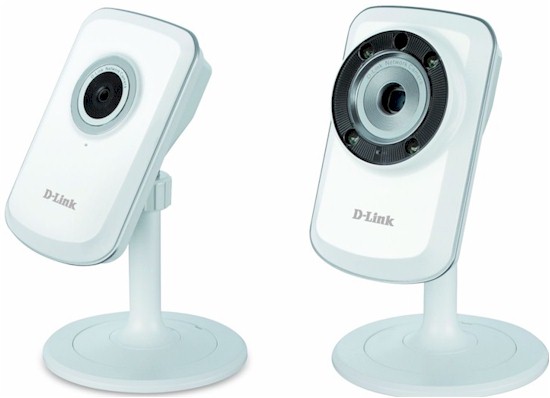 D-Link DCS-931L and DCS-933L Cloud cameras
The 933L includes IR illumination for in-the-dark viewing, but D-Link doesn't spec how far you'll be able to see. You can find out for yourself, though, when the DCS-931L and DCS-933L go on sale next month listing for $79.99 and $99.99, respectively.
SharePort Goes Again
D-Link apparently thinks its mini SharePort Go travel routers are popular enough to merit a new version. Hence, the DIR-508L SharePort Go II. This latest iteration continues the tradition and packs a lot of features into a more compact beastie than last year's DIR-506L SharePort Go [reviewed], that's about the size of a upsized PEZ™ dispenser.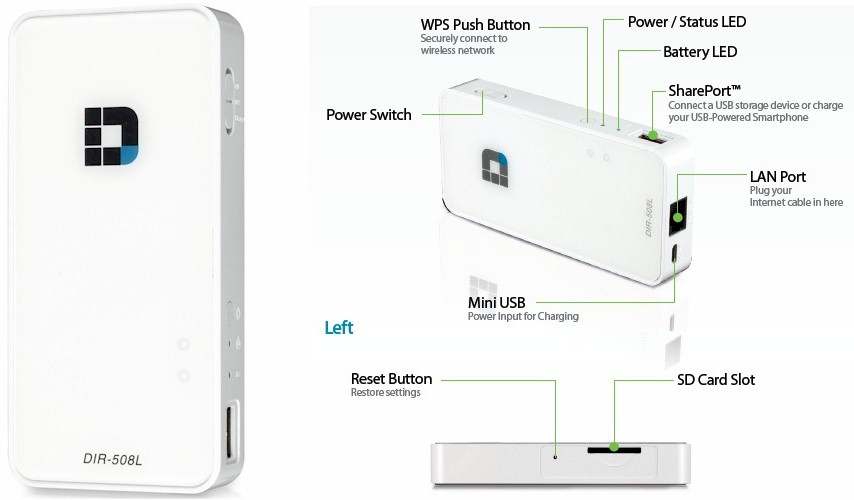 D-Link DIR-508L SharePort Go II
The II's stable of tricks include:
A USB 2.0 port for storage device connection or device charging
SD card slot for storage expansion and file serving
Portable N300 2.4 GHz router with hotspot, Access Point and repeater modes
Mini USB port for power
SharePort Mobile iOS and Android apps for tablets and smartphones
High capacity, 4000 mAh battery for up to 8 hours operation (2X the DIR-506L)
10/100 Ethernet port for LAN connection
The DIR-508L SharePort Go II will start sharing this April at a list price of $119.99.