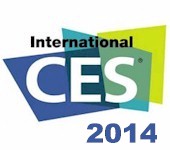 Amped Wireless' last CES 2014 announcement is an AC1200 class PCIe adapter.
The PCI20E High Power AC1200 Wi-Fi PCI-E Adapter is pretty much what its name implies. It's a 2×2 802.11ac adapter designed for a standard PCI-e x1 slot.
Its maximum link rates are 300 Mbps in 2.4 GHz and 867 Mbps in 5 GHz and it is spec'd at 500 mW transmit power.
Amped Wireless REC15A High Power Compact 802.11ac Wi-Fi Range Extender
The PCI20E is the first AC1200 adapter in this desktop format. ASUS' PCE-AC66 and PCE-AC68 are also PCI-e adapters, but are AC1750 and AC1900 class, respectively.
MSRP is $79.99 and it's available for pre-order today from Amped's website. Shipments start this quarter.