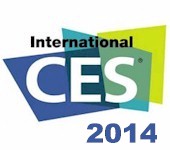 TRENDnet today announced two 802.11ac wireless IP cameras and a high-gain AC USB adapter.
The TV-IP782IC HD Wireless AC Cloud Camera and TV-IP882IC HD Wireless AC PTZ Cloud Camera both support 720p HD resolution, have IR illumination for night vision and can email motion-detected video clips.
Both also can record to a built-in micro SD card, include two-way audio and can be viewed remotely via TRENDnet's free cloud service.
Aside from minor differences in night vision range (5m for the TV-IP782IC and 7.5m for the TV-IP882IC), the key difference is remote controllable 330° side-to-side pan and 115° tilt in the PTZ model.
An important "feature" is that both cameras operate in the 5 GHz band only. TRENDnet's announcement phrased this as "…this line of cloud cameras, is not compatible with Wireless N networks. The listed cameras require the presence of a Wireless AC network…". A quick check with TRENDnet confirmed that the cameras can indeed work with dual-band N routers, but on the 5 GHz band only.
Both begin shipping in June at MSRPs of $149.99 and $249.99 for the TV-IP782IC and TV-IP882IC, respectively.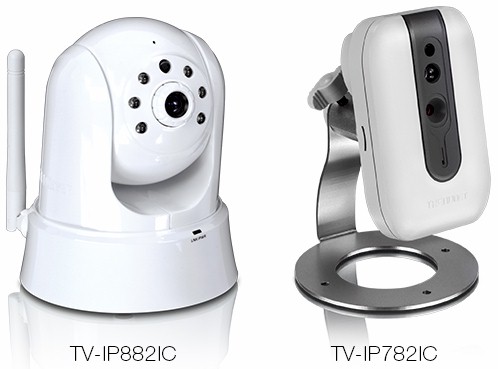 TRENDnet AC Cloud IP Cameras
A more straightforward introduction is the TEW-806UBH AC600 High Gain Wireless USB Adapter. It is an AC580 class USB 2.0 adapter with removable antenna that works with both Windows and MacOS and supports maximum link rates of 150 Mbps in 2.4 GHz and 433 Mbps in 5 GHz. Ships this March for $39.99 MSRP.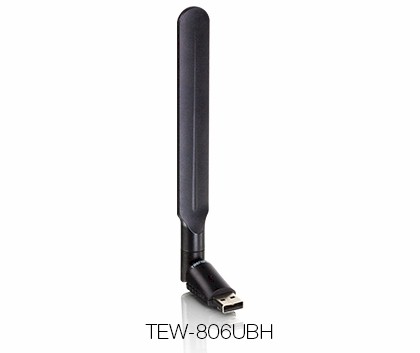 TRENDnet TEW-806UBH AC600 High Gain Wireless USB Adapter