For those who thought Linksys' back-to-the-future WRT1900AC was a one-shot deal, they'll need to think again. The company is introducing another WRT router, WRT NAS and higher gain antennas at CES.
The WRT1200AC is an AC1200 class router running on a 1.3 GHz dual-core Marvell Armada CPU. Like its WRT1900AC big brother, the WRT1200AC has Gigabit WAN (1) and switched LAN (4) ports, eSATA/USB 2.0 and USB 3.0 ports for storage and printer sharing and upgradable external dual-band antennas. It's "planned" ship date is April and will list for $179.99.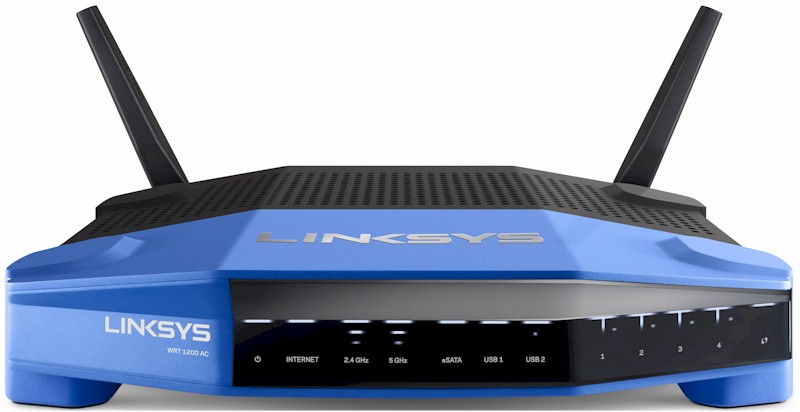 Linksys WRT1200AC
To extend the reach of both WRT routers, Linksys is adding a WRTANT7 High-Gain Dual Band antenna pack. Available only as a kit of four, the antennas have 7 dBi 5 GHz gain and 3 dBi on 2.4 GHz and attach via RP-SMA connectors. They'll ship sometime "this spring" and set you back $129.99 if you pay list.
If you were wondering whether you could ever add a NAS to your WRT stack, the WRT Network Storage is your answer. Its two bays accept 3.5" SATA drives configurable in RAID 1 or invidual volumes. Linksys isn't saying anything about processor or RAM size, but it has a single Gigabit Ethernet port and eSATA and USB 3.0 ports for external drives. Since you'll be supplying drives, the successor to the ol' NAS200 will set you back only $129.99 (MSRP) when it starts shipping "this spring".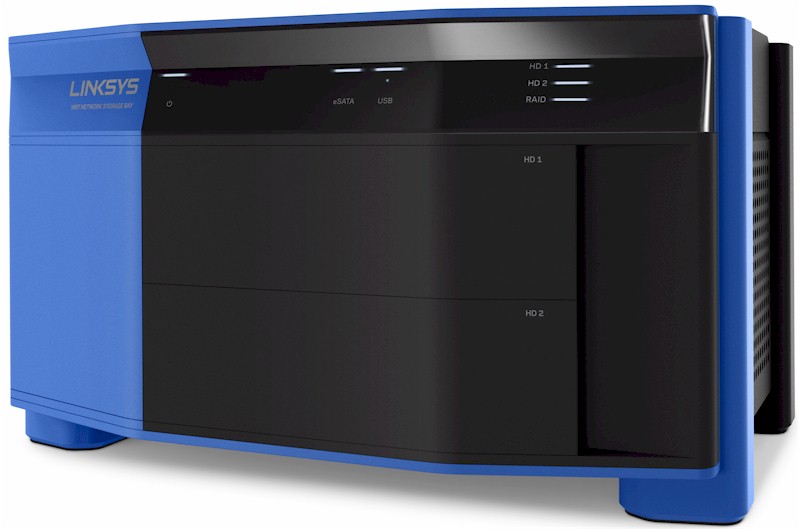 Linksys WRT Network Storage
Linksys has taken some heat, including from me, on its weak "Smart Wi-Fi" feature set that hasn't much changed since Linksys was still a part of Cisco. It's not much, but the announcement of the addition of OpenVPN and Wi-Fi scheduling features should make some owners happy. There are also enhancements to the Network Map, a "Wireless Widget" and "improved device identification" that will be rolling out via free firmware update(s) during Q1 2015.
While we're on the subject of firmware, Linksys' press release has the following to say about OpenWrt Support:
In collaboration with Marvell, Linksys is happy to announce that the open-source Wi-Fi driver for the WRT1900AC has been released to OpenWrt.
This driver has been incorporated into the latest open source firmware image snapshot, available here (Command line interface experience recommended):

https://downloads.openwrt.org/snapshots/trunk/mvebu/openwrt-mvebu-armada-xp-mamba-squashfs-factory.img

This is an initial release, with plans to send the driver to the upstream Linux kernel after refinement.

Full open source firmware is planned to be available for the WRT1200AC router at time of release.
Given the ill will created by its poorly-executed rollout of OpenWrt for the WRT1900AC, I hope Linksys has its ducks properly lined up against that second paragraph above.
Moving on to other router news, those of you who bought the first round of 4×4 "MU-MIMO" ready routers may soon regret your purchases (and don't say I didn't warn you). Linksys is touting its new EA8500 AC2600 Dual Band 4×4 Router as the first "production" 4×4 AC MU-MIMO router. It is powered by a 1.4 GHz Qualcomm Snapdragon dual-core processor, has Gigabit Ethernet ports and one each eSATA, USB 2.0 and 3.0 ports.
I asked Linksys what they meant by "first", given the release of its E8350 AC2400 Dual-Band Gigabit Wi-Fi Router [reviewed] a few months ago. They said the EA8500 will be its first 4×4 AC router to ship with MU-MIMO enabled. Linksys wouldn't comment on when the E8350 will get its MU-MIMO feature enabled.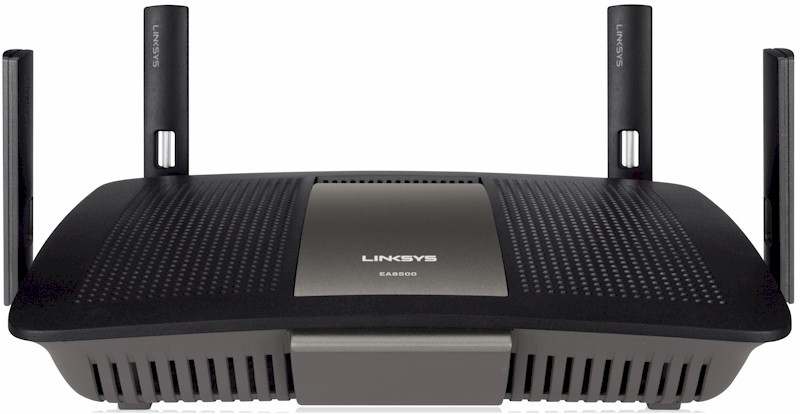 Linksys EA8500
The first round of AC2350 class 4×4 routers including NETGEAR's R7500, Linksys' E8350 and ASUS' RT-AC87U had 3×3 N radios providing a 600 Mbps maximum 2.4 GHz link rate by using 256-QAM modulation—the same as AC1900 class routers. This new crop (you'll be seeing others announced shortly) appear to have 4×4 N radios, also implementing 256-QAM modulation, bumping the maximum 2.4 GHz link rate up to 800 Mbps. Adding the 1733 Mbps maximum 5 GHz link rate and generously rounding yields the AC2600 classing.
Wireless extenders continue to be big business for consumer networking product makers, so Linksys is adding two new models. The RE4100W N600 Wi-Fi Range Extender's name pretty much describes it. Other salient features are its wall-wart form factor that doesn't block the second outlet in a standard U.S. duplex, simultaneous dual-band range extension and "Cross-Band" technology that receives on one band and transmits on the other.
It also has a 10/100 Ethernet port for wired device connection and 3.5mm audio output jack for streaming from DLNA sources. It starts shipping this month for $79.99 MSRP.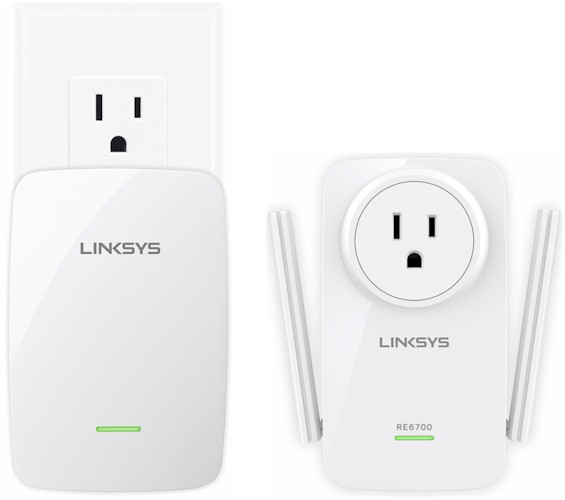 Linksys RE4100W & RE6700 Wireless Range Extenders
The RE6700 AC1200 Dual Band High-Power Wi-Fi Range Extender has all the RE4100W's features, but supports 867 Mbps 5 GHz maximum link rates vs. the RE4100W's 300 Mbps and has one Gigabit Ethernet port vs. 10/100. It's also jazzed up with a pass-through AC outlet and external (non-removable) antennas. It starts shipping in April for $119.99 MSRP.