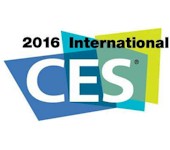 NETGEAR's CES 2016 announcements include a mix of wireless routers, extenders and combo powerline products.
Routers
Originally outed in May via an FCC filing, NETGEAR has made the R7800 Nighthawk X4S AC2600 Smart WiFi Router official. This is a full AC2600 class 4×4 router supporting maximum link rates of 800 Mbps in 2.4 GHz and 1733 Mbps in 5 GHz with devices capable of supporting those rates. It also earned a CES 2016 Innovation Award.
There are no disclaimers regarding MU-MIMO, so the feature will be enabled when it hits stores. The main twist in NETGEAR's announcement is the claim that the R7800 supports 160 MHz bandwidth (in two blocks of 80 MHz). It also looks like there's a processor upgrade, from the usual 1.4 GHz dual-core to 1.7 GHz dual-core.
If all four streams are used, this should enable a maximum 5 GHz link rate of 3467 Mbps according to the 802.11n/ac MCS table. But NETGEAR is making no such claim for the router. Instead, the company said 160 MHz bandwidth will enable 160 MHz capable 1×1 and 2×2 devices to double maximum 5 GHz link rates. Maximum 1×1 rates increase from 433 Mbps to 867 Mbps, the same as a 2×2 device with normal 802.11ac 80 MHz bandwidth. Maximum 2×2 device link rates increase from 867 Mbps to 1733 Mbps, the same as a 4×4 11ac devices with 80 MHz bandwidth.
Like MU-MIMO, 160 MHz bandwidth support is required both in router / AP and client device. 160 MHz devices can also support MU-MIMO.
The R7800's other features are similar to other Nighthawk series routers including Gigabit Ethernet ports (1 WAN, 4 switched LAN), dual USB 3.0 and one eSATA port, dynamic QoS, OpenVPN ReadySHARE Vault and other USB storage features as well as support for NETGEAR's genie iOS and Android apps.
The R7800 will be available shortly with a $269.99 MSRP.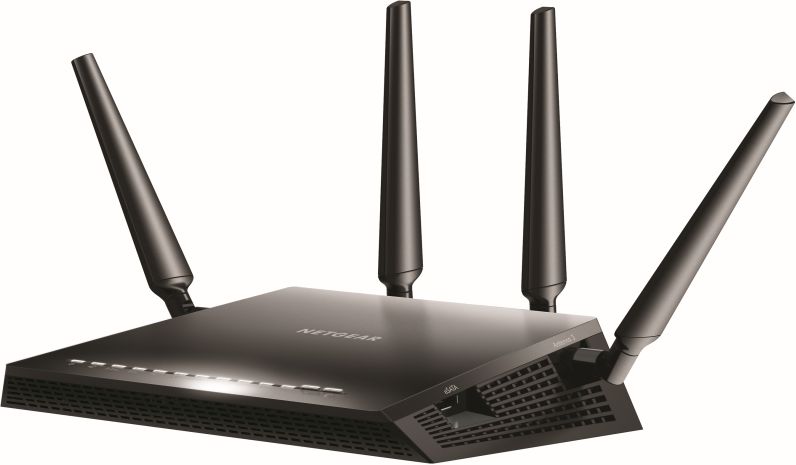 NETGEAR R7800 Nighthawk X4S AC2600 Smart WiFi Router
Joining the R7800 as CES 2016 Innovation Award winners are the previously-introduced R8500 Nighthawk X8 AC5300 Smart WiFi Router and C7000 Nighthawk AC1900 WiFi Cable Modem Router. The CM600 High Speed Cable Modem also picked up an Innovation Award.
In other Nighthawk news, NETGEAR said a new firmware release is planned "soon" that will directly support NETGEAR Arlo security cameras without requiring an Arlo base station. This will make it much easier (and cheaper!) to add Arlo cameras to a home network. The company also noted recently released new features including Smart Connect support for two-radio Nighthawks and support for the Kwilt iOS app for viewing and sharing photos from social media and Nighthawk-attached USB storage.
Rounding out router announcements is the C6250 AC1600 WiFi Cable Modem Router. It combines a 16×4 CableLabs-certified DOCSIS 3.0 cable modem capable of 640 Mbps downlink throughput with an AC1600 class wireless router supporting maximum link rates of 300 Mbps in 2.4 GHz and 1300 Mbps in 5 GHz. If you're a Comcast XFINITY subscriber, NETGEAR says you can install the C6250 without a service call.
Other features include two switched Gigabit Ethernet LAN ports, ReadySHARE USB 2.0 port and genie app support. The C6250 is "coming soon", listing for $169.99.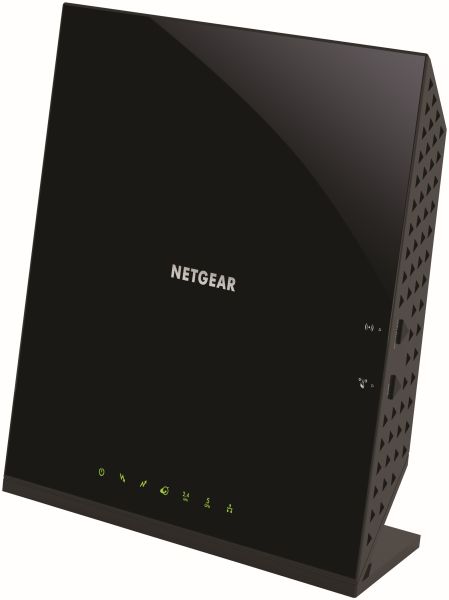 NETGEAR C6250 AC1600 WiFi Cable Modem Router
Extenders
This CES brings two new wireless extenders, the EX7300 Nighthawk X4 AC2200 WiFi Range Extender and EX6400 AC1900 WiFi Range Extender. NETGEAR had to create a new class for the EX7300—AC2200—because it combines 4×4 MU-MIMO 5 GHz and 3×3 802.11n 2.4 GHz radios supporting maximum link rates of 1733 Mbps and 450 Mbps, respectively. The 5 GHz radio also supports MU-MIMO both from a MU-MIMO router being extended and from the EX7300 to MU-MIMO enabled devices.
The EX6400 is the first AC1900 class wall-plugged Wi-Fi Extender, supporting maximum link rates of 1300 Mbps in 5 GHz and 600 Mbps in 2.4 GHz.
Both extenders have the same wall-plugged form factor and share a common feature set including a Gigabit Ethernet port to connect hardwired devices in extender mode and provide network connection in access point mode. Smart LEDs also aids in optimum placement and FastLane technology manages intelligent backhaul connection selection.
Both are on the way to retailers now, at MSRPs of $169.99 for the EX7300 and $139.99 for the EX6400.

NETGEAR EX7300 Nighthawk X4 AC2200 WiFi Range Extender
Sometimes getting your wireless network where it needs to go takes some extra help, which is a job for the PLW1000 PowerLINE WiFi 1000 Adapter Kit. The PLW1000 uses "1000 Mbps" HomePlug AV2-SISO powerline to connect its wall-plugged access point back to the router being extended. This can provide higher bandwidth and reliability in challenging wireless environments than extenders that use a wireless connection back to the main router.
NETGEAR's announcement didn't provide any specs for the access point portion, other than it is 802.11ac and has two antennas. But our guess is AC1200 class. The PLW1000 is a significant step up from NETGEAR's previous combination powerline / Wi-Fi extenders that use HomePlug AV 500 powerline to connect to a 2.4 GHz only N300 access point.
The PowerLINE WiFi 1000 Kit has an MSRP of $119.99 and will be in stores shortly. A kit of two of the powerline adapters in the PLW1000 is also available shortly as the PL1000 Powerline 1000 Adapter Kit for $69.99 MSRP.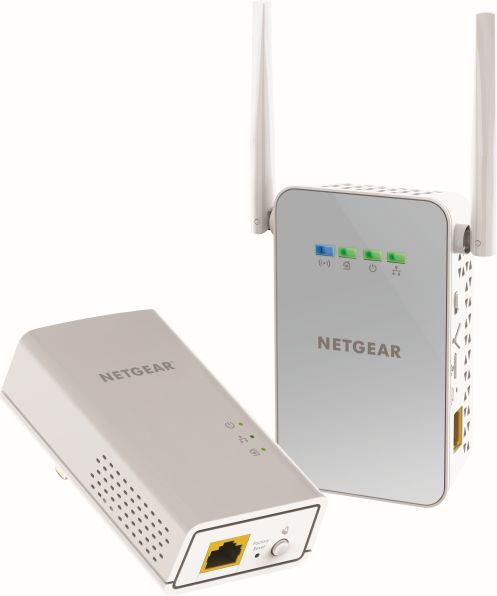 NETGEAR PLW1000 PowerLINE WiFi 1000 Adapter Kit
Finally, NETGEAR also let us know its VMC3040 Arlo Q 1080p HD Security Camera with Audio announced in November has started to ship.