Amped Wireless' CES 2017 announcement focused on its RE2200T HELIOS-EX High Power Tri-Band AC2200 Wi-Fi Range Extender with DirectLink. This tri-band extender is a 2×2 design with one 2.4 and two 5 GHz band radios. This makes it the second three radio "AC2200" product introduced at CES 2017, closely following Linksys' Velop reveal about an hour ago.
Amped is likely focusing on the HELIOS-EX because it won a CES Innovations award, which is a good get for Amped. But when combined with its router version, the RTA2200T HELIOS High Power Tri-Band AC2200 Wi-Fi Router, the pair may just have given Amped's ALLY some strong competition.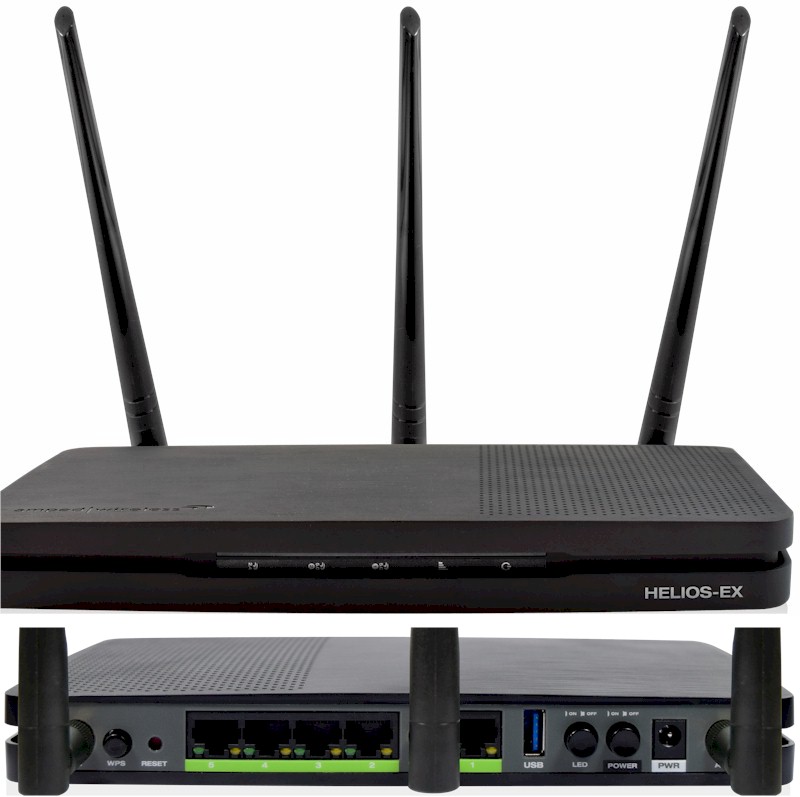 Amped Wireless HELIOS-EX High Power AC2200 Tri-Band Wi-Fi Range Extender
This is because with a separate 5 GHz radio for backhaul, the combination of HELIOS and HELIOS-EX could well produce better extended throughput than ALLY, which must share its 2.4 and 5 GHz radios between backhaul and client connections.
Granted, ALLY's router and extender are both 3×3 AC1900 class (600 Mbps in 2.4 GHz, 1300 Mbps in 5 GHz) and HELIOS radios are 2×2 AC1300 (400 Mbps in 2.4 GHz, 867 Mbps in 5 GHz). But since most devices are 2×2 at best, they can't take advantage of ALLY's higher link rates anyway.
Nonetheless, both HELIOS and HELIOS-EX support MU-MIMO and have five Gigabit Ethernet ports (one WAN, 4 switched LAN in the router and all five for LAN in the extender) and one USB 3.0 port that supports storage and printer sharing. Amped has endowed both with its usual full complement of transmit power and low noise receive amplifiers (14 in total, if you're counting). But they've made the odd choice of sticking one of the four antennas inside.
Amped says HELIOS-EX will work with any router to provide range extension. But when it is paired with the HELIOS router, they are said to use "DirectLink technology" so the connection between the two is always via one of the two 5 GHz radios.
Both will list for $179.99 when they hit stores later this quarter. HELIOS-EX will be out by "late February" with the HELIOS router following "end of Q1 2017".