Updated – Linksys unvelied its Velop Whole Home Wi-Fi system early today to get out in front of the crush of CES 2017 news. The company describes Velop™ as an tri-band AC2200 MU-MIMO system using a "quad-core ARM Cortex-A7 processor". But Linksys needn't be so coy; Velop is most likely powered by the same Qualcomm technology used in all the other mesh systems to date.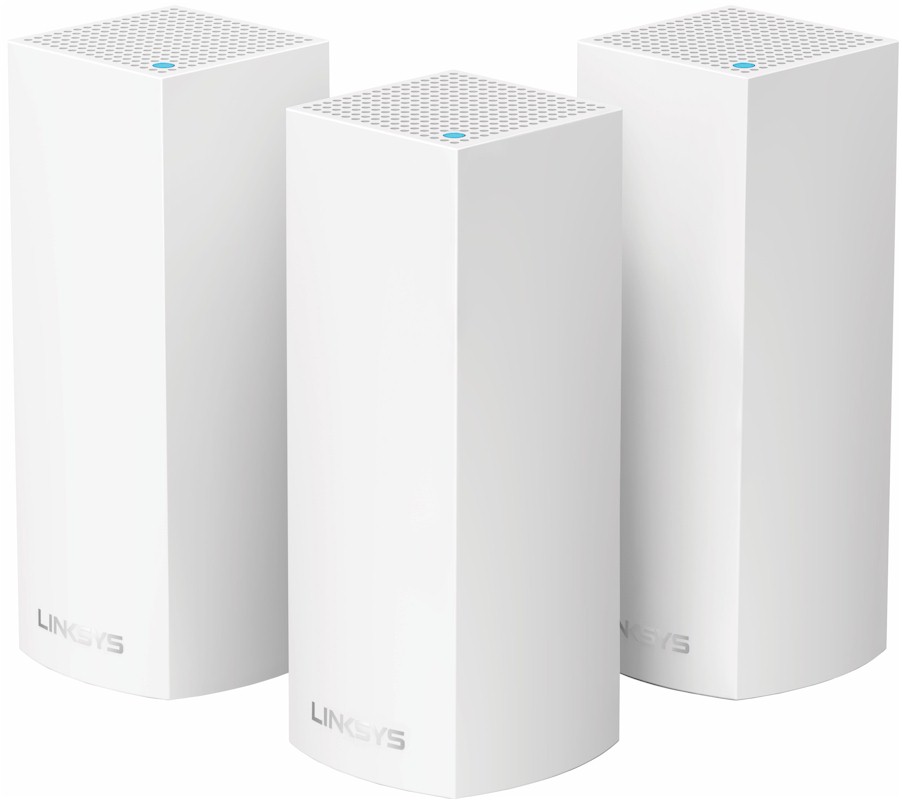 Linksys Velop Whole Home Wi-Fi
The AC2200 classification (400 MHz @ 2.4 GHz + 2 x 867 Mbps @ 5 GHz) and "tri-band" description mean Velop has two dedicated 5 GHz backhaul radios; one operating in the low band channels (36-48) and one in the high (149-165). So performance should be more like eero, which also has dedicated 5 GHz backhaul. (eero does not have a dedicated 5 GHz backhaul radio.) But Velop stands out from the three-pack AC1200 crowd by also supporting MU-MIMO. Each node can be connected via Wi-Fi or Ethernet.
Other niceties include patent-pending "Spot Finder Technology" to guide optimum placement, airtime fairness, load balancing, band steering and "seamless roaming" to keep all your devices playing together nicely.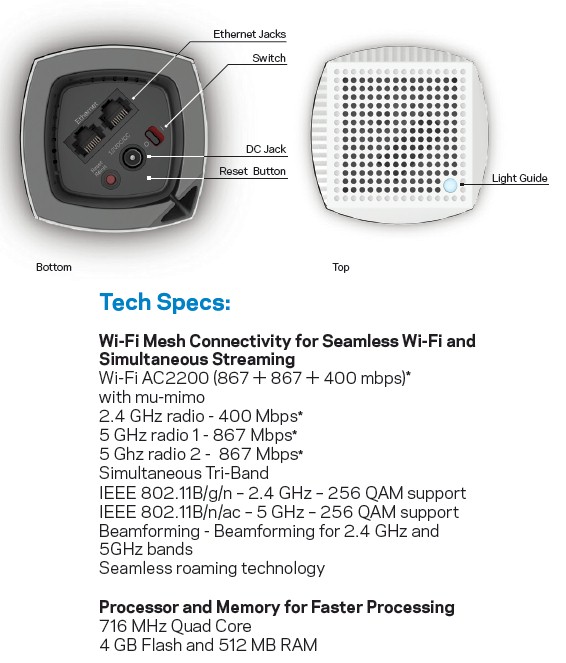 Linksys Velop Key Specs
As you might expect, Velop also has two Gigabit Ethernet ports and a Bluetooth 4.0/LE radio for communicating with its companion app for setup from either iOS or Android devices. Not mentioned by Linksys, but outed in its FCC test reports is a Zigbee radio lurking within, waiting to be activated in a future firmware relase.
Velop is also launching with Amazon Alexa skills for guest network enabling / disabling and requesting network access credentials for both main and guest networks.
Velop is shipping now with list pricing of $199.99, $349.99 and $499.99 for one, two and three-pack SKUs covered by a 3 year warranty.