For CES 2017, QNAP announced several new NASes ranging from personal to enterprise designs. But the company also waded into the wireless router market with its TGX-150.
QNAP calls it a NAS, but with Gigabit WAN (1) and LAN (4) ports and built-in 802.11ac Wi-Fi access point, you could be forgiven for thinking of it as a Wi-Fi router with a single 2.5" drive bay for hard drive or SSD storage. The TGX-150 runs on an Intel AnyWAN GRX750 dual-core (up to 2.5 GHz) NPU with 2 GB of DDR3 RAM, 512 MB of flash memory and one each USB 3.0 Type A and Type C ports.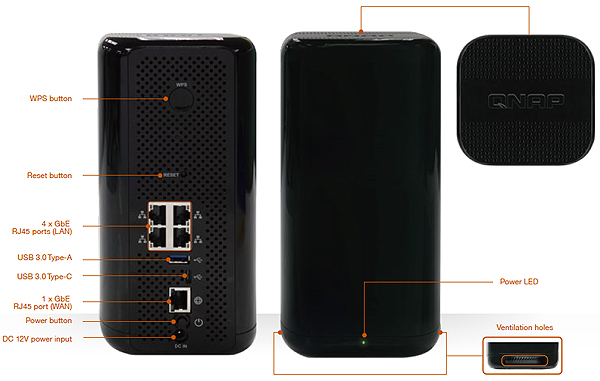 QNAP TGX-150
Moving on to pure NASes, the updated TS-453Bmini is 29% smaller than its predecessor. It's powered by a quad-core Celeron J3455 processor, available in 4 GB and 8 GB RAM models, and houses up to four 3.5"/2.5" HDDs/SSDs. Interfaces include two GbE ports, four USB 3.0 ports, one USB 2.0 port, and an HDMI interface. As a surveillance device, the TS-453Bmini supports up to 40 IP cameras, and as virtualization host, it can run Windows, Linux and UNIX VMs, and containers using its Container Station and Virtualization Station applications.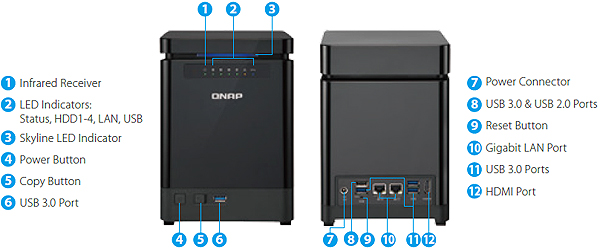 QNAP TS-453Bmini
QNAP is also adding two new Thunderbolt-based NAS product lines. One Thunderbolt-related feature QNAP is highlighting about these two new NAS lines is the T2E Convertor. Simply put, a network connected Thunderbolt NAS can now be used as a Gigabit or 10 GbE network adapter for computers plugged into its Thunderbolt ports.
The 8-port TVS-882ST will be available with models in both Thunderbolt 3 and Thunderbolt 2 categories, and with different options for CPU and memory. The new NAS will come in Core i7/16 GB RAM, Core i7/8 GB RAM and Core i5/8 GB RAM configurations, and will include two Thunderbolt ports, two USB 3.0, two USB 3.1 ports (1 x Type A and 1 x Type-C), two 10 GbE ports, two GbE ports, and one HDMI interface.

QNAP TVS-882ST
The other new Thunderbolt NAS is the twelve bay (8 x 2.5"/3.5" and 4 x 2.5") TVS-1282T3. Available in Core i5/16 GB RAM and Core i7/32 GB and 64 GB RAM versions, the TVS-1282T3 has four Thunderbolt connections (2 x Thunderbolt 3 and 2 x Thunderbolt 2), two GbE ports, two 10 GbE ports, and two M.2 slots.

QNAP TVS-1282T
The QNAP TVS-882BR is an 8-bay NAS with an expansion bay suited for one 5.25" or two slim sized optical drives. This new NAS is available in four different Intel powered sub-models, including TVS-882BRs with Core i3/8 GB RAM, Core i5/16 GB RAM, Core i7/32 GB RAM, or Core i7/64 GB RAM configurations. Additional interfaces include five USB 3.0 ports, four GbE ports and three HDMI interfaces. Two M.2 slots are also available for additional SATA storage, while three PCIe Gen 3 expansions slots can be used for additional networking, controllers, or NVMe SSDs.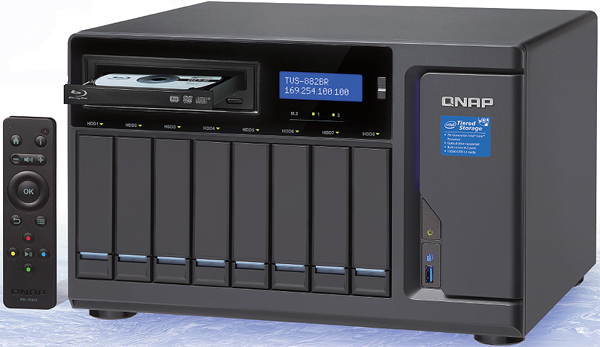 QNAP TVS-882BR
QNAP's new enterprise-class NAS, the TS-1685, gives businesses plenty of space with its twelve 3.5"bays, four 2.5" bays, and six M.2 slots. For networking, the TS-1685 also includes four GbE ports, two 10Gbe ports and, if needed it also has three PCIe expansion slots that can support additional network cards, as well as storage, graphics or USB 3.1 expansion cards.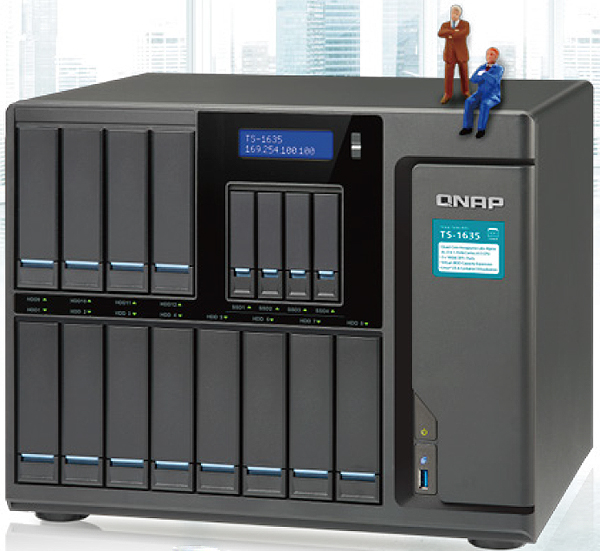 QNAP TS-1685
TS-1685 can get its horsepower from several supported Intel Xeon D processors and can handle up to 128 GB of DDR4 memory.
The TS-1685 runs QTS 4.3 and supports a variety of enterprise-class applications, including Qtier for SSD caches acceleration, virtualization and containerization for applications, centralized management of other QNAP NAS devices, and snapshots for data protection.
Details regarding pricing and availability for all these QNAP products have not been finalized yet.