The Norton Core Secure Router announced at CES 2017 this week is a 4×4 AC2600 MU-MIMO wireless router targeting the smart home crowd. Norton said the product is aimed at protecting networks using IoT devices, as well as the usual computers and mobile products.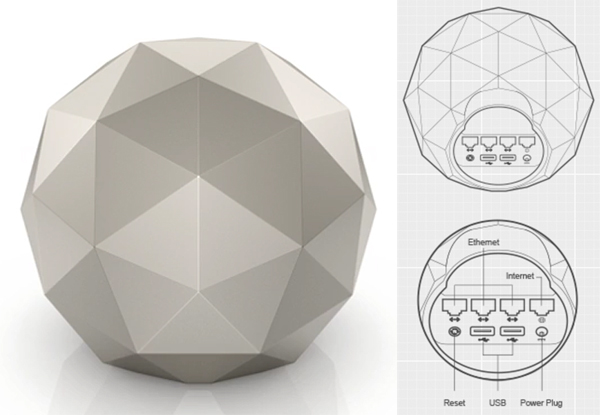 Norton Core Secure Router and rear layout
Powered by 1.7 GHz dual-core processor, the dual-band Norton Core comes with four gigabit Ethernet ports (three LAN and one WAN) and two USB 3.0 ports for wired connections, and Bluetooth LE for mobile communication. Core can also be managed using the Norton Core Mobile app, which lets the consumer make settings or security updates to the router remotely.
Security features include packet level detection for spam, virus, malware and intrusion threats, device quarantine, a security scoring system that shows how secure a network is, automatic updates that keep the router up to date, and schedulable secure guest access. Bundled with a year subscription of Norton Core Security Plus, the router can protect up to 20 PCs/Macs and Apple/Android mobile devices, and an unlimited number of IoT devices.
For those interested in parental controls, Norton Core also focuses on tools to keep children away from harmful content, including daily limits for internet use, pausing networking, and blocking unauthorized sites with a notification sent to the parents when triggered.
The Norton Core Secure Router will start shipping in the U.S. in summer 2017 and will have an MSRP of $279.99. However for a limited time, a special pre-sale price is set at $199.