Updated – CES 2018 was basically a big yawn for consumer networking. You could re-read my CES 2017 wrap and be pretty much up-to-date. But there are a few nuggets to pass along, so read on.
Waiting For 11ax
The biggest news is about what didn't appear: working 802.11ax routers.
As best I can tell from my talks with chip and router makers is that a lot depends on what happens in the May IEEE 802.11ax working group meeting. 11ax has failed to get the 75% majority required to pass on either of the first two drafts. The May meeting will attempt to resolve the over 3000 comments on Draft 2.0 and vote on Draft 3.0.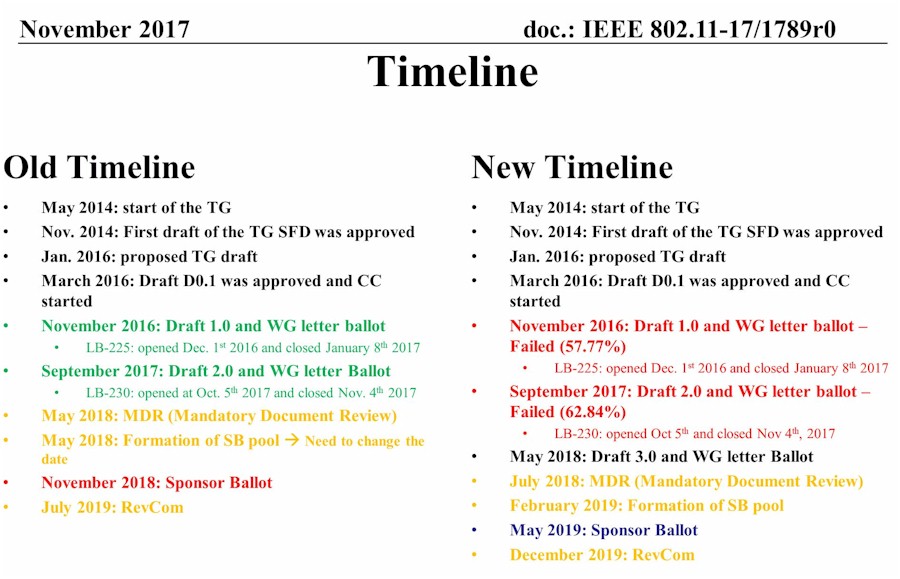 802.11ax timeline
If 11ax Draft 3.0 passes, it will be off to the races and someone will likely ship a router based on it, or perhaps Draft 2.0, by late summer/early fall if this year. But expect some sort of weasel words to indicate this the product is not a "released" 802.11ax product. This could be the usual "draft" designation, could be "802.11ax ready" or, if the industry somehow gets gripped by a case of conscience, it could even be "802.11ac+". ASUS is the most likely candidate to ship first, since they announced first and have a long history of not letting unfinished firmware get in the way of shipping product.
If 11ax Draft 3.0 fails, the above scenario could still happen, since lack of an approved standard hasn't stopped the forces in consumer Wi-Fi before. But it's likely most manufacturers will wait and perhaps CES 2019 will see the 11ax introductions I expected to see this year.
Mesh Moving Down Market, There Will Be Blood.
Typically, it takes a plucky band of innovators to wake up the incumbents and shake up the status quo. But it's a crapshoot whether the start-ups can survive and grow to be big oaks.
Wi-Fi Systems sales are dominated by (in order) NETGEAR Orbi, Google Wi-Fi and eero and Linksys Velop alternating in third and fourth places. If you're not one of these guys, it's a question of whether you have enough money or patience to stay in the market. This means single-product Wi-Fi system companies are on borrowed time and had better have dance partners lined up.
Plume has found their safe haven in Comcast and will likely exit the retail market sometime this year. eero has already gone through one RIF (based on the shutdown of a smart home project, I'm told). But, despite their relatively good market share position, they don't have a viable long-term business with only one product to sell.
Luma has been vewy, vewy, qwiet (apologies to Elmer Fudd) and I can't see them lasting the year. (Update 1/19/18 – Turns out they didn't last. First Alert quietly purchased Luma.) IDL's Portal was never really a Wi-Fi System play; DFS was their forté. Securifi will probably keep plugging along if they can successfully pivot to being a security system company.
Wi-Fi Systems – January 2018
Amped Wireless Ally
ASUS Lyra
D-Link Covr (extender)
D-Link Covr (mesh)
eero
First Alert Onelink Connect
Google Wifi
IDL Portal
Linksys Velop
Luma
Milo Wi-Fi System
NETGEAR Orbi
Plume
Securifi Almond 3
Tenda MW6
TP-Link Deco M5
Ubiquiti Amplifi
Ubiquti UniFi AC Mesh
WISVIVO AirMesh
Zyxel Multy
This leaves Amped, D-Link, TP-Link, Ubiquiti and Zyxel to battle it out for the scraps. But they will be joined by Milo, Tenda, WISVIVO and likely others that will drive prices way below the $90 per dual-band 2×2 mesh node floor that Google has established, with great success. A Milo three-pack is already down near $60/node; this likely is not the bottom.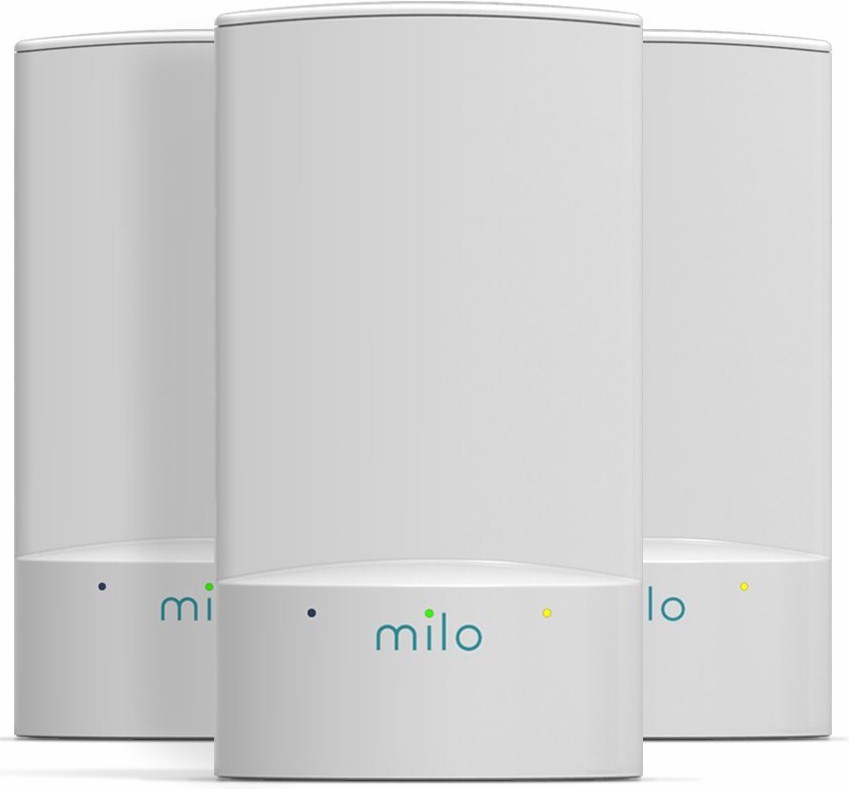 Milo Wi-Fi System 3 pack
In case it slipped by you in the list above, First Alert somehow decided fielding its own tri-band mesh Wi-Fi system was a good idea. The Onelink Connect was announced as a companion product to its Onelink Safe & Sound smoke/CO/smart speaker that also debuted at CES 2018. Connect will ship as a tri-pack Wi-Fi system, with three tri-band mesh nodes. Pricing hasn't been set and it won't ship until Q3. (Update 1/19/18 – As per the news above, this Onelink system will likely be developed by Luma's team.)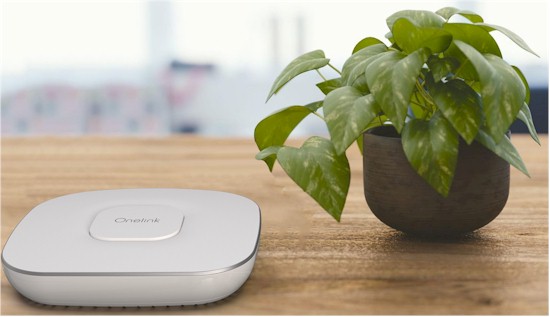 First Alert Onelink Connect Mesh Wi-Fi System
The Safe & Sound supports Amazon Alexa, Google Assistant and Apple HomeKit, or at least it will when it ships sometime in Q3. No pricing yet for it, either.
NAS: Looking For A Hero
QNAP was the only big NAS maker introducing new products at the show. Aside from a handful of NASes, they introduced a robot and an IoT development platform. Although we gave them a little ribbing for the (stationary) robot introduction, at least they are trying to be creative in moving beyond NASes. I suspect this is going to be necessary for any NAS maker that wants to be around for the long term.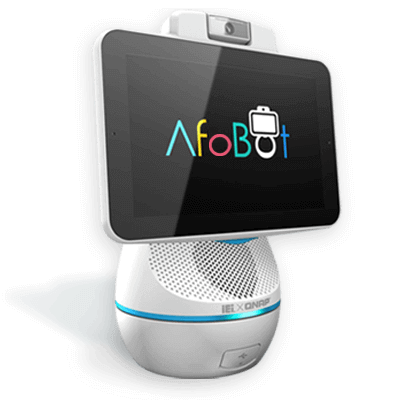 QNAP AfoBot
That's because there really isn't much of a consumer NAS market any more, if there ever was. And small businesses are using cloud services not only for primary and backup storage, but also to produce the documents, presentation decks, databases and spreadsheets that used to be cranked out with Microsoft Office on a PC and needed to be stored and backed up on premises.
So I give QNAP credit for trying to remain relevant and viable, while other NAS makers are either quietly leaving the market by letting their product lines grow stale (Seagate, WD) or staying the course as NAS-only producers.
Fun Stuff
So much for the doom and gloom, which there is way too much of these days. I'll close with some quick looks at some fun, quirky and otherwise notable products I came across prowling the aisles
Smashtoast's PUCK
Yeah, it's sophomoric, but Smashtoast's flyer for their Bluetooth to IR bridge (Hate remotes? PUCK it!) made me stop, pick it up and get a quick pitch. You stick PUCK on just about anything that is controlled by an IR remote, download an Android or iOS app onto your phone and put the remote away.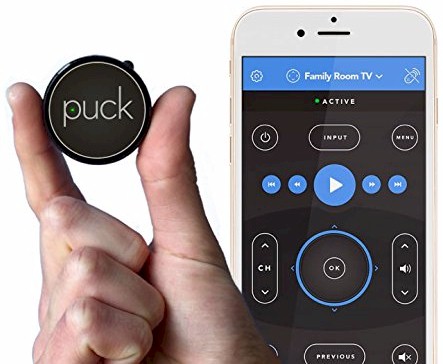 Smashtoast's PUCK
Their normal tag line–Hate remotes? Get PUCK–is more family friendly, but probably wouldn't have made me stop. $30 on Amazon.
Swidget
It's a customizeable smart outlet, with inserts for Wi-Fi, Z-Wave, Zigbee control or combos with USB charge port.
Swidget's Indiegogo campaign is 265% funded, so it's got a good chance of actually shipping as planned this June. You can pre-order the outlet w/ USB charger for $32 or other flavors for more.
Brillant Control
Another crowdfunded creation, it's a smart home control panel that lets you replace a wall switch with what's essentially a stripped-down smartphone to control lights and outlets, play music, watch video and monitor smarthome cameras. The Control even has a built-in mic, camera (with privacy slider), speaker and motion/light sensorand, of course, supports Alexa and Google Assistant.
The Control connects via Wi-Fi and Bluetooth and comes in versions to replace up to four ganged switches. The single-switch version sells for $199 and the four-gang is $349. Pre-orders start shipping in February/March. You can get in line for the next batch, though.
Mousr
If you have bored cats and $149 to throw at the problem, Mousr is for you. Just watch the video. Pre-order now for shipment in March.