D-Link introduced two new mesh-based Wi-Fi systems at CES 2018, the COVR-2202 Tri-Band Whole Home Wi-Fi System and dual-band COVR-C1203 Dual-Band Whole Home Wi-Fi System. These new Covr Wi-Fi systems are designed to be scalable, handle 4K streaming and cover up to 6,000 and 5,000 sq. ft, respectively. They join the Covr system introduced at CES 2017 that uses a router / extender design with four-stream backhaul connection.
The tri-band COVR-2202 is an Alexa-friendly AC2200 wireless system with 2×2 dual-band client-facing radio and additional 2×2 5 GHz backhaul radio. The upright "pillar" design is similar to Linksys' tri-band Velop system introduced last year.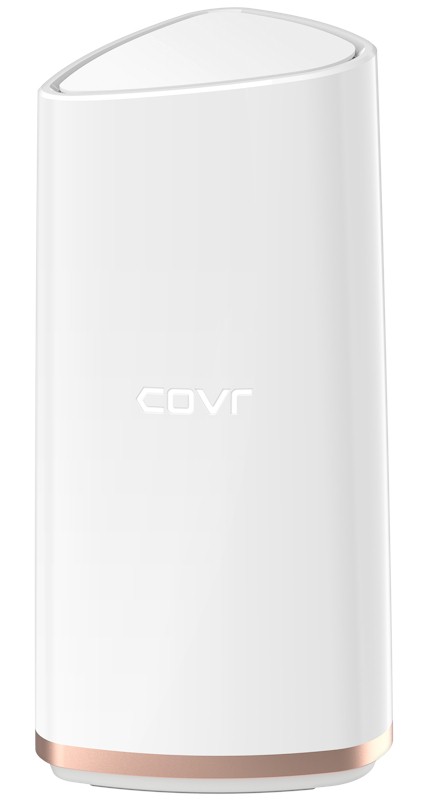 D-Link Tri-Band Whole Home Wi-Fi System (COVR-2202)
The dual-band COVR-C1203 is classed as AC1200 but uses a 2×3 antenna system aimed at improving receive sensitivity. Its "puck" format is similar to other three-node systems like Google Wi-Fi, eero, et. al. but comes with interchangeable color plates and has a unique flattened, rounded pyramid design.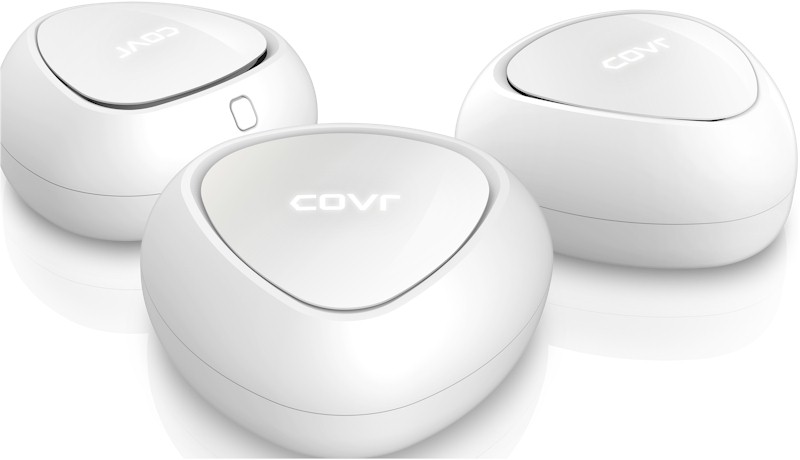 D-Link Dual-Band Whole Home Wi-Fi System (COVR-C1203)
The new Covrs share a feature set that includes MU-MIMO support, smart roaming, smart steering, and firmware update push notifications.
Pricing and availability is $249.99 / Q1 2018 for the COVR-C1203 and $319.99 / Q2 2018 for the COVR-2202
D-Link has joined ASUS in an attempt to get out in front of other consumer Wi-Fi router makers with the pre-announcement of two 802.11ax routers. The AX6000 Ultra Wi-Fi Router (DIR-X6060) and AX11000 Ultra Wi-Fi Router (DIR-X9000) are said to produce combined maximum link rates of 6000 and 11000 Mbps, respectively, and support 4×4 MU-MIMO. Other features include a 2.5 GbE WAN port, four GbE LAN ports, eight high-performance antennas, a USB 3.0 port, DLNA support and a new D-Link Wi-Fi app for installation and management.
These brief specs are not detailed enough to determine the actual number of streams and channel bandwidth required for each radio to achieve the specified link rates, so they should be viewed with healthy skepticism.
Potential buyers should also be aware the 802.11ax standard has failed two draft ballots, which has pushed estimated spec release out to December 2019. In other words, don't get too excited. D-Link says availability for both products will be in the second half of this year with pricing to be announced then. We shall see…

D-Link AX6000 Ultra Wi-Fi Router (DIR-X6060) and AX11000 Ultra Wi-Fi Router (DIR-X9000)
Returning to Earth, we have the AC2600 Wi-Fi Router Powered by McAfee (DIR-2680). This is a four-stream AC2600 class router combining McAfee's Secure Home Platform and Intel's WAV500 Home Wi-Fi chipset aimed at Norton by Symantec's Core Router that was introduced at CES 2017 and began shipping in Q3.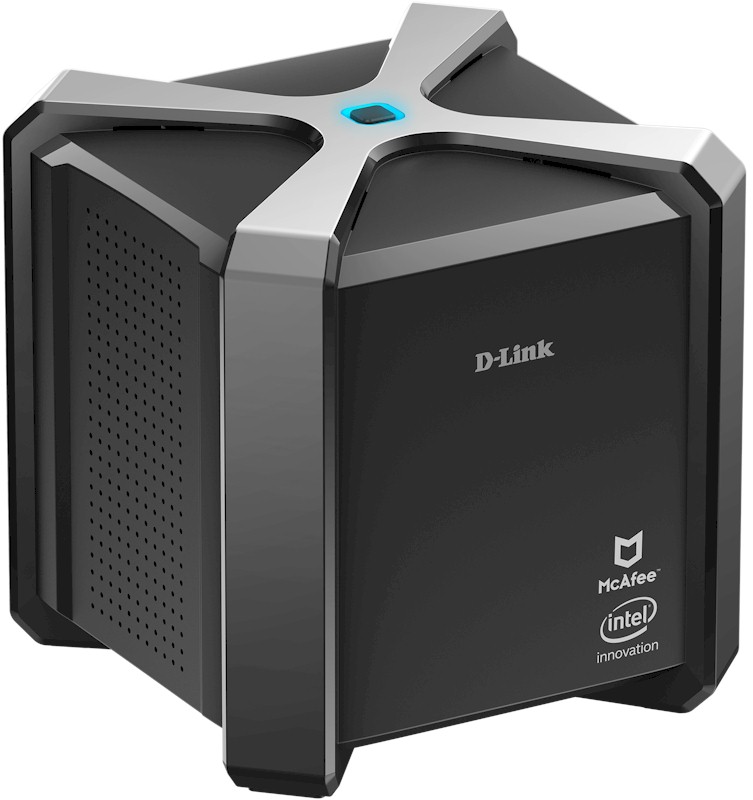 D-Link AC2600 Wi-Fi Router Powered by McAfee (DIR-2680)
Designed to protect households by preventing, detecting and deflecting malware attacks, the DIR-2680 uses McAfee's Global Threat Intelligence platform that includes machine learning capabilities, real time traffic monitoring and parental controls.
The DIR-2680 is one of the first consumer routers to be based on an Intel platform that includes its GRX350 multicore network processor and WAV500 Wi-Fi Chipset. The two are designed to work together with the GRX350 offloading all Wi-Fi duties to the WAV500, freeing its CPU power to run the McAfee platform.
The DIR-2680 will be priced at $249.99 when it ships in Q2 2018.
The rest of D-Link's announcements focused on its five new Wi-Fi surveillance cameras. All feature compatibility with Google Assistant, Amazon Alexa and IFTTT and support both local microSD recording and cloud storage, sound/motion detection and night vision with a maximum range of at least 5 meters.
D-Link also once again refreshed its mydlink app to go along with the new cameras and support its existing network camera line. The new app lets customers set up, view, trigger and manage cameras from a single interface.
The DCS-1820LH LTE Full HD Indoor/Outdoor Camera ($299.99 / Q2 2018) is an IP65 rated LTE-enabled/Wi-Fi indoor/outdoor camera that has 1080p full HD, a viewing angle of 113-degrees and has two-way audio and 16 ft night vision range. It's also a CES Innovation Award Honoree and comes with a mounting kit.
The Wire-Free Full HD Indoor/Outdoor Camera DCH212KT (1 camera: $249.99, 2 camera: $349.99 Add-on camera: $219.99 / all Q2 2018) takes aim squarely at NETGEAR's Arlo with a completely wire-free design that includes a rechargeable battery that D-Link says is good for 11 months. Although the camera is wireless using Wi-Fi frequencies, it requires a special base station that knows how not to run the camera's battery down.
The Wire-Free cam is available in one or two camera configurations and supports 1080p full HD with a 140-degree viewing angle. It's also IP65 rated, has two-way audio, comes with a mounting kit and also has 16 ft. night vision range.

D-Link LTE Full HD Indoor/Outdoor Camera (DCS-1820LH) and Wire-Free Full HD Indoor/Outdoor Camera (DCH-212KT)
The entry-level DCS-8010H HD Wi-Fi Camera ($59.99 / Q2 2018) is a 720p HD Wi-Fi camera with a 120-degree viewing angle that can be set up via Bluetooth.
The aptly-named DCS-8300LH Full HD Wi-Fi Camera ($89.99 / Q2 2018) steps up to full 1080 HD resolution with a 140-degree viewing angle. Mounting kit and Bluetooth setup support are included.
Lastly, the DCS-8525LH Full HD Pan & Tilt Wi-Fi Camera ($119.99 / Q2 2018) is a full pan-and- tilt Wi-Fi camera with 1080p full HD with pan/tilt viewing angles of 340/110-degrees (just the lens itself is 98-degrees). It also supports Bluetooth setup.

D-Link HD Wi-Fi Camera (DCS-8010LH), Full HD Wi-Fi Camera (DCS-8300LH), and Full HD Pan & Tilt Wi-Fi Camera (DCS-8525LH)