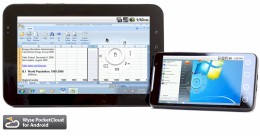 Wyse has enhanced its cloud client application to better support Android-based tablets including the Samsung Galaxy Tab.
PocketCloud Version 1.1 features include auto device discovery, customizable keyboards with international character support, multitasking, remote app scrolling and VNC and Microsoft Terminal Services / RDP support.
The $14.99 PocketCloud Pro version adds secure VNC tunneling, multi-touch gestures (pinch-to-zoom), Microsoft NLA (Network Level Authentication) Security, sound support with 3G & Wi-Fi bandwidth modes and VMware View support.
Both free and Pro versions are available on the Android Market. PocketCloud is also available for iOS devices. More info at Wyse's PocketCloud page.