At a glance
Product
BuddyBackup BuddyBackup () [Website]
Summary
BuddyBackup provides a unique solution to creating a private backup "cloud" among friends.
Pros
• Private Cloud
• Security-minded and heavily encrypted
• Thorough documentation
• Completely free
Cons
• Requires friend participation
• Requirement to share your hard drive to backup files to others can be double-edged.
• Buddies need to be online to restore from.
Typical Price: $0
Backup
Exclude

Y

Include

Y

Drive selection

Y

Folder selection

Y

File type selection

N

File selection

Y

File size filter

N

Archiving

N

File versioning (number)
0
File versioning (days)
0
File size limit (GB)
0
Force full backup

N

Auto file type organization

N

Auto resume

Y

Transfer Backup

N

Bandwidth Control

N

Account Types
Unlimited

Y

Free

Y

Free Trial

N

Home

Y

Business

N

Monthly Billed

N

Yearly Billed

N

Min. Limit (GB)
0
Max. Limit (GB)
9999
Free Space (GB)
9999

Restore
Web download

N

Zip File

N

DVD

N

Hard Drive

N

OS
Windows

Y

Mac OS

N

Linux

N
Every so often, a refreshing and unorthodox solution for managing backups comes across my desk. BuddyBackup is one such solution, produced by a UK-based firm, BuddyBackup LTD. The concept is to create your own "cloud" among a group of friends, where you utilize parts of their hard drives to store your backup files. As a result, they now have access to a set amount of your hard drive space to back up files to.
This may seem a little strange, since one tends to associate "cloud backup" with a solution hosted by a company whose server farm is located in some sort of nuclear war-proof facility. Once you start thinking about the possibilities BuddyBackup provides though, it's a really interesting concept.
BuddyBackup in its current incarnation is completely free, and will remain free according to its creators. This openness is possible because of the way the platform works: nothing is stored on a server that needs upkeep and maintenance. This is not to say it doesn't cost anything to develop and maintain the software. But it certainly cuts down on the expensive IT overhead of having to build or rent servers. The company does plan to eventually offer a commercial product. But for now, it is content to provide a simple backup solution.
The process is simple, if not a little foreign. First you download and install the software. Unfortunately Apple users will have to sit this round out; Windows clients are all that are available, and no Mac client is planned in the near future. This is unfortunate, since BuddyBackup's primary competition, CrashPlan, does offer a full suite of clients for all major OSs.
The installation process requires a reboot, after which the account creation wizard opens. Account creation provides the user the option to store his or her password on BuddyBackup's servers, which is useful if you forget your password. But naturally, this is not as secure.
Adding buddies to your "cloud" is as easy as clicking the "add buddy" link available on the home page, and sending them a request. The "buddy" can accept when they are online, and once they have accepted you will start using their space. The space allocation is done mostly on your end. You allocate how much space is available to your buddies, and by doing so, you determine how much space is available for your backups across your buddies' hard drives.
This is very BitTorrent-esque, insofar as you can only back up as much as you share. You can also decide how many redundant backup copies you want spread among your buddies' hard drives, and BuddyBackup will distribute them accordingly. This way, even if a single buddy has a computer failure, your data is still safe.
There is also an option to add a USB drive as a "buddy", which does not use the same space allotment and has the option to "full sync" your data, meaning it will store all the data you want to back up. If you choose not to select this, it will act like any other buddy, and receive only some of your files for backup.
Account Creation Wizard
Assigning a Username & Password to the account.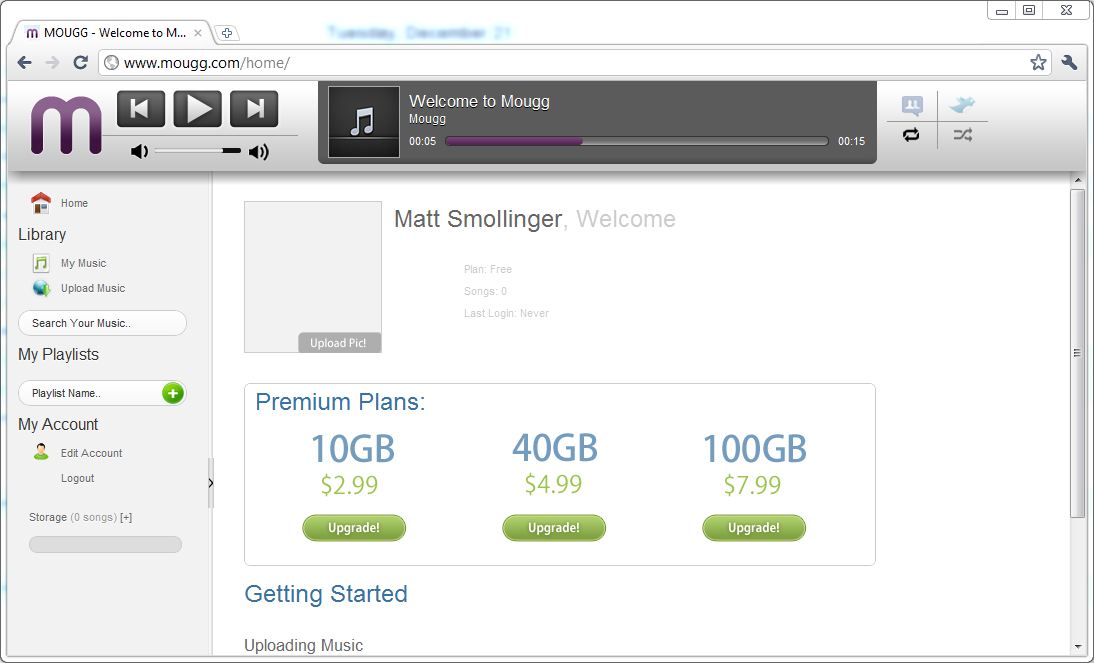 Standard home screen showing storage used and files to backup.
Choosing backups is done through a straightfoward, Windows Explorer-style interface.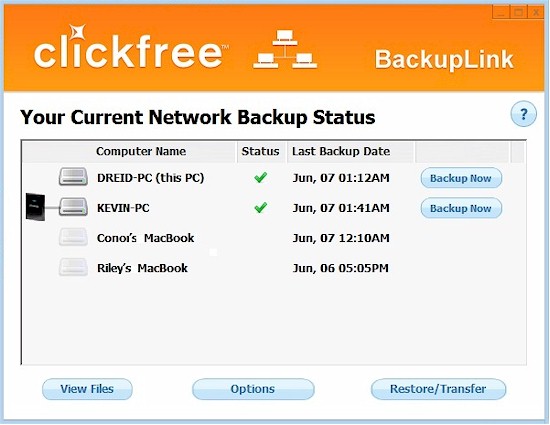 Backup status shows which folders still need to be backed up.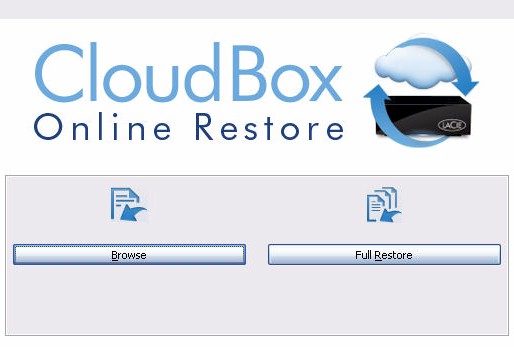 Restoring is done through the same style interface as choosing a backup.
Adding a Buddy or USB Drive is simple and done through a basic wizard.
This screen is what shows up on your buddy's side when you request they allow you to back up to them.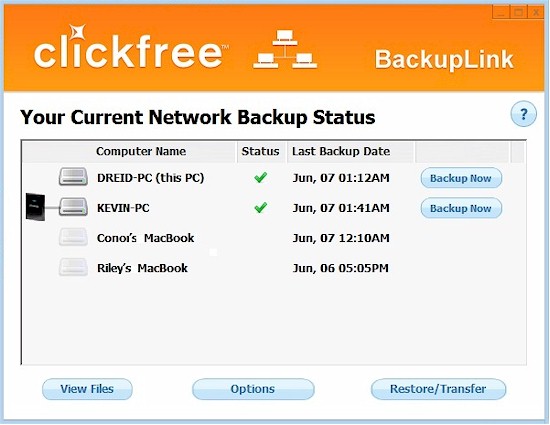 Once you've added a buddy, backup proceeds fairly quickly. This was done over a LAN, so using 31 Megabit from a 1 Gigabit connection is fairly low overhead.
Access, Support, Security
Support
Email

N

Online Ticket

N

IM / Chat

N

Phone

N

Knowledge Base

Y

Tutorials

Y

Access
Browser-based file manager

N

File Permissions

N

Folder Permissions

N

Blackberry

N

iOS

N

Android

N

Windows Mobile

N
So, at this point you're probably asking "Ok Matt. That's all grand, but what about security?" Well, BuddyBackup has thought this through very well. All transmission to the central servers (which is for authentication and occasional use as a proxy for strictly firewalled users) is done over SSL. Connections between buddies are also done over SSL.
Inside the SSL tunnel, all packets are also encrypted with a stream-encryption algorithm called Salsa20. This stream encryption is very secure and very fast, although BuddyBackup doesn't state what version they are using (Salsa20/20 is more secure than Salsa20/12, and Salsa20/12 is more secure than Salsa20/10, and so on).
Finally, before your files are copied from your hard drive, they are encrypted at the file level using AES encryption. This file encryption can only be decrypted by your account password.
Files can be accessed only through the client interface. If you have a catastrophic failure, the two options available are to either reinstall the client and re-synchronize with your buddies over the 'Net, or go to a buddy's house and log on via Guest Mode and use a USB drive to download your data. You will need to plan ahead and make sure all your buddies are online when you go to restore, or else you might not have access to all your data.
Support is via web forum only. The web forum is fairly active with BuddyBackup employees, so this might be as acceptable or better than a ticketing system. Documentation is very well thought out and thorough, with an unheard-of PDF Manual being available that covers every possible function. There is also a FAQ which is reasonably generic.