Western Digital has introduced a dual-drive version of its MyBook Live NAS.
The My Book Live Duo has two user-replaceable 3.5" SATA drives configurable in JBOD or RAID 1. The Duo is powered by an 800 MHz processor, network connected via a 10/100/1000 Mbps Ethernet port and has one USB 2.0 port for storage expansion.
Client backup is supported by WD's Smartware client, Windows backup or Apple Time Machine. The Duo can back up its own data to an external USB drive or second networked Duo.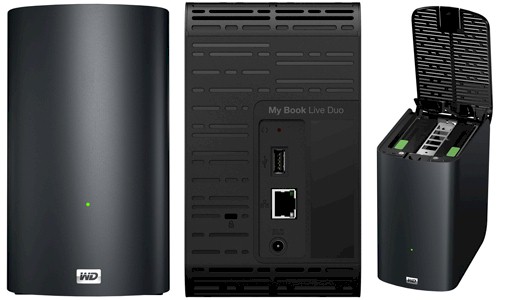 Remote access is provided via WD's new 2go cloud service, which replaces WD's previous MioNet remote access service. 2go supports remote access, cloud-based file sharing, photo service and file access via Android and iOS apps.
Other features include email alerts, automatic idle drive spindown for energy saving and UPnP/DLNA and iTunes media and FTP servers.
The My Book Live Duo is shipping now. MSRP is $399.99 USD for 4 TB and $499.99 USD for 6 TB.