Buffalo has started shipping its Pogoplug-powered NAS.
The Buffalo CloudStor was announced at January's CES and scheduled to ship in February. It is the first Pogoplug device with integrated storage.
CloudStor supports all standard Pogoplug features including local and remote access, and Facebook and Twitter integration..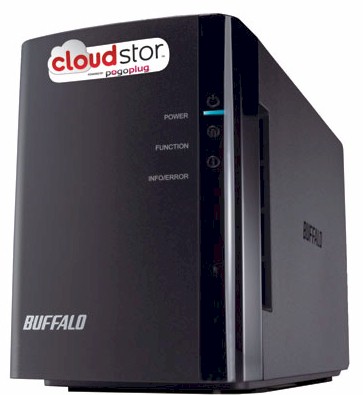 The dual-drive NAS supports JBOD and RAID 1 volumes as well as many traditional NAS features including CIFS/SMB and AFP file sharing, FTP server, Apple Time Machine backup and DLNA streaming including Xbox360 and PS3.
The Buffalo CloudStor is available now for $149.99 for the 1 TB CloudStor (CS-WX1.0TL), $209.99 for the 2 TB CloudStor (CS-WX2.0TL) and $249.99 for the 2 TB CloudStor Pro (CS-WV2.0TL). All prices are estimated street. The CloudStor comes with a limited one-year warranty.