At a glance
Product
Dropbox Dropbox () [Website]
Summary
Dropbox provides flexible cloud storage, great sharing options, and great integration with all major operating systems and mobile platforms.
Pros
• Best operating system integration
• Very complete mobile platform integration
• Flexible file management and sharing options
Cons
• Feature set not geared for backup like other solutions
• No offline disaster recovery options (DVD or HD)
• Deep integration with operating system can be a double-edged sword, allowing for accidental deletion of files.
Typical Price: $10
Backup
Exclude

N

Include

Y

Drive selection

N

Folder selection

N

File type selection

N

File selection

Y

File size filter

N

Archiving

N

File versioning (number)
9999
File versioning (days)
30
File size limit (GB)
9999
Force full backup

N

Auto file type organization

N

Auto resume

Y

Transfer Backup

Y

Bandwidth Control

Y

Account Types
Unlimited

N

Free

Y

Free Trial

N

Home

Y

Business

Y

Monthly Billed

Y

Yearly Billed

Y

Min. Limit (GB)
2
Max. Limit (GB)
100
Free Space (GB)
2

Restore
Web download

Y

Zip File

N

DVD

N

Hard Drive

N

OS
Windows

Y

Mac OS

Y

Linux

Y
Dropbox has been around for quite some time in the online cloud storage market. They offer fantastic operating system integration in Windows, Mac, and Linux with a small installation footprint. The service is not focused on backup like offerings from Carbonite or Mozy, which is emphasized by the feature set.
Account options include:
• A free 2 GB account.
• 50 GB for $9.99/month or $99.00/year.
• 100 GB for $19.99/month or $199.00/year.
For all accounts, Dropbox offers referral bonuses of 500 MB for the first successful referral, and 250 MB for each subsequent successful referral. Free accounts can gain up to 8 GB of additional space for a total of 10 GB, while paid accounts are capped at an additional 16 GB of free space. Business and team oriented product offerings are available by contacting Dropbox here: https://www.dropbox.com/contact
Dropbox's main feature is the ability to share your files across any major platform and keep them synchronized and up-to-date. You install a small client on the initial system and set up a Dropbox folder which then will synchronize any items dropped into the folder with the Dropbox cloud. You can then install the client on as many machines as you want and sync your files with those machines as well.
Due to Dropbox gearing their offering more towards sharing and collaboration, the backup features are somewhat lacking compared to other companies' offerings. Dropbox does maintain 30 days of revision history, and provides an additional "Packrat" option for unlimited revisions.
Notifications of file changes occur via balloon messages on Windows and Linux, whereas on Mac the client uses Growl to notify the user of changes. All backup occurs manually or via an external scripted process, such as a separate backup utility. The lack of offline disaster recovery options means your files will only be available via the web interface or through the client.
One of Dropbox's major selling features, the transparent OS integration, can also be its biggest annoyance. When utilized in a shared environment, users can easily drag and drop files out of the Dropbox shared folder. This represents a deletion from Dropbox and thus will the service will sync the deletion across all shared folder instances.
If this occurs unnoticed, restoring the file requires a trip to the website, which shows user activity for the particular folder and account. The inverse is true with accidentally unzipping a large file inside the Dropbox folder, which will propagate the unzipped files across all synced clients.
Dropbox has good mobile integration. It has dedicated applications for all the major smartphone vendors, and a mobile-oriented website for any older models that cannot run the dedicated apps. Dropbox also provides an API for application developers to use Dropbox storage in their applications.
Restore
Restore is accomplished through either the website or by installing a fresh copy of the client software and synchronizing your account. If Internet access is unavailable or otherwise unusable, there are no standard options for offline data retrieval. That said, Dropbox is merely a front-end to Amazon S3, which does offers an "Import/Export" service that accepts storage devices, but it's up to Dropbox to provide this service to its customers.
General settings for the Drop Box client.
Network Settings for the Drop Box Client.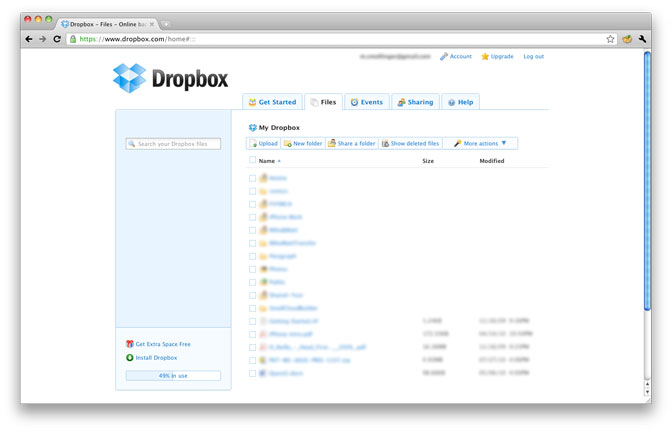 Drop Box web interface.
Access, Support, Security
Support
Email

Y

Online Ticket

Y

IM / Chat

N

Phone

N

Knowledge Base

Y

Tutorials

Y

Access
Browser-based file manager

Y

File Permissions

N

Folder Permissions

Y

Blackberry

Y

iOS

Y

Android

Y

Windows Mobile

Y
Accessing files is done via the Dropbox folder that is created when the Dropbox client is installed. There is also a web interface available, along with several dedicated mobile applications. The client interface itself is very minimalistic, as it relies on the OS file browser to handle file moves and copies within the Dropbox folder. Anyone who you share files with will be able to view and modify these files though, so caution is recommended to only invite people you trust.
Support is available through online forums or through a ticket submission process. Dropbox has a feature called "Votebox" which allows users to post feature requests and have the community at large vote on them. This has produced features like allowing direct linking from websites or email to a file in a dropbox account.
Files are encrypted utilizing AES-256 encryption before being transferred over a SSL encrypted connection. All files are stored encrypted and thus are inaccessible by Dropbox staff unless they are provided with a user's account information. As mentioned in the previous paragraphs, inviting people to a shared folder makes that folder only as secure as their machines. See this help topic for complete information: https://www.dropbox.com/help/27.