At a glance
Product
Apple iCloud for Storage () [Website]
Summary
iCloud is the new cloud solution from Apple for its entire device lineup. iCloud provides file sync, backup, storage, email, calendar, and a host of other features for the iDevices and OS X.
Pros
• Competitive pricing w/ significantly more features
• Deep integration into iOS
• Ease of use for iDevice users
Cons
• Poor Windows integration and no Linux support
• Very heavily iOS focused. OS X users get more love than Windows but not a lot
• Yearly pricing only; no refund policy
• Some weird technical issues (see review)
• iOS app developers getting restricted data storage
Typical Price: $0
Features
Private Sharing

N

Share Groups

N

Backup

Y

Search

N

Syncing

Y

File versioning (number)
N
File versioning (days)
Y
File size limit (GB)
N

Account Types
Unlimited

N

Free

Y

Free Trial

N

Home

Y

Business

Y

Monthly Billed

N

Yearly Billed

Y

Min. Limit (GB)
5
Max. Limit (GB)
55
Free space (GB)
5

OS
Windows

Y

Mac OS

Y

Linux

N
iCloud answers the long-standing question about why Apple chose to ignore the cloud for so long. Most of us expected this in one way or another, as this is Apple's way, i.e. take what others have done, polish it up to make it easier for users, and claim that it's the best thing since sliced bread.
Let's peel away the marketing jargon and see what iCloud has to offer that other services don't (yet).
Features, Account Types, OS highlights
iCloud has one major thing going for it: features. There are more features in this suite than you can shake your iStick® at. This partially comes as a rebrand from the existing MobileMe service, so you have the full cloud suite of email, calendaring, notes, along with the iWork Additions for word processing, spreadsheets, and presentations (Pages, Numbers, and Keynote, respectively).
However the true power lies in what's new: iDevice cloud sync and storage, iTunes cloud storage & music matching services (coming soon), and third-party app storage and sync. This is where we'll be focusing for today. But don't worry; this is a first in a series of iCloud articles where we'll be diving into this new service to poke and prod its inner workings.
Apple takes a semi-traditional approach of offering the first 5 GB or storage for free, and then charging yearly for additional storage. No monthly pricing is available, and no refund policy can be found anywhere.
This is typical of Apple, as there's no refund policy for App Store purchases. But if you get in touch with their technical support, they can usually work something out for you. This is not the best policy however, and we'd like to see Apple at least adopt an official policy somewhere, even if it's "No Refunds".
Once you fill those 5 GB, you have options for 10, 20, and 50 GB of add-on storage. This means you'll have 15, 25, and 55 GB of total storage. Pricing for these is $20, $40, and $100 a year, respectively. This is competitive with Dropbox and SugarSync's pricing. But that's a tough comparison to make, since iCloud offers a lot more for Apple users. Overall the pricing is a big win for Apple users, but I think we'll be seeing people hitting that 50 GB limit faster than Apple thinks.
This will mostly be because of iCloud's biggest features: cloud sync and storage for both your iOS-level backups, and 3rd-party applications. This is a great selling point, as it officially untethers users from ever having to sync against iTunes again. But it comes with its own set of problems, mostly because of its cloud underpinnings.
Up until now, storage on iOS devices has been considered "free to use" for developers. Need to store a large data set? No problem, just write it to the Documents part of your app (which every app has its own sandbox for), and read it back out when you need to.
However, this Documents directory is now cloud-synced so that the user has the same exact app state on every device. This can cause problems for existing applications, and Apple has begun to crack down on heavy data-using applications.
Implementation and Usage
Enough about fundamentals though. Let's see how this thing actually works. I've borrowed some screen shots from Apple, and will be referencing them along with my own shots in the gallery. My testing devices include an iPhone 4S, and an iPad 2. iCloud requires iOS 5 be installed on your devices, which I did for both.
iCloud is very geared towards your iDevice, but Windows and MacOS X users aren't left completely out (sorry Linux users, but you are). MacOS X users can find iCloud in their System Preferences (assuming you've updated to the latest versions of Snow Leopard and Lion). iCloud on Windows is restricted to Vista and Win7, and is found under Control Panel -> Network -> Internet -> iCloud (see screenshot below). Most of what I'll be discussing here is only available on iOS / MacOS X, but Windows users do have access to the Photo Stream.
Windows iCloud Control Panel
Once you've turned on iCloud, you'll be presented with numerous preferences for what parts of iCloud you'd like to use. This is strangely piecemeal for Apple, which normally takes an "All or Nothing" approach to technology. Storage & Backup has its own sub-section, where you can manage your storage and buy more. iDevices have an additional option to choose whether or not to enable cloud backup. Enabling the cloud backup disables automatic syncing to iTunes (both cabled and over Wi-Fi). However, you can still manually sync your device
Once enabled, iCloud gets out of the way and lets you use your device normally. An important decision is whether you allow the use of cellular data for things like synchronizing application & music purchases between devices (screenshot). For those of us with unlimited data packages, this is an obvious choice of "Yes". But for metered plans, this might be better left to "No", unless you are secure in data usage habits.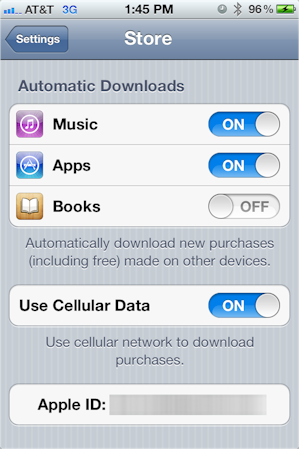 Automatic download controls
I decided to try out restoring from an iCloud backup at one point, and found something of a sticking point. Since it requires you have internet access (Wi-Fi access, in fact), you can't restore from backup without Internet access. As ubiquitous as the Internet may be these days, there are still plenty of places where it's either expensive to use, or not available at all. However, once I satisfied this requirement by punching in my Wi-Fi password, all went smoothly.
It's so smooth in fact, I'm willing to make this claim: iCloud absolutely blows Android's cloud restore out of the water. Not only did iCloud restore my device settings, it restored my contacts, my notes, all my Applications (downloaded individually, but all queued up automatically), my passwords, and even my browsing history in Safari. It was incredibly smooth, even smoother than doing a restore from iTunes. I might actually enable iCloud and restore from it rather than iTunes next time I need to reload iOS.
Select the bookmarks you want to save.
iCloud Control Panel on iOS.
iCloud Control Panel on MacOS X.
iCloud on the Web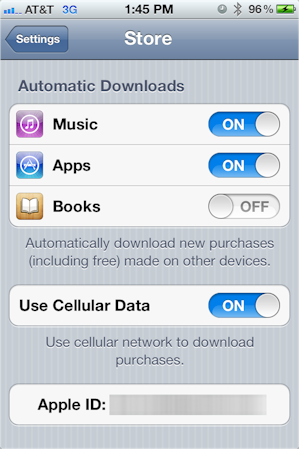 iOS5 introduces automatic downloads. You can choose to use cellular data or not. By default it's turned off.
iCloud Storage has its own section for management.
Pages on the web is merely a file access tool.
iCloud backups can be managed on windows.
The iCloud control panel is limited on Windows compared to MacOS X.
Photo stream is a little kludgy on Windows compared to MacOS X.
Moving on, third-party application integration is rather sparse at the time of writing, so I'll focus on Apple's applications, like Pages. Pages is probably the best word processor available for iOS, and its iCloud integration means you'll now be able to access your documents more easily across all devices. Interestingly, Pages still has support for legacy iDisk users, which is one of the two parts of MobileMe that aren't being migrated into iCloud.
Once you've installed Pages on iOS (or downloaded the needed update to enable iCloud), you are presented with a new option the next time you open the app to enable iCloud or not. Once iCloud is enabled, it operates seamlessly in the background;you're not even aware it's doing anything. In fact, to disable iCloud, Apple put the setting in the Pages part of the main iOS Settings App.
However, Pages (and its iWork suitemates) is one of the few applications I can see iCloud being a true productivity boon for, assuming you're running the latest iWork suite (cmon you're an Apple user, right? That means you always buy the latest and greatest). Create or import a document in Pages on your Mac, and it automagically shows up on your iPhone to read on the train-ride to work. Same for Keynote, where it will sync to your iPad for that presentation later.
Access, Support, Security
Support
Email

N

Online Ticket

N

IM / Chat

N

Phone

Y

Knowledge Base

Y

Tutorials

Y

Access
Browser-based file manager

Y

FTP

N

Email link

N

Blackberry

N

iOS

Y

Android

N

Windows Mobile

N
All of these great sounding storage and sync features require your complete and utter devotion to the Jobsian world. For example, you can't begin using the iWork portion of iCloud without enabling it first on an iDevice. I'm not really sure why this is a requirement, as I could see this being useful for people with an office Mac and a personal Mac to keep their iWork documents in sync (and available from the web).
Web access for files is limited to the iWork suite, and you can choose to download (but not upload) copies of files. No editing capabilities are available on the web (so as to not cannibalize software sales, I'm sure). As iTunes Match isn't available yet, we won't discuss the beta implementation as it's not the final representation. From the early impressions of it though, it won't be available via the web either.
Support is available through Apple's 800-number and through the Genius bar at the Apple retail stores. There is a very active support forum, along with several fan sites (macosxhints, macrumors, etc.) with equally active forums. Generally talking to Apple requires having a device with a current warranty on it, but Apple has some of the best support in the industry, and its technicians will generally lend a helping hand regardless.
Security isn't mentioned on the marketing version of Apple's website, but I did find a knowledgebase article detailing their security practices. SSL encryption is ubiquitous and Apple does encrypt your data when on their servers. That said, Apple doesn't reveal what encryption type is utilized.
Closing Thoughts
Overall, iCloud's storage and sync services are well thought out and deeply integrated, which makes the experience fairly seamless. That said, it's not a replacement for Dropbox / SugarSync or other competitors, because you can't use iCloud as a general file storage service. It stores and syncs only data from applications that it supports, not just any old file you have lying around.
Where the competition focuses on collaboration and synchronization across divergent systems, Apple's system could care less. iCloud aims to make the cloud a personal part of your iLife (oh bad puns), and ignores a fairly obvious opportunity to show the rest of the world how to actually implement "the cloud" across platforms.
That said, it's a polished system that works well, and I'm sure will be a roaring success compared to MobileMe.