At a glance
Product
Nasuni Cloud Storage () [Website]
Summary
Virtual appliance for cloud storage with local cache, backup and recovery, encryption, and compatibility with an existing on-premise storage setup
Pros
• Combines local file access with automatic cloud backup
• Acts like shared / mapped drive to users
Cons
• Needs IT admin who understands virtual machines
• Not remotely accessible
• No plans under 1 TB
Typical Price: $300
Features
Private Sharing

Y

Share Groups

Y

Backup

Y

Search

Y

Syncing

Y

File versioning (number)

?

File versioning (days)

?

File size limit (GB)
9999

Account Types
Unlimited

N

Free

N

Free Trial

Y

Home

N

Business

Y

Monthly Billed

Y

Yearly Billed

Y

Min. Limit (GB)
1000
Max. Limit (GB)
9999
Free space (GB)
0

OS
Windows

Y

Mac OS

N

Linux

Y
Updated 6/28/2011: Web browser access
For small businesses, one of the easiest cloud services to understand and get value from is storage services. However, there are many different types of storage services available – virtual network drives, collaboration and sharing folders, desktop and server backup. These types group into two general categories.
The first is a cloud based drive that is accessible anywhere by users that you designate. Examples include DropBox, Box.net, Amazon S3. The second type is pure backup in the cloud, which takes periodic snapshots of your local data from a computer or server and copy them to the cloud. Common examples of this type are Mozy, Carbonite, SugarSync and Jungle Disk.
Nasuni fits into the pure backup category since data cannot be accessed outside of your company network. However, it operates differently in that Nasuni is not meant to automatically back up a computer or server. Nasuni creates a shared folder that all users must map to just like a regular local file share. This Nasuni virtual file share is then periodically backed up into the cloud. The only way users can access this data outside the company would be via VPN to the company network.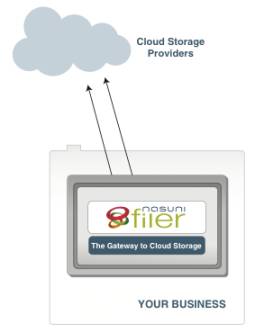 Nasuni is a unique hybrid of on premise and cloud-based storage. It can replace your existing on-site file share with one in the cloud, solving issues related to service uptime, capacity expansion, and recovery after a failure. However, you still need an on-premise server to run Nasuni, with enough storage for a local cache of your most frequently-accessed files.
Nasuni's quoted a cost of $300 per month for the first 1 TB. The buy page on Nasuni's site actually quotes a monthly rate of $0.15/GB with a $300 minimum. But this is changing in July to an annual per TB rate. This type of pricing model makes Nasuni more appropriate for a company's long term storage needs, not the more common pay-as-you-go cloud storage.
Also changing in July is the option to choose your own cloud provider or bring your own cloud storage provider. Nasuni currently lets you use AWS, AT&T Synaptic Storage as a Service, Nirvanix, Peer 1 Hosint, Rackspace and Windows Azure. After July, you will need to move to Nasuni's preferred provider as part of your license for the Filer.
Installation and Setup
Nasuni Filer is a virtual machine that is installed on a server inside the business network with your current on-site storage. The virtual machine is initially about 270 MB in size and you install it on an existing hypervisor or virtual machine software.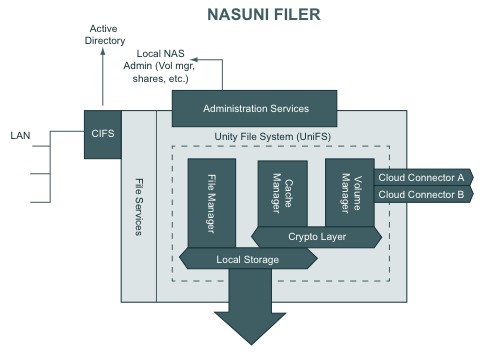 Nasuni supports VMWare (ESX, ESXi), Microsoft Hyper-V, and Xen. I tested with VMWare Workstation, which is compatible with ESX, but not supported by Nasuni in a production environment.
When you run Nasuni on your hypervisor, all you see is a simple network configuration screen to select DHCP or static IP.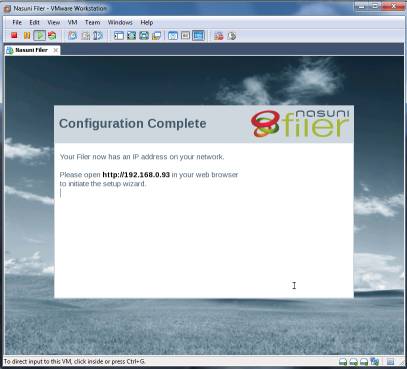 Once the virtual machine is started, an administrator opens a web browser to connect to the Nasuni appliance and uses the GUI to configure and manage Nasuni. Initial configuration involves selecting a cloud provider. Amazon S3 was the only option available for this trial license. This option is likely to go away following a July 1 release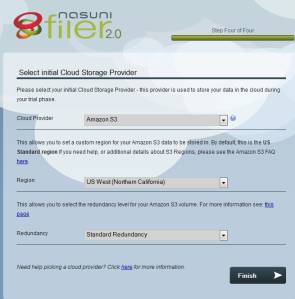 To get started, you must create a file share, which is what end users then map to as they would map to a local file share over CIFS or NFS. This has many of the same properties of a local file share on a Windows or Linux Server. A name is provided, subfolders for shares can be created, folders can have distinct permissions, and they also be marked as hidden or read only. You also specify a quota to limit the size of the cloud storage
Backup and Snapshot Management
Snapshots are the process of capturing a version of the files in the local cache for upload to the cloud server. You can set the times of the day and frequency of when snapshots should be taken, or you can manually invoke a snapshot. Again, configuration here was very intuitive and similar to my experiences with Mozy and Carbonite.
Typically, you would want your snapshots to occur during off-hours of the business so that performance is not impacted. You can also control the bandwidth that Nasuni uses to upload files, setting different schedules throughout the day so that the main internet connection is not severely impacted during the day.
There are no restrictions on the file sizes or types that Nasuni can back up. Since it behaves just like a local network file share, any files that users put in this mapped directory are backed up by Nasuni. Since system files are rarely put into a network file share, there should not be any issues preventing Nasuni from attaining a lock to back up the file to the cloud.
Your local cache will be limited by the capabilities of the hypervisor you use. These limitations will have an impact as to how Nasuni Filer can be implemented on-site for file share backup. For example, Citrix XenServer supports an 8 TB cache, by far the most. VMWare's cache varies from 128 GB to 1 TB, depending on the block size selected. And Microsoft Hyper-V has a cache size of 64 GB. With all cases, your required disk size is twice the size of your maximum cache, most likely to support the Nasuni management overhead capabilities for snapshot management. See here for more details.
Reports
Nasuni has interesting graphing and reporting capabilities to provide an on-site IT administrator with views into recent snapshots, error messages, and storage usage. This is useful for a quick dashboard review of any issues related to backup. Check the gallery for some sample screenshots.
Screen showing share creation
You can set a schedule for snapshotting the Nasuni cache.
Cloud usage and snapshot report
Network traffic monitor
Log file
Nasuni also provides a web-based log file to track the status of snapshots, storage, and user access. The log filtering capabilities are useful for troubleshooting or general management
Performance
Nasuni's performance was lackluster. I attempted to back up a 270 MB file over a Gigabit Ethernet local network connection and a DSL connection with 1 Mbps upload speed. According to Windows Explorer, just transferring this file to the mapped drive that represents the Nasuni cache, was going to take about 3 hours. I also tested a 36 MB file, which was Windows estimated to take about 20 minutes. Although Nasuni only uploads this data to the cloud during a snapshot, I'd have to think there is some overhead in segmenting, encrypting, and managing this data that is causing the delay.
Access, Support, Security
Support
Email

Y

Online Ticket

Y

IM / Chat

N

Phone

Y

Knowledge Base

Y

Tutorials

Y

Access
Browser-based file manager

Y

FTP

N

Email link

N

Blackberry

N

iOS

N

Android

N

Windows Mobile

N
Nasuni has several key security features. It uses OpenPGP with the AES-256 standard to compress and encrypt files for storage. Nasuni can generate keys for you, and even escrow them on your behalf in case you lose them. However, in the case of any government subpoena, Nasuni must turn over access to the data as well as the keys.
If you create and manage your own keys, however, your files will always stay encrypted and accessible only by you. So even if the government has a subpoena for your data, they are unable to access it without your security keys. This feature can bee seen as an extra layer of protection and security with regard to cloud storage that is very unique compared to other providers.
With regard to users, a Nasuni shared drive has a few features similar to a local shared drive. You can associate Nasuni with an active directory server for authentication and authorization of users. Folders that are set up can have various permissions for users and groups, with the option to inherit permissions from parent folders. As noted earlier, there are no remote access features.
Updated 6/28/2011: Web browser access
Files can be accessed via web browser, but only if you are an administrator and on the same local network where the Nasuni Filer is running.
While I was able to perform much of the setup on my own, I did have a few questions on basic setup and configuring the Active Directory server for authentication. Nasuni support was accessible and helpful, even establishing a web meeting to take control and help me with a few of the advanced configuration options.
My initial problems were establishing a connection from my virtual appliance Nasuni Filer to the central Nasuni licensing server. There is very little troubleshooting that end users can do in this situation. Restarting Nasuni resolved the issue. I never discovered the root cause of the problem.
Summary
In summary, Nasuni simplifies data storage management and recovery tasks for a local network file share, which, behind the scenes, is cloud based storage. It is a good supplement or replacement for a large, on-premise storage system.
The unique way Nasuni handles encryption and keys can provide a sense of security for companies that are concerned about cloud storage security, especially in the case of government subpoenas for data.
However, Nasuni Filer seems more targeted toward larger storage needs with plans starting at 1 TB (1,000 GB) and a need for a local cache for performance and recovery. Nasuni is not a solution for end user computer or server backup. You must have a seasoned IT administrator to install, configure, and maintain Nasuni.