Introduction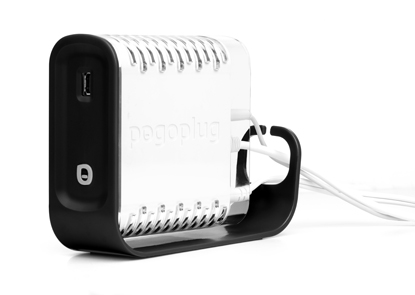 At a Glance
Product
Cloud Engines Pogoplug Biz (POGO-BIZ02-US)
Summary
Business version of popular SOHO cloud NAS
Pros
• Great improvements in speed and user interface since last reviewed
• Good level of control over shared files
• Good balance of customization versus HTML knowledge required
• Mobile applications cover most current smartphones
Cons
• Expensive compared to standard Pogoplug Pro
• Certain features only available through web interface, which is not mobile friendly
• Security defaults should be set to more secure settings, not less
• iPhone application needs polishing
I've spent years working in IT departments of various sizes, from one-man (me) shops all the way up to hundreds of individuals in financial institutions. And there are a number of common challenges you always face regardless of the size of the company. One of the major challenges is sharing data in a way that is safe and secure, yet easy.
This particular task is even more daunting for smaller businesses where the IT responsibilities are usually either outsourced, or the responsibility of a person who is "tech-savvy", but for whom IT is not their main focus. It is this audience that Pogoplug is targeting with their new Pogoplug Biz.
Previously, Jim Buzbee wrote a great review of the Pogoplug V2. Pogoplug Biz uses the same hardware as the Pogoplug and Pogoplug Pro models, so refer to Jim's article for all hardware details. This review will be focused on the features that the Biz model brings to the table, and how they will help the SMB crowd.
First thing of note is the price—Pogoplug Biz is $299, which is $200 more than either the original Pogoplug or the new Pogoplug Pro, and it does not include the wireless connectivity that the Pro includes. The price alone will turn some people off as hosted solutions offer a lower cost of entry, like Dropbox which is $200 a year for 100 GB of shared storage.
Since the Biz is aimed at the "top of the line", I would like to see the hardware updated to include wireless connectivity, especially since wireless networks are making their way into some of the most stringent network environments, like finance and healthcare.
The table below shows a feature comparison between the $99 Pogoplugs and their more expensive sibling.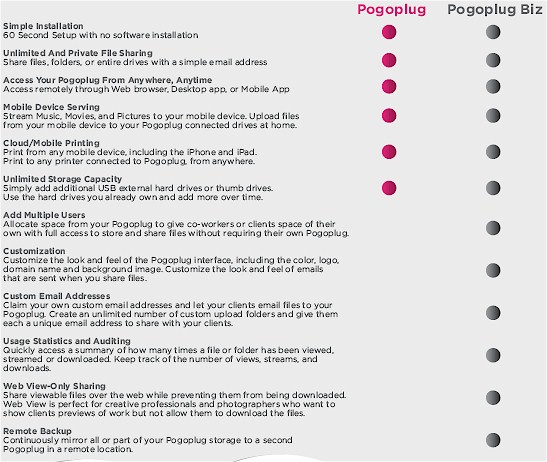 Pogoplug Standard and Biz Feature Comparison
Setup is extremely simple and straightforward and I was online within 5 minutes with minimal effort. The interface is responsive over both the LAN and the Internet.
Before I got down to checking out the "Biz" features, I wanted to try streaming a movie since the web interface claims HTML5 H.264 support. So I moved a HD movie encoded with H.264 into the root folder over the LAN.
Watching the interface showed that once the file had finished transferring, the Biz automatically began generating a "preview", which is automatically played when you mouse over a video. This took a few minutes to generate. But once it was done, it played beautifully in both Apple's Safari and Google's Chrome web browsers.
A side-note on Chrome: Chrome will not start playing an HTML5 video until it's fully cached, where Safari provides a more Youtube-like buffered video experience. Unfortunately, I could not get Firefox to work with it at all. But one of my testers managed to install a proper codec pack in order to get Firefox to stream the video. IE users will have to install Chrome Frame or wait for IE9 to get the full experience.
Features
This brings me to one of the core features of the Biz unit: multi-user access control. Setting up access for multiple users is simple two step process. You first create an account by entering the user's email address (which becomes their username), and then, if you would like them to be able to upload files, you can assign access to one or more folders.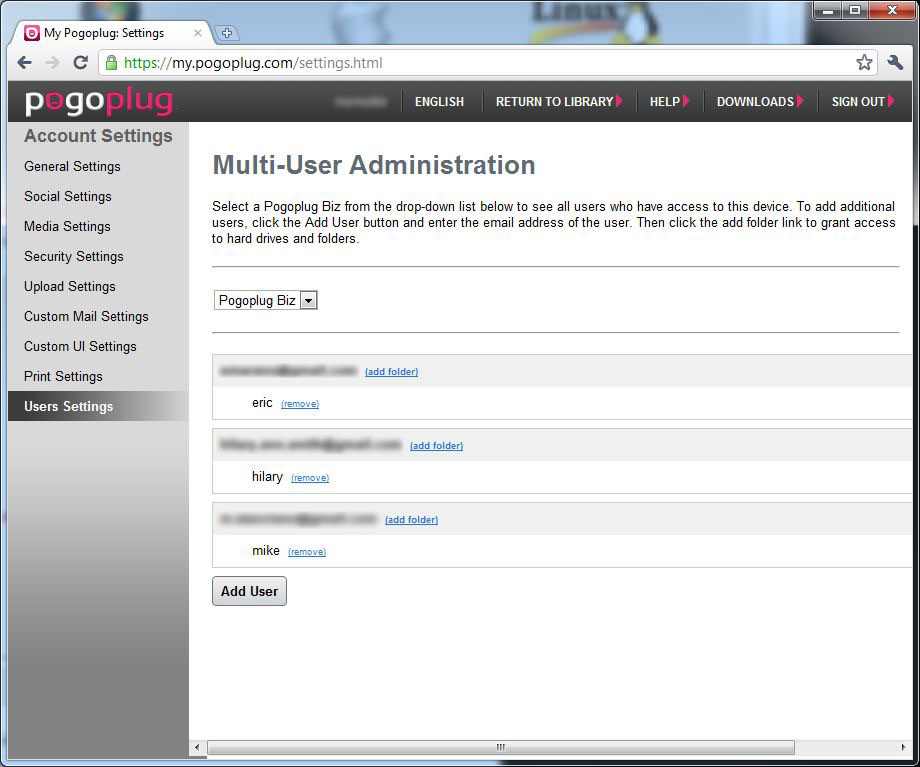 Multi-user admin
The Biz then sends an email to user stating that an account has been created for them, and to follow a link to assign a password to the account. Once you have populated your Pogoplug Address Book with some users, you can begin sharing files with them.
Notifications will be dispatched via an email each time a new file or folder is shared with their user account. There is a security option that requires users to login to view the shared file(s), after which files show up under their Pogoplug account as available to view or download if it's been allowed.
Another interesting feature is the ability to save email file attachments directly to the Pogoplug. I recently began work on a project with a graphics designer who is technically savvy, but busy like the rest of us. He wanted to send me a file to review while I was traveling.
Normally he would have shared this with me via Dropbox, but decided instead to email me a PDF version. My iPhone can easily view this PDF. But I can't save it and it stands the chance of getting lost in my inbox. This proved a great time to test this feature, which integrates with the portal located at my.pogoplug.com.
If you have walked through the two-step process of enabling the feature on your Pogoplug beforehand, you can then forward email to [email protected]. The portal will use the email address you forwarded the email from as the rule to route your file attachment.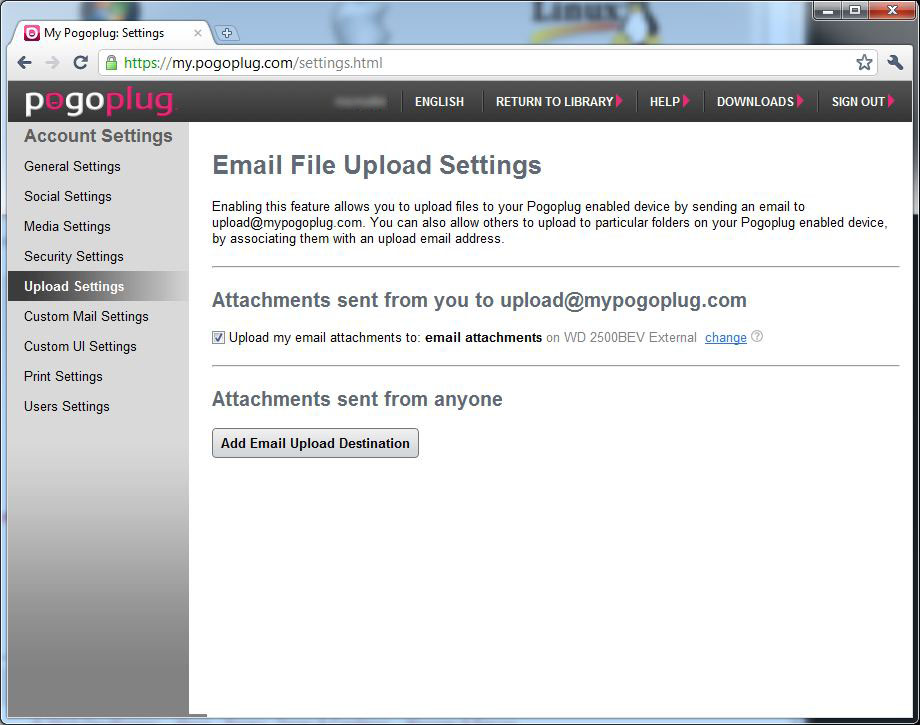 Email File Upload feature setting
This same methodology is how the new Pogoplug "cloud printing" service works. I could not try cloud printing because I don't have a compatible USB printer. But this thread on pogoplugged.com describes the compatible printers (most HP and Epson printer models released post-2005). Note that cloud printing is available on the $99 Pogoplugs.
The Biz also allows you to customize the my.pogoplug.com web portal experience. Customizable areas include: a changeable logo; the hyperlink the custom logo links to; the main text color; the main background color; the main background image (tiled to screen size); the left sidebar background color; the domain name for the device; and finally the favorite icon (which appears in URL bars in web browsers and is used for bookmark icons).
Any images used will be uploaded to the Pogoplug device's primary drive, and then can not be renamed or deleted or else it will break that particular section of the user interface. This is the same as any web customizable interface, and provides a nice level of customization that won't overwhelm someone or require them to understand HTML.
Once you've uploaded files, like your logo, they can also be used to customize the HTML email the device sends out when files have been shared or updated. These emails can be further customized as well, but the process might be a little confusing to someone not particularly tech-savvy. Check out the image gallery for shots of the customization and other features.
The Pogoplug "drivers" enable the drive to been seen on a local computer as another disk drive from any internet connected PC.
Active copy allows for specific folders to be synchronized between the Pogoplug and your local computer.
Social networking is shared across all accounts for Pogoplug Biz users.
SSL access to files should be the default security setting.
Customize the HTML emails that get sent to users.
Customize the user interface of the Pogoplug portal.
Printing by forwarding attachments to the Pogoplug is in beta.
Individual files have an overlay over their thumbnail to share the file individually, or a group can be selected using checkboxes.
Sharing files with people is done via email that can be typed in or from the address book.
The address book contains all users that you have ever shared files with or that have system accounts.
The sharing options tab contains some security settings and the social media sharing options.
Sharing usage statistics are simple but nice to have.
Pogoplug's primary support is via an online ticketing system, which is easy enough to use. The support section of the website also includes community forums which are easily searched via Google, and provide useful insight into the inner workings of the device. The support section also hosts the latest "drivers" for mounting the Pogoplug as a drive on your computer and has a number of FAQs and tutorials.
Pogoplug's security is mostly a function of its simplicity. Since none of your files are stored on Pogoplug's servers, the requirement for file-level encryption is unnecessary. I do, however, feel that the choice to default to standard, non-encrypted sessions for file browsing is unacceptable.
I recommend the first thing you do during setup is to go to the security settings for the device and enable the "Use full security sessions" checkbox. I've noticed no slowdowns on the device because of it, and use of HTTPS encryption gives some more piece of mind. That said, the username and password login process is always encrypted, regardless of that checkbox.
Pogoplug has a native iPhone application that provides decent access. I'm a movie buff, so I tried streaming both SD and HD movies from it, with little to no success, though. This is a little strange as all the movies I have are in H.264 and stream fine to Safari and Chrome. So I would guess the app needs a bit more polishing in that department. Documents opened fine though, along with images.
There are also native Android, Palm, and Blackberry applications for Pogoplug. The Pogoplug will do its best to display Microsoft Office documents correctly in a web browser, which is great for mobile users. Wowever, there isn't a mobile-optimized version of the web portal, so the best experience will be had from larger devices like the iPad.
Performance
Jim's review of the V2 showed write speeds below 5 MB/s and reads of only around twice that. So I was prepared for the worst. But I was pleasantly surprised when copying a 4 GB file from my Mac took a mere 2 minutes. My network monitor showed a transfer speed of about 25 to 30 MB per second, which is about 7-10 times faster than the speed Jim averaged.
I thought that perhaps my Mac was just being kind, so I tried a similarly-sized file from my Windows 7 machine, and it too averaged 5-10 times faster. Read speeds showed an increase to speeds about the same as the writes. So it would seem that 10 months of firmware development has really improved the Pogoplug's LAN capabilities to the point where it could be a feasible LAN-based NAS.
I would be curious to see if the addition of eSATA or USB3.0 would improve the speed any more, since 25 – 30 MB/s is about the maximum you are going to get from USB 2.0 drives as a result of the overhead and the overall latency of the USB2.0 protocol.
I also decided to test Pogoplug's recent addition of Journaled HFS+ formatted hard drives, since HFS+'s journaling feature is quite helpful in the event of a power failure while the device is writing data to the drive.
I inserted a 250 GB 2.5" Western Digital HD formatted with journaled HFS+, and it showed up after a couple of moments ready for use. I then proceeded to install the Windows and Mac OS drivers to mount the device as another file store, and was ready to begin copying data. From start to finish, the setup took under 15 minutes.
Closing Thoughts
Overall, the Pogoplug Biz provides a good user experience for business users. And it's an easy way to set up a small-scale private cloud without the monthly costs of hosted cloud services or worrying about the security of your data sitting out in the cloud.
There are a number of feature requests in the Pogoplug Forums that could push the Biz toward use by larger businesses. For example, a way to connect into a central user directory and use it for authentication (like Active Directory). This could help make the business experience even more streamlined. But has to be balanced carefully against the target audience who might not have an IT infrastructure that has something like Active Directory.
A very important point that I find the Pogoplug is a little deficient on in their documentation is the importance of a solid Internet connection. Pogoplug's claim to fame is their "private cloud" functionality. But the Internet still needs to find its way into wherever the Pogoplug is sitting, be it your home office or another location.
This means the user experience is only going to be as good as the Internet connection to it, particularly its upload speed. I feel this needs to be more clearly explained to the possible purchaser, although I admit it's not a positive marketing point.
If you want to host a Pogoplug from a location using DSL and plan to use it heavily, you might as well just save yourself the $299 and purchase a subscription to either Box.net or Dropbox. But if you happen to live in an area with higher speed Internet options, you could find the Biz to be a good addition to your client support options.
If I were in the position to be using it, Pogoplug Biz would definitely be an option to supplement my office NAS and provide an easy way to share files with clients without the hassle of setting up VPNs or opening router ports.