At a glance
Product
Trend Micro SafeSync () [Website]
Summary
Trend Micro's SafeSync provides one of the more reliable and easy to use cloud backup and sync solutions from a Fortune 500 company.
Pros
• Good mobile interface.
• Ease of setup.
• Unlimited backup.
• Cheap.
• Good feature set.
Cons
• Security not well documented.
• FAQ is useless.
• Web interface can overwhelming.
• Slow to upload and download through web interface.
Typical Price: $60
Backup
Exclude

N

Include

Y

Drive selection

N

Folder selection

Y

File type selection

N

File selection

Y

File size filter

N

Archiving

N

File versioning (number)
9999
File versioning (days)
30
File size limit (GB)
9999
Force full backup

N

Auto file type organization

N

Auto resume

Y

Transfer Backup

N

Bandwidth Control

Y

Account Types
Unlimited

Y

Free

N

Free Trial

Y

Home

Y

Business

N

Monthly Billed

N

Yearly Billed

Y

Min. Limit (GB)
9999
Max. Limit (GB)
9999
Free Space (GB)
0

Restore
Web download

Y

Zip File

N

DVD

N

Hard Drive

N

OS
Windows

Y

Mac OS

Y

Linux

N
The entire cloud "industry" is fascinating to watch. We have Fortune 500 companies like Microsoft, Trend Micro, and EMC squared off against smaller companies like Dropbox, Box.net, and Crashplan.
Unlike a production-based tech business like the processors or the storage, cloud businesses have such low entry requirements that many times small companies like Box.net can create an innovative product that captures a sizeable consumer base. One of the prime examples is Google and its rise to power and the subsequent toppling of the major search engine before it, Altavista.
Trend Micro is a Fortune 500 company with roots in desktop antivirus software. But it has expanded slowly into other areas like spam mitigation and now cloud backup and synchronization. Its SafeSync provides an unlimited backup solution relatively inexpensively at $60 dollars per year. Trend Micro claims this price is currently discounted, but makes no mention of the MSRP on their website. So I can't say if it will stay at this price.
I went into this review with some skepticism after reviewing Iomega's cloud storage solution. Unlike some other purveyors of cloud storage solutions, Trend Micro has (thankfully) done their homework. They offer a 30-day trial which does not require you to enter a credit card, and you have immediate access to your unlimited storage. Account creation was completed without a hitch, and after confirming my email address, I was online.
Trend recommends installing its client software on your computer. Both Windows and Mac OS clients are available and both clients have the same user interface. Trend does not allow you to change the location of the installation, which is disappointing as I prefer to keep my programs and data on separate drives to make reinstalling Windows easier. The post-installation setup process includes running a wizard that walks you through adding default directories with the option to skip the wizard and proceed to the interface if desired.
Trend's client is fully featured, although most of the functionality and configuration is buried in menus and tabs. A quirk of the client is that its upload and download rate limiting is achieved through a combination of three preset limits, a slider to control percentage of total use, and a customizable area for making your own preset.
I found the whole configuration confusing to understand. Download rates are measured in Mbps, whereas upload rates are measured in Kbps. It is easy to miss this nuance, and I managed to clobber my upload by entering 25 in both text boxes. Only after I clicked apply did I realize that I had told the client my upload was 25 Kbps. I switched this to 25000 Kbps and the client sped back up slowly, although it never did come close to maxing out my connection like Crashplan or Dropbox. Check the gallery for some pics of the configuration and settings.
Client setup requires an account before the setup continues.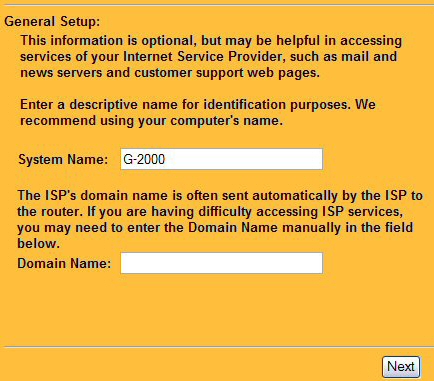 There's a nice wizard that walks you through the initial setup.
Depending on what you choose, initial sync can take awhile to complete.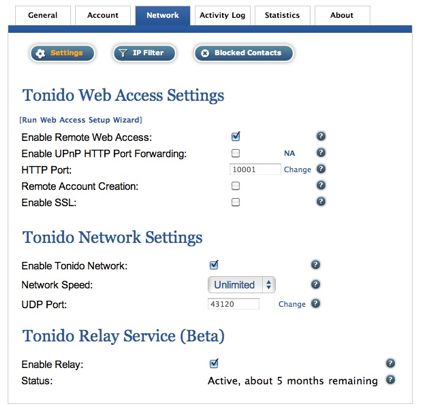 Settings is where you control which folders and files get backed up.
This client pie chart shows how much space your different file types take up.

The network configuration options are rather confusing. Watch out for the different units on up and download speed!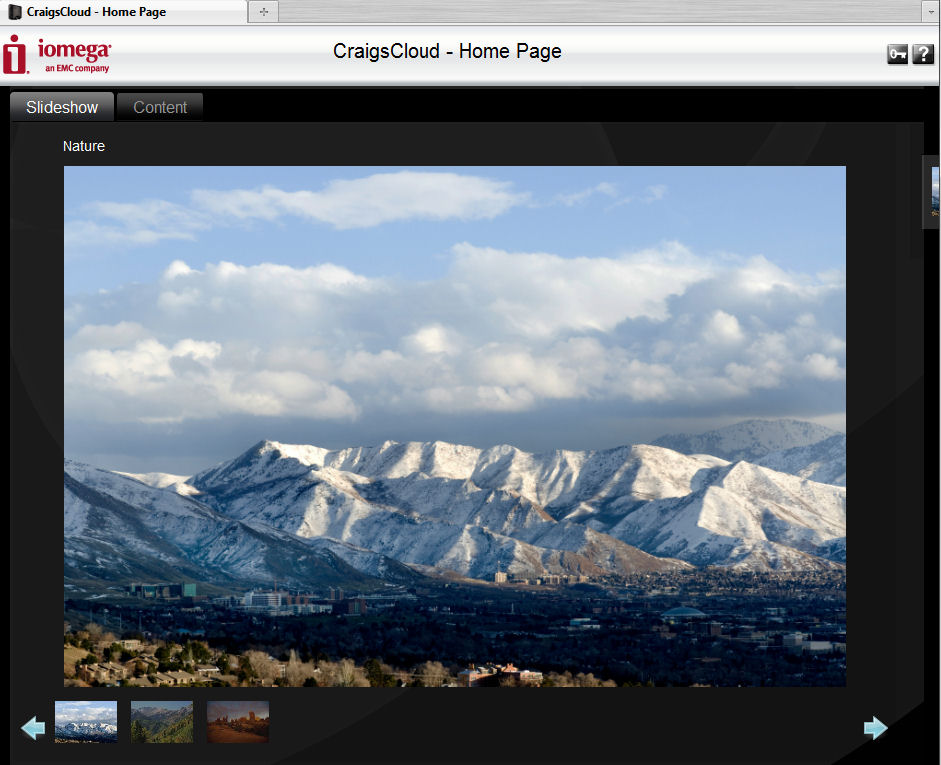 The home page for the website shows off some features and lets you download the client installer.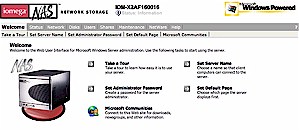 The primary web interface for SafeSync. It can be overwhelming to start.
The AJAX interface works well and simulates an Explorer style interface.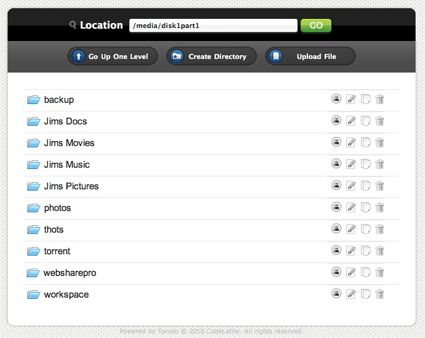 Integration with Windows Explorer works like a shared drve.
Email sharing works simply and easily.
Trend offers a similar service to Dropbox, which allows you to sync files between computers. This feature works well enough, but it suffers from the same problem as Dropbox, where deletion on a single system will replicate across the entire system. Thankfully the service also includes unlimited file revisions with 30-day retention, so retrieving an accidentally deleted file is not a huge deal.
Trend also allows you to share files across a number of services like email, Facebook, and Twitter via the web interface. The process to share a file or folder is the same regardless of the method you choose. The web interface creates a "direct link" to the folder which it then broadcasts over the selected services. I am a little hesitant to give access to a cloud file system to people on Twitter, but I can see a case where that would be useful.
Unfortunately Trend Micro continues the "trend" of big companies of not documenting their products all that well. While I could not find how many computers a single account would support, I did find out that SafeSync is hosted in a former gold bullion vault. Apparently Trend felt this was important to include in their FAQ.
Restore
Restore happens through the web interface or by installing the client. I really don't recommend using the web interface for restoring more than a couple files at a shot. It is incredibly slow, with an average download of 15 Kbps. It did manage to hit 100 Kbps at the end of my test restore, but that was for a couple seconds at most.
The download is also not compressed in any fashion, which was another surprise. The client, on the other hand, seems to be fast enough to classify as "instant" when a file change happens on one computer and is then propagated to the other. Unfortunately there is no option for a hard drive or DVD restore, so you will be stuck with whatever I nternet connection you have available.
Access, Support, Security
Support
Email

N

Online Ticket

Y

IM / Chat

N

Phone

N

Knowledge Base

Y

Tutorials

Y

Access
Browser-based file manager

Y

File Permissions

N

Folder Permissions

N

Blackberry

Y

iOS

Y

Android

Y

Windows Mobile

Y
Gaining access to your files is the same as conducting a restore: most everything happens through the web interface, with the desktop client providing a faster path for moving files around.
SafeSync also has a mobile-friendly web interface, which also works well. However, it is a little limited on iOS devices as you can't save anything from the web site on those devices. The web interface can be a little overwhelming at first, but there are some tutorials under the Help link to guide you through the interface.
Support is accessible via an online ticket system. There is generic documentation on how to accomplish standard file management, as well as installing and configuring the client. There is also a fairly useless FAQ which feels more like marketing jargon than actual support information.
Trend does not document their security model very well. They claim files are encrypted with AES-256, but when explaining how a Trend Micro employee might try to access a file, Trend talks about how they obfuscate names and store files across multiple servers rather than saying the file is encrypted and thus can't be opened.
I take issue with their explanation that obfuscating a file name is any form of security, as filenames mean little on any Unix platform (like Mac). All the important file information is stored in the file header which can be read easily regardless of filename. At least file transfers to and from their servers happen across SSL encrypted connections.