The WHA is a whole-house, multi-zone audio system using Ethernet and draft 802.11n wireless networking and DLNA 1.5. The lineup includes three players, powered speakers, a wireless touch-screen controller and iPod dock, all scheduled to hit stores this quarter with pricing starting at $300 for the entry-level player.

Linksys by Cisco Wireless Home Audio Family
The DMC350 Conductor Wireless-N Digital Music Center is an all-in-one wireless music system with integrated speakers, seven inch LCD touch screen, integrated CD player and IR Remote. Pricing was not announced and it appears that this will be the last family member to become available.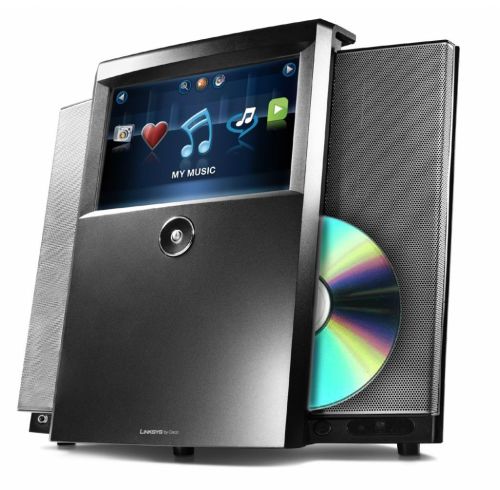 Xtreme N DIR-685 Wireless Router
The DMC250 Director Wireless-N Music Player with Integrated Amplifier ($449.99 MSRP) drops the CD player and speakers and adds a 50 W amplifier.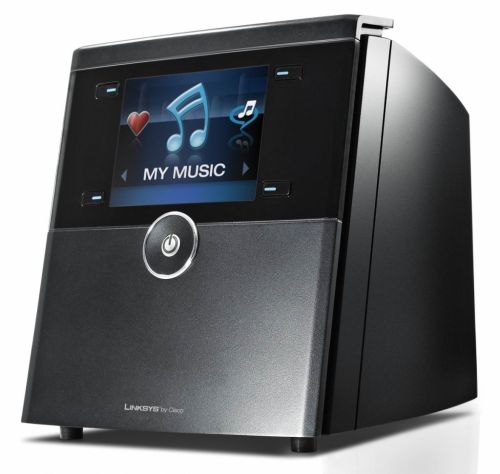 DMC250 Director Wireless-N Music Player with Integrated Amplifier
The DMP100 Player Wireless-N Music Extender ($299.99 MSRP) is the entry-level player. It has stereo line outputs and all the functions of the more expensive player options, but no display, CD player or amplifier.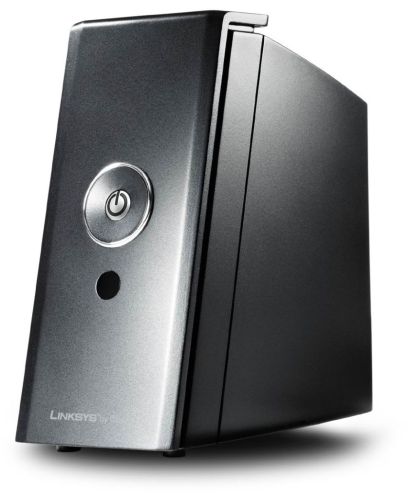 DMP100 Player Wireless-N Music Extender
The DMWR1000 Controller Wireless-N Touchscreen Remote ($349.99 MSRP) features a large color touchscreen and thumbwheel and can be used to control all players and a docked iPod.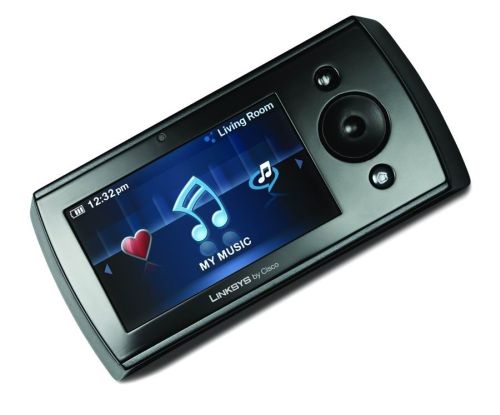 DMWR1000 Controller Wireless-N Touchscreen Remote
The other components available include the DSPK50 Stereo Speaker Kit ($149.99 MSRP), MCCI40 iPod Dock ($79.99 MSRP). Additional DMRIR500 IR Remotes (that come with all players) can be purchased for $29.99(MSRP).
For your purchasing convenience, Cisco has kindly assembled three kits:
Premier ($999.99 MSRP)
Two-room starter kit with Director and IR Remote, Player and IR Remote, and Wireless-N Controller.
Trio ($849.99 MSRP)
2 Players, 2 IR Remotes, and a Wireless-N Controller, for adding the WHA to existing audio systems.
Executive ($549.99 MSRP)
Single room kit with Director, IR Remote and speakers.
Along with the WHA, Cisco also kicked loose a new line of NASes that put its previous NAS200 to shame. The Media Hub line consists of three two-bay NASes with a very friendly Flash-driven web interface, UPnP AV / DLNA and iTunes servers, photo slideshow, remote access and NTI Shadow-bundled backup (for Windows only).
The NMH405 (500 GB) and NMH410 (1 TB) models both include a front panel LCD display and 6-in-1 card reader. The NMH305 does not have the LCD or card reader and sells for $50 less than the 405. All versions come with one drive—you add the second to either expand capacity (JBOD) or increase security (RAID 1).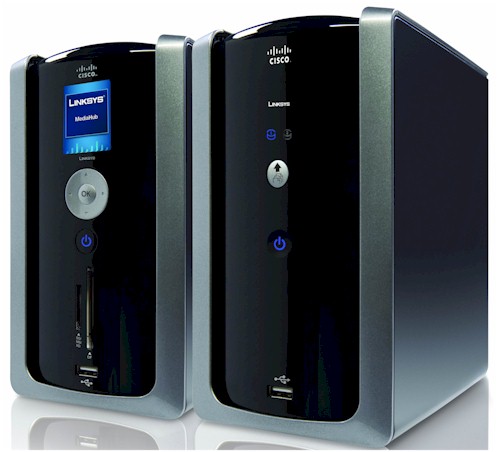 Linksys by Cisco Media Hubs
MSRPs are $429.99 for the NMH410, $349.99 for the NMH405 and $299.99 for the NMH305. All will be available shortly.
Cisco was kind enough to provide SmallNetBuilder with one of the first Media Hubs for review. So check out the slideshow and mini-review for further details.