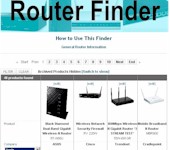 It's been a long time coming, but we're finally unveiling our completely redesigned Performance Charts and brand new Product Finders.
Introducing Product Finders
Our Router, NAS and Wireless Performance Charts have long set the standard for product performance comparison tools. And with the launch of our complete redesign, we're moving the bar even higher.
The old Charts were great for comparing product performance. But they were not a lot of help if you were trying to find products with specific features, like routers with Dual WAN ports or NASes that support backup to eSATA drives, for example
So we're introducing SNB Product Finders. You can think of Product Finders like the old Chart Features button on steroids. A glance at the Router Finder partial screenshot below will show you why. This top section contains key information for each product.
Mousing over product images pops up a larger view and you can filter the view by company (or multiple companies by shift-clicking) in the Company box. Reviews are a Read button click away. To keep things clean, we've hidden general information behind the How To Use This Finder and General Router Information links, which expand and hide with a click.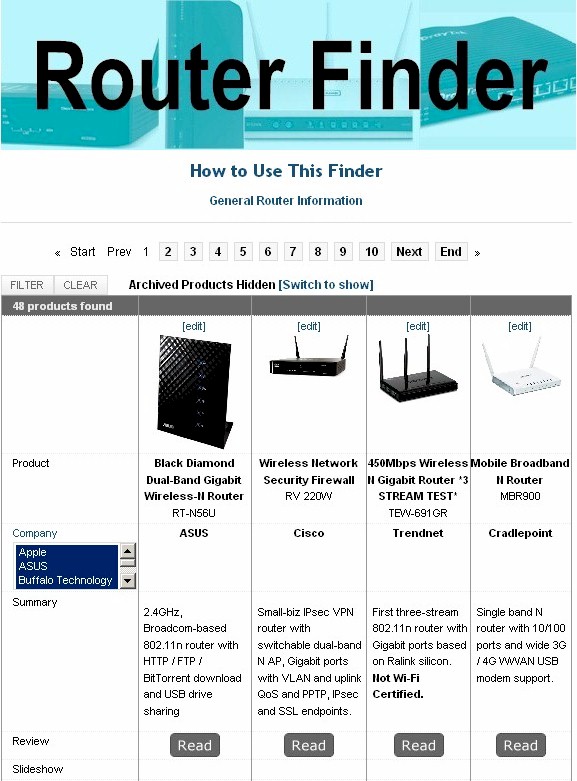 Router Finder – top section
Scrolling down a bit shows website, date and price lookup links and current lowest price (updated nightly). You also start to see the wealth of feature information that the Finders hold.
Anything with a dropdown or checkbox can be used to filter the view. Most Feature names will sort the view by clicking on them, once for ascending and again for descending sorts.
Also note the collapsed WAN section in the screenshot below. This can be done on any section by clicking on the section bar to collapse and expand.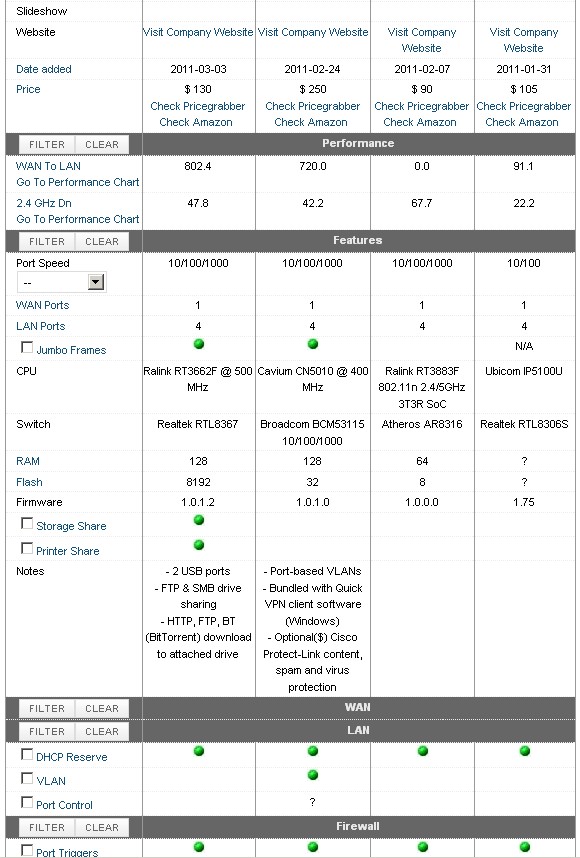 Router Finder – lower section
A major change that you'll note is that we have combined wireless and wired features into the Router Finder, which is reflection of how most consumer and pro-sumer routers are built today. But if you want to see only wired routers, just pop down to the Wireless section, select Type = None, click Filter and you're in business.
We also have a Wireless Finder, but it's only for wireless products without routing features, such as access points and bridges. And, of course, life would not be complete without a NAS Finder!
New Performance Charts
We've also reworked the Performance Charts, to incorporate links to the Product Finders. The new Router, NAS and Wireless Performance Charts replace the old ones.
Note that all the Filters except for Company have been removed from the Performance Charts. If you really want to drill down by product features, well, that's what the Finders are for!
Of course, you can still click up to four products and you'll be taken to a Finder view to peruse detailed product features. But, for simplicity's sake, all sorting and filtering features are disabled in that view.
As with the Router Finder, the Router Chart holds both wired and wireless performance information for all routers in our database. The Wireless Chart hold only performance data for non-router products.
The screenshot below shows a wireless benchmark view. But the familiar routing benchmarks (WAN To LAN Throughput, LAN to WAN Throughput, etc.) are available in the Benchmark selector.
The familiar Performance Table, Performance vs. Location, Benchmark Summary and Price vs. Performance views are still here. But note the new Parameter selector next to the Benchmark selector.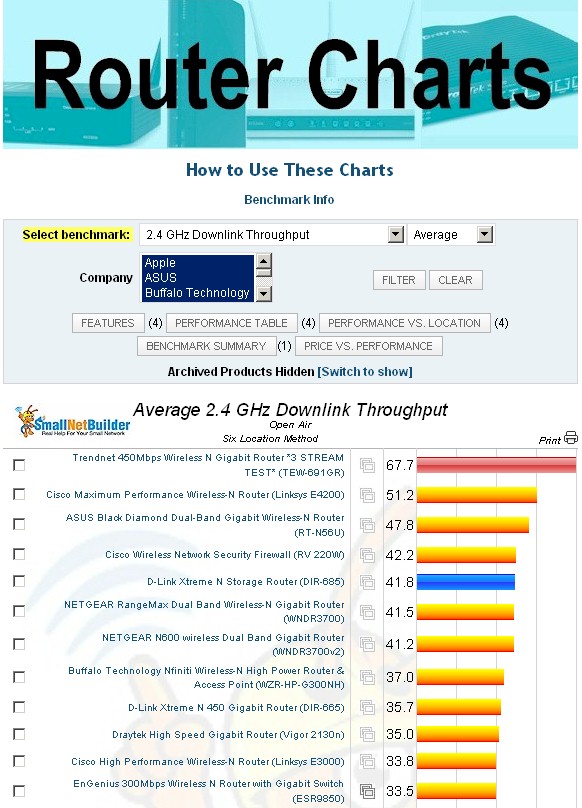 Router Chart – Wireless Benchmark
The Average default view is the same as the old chart view, i.e. an average of all the values from our six test locations. But you can now also easily and quickly compare maximum and minimum values from the test locations, as well as each individual location. Cool, huh?
With these new Charts and Finders, we've also taken the opportunity to do some house cleaning. What you won't find in the new charts are old and outdated benchmarks, like the Azimuth method wireless and iozone-based NAS tests. We've also cleaned house and gotten rid of many discontinued products. But some are still available by using the [Switch To Show] Archived product link.
But if you really need to access the old charts to get at historical performance data, we're still leaving them up for awhile. Just follow the Old Chart links that you'll find up in the site nav bar in the Wireless NAS and LAN & WAN sections.
So, that's the story. We hope you like the new Finders and revamped Performance Charts and find them even more useful in your search for the right products. As with any major rework, there are sure to be bugs, errors and omissions. So please help us track them down by letting us know if you find anything strange, or just can't find what you're looking for. Of course thanks and attaboys are always welcome too!