Overview
I am having a hard time finding a netbook that I like. So far, the MSI Wind U100 got sent back due to its wonky touchpad and uncomfortable mouse button. Then the much-praised Samsung NC10 met the same fate , due to its painful-to-use one-piece mouse button.
My experience with both machines has made me swear to not order another netbook that has a one-piece mouse button. Whatever manufacturers may be saving by using one vs. two mouse buttons, it isn't worth it. The design simply makes clicking too uncomfortable for regular use. So this time, I decided to try a netbook with two proper mouse buttons: Lenovo's S10.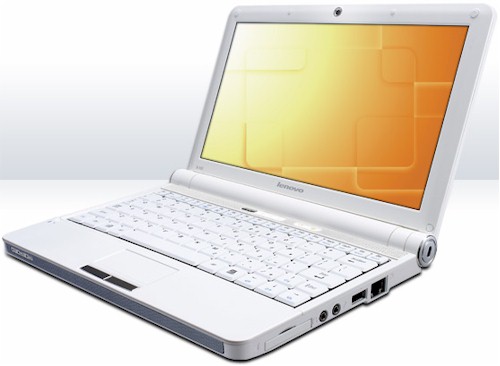 I ordered the "Large Capacity" version of the S10, mainly because I wanted the 1 GB of RAM. If I were smart, I would have ordered the "General Computing" version and spent $20 to upgrade its 512 MB of RAM to 1 GB. Although the "Large Capacity" version also doubles the "General Computing" model's 80 GB hard drive, I don't even need the 80 GB. Of course, a few days after I placed the order, Lenovo dropped the price on both models $50 to $349 and $399. Sighhhhhhh…
The unboxing was similar to my experience with the Samsung. The attractive product box set the stage and the S10 was safely wrapped and nestled between two foam support / end-caps and the power supply, battery and power cord were all in a separate compartment. Unlike the MSI and Samsung, however, the S10 doesn't come with a slipcase.
First boot was uneventful and XP Home installed without a problem. The resulting desktop (I removed the default desktop background) showed an icon for the bundled Cyberlink OneKey Recovery program.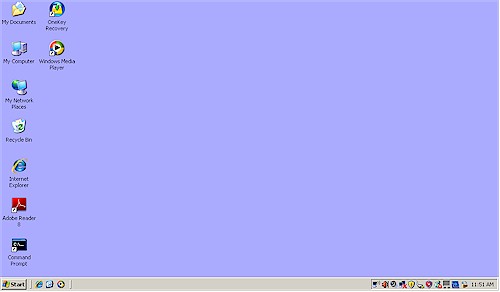 Figure 1: Lenovo S10 desktop
Actually each boot after the initial installation automatically brought up an installation screen for the Norton Internet Security trial that is also bundled. The screen didn't offer a "No Thanks" or "Quit" option, so I had to open Task Manager and kill it each time until I tired of the game and uninstalled Norton.
Unlike the Samsung, the S10 has neither an online user manual nor Lenovo update program installed. The only other option under the Lenovo Start Menu folder besides the OneKey Recovery program is the Energy Management program (Figure 2).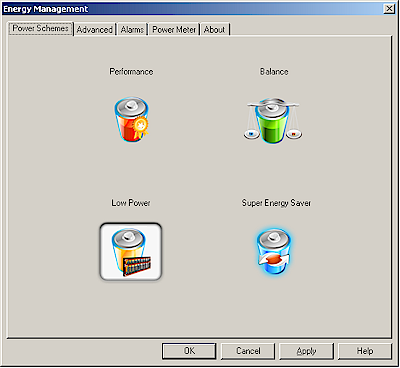 Figure 2: Energy Management app
The four settings adjust processor speed, display brightness and network adapters as summarized in Table 1. I tried to find a summary of these settings in the Energy Management help file, but it had an index, but no content for all items!
| Mode | CPU | Display | Network |
| --- | --- | --- | --- |
| Performance | 1.6 GHz | Full brightness | Ethernet and WLAN enabled |
| Balance | 1.6 GHz | 75% | Ethernet and WLAN enabled |
| Low Power | 798 MHz | 50% | Ethernet and WLAN enabled |
| Super Energy Saver | 798 MHz | Lowest | Ethernet and WLAN disabled |
Table 1: Energy Management settings
I expanded some of the items in Device Manager so that you can see what the S10 is made of. My usual objects of interest, the WLAN and Ethernet interfaces, show Broadcom devices for the 802.11b/g Wi-Fi and 10/100 Ethernet port.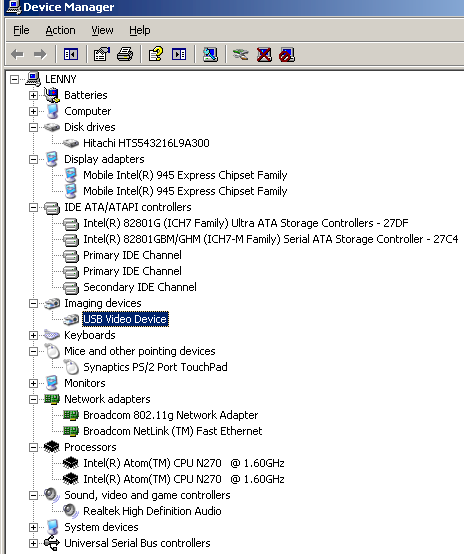 Figure 3: S10 Devices
I was unpleasantly surprised, however, by the absence of a Bluetooth adapter. There seems to be some confusion on whether the S10 includes Bluetooth. Notebookreview's review says that it does. But various other posts (here, here) say that it doesn't.
My "Large Capacity" model most certainly does not include Bluetooth. And I can't see it on any of the models shown on the Lenovo site and it isn't a configurable option. So there's strike one for the S10. Sure, I could plug a BT dongle into a USB port. But both the MSI Wind and Samsung NC10 have built-in Bluetooth. And I will probably be using a BT mouse when I need to do a lot of writing on whatever machine I end up with. I don't want the hassle of plugging in / risk of losing a teeny, tiny BT dongle.
Figure 4 shows the S10 side-by-side with my "reference" travel notebook, a Fujitsu P7120. The S10's footprint is smaller than the Fujitsu's by about 3/4" in width and almost an inch in depth. If only Lenovo had made the S10 at least a bit wider they would not have had to cripple a good netbook with such a cramped keyboard. (I'll come back to this shortly.)
Figure 4: Fujitsu P7120 and Lenovo S10
Another disadvantage the S10 has vs. some of its competition is that is currently available in the U.S. with only a 3 cell Lithium Ion battery. While this results in a shorter run time than its 6 cell-powered competition, the 3 cell battery pack doesn't protrude from the rear at all. In fact, it forms the long center area between the two hinges, a nice design idea.
The S10's port complement differs slightly from other netbooks. It is the only product in its class that sports an ExpressCard slot, but sacrifices a third USB 2.0 port to provide it. You still get, however, a 4-in-1 memory card reader, 15 pin VGA port, 10/100 Ethernet port and mic and headphone jacks.
The power button is back near the hinge beside disk activity, num lock and caps lock lights. There are also buttons to enable/disable Wi-Fi and launch the OneKey recovery program. There are also three small indicators on the front left edge for power, battery charge and wireless activity.
I should mention that Lenovo makes it easy to change the hard drive and memory. All you need to do is remove one large panel on the bottom and both are fully exposed. If you want to see more of what the S10's innards look like there are good photos here.
In all, the build quality is excellent and it seems like the S10 would hold up well with everyday use.
In Use
One look at the S10's keyboard in Figure 5 and experienced netbook users will see the "feature" that is causing me to request an RMA for it as soon as I finish this article. Instead of narrowing the arrow and punctuation keys like the MSI Wind or shrinking the arrow keys in both directions and nudging them down a half key like the Samsung NC10, Lenovo chose the layout used by the Asus Eee PC 1000H and others.
Figure 5: S10 Keyboard
The good news is that all the letter and punctuation keys in the ZXC row are the same size. The bad news is that the left shift key is about 1.5 X the width of the other keys and the right shift key is the same size as the others. But, even worse, the right shift key is moved to the outside of the row.
For at least my fingers, I just couldn't get the hang of reaching for that key. I kept hitting either the up arrow or Enter key unless I looked at the keyboard and carefully maneuvered my little finger over to it. Perhaps if you're a hunt-and-pecker that's ok. But for this touch-typist, this key placement is just plain wrong. And life's too short to type on poorly-designed keyboards.
Ironically, my usual complaint, the touchpad and/or mouse buttons are fine and dandy on the S10. The Synaptics touchpad even has a scroll area and there are separate left and right mouse buttons. The buttons required a firm press to activate, but worked no matter where I pressed them.
A few other things worth mentioning:
The front-mounted speakers produced surprisingly good sound, much better, in fact, than I get on any of my other notebooks. It is by no means hi-fi, but very loud and clear.
The 1024x 600 non-glare screen was nice and bright.
I didn't check out the 1.3 MP webcam, because Lenovo doesn't bundle a viewer application like the Samsung had.
I jumped the first time I plugged the (nice and small) power brick into the notebook while it was on. You get a FULL VOLUME "be-boop" that seems unnecessary and would be downright disruptive in a conference setting. You also get the "be-boop" when unplugging the adapter.
I didn't really stress the S10, but the fan would occasionally turn on for a few seconds—just long enough for me to know that it would be annoyingly noticeable if I were watching video or listening to music.
Verdict
So I'm 0 for 3 in my netbook search with the MSI Wind U100 and Samsung NC10 rejected for their disfunctional one-piece mouse button designs and now, the Lenovo S10 for its cramped keyboard and shrunken and misplaced right shift key. And, of course, the missing built-in Bluetooth.
I really don't know what is so hard about putting a decent combination of separate mouse buttons, Synaptics touchpad and thoughtfully-designed keyboards into a netbook. If Samsung had only put separate mouse buttons on the S10 (and set them a bit higher), my search would be over by now.
So have I learned my lesson yet about ordering something that I suspect that I won't be happy with? Unfortunately no. Against my better judgement, I put a Dell Mini 12 on order just yesterday, even though it will arrive with Vista Home and has only 1 GB of non-expandable memory (unless you count ReadyBoost).
Yeah, I know that paying $600 for a machine that is stretching the idea of an affordable, light, portable computer into something unholy (at least to "netbook" purists) seems doomed from the start. Not to mention that every review I have seen says that Vista makes the 12 run dog-slow (except for an interview with a Dell product manager who says that Vista runs "quite well" on his 12, thank you). All I can say is that it's a dirty job, but someone has to do it!