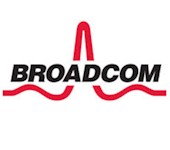 Broadcom has announced new HomePlug AV2 chips that break the Gigabit Ethernet barrier.
The BCM60500 and BCM60333 are fully interoperable with all HomePlug AV2 profiles and support link rates up to 750 Mbps using SISO and 1.5 Gbps using MIMO.
The devices have integrated Gigabit Ethernet PHY, RGMII/MII interface for connecting to broadband gateway and STB SoCs, PCIe interface for connecting to Wi-Fi chipsets and integrated linear and switching voltage regulators to reduce external components. They also support the new nVoy HomePlug Certification for IEEE 1905.1 compliance.
HomePlug AV2 reaches the 1.5 Gbps link rate through a number of physical layer enhancements. These include MIMO support, wider frequency band 1.8 – 86 MHz vs. 1.8 – 30 MHz and more efficient notching for radio signals.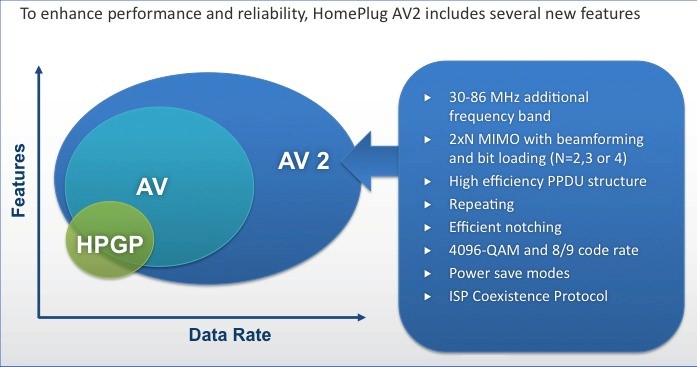 HomePlug AV2 key differences
HomePlug AV2 MIMO can also use the ground wire in three-wire electrical systems by pairing it with either the Line or Neutral wire to support sending a second independent signal to increase capacity. Beamforming is also utilized to achieve even greater MIMO performance on poor channels. When the third wire isn't available, the device falls back to SISO mode with a maximum 750 Mbps link rate.
Before you get too excited, look at the table below taken from the HomePlug AV2 Technology white paper. It shows that using the peak 1.3 Gbps link rate, UDP throughput of 493 Mbps was able to be measured in field tests only 5% of the time using a single test stream. Only 59 Mbps of UDP throughput could be delivered in 99% of the test cases.

HomePlug AV2 actual throughput
Broadcom's devices are the first to support HomePlug AV2 MIMO operation. Qualcomm Atheros' QCA7450/AR1540 chipset announced last October supports SISO mode only and is limited to a 500 Mbps link rate.
The Broadcom BCM60500 and BCM60333 HomePlug AV2 SoCs are currently sampling. So expect to see HomePlug devices proudly displaying AV1500 or some variation on their boxes in time for the holiday season, or definitely by next CES.