NETGEAR today announced two HD media players, a new UTM appliance and HomePlug AV connected 802.11n access point kit.
The NeoTV 550 Ultimate HD Media Player supports HD 1080p, Dolby Digital and DTS surround sound.
Features include a built-in SD memory card slot, two USB 2.0 ports, one eSATA port, 10/100 Ethernet LAN port, DLNA/UPnP support, network share browsing and optional wireless connection via the AV Series NETGEAR Universal Wi-Fi Internet Adapter (WNCE2001).
AV connections include an HDCP 1.2 compliant HDMI 1.3a port with 36bpp deep color support and 12 bit xvYCC processing, component and composite video and stereo analog and S/PDIF optical digital audio.
A wide array of formats are supported including H.264, WMV 7/8/9, MPEG2, MPEG4 and H.263. Playback with full functions including BD-Live are supported from external Blu-ray drives attached via USB or eSATA. Oddly, the NeoTV 550 does not support access to any Internet content services.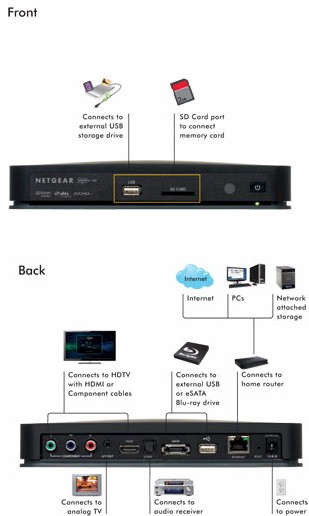 The NeoTV 350 HD Media Player is available only in Europe and Australia and has a slightly different mix of features. It does support Internet content from Picasa, Flickr "and more". But it has no eSATA port and does not support Blu-ray drives. Output connectivity is otherwise the same as the NeoTV 550.
The NeoTV 350 and NeoTV 550 will be available in October. The NeoTV 350 will be available in Europe with an MSRP of Euro 129.99 and Australia with an MSRP of AUD $189.99. The NeoTV 550 will be available in North America with an MSRP of $219.99, Europe for Euro 199.99 and Australia for AUD $299.99.
NETGEAR also announced the expansion of its ProSecure UTM series of all-in-one gateway security appliances with the top-of-line UTM50. The company says the new appliance provides 950 Mbps of Stateful Packet Inspection firewall throughput, an average of 45 Mbps of anti-virus throughput and is capable of 40,000 concurrent connections.
By comparison, the previous top-of-line UTM25 supports 127 Mbps firewall throughput, 25 Mbps anti-virus throughput and 27,000 concurrent sessions.
The ProSecure UTMs combine application proxy firewall, VPN, zero day protection, anti-virus, anti-spyware, anti-spam, intrusion prevention, and URL filtering protection.
The UTM50 is available now for $899.00 MSRP and includes one year of web and email subscription services, 24/7 technical support and an advanced exchange warranty.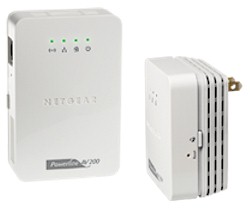 In powerline networking news, NETGEAR debuted the XAVNB2001 Powerline AV 200 Wireless-N Extender Kit. The kit includes an XAV2001 AV 200 adapter and new XAVN2001 Wireless-N Extender.
The XAVN2001 contains a 10/100 Ethernet port for wired network device connectivity and a single-stream 802.11n access point for wireless network extension. Both adapters are HomePlug AV compliant.
NETGEAR also "announced" the XAVB5001 Powerline AV 500 Adapter Kit and XAVB5501 Powerline AV+ 500 Adapter Kit that it had shown in March at CeBit.
The AV 500 products use Atheros' AR7400, which is designed to comply with the IEEE 1901 draft standard. The fourth-generation powerline chipset is designed to interoperate with both 1901- and HomePlug AV-based products, and includes non-standard modes that are said to support "more than" 500 Mbps PHY rates.
All the powerline products will ship this "fall" at MSRPs of $169.99, $159 and $179 for the XAVN2001, XAVB5001 and XAVB5501, respectively.