At a glance
Product
NETGEAR ProSafe Wireless-N 8-port Gigabit VPN Firewall (FVS318N) [Website]
Summary
8 port router with Gigabit Ethernet ports, 2.4 GHz b/g/n AP and built-in 12 IPsec and 5 SSL endpoints. Includes service QoS, up and down bandwidth limiting, session limiting and traffic metering.
Pros
• Gigabit ports with VLANs
• SSL and IPsec VPN
• Supports L2TP for Win 7 native client VPN
Cons
• Relatively slow routing speed
• Slooww admin interface
• Jumbo frames on only some ports
• Difficult L2TP client config
Typical Price: $0 Buy From Amazon
Overview
NETGEAR's latest small-business VPN router is more than the FVS318G with an 2.4 GHz b/g/n access point tacked on. It may look similar to its non-wireless sibling, but it features a completely revamped design with beefier processor, more RAM and flash and new features.
There are so many new features that my colleague Doug Reid will be doing a full feature review (done) and VPN performance test in a few weeks. For now, I'll just provide an overview and report on the routing and wireless test results.
The 318N features a rack-friendly design with all ports and indicators on the front as summarized in Figure 1. Of course, you wouldn't want to actually mount it in a rack, since that would interfere with the built-in 2.4 GHz b/g/n access point that NETGEAR has designed in.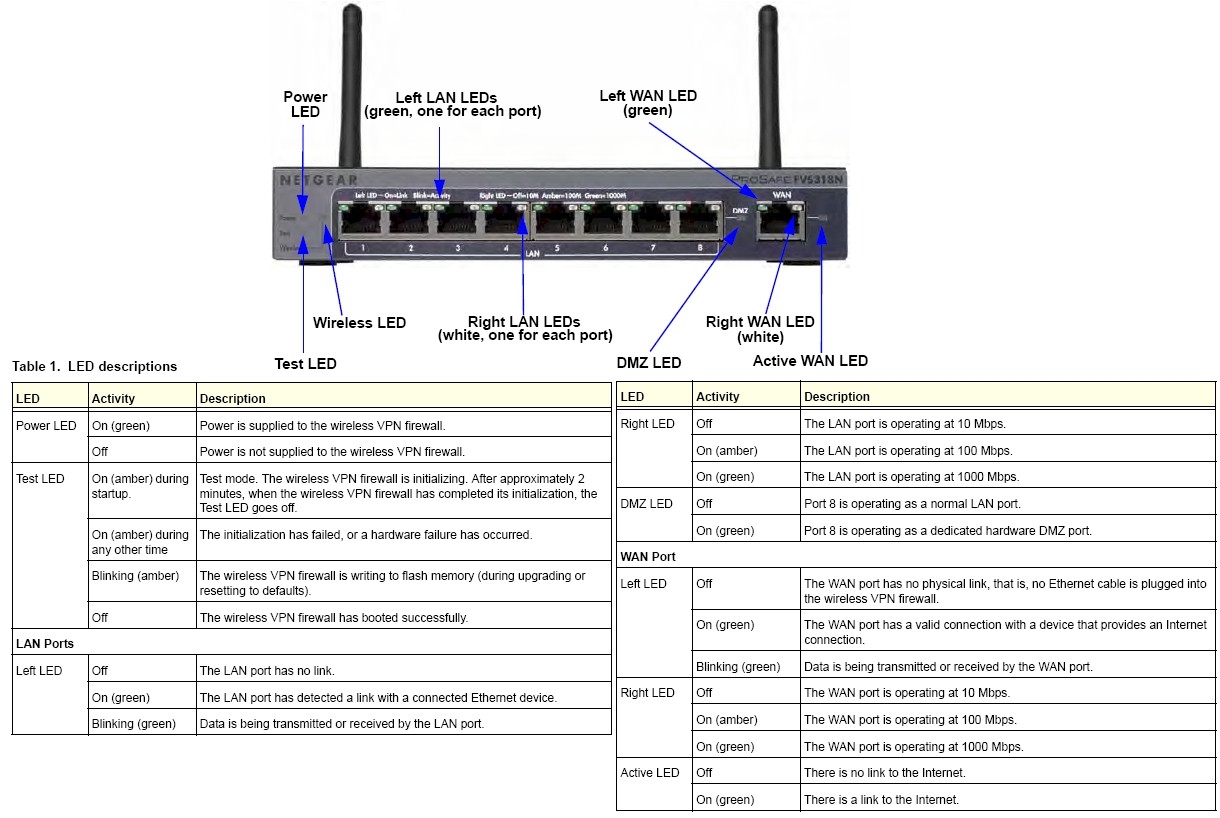 Figure 1: NETGEAR FVS318N Ports and LEDs
I think NETGEAR should have named this FVS318GN since the G in FVS318G does not stand for 802.11g wireless, but Gigabit. Figure 2 shows the rear panel, which includes a good old-fashioned serial console port for out-of-band management and direct access to command line management. Despite its targeted application for business networks, the two dipole antennas are not upgradeable.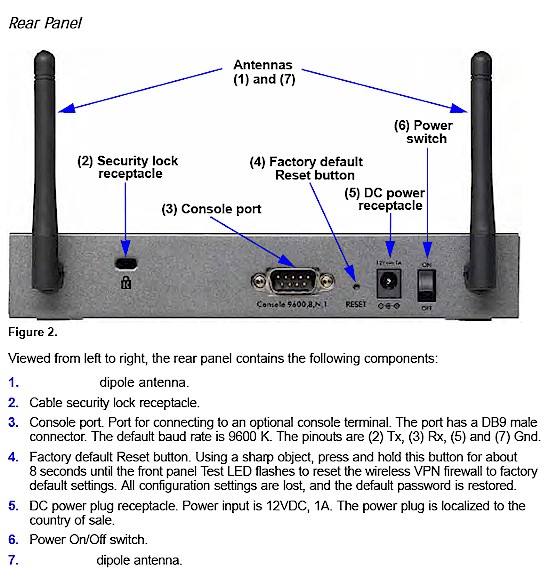 Figure 2: NETGEAR FVS318N rear panel
Inside
The 318N's FCC internal photos weren't great for an overall look, but conveniently included close-ups of all key components. But the fuzzy photo in Figure 3 is clear enough to show that there are no heatsinks on any of the components and no RF can over the radio.
A 300 MHz Cavium Econa CNS3411 ARM11 class SoC is the router's heart, supported by 128 MB of RAM and 32 MB of flash. The eight switched Gigabit Ethernet ports come from a Broadcom BCM53128 and a Qualcomm Atheros AR9287 2.4 GHz 2×2 SoC provides the dual-stream N radio.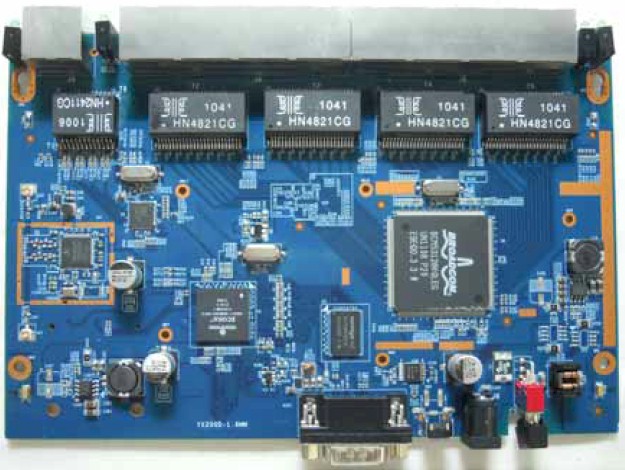 Figure 3: NETGEAR FVS318N board
As noted at the top, the N is a very different and much more powerful beastie than NETGEAR's previous FVS318G. Table 1 summarizes the key components.
| | FVS318N | FVS318G |
| --- | --- | --- |
| CPU | Cavium Econa CNS3411 ARM11 | Star (Cavium) STR9102 |
| Switch | Broadcom BCM53128 | Broadcom BCM53118 |
| RAM | 128 MB | 32 MB |
| Flash | 32 MB | 8 MB |
| 2.4 GHz Radio | Qualcomm Atheros AR9287 2.4 GHz 2×2 SoC | None |
Table 1: FVS318N and FVS318G component summary
Features
Doug is going to give the 318N a good going-over (done), so I'll just touch on some key features that differentiate the 318G and N. Aside from the 802.11b/g/n radio that supports four SSIDs, the 318N raises the number of supported IPsec tunnels from 5 to 12 and adds support for five SSL tunnels.
Also new in the 318N is IPv6 support, and port-based VLANs for both wired ports and wireless traffic.
Routing Performance
Routing throughput running the latest 4.0.1-66 firmware and our router test process measured 63 Mbps WAN to LAN, 60 Mbps LAN to WAN and 61 Mbps total with up and down tests running simultaneously. This is relatively low when compared with other current-generation routers, but more than twice as fast as the 25 Mbps routing throughput of the FVS318G and plenty for many DSL and even fiber connections.
This result is significantly lower than the 95 Mbps routing throughput that NETGEAR quotes on the 318N's data sheet. NETGEAR explained the difference was in the test programs used. They used Ixia's IxAutomate to achieve their benchmarked throughput. But they also confirmed our lower result when using Ixia's IxLoad.
NETGEAR's also explained our 25 simultaneous sessions result as due to the 318N's default enabled Block UDP Flood firewall setting. Since our test opens as many UDP connections as it can, as fast as it can, it tripped this detector. Since I've already sent the test sample on to Doug for his review, I'll ask Doug to confirm NETGEAR's 6000 session spec.
The IxChariot composite plot in Figure 4 shows up and download speeds evenly matched in the simultaneous routing test.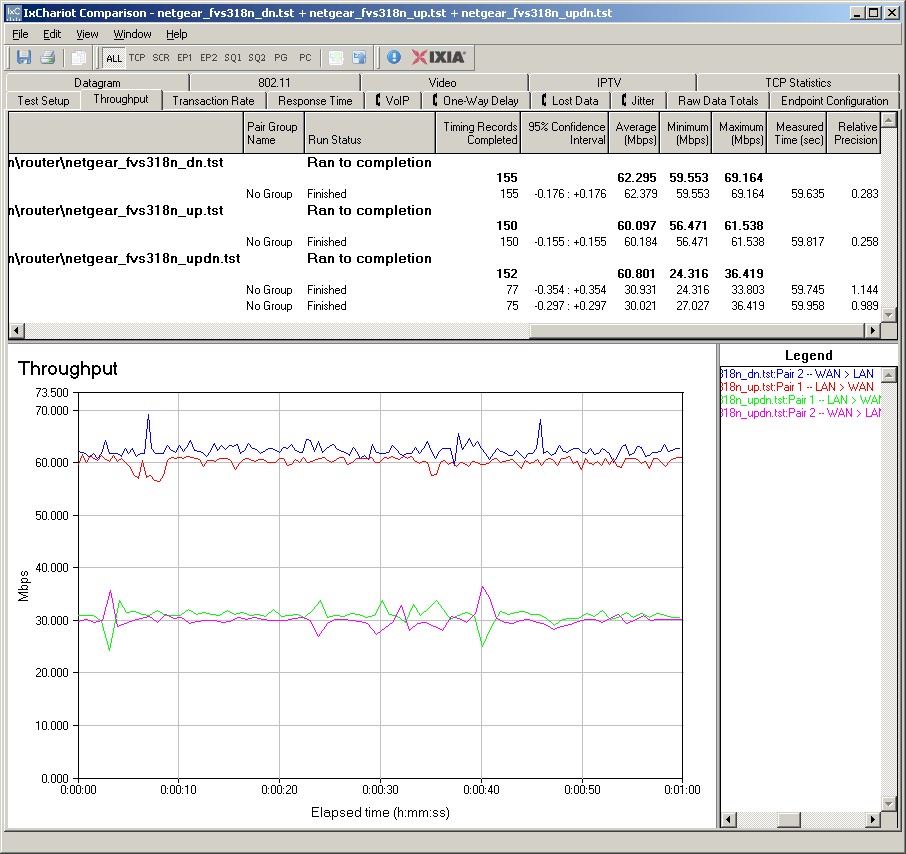 Figure 4: FVS318N routing performance
Table 2 gathers together the routing numbers for both 318G and 318N for your comparison pleasure.

| | FVS318N | FVS318G |
| --- | --- | --- |
| WAN – LAN (Mbps) | 63 | 23 |
| LAN – WAN (Mbps) | 60 | 23 |
| Simultaneous (Mbps) | 61 | 26 |
| Max Sessions | 25 | 200 |
Table 2: FVS318N and FVS318G routing performance comparison
Wireless Performance
The 318N is not Wi-Fi Certified but properly defaulted to 20 MHz bandwidth mode on power-up anyway. It does not support Wi-Fi Protected Setup, so I manually established a WPA2/AES secured connection before testing. All tests were run with this secured connection using our latest wireless test process.
To establish a quick ranking, I used the Router Chart, filtered for 2.4 GHz band routers only, which shows a mid-range ranking for the FVS318N in Figure 5.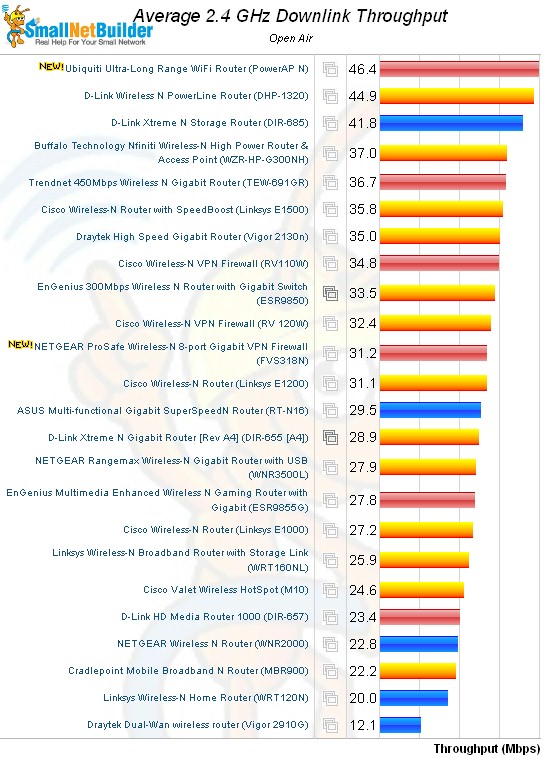 Figure 5: FVS318N wireless ranking – 20 MHz mode, downlink
To drill down a bit more, I ran a Wireless Performance Table with two other wireless VPN routers for comparison, a Cisco RV120W and Cisco RV110W. Of the two, the RV120W is more comparable to the FVS318N since it supports full IPsec tunnels, although it doesn't support SSL.
The 318N's highest throughput of 59 Mbps was measured in Auto 20/40 MHz bandwidth mode running downlink in Location A. Running simultaneous up and downlink tests in Auto 20/40 MHz mode in Location A boosted total throughput to 78 Mbps. Note that single connection throughput isn't really improved by using Auto 20/40 mode.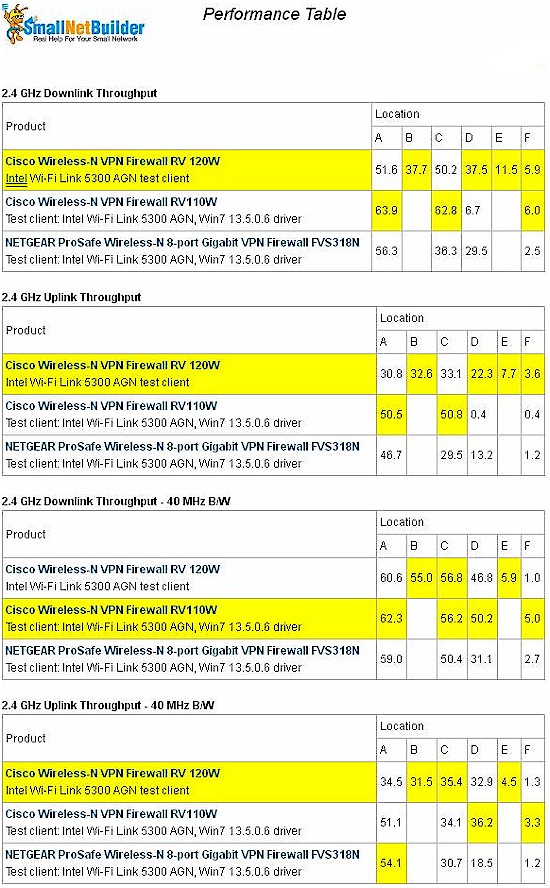 Figure 6: FVS318N wireless performance table
The 318N doesn't win many of the match-ups, with the RV120W having stronger low-signal performance. The RV120W's downside is poor uplink throughput, even with strong signals.
The IxChariot plot in Figure 7 shows some rate shifting behavior during the Location C test that was present in multiple runs. You'll see high throughput variation in the other mode plots linked below, too.
I also experienced disconnects during tests in Location F. This reinforces the results in Figure 6 that the FVS318N's low signal performance isn't anything to write home about.
Figure 7: FVS318N IxChariot plot – 2.4 GHz, 20 MHz, downlink
Here are links to the other 2.4 GHz plots for your reference:
Closing Thoughts
The 318N's routing throughput is better than the 318Gs, although neither match many of today's much less expensive consumer routers.
In general, I haven't been impressed by the wireless sections included in VPN routers and the 318N hasn't done anything to change my mind. It's not the worst I've seen (that would be the Draytek Vigor 2910G), but certainly not the best, either.
You can find more details on the 318N's features and VPN performance info in Doug's review. You can also further explore and compare the FVS318N's performance using the Router Chart and Router Finder.
Buy ProSafe Wireless-N 8-port Gigabit VPN Firewall from Amazon