HP MediaVault mv2120
The 500 GB HP Media Vault mv2120 is aimed at home users, while the mv5140 (1 TB) and mv5150 (1.5 TB) are targeting small businesses, with the main differences being capacity and online backup features on the mv5100's.
All three support DLNA-compatible UPnP media serving and include HP's Photo Webshare feature and an iTunes server. Other features include automatic client backup via bundled NTI Shadow software, gigabit Ethernet LAN connection (no jumbo frame support, however) and secure web-based remote access.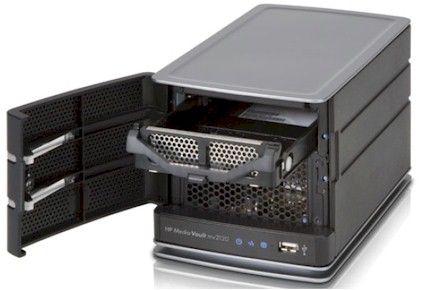 HP MediaVault mv2120 open
All models except the mv5150 come with one 7200 RPM SATA drive and an empty bay for expansion. Drives can be configured in JBOD or RAID 1 and storage can be further expanded via two USB 2.0 ports.
All versions will be shipping "this spring" with pricing starting around $300 for the mv2120.
HP also said that it is adding server-side anti-virus software from McAfee to tne MediaSmart server. The software will be free for the first seven months, then you'll have to pay a "minimal charge" if you want to keep it. 64 bit Vista support is also being added. Both features are also coming in "spring 2008".