Seems like things always happen when I'm traveling and last week was no exception. My daily news scan picked up Mary Jo Foley's piece about Microsoft bailing on its Drive Extender (DE) technology baked into WHS (as well as Small Business Server Essentials and Windows Storage Server 2008 R2 Essentials). This threw the WHS blogosphere into a tizzy with much wailing, tooth-gnashing, etc.
The reason for the brouhaha is that DE is a key feature of WHS that gives WHS users a very easy way to expand storage vs. RAID. Users of most NASes need to figure out whether they need to use RAID expansion or level migration (and which flavor of RAID to use), or to trust automatic RAID systems like NETGEAR's XRAID when they need more storage.
But with DE, all users need to do is add another drive and DE takes care of the rest. And what's really nice is the added drives can sit on whichever buses their WHS box supports, be they SATA, eSATA, USB or whatever. The only other network storage products that comes anywhere near WHS and DE in ease of storage expansion are Data Robotics' Drobos, which are much more expensive. (Read this Microsoft white paper for more info on DE.)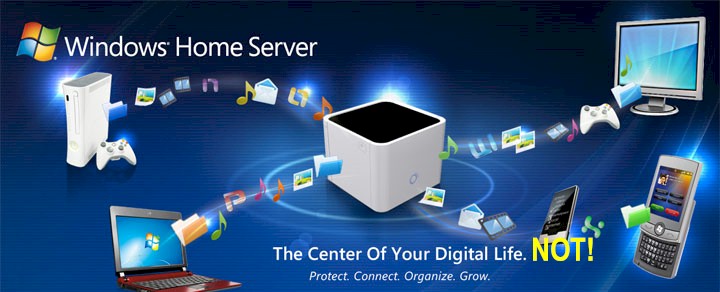 There has been much speculation about the reason for Microsoft's decision. The WHS Blog post announcing the change said the availability of 1 and 2 TB drives reduced the need for DE and that the WHS team "felt the Drive Extender technology was not meeting our customer needs".
We Got Served cited problems with the feature, including the originial data corruption bug that took months to fix and the departure of Charlie Kindel, General Manager for Windows Home Server at Microsoft. More immediate reasons for DE's demise were probably the technical issues surfaced by DE v2's development, which are also detailed in the We Got Served article linked above.
These problems include the introduction of dedicated volumes for shared folders, inefficiencies in the release of free space back to the storage pool from data deleted by users and the switch to a custom, block-based file system. Whatever Microsoft's reasons, the decision appears to be final.
The other shoe to drop yesterday was another post in the WHS Blog confirming HP's decision to discontinue its MediaSmart Server product line. HP was WHS's premiere box vendor and was instrumental in moving WHS from an alternative for DIY NAS builders to a viable choice for off-the-shelf networked storage. HP will clear existing stock of WHS-based servers, but will not field another based on the upcoming "Vail" WHS.
While some are saying this marks the death of WHS, I would reserve judgement until we see what the remaining key WHS Acer, ASUS, Lenovo, Tranquil and others do. Introduction of RAID into WHS servers is an obvious way to go. But with a key differentiation gone, WHS box vendors will have a tougher time differentiating their wares against Linux-based products. Not to mention the WHS tax that will force higher prices and / or slimmer margins.