The six-bay ReadyNAS Pro line comes in 1.5 (RNDP6350), 3 (RNDP6310) and 6 TB configurations (RNDP6610) and supports RAID 0, 1, 5, 6, and ReadyNAS's proprietary auto-expandable X-RAID2 modes.
The new NASes feature small form factor (SFF) enclosure, dual gigabit Ethernet ports with failover capability, hot-swappable SATA drives and three USB 2.0 ports for drive expansion and printer support.
The ReadyNAS Pros will start shipping in Q3 with a starting MSRP of $2000.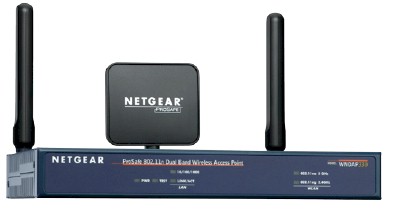 The NETGEAR ProSafe 802.11n Dual Band Wireless Access Point (WNDAP330) is an SNMP-manageable dual-band, single radio draft 802.11n access point.
It can be powered directly or via 802.3af Power-over-Ethernet (PoE) and supports point-to-point and point-to-multipoint bridging via Wireless Distribution System (WDS).
Hardware features include a 10/100/1000 Ethernet port, serial console port, three detachable antennas (two 5dBi and one 3dBi) and plenum rating.
Security features include WPA, WPA2 and WEP wireless security, MAC address authentication and 802.1x authentication including EAP-TLS, PEAP and TTLS. Other features include VPN pass-through, secure SSH telnet, and Secure Sockets Layer (SSL) remote management login.support.
The WNDAP330 is available immediately at an MSRP of $475.
The ProSafe 24- and 48-Port Gigabit Smart Switches with Static Routing (GS724TR and GS748TR) provide static routing capability, enabling offloading of inter-VLAN routing traffic from core routers. The products have 24 or 48 10/100/1000 ports and two or four shared SFP ports and support 32 static routes.
The NETGEAR ProSafe 24-Port Gigabit Smart Switch with Advanced Features (GS724AT) has 24 10/100/1000 ports and four combination SFP ports for optional fiber connectivity. The "advanced" features include Access Control Lists (ACL), Layer 3 based QoS, Auto Voice VLAN and Rapid Spanning Tree (RSTP).
The GS724TR, GS748TR and GS724AT are available now at MSRP's of $925, $1,665 and $575, respectively.