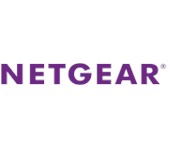 NETGEAR has revamped its entire ReadyNAS product line with five new desktop models in three new ReadyNAS families with an completely overhauled new OS.
The entry level ReadyNAS 100 Series is powered by a 1.2 GHz Marvell Armada 370 CPU with 512 MB of RAM. The two-bay version has one Gigabit Ethernet LAN port while the four-bay has two ports.
The two, four and six bay ReadyNAS 300 models all run on a 2.1 GHz dual-core Intel Atom processor mated with 2 GB of RAM and have dual Gigabit Ethernet ports.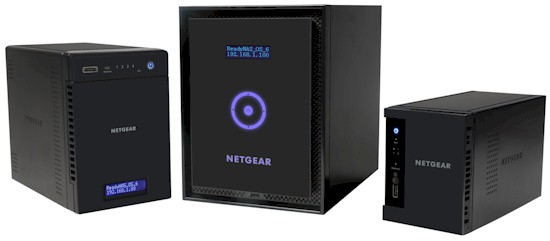 NETGEAR ReadyNAS 300, 500 and 100
The six-bay ReadyNAS 500 Series comes in only one six-bay flavor (RN516xx) for now and is powered by an Intel 3.3 GHz i3-3220 Ivy Bridge CPU with 4 GB of ECC RAM. The 516 is the only one of the new desktops that can be equipped with an optional 10 GbE port.
All models have one USB 2.0 and two USB 3.0 ports for sharing printers or attaching drives for sharing or backup. The 300 and 500 models also have eSATA ports and the 500 can be equipped with an optional 10 GbE port. All except the two-bay ReadyNAS 102 have HDMI ports and IR receivers for remote control.
The entire line features hot-swappable drive bays that accept 2." and 3.5" SATA hard and SS drives up to 4 TB.
NETGEAR also announced the four-bay 1U ReadyNAS 2120 in both diskless and diskful models.
These new NASes have been a long time coming. NETGEAR said the reason for the delay was that its team was heads-down developing the new ReadyNAS OS 6 that powers all the new models. This new OS is a complete break with the past and features a unified feature set that will be available on both Intel and Marvell ARM-powered models. All current ReadyNASes will not be upgradeable to the new OS.
Although it is a completely new, OS 6 will have key features that its user base expects such as NETGEAR's XRAID2 automatic volume expansion, remote access, DLNA serving, replication, on-NAS anti-virus and access to the Genie+ app marketplace. NETGEAR also said it has eliminated the license charge for its ReadyNAS Replicate secure remote replication service.
ReadyNAS OS 6 business features
The key features for both business and home users are summarized in the excerpts from the product data sheets shown above and below.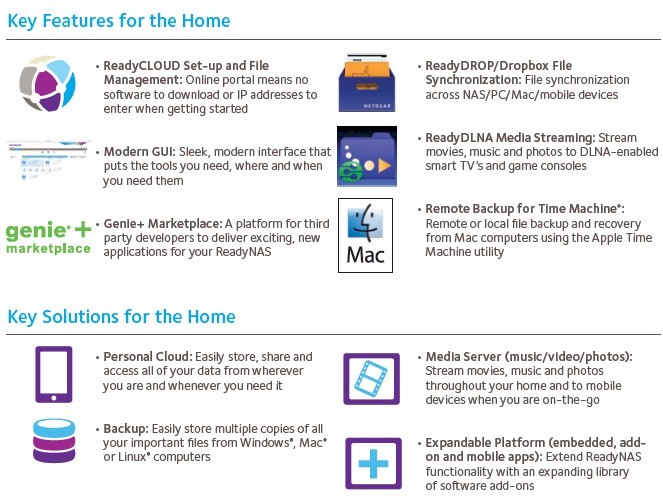 ReadyNAS OS 6 home features
NETGEAR has redesigned its ReadyCloud feature to make it dead simple to set up. All a user needs to do is plug the NAS into a working internet connection, open a browser and enter a simple URL printed on a card included with the NAS and push a button on the NAS. The NAS then automatically registers with the ReadyCloud service and you're done.
A key feature that the company things business users will salivate over is OS 6's unlimited snapshot capability. This is made possible by a switch to the btrfs filesystem, which NETGEAR says it has tweaked. You might think of this capability like Apple's Time Machine in that it allows a user to roll back to a particular snapshot and restore from there. Snapshotting is very space efficient because only changes are stored after an initial full snapshot.
Another welcome bit of news is that NETGEAR is also introducing a 5-bay expansion cabinet that can be attached to any of the 300 or 500 series models. Unfortunately, at an MSRP of $750 and expected street of about $690, the EDA500 expansion cabinet is even more expensive than Synology's DX513, which goes for about $500.
"Select models" of the NETGEAR ReadyNAS 100 and 300 series will be shipping within days. But you'll have to wait until 2Q for the remaining models, the 500 and the rackmount to ship. All models will come in diskless and diskful versions with street pricing starting at $199 for the ReadyNAS 100 (RN100xx), $449 for the ReadyNAS 300 (RN300xx), $1299 for the ReadyNAS 500 (RN500xx) and $1229 for the ReadyNAS 2120 rackmount.